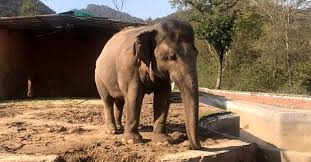 After 35 Years in Captivity, Elephant Is Finally Freed
An Asian elephant spent 35 years chained up inside a zoo. The elephant, Kaavan, was called the loneliest elephant in Pakistan. He had been there for so long and was in such terrible circumstances that a number of viral campaigns sprang up with the goal of getting him freed from his prison. Now, he has been given back his freedom. Next month, a Cambodian animal sanctuary has agreed to take him in.
Many groups dedicated to animal welfare broadcasted their concern for the elephant's physical and mental well being.From 1990 to 2012, the elephant had a roommate called Saheli, but since her death Kaavan has lived all alone. Over the years, he has shown more and more signs of being under mental stress.
Beginning in 2015, Samar Kahan created a petition to get Kaavan freed. It talked about the abuse the poor animal endured and how cruel the zookeepers were to him. It told the public about his legs being chained up at all times. It also said that Kahan visited the zoo, and the elephant barely moved. He would only bob his head from side to side. This is a motion called weaving, and elephants do it when they are depressed and stressed out.
Luckily, this petition went viral around the world. Thanks to it, there was a lot of pressure for Pakistani officials to free this elephant. Even Cher got into the cause. She spoke publicly about the elephant and in 2016 sent someone to go to the zoo to see for himself how the elephant was being treated. Her representative found that the situation was pretty bad. He found that Kaavan had mental problems from being chained up for so long. When Pakistani officials heard this, they declared that the elephant's mental damage was from losing his mate and that a new mate would fix the problem. Cher's representative said that the answer wasn't just to give Kaavan a mate. Instead, he needed a an enclosure that was far bigger and nicer. He argued that if the zoo didn't have the money for a new enclosure for Kaavan, they ought to close down the zoo for good.
The years of public advocacy for the chained-up animal has finally paid off. Recently, the Islamabad High Court decided that the zoo would have to talk to the nation of Sri Lanka, where Kaavan was born, to find out how to return him to the wild. They gave them 30 days to find a suitable place for him. The rest of the animals in the zoo have 60 days to be relocated.
Cher was happy to hear about the court's decision and tweeted out her excitement at him being freed. She also thanked the government of Pakistan for making this decision. Recently, a perfect animal sanctuary was found for the elephant in Cambodia. While he waits in the zoo for his freedom, he is being better taken care of. He must be checked out for a vet before being returned to the wild. Once he has had medical tests, the permit to move Kaavan can be applied for. Of course, Covid-19 has made the move that much more complicated. But, everyone is still committed to getting the veterinary tests, applying for the permit and moving Kaavan to his new home in Cambodia.
A Furry Companion Unlike Any Other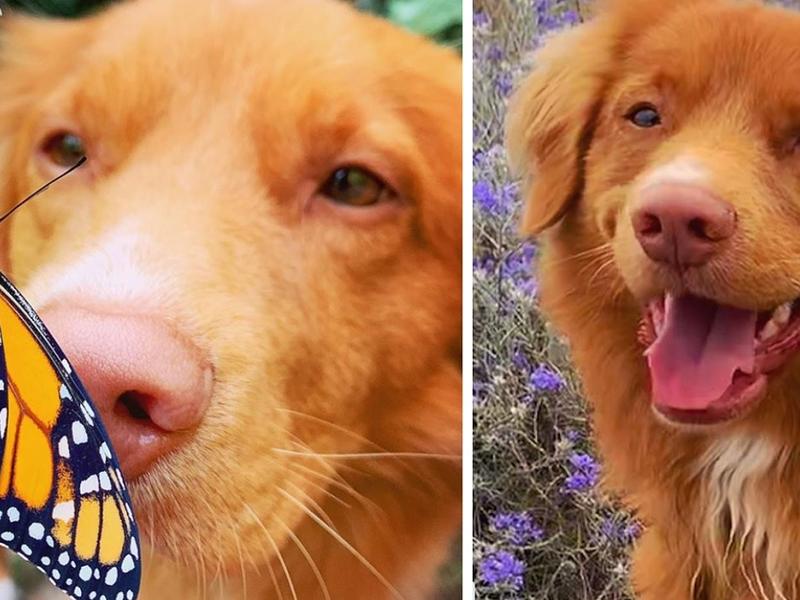 People enjoy learning about pets on social media sites and when a dog seems to exude a behavior that is unique or charming, many people may wind up viewing a post, ultimately making a canine a worldwide sensation. In the past, there was a small dog named Boo, who was noted for popular Instagram photos and videos, which showcased the dog's tendency to be dressed up in cute clothing. Boo normally spent time alongside his pal Buddy. Unfortunately Boo passed away a few years ago, but he did live a long and happy life.
Today, there is a new internet star by the name of Milo. Milo is a duck tolling retriever and already has over 30,000 followers on Instagram. He enjoys spending time outdoors and is especially fond of butterflies. This interest became apparent when his owner, Jenn Bennet, noticed that Milo was carefully observing some Monarch butterflies that were flying in her flower garden.
Some of the butterflies actually landed on Milo's head and his owner took a picture of him. This picture is what first made Milo popular with people worldwide. "He has a gentle demeanor and loves nature and living creatures", stated Jenn during an interview on Good Morning America. Monarchs are dwindling in number worldwide and Jenn wants to do her part to protect this species from harm.
Another one of Milo's interests has to deal with hobby cooking. Milo doesn't actually cook, but Jenn jokes around about how Milo is her helper and how he will sit patiently waiting for her to create dog treats. The treats include peanut butter carrot cake, peanut butter donuts, and granola bars. Jenn has created personal recipes for a while now and she enjoys trying out new flavor combinations and allowing Milo to taste test each creation.
All natural ingredients are used for each recipe and the snacks are offered in conjunction with Milo's normal diet. "Milo will sit patiently on the floor, watching me add ingredients to a bowl and observing me whisk the items until they are blended. Before using cookie cutters or a roller, I allow Milo to sample each batch of goodies. Milo's way of thanking me is by using his tongue to give me a sloppy kiss", stated Jenn.
Jenn has been sharing her love of cooking and the healthy ingredient combinations that she uses to create dog treats. If you would like to learn more about the treats that Milo prefers, you can acquire a listing of the ingredients used and the preparation steps, by visiting Jenn's Instagram page.
Additionally, if you want to be inspired by a furry creature who is only 2 years old, but has a lot of character and love for life, be sure to stay updated, by browsing the photos and the unique captions that Jenn shares with her audience. Who knows, you may even become inspired to adopt your own dog companion and to share some of the heartwarming moments that you experience when you are alone with your new pet.