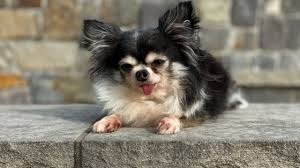 Adorable Tiny Chihuahua Lands Hero Dog of the Year Award In Today's Most Wholesome News
The American Humane Hero Dog Award ceremony may not be the most prestigious event of the year, but that is because everyone else is wrong. This year, the honorific was bestowed upon a tiny Chihuahua known for her huge heart, Little MacKenzie. As Chihuahua's go, Little MacKenzie is just as small and adorable as you'd imagine only there is something slightly unique about her at a second glance!
When you look at the past award winners of the American Humane Hero Dog Awards, you'll see canines of every size, shape, and personality. From the adorable Dolly Pawton, a cardiac alert dog from Maine, to our own Little MacKenzie, there is something different to cherish about each of them. For her part, the Chihuahua named Little MacKenzie was born with a cleft palate, a birth condition that alters the opening of the mouth. Despite her birth defect and some of the physical handicaps that came with it, including an inability to bark, Little MacKenzie has definitely been living her best life at the shelter that rescued her.
Even though she is small of size, MacKenzie brings a lot of heart to every room that she walks into. She has been serving as a service support dog for baby rescue animals that were born with birth defects of their own. That isn't to say that Little MacKenzie had it easy growing up herself. MacKenzie would contract aspiration pneumonia as a puppy and that respiratory condition would nearly end her life. Surviving pneumonia in order to overcome her health defect would be a long journey that the pup would have to take. Nowadays you couldn't tell that she struggled in the past, though.
MacKenzie is as playful and comforting with the other baby rescue animals as she is with the nursing staff and children who visit the rescue. Some of MacKenzie's tasks in the nursery include playing with the puppies, socializing with the rescue animals, and teaching the other rescue animals to be comfortable. MacKenzie was nominated among six other finalists from around the nation, ultimately coming up on top to also become the Hero Shelter Dog of the Year Award to go along with her American Hero Dog title.
The American Humane Hero Dog Awards was presided over by Robin Ganzert, the CEO and President of American Humane. Speaking on the 2020 festivities, Ganzert claimed that the Hero Dog Awards was created to honor some of the most heroic creatures in the world. Ganzert would go on to describe the various nominated canines as having gone beyond 'the call of duty' while honoring the 'age-old bond' between both people and animals. Other great winners included Olive for 2020 Therapy Dog of the Year and Aura for the 2020 Guide & Hearing Dog of the Year.
For a full list of the finalists, head to The American Humane website for more information on the 400+ nominations!
Young Boy Keeps Toy He Was Measured Against As A Premature Baby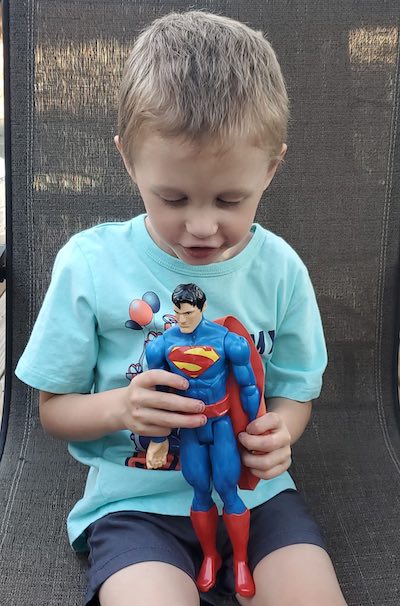 Doctors sent home a woman and her husband to prepare for a miscarriage, but the defiant parents stayed put and now have the tale of a lifetime to tell.
So does their four-year-old son Logan Ray, born less than six months of pregnancy, has a Superman action-figure as proof of how small he was at birth. He was only 12 inches in length and weighed a pound and a half. He and the action figure his parents Rob and Val placed beside him shortly after his birth, are now inseparable.
How did this fascinating and heartwarming story come about?
Nearly five years ago, when Val was pregnant with their son, doctors wiped the smiles off their faces by announcing that the baby would not make it to full term. The Physician claims the baby would not survive at all, and they should brace themselves for any eventuality.
The reason for the bad news was that Val had been diagnosed with a cervix problem. The doctors said examinations showed her Cervix was incompetent. That situation usually transpires when unstable cervical tissue induces or contributes to premature delivery or the loss of pregnancy even though the gestation is, on the other hand, healthy.
Val and Rob blocked out the bad news they received, and we're adamant that they would remain in the hospital to see the pregnancy through. The baby was a fighter too and stayed put for all of twenty-three weeks. Val helped out by keeping her feet elevated and staying in bed for three weeks without getting up to do anything that could further jeopardize the pregnancy.
She gave birth to a child now known as the "Superman Baby" for dual reasons. He was mighty strong and put up a fight to survive, and he was the size of a Superman toy. The toy idea came about when the nurses suggested to the mom that she should use something like a keepsake to measure the baby alongside. When she ran the idea by her husband, he was very supportive and they agreed on the Superman novelty.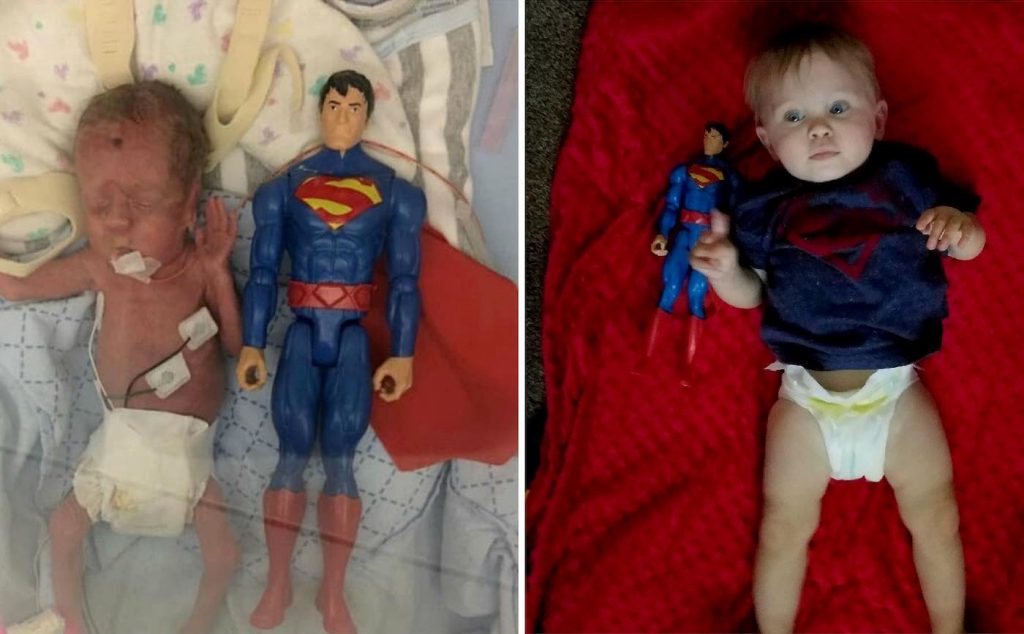 The doll was sanitized and placed beside Logan. For fifteen weeks, he remained in an incubator at the Randall Children's Hospital in Portland, Oregon fighting a myriad of complications that many feared would hinder the survival of Logan, but he pulled through like a champ. It was after those four months that he was finally able to leave with his parents.
From the hospital days to now, four years later, Val has been taking a multitude of photos with Logan carrying around his action figure. The doll is an indicator of Logan's successful development after a traumatic experience in the first few months of his life.
According to the happy and grateful parents, they communicate with the doctor who wants a regular update on Logan, who he refers to as " tough."
Many people consider not just Logan's survival but the fact that he has no further complications a miracle. Just like his action figure, Logan is healthy and strong as any regular child his age. His parents say they will never get rid of the Superman tog as memorabilia is not just for them, but for Logan when he becomes an adult.
He will have a tear-jerking story to tell years from now if or when he becomes a parent as well.