Adorable Story Involving a Puppy Unfolds at a Red Light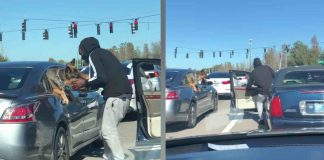 Everyone has to deal with traffic and most of us would freely admit that we hit more red lights than we would like. When parked at a red light some people sit patiently while others play around on their phones; however, if someone sees another individual get out of their motor vehicle at a red light, this is usually not a good sign. Furthermore, it is moments like this that often lead to incidents of road rage. They might even lead to a car accident, a physical confrontation, or some other disaster that might ruin someone's day. Fortunately, this story is a little bit different. It is a story of something good that happens when someone gets out of their vehicle at a red light.
In a video that was taken at a red light, something awesome unfolded. A young driver was sitting parked at a red light earlier this month in Tampa Bay, FL. This young driver was sitting at a red light when she noticed something that was a little bit unusual. She was sitting there, patiently, waiting for the light to turn green when she saw someone get out of his car. He had an adorable puppy in his hand. This puppy was clearly excited to be out and about, enjoying the various smells and sights of the coastal city. In the other car, a huge dog pops his head out of the window. It turned out to be a German Shepherd. The big dog sticks his head out of the window and gives a series of kisses to the tiny puppy. It doesn't get much sweeter than this.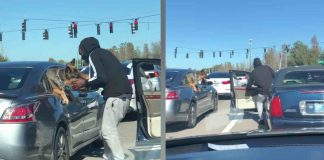 While all of this was happening, the light did eventually turn green. The man who had gotten out of his car with the puppy was a bit worried about holding up traffic. Fortunately, the person taking the video knew that she had just watched something special. She can be heard telling the other driver to slow down and take his time. After all, it doesn't get much sweeter than this. After watching a video like this unfold, the imagination starts to run wild. The two dogs had likely spotted each other long before the video ever started recording. They were likely barking at each other because they wanted to meet. Instead of ignoring their cries for attention, this man got out of his car and made the meeting happen. There are authorities on this topic that have stated that barking is one of the ways that dogs communicate. It was nice to see that happen in this situation.
It is the responsibility of the owner to keep his or her dog safe. At the same time, when dogs want to meet each other, it is fine to do this. Barking and body language can be used to tell whether or not a dog is afraid of what's happening or is excited to meet someone new. This video, which has been viewed more than 120,000 times to this point, is a great way for owners to learn how to get their dogs to interact in a safe manner. Even though many people get impatient at red lights, it is nice to see that happy moments can unfold as well. If more of us behaved like the individuals who starred in this viral video, the world would be a happier place. Chances are, our dogs would feel the same way as well. We all owe the narrator of this video and the people in it a token of our thanks.
Wild Canadian Horse's Dramatic Rescue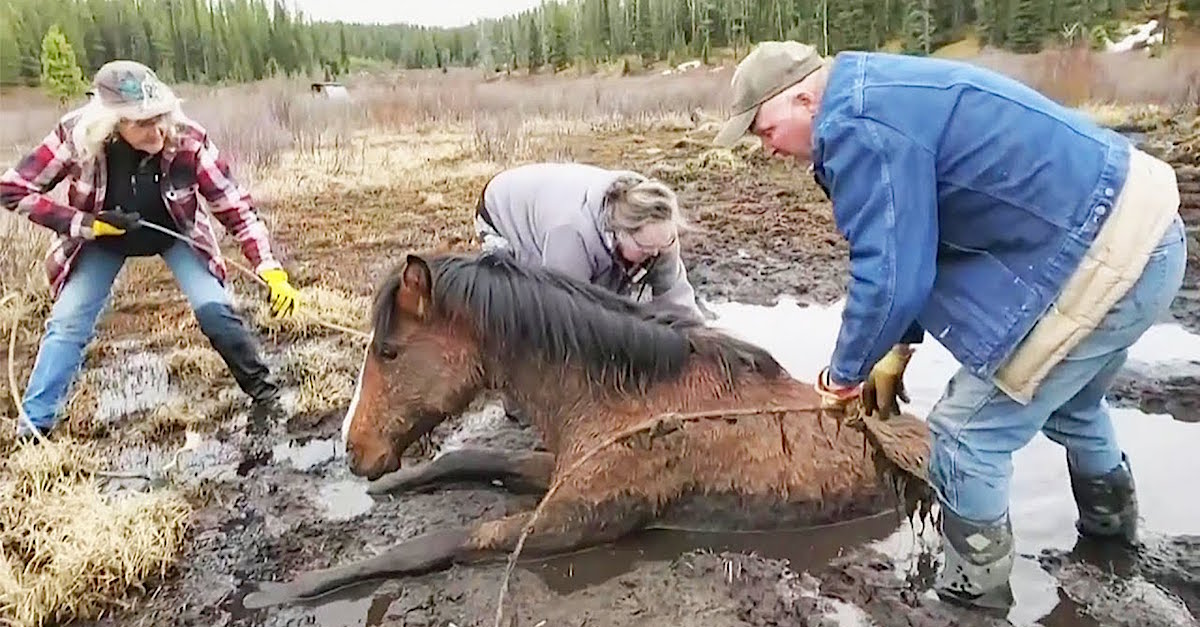 Canada is known for many things, including its beautiful scenery, friendly people, diverse animal life, and frigid winters. All of these things came together in a powerful and moving way one day as fate played out a hand that involved a matter of life or death. A small group from the Help Alberta Wildies Society (HAWS) was patrolling the beautiful countryside one day. HAWS is a group of volunteers committed to helping and protecting the rich lineage of Canada's wild horses. They help support the preservation of native wilderness that the horses call home and also work to protect the animals and catalog their populations. On a chilly winter day, a small group of HAWS volunteers ventured out to search for newborn foals in Alberta, Canada, so they could document the new additions to the local herd. As they were out searching, they came upon a heartbreaking sight.
They spotted a young foal stuck in a muddy bog. The wild foal was desperately struggling to drag itself out of a muddy hole. There was no telling how long the young horse had been trapped but it had more than half of its body sunk into the 6-foot-deep hole that as filling with sticky mud and near-freezing water. The horse lovers knew what they had to do. If anyone was meant to find this helpless creature, it was the HAWS heroes and so they quickly got to work. As they worked to figure out how to rescue the foal, they kept an eye out for any of the wild horses that might still be in the near vicinity. They quickly concluded that the young filly likely had been abandoned by the herd when she fell into the hole and was unable to get out.
The small filly just did not have the strength to pull herself out of the hole against the viscous muds and numbing water that was surrounding her. To make things even more difficult for her, and her new rescuers, was the rim of ice that was forming all around the hold. The young foal was unable to get her bearing or get a good foothold and it made getting to her more of a challenge. They knew they were the foal's only chance of getting out alive, but time was running out, and she was growing more exhausted by the minute. They had to act fast!
For over an hour, the group worked, desperately and tirelessly striving to save the horse before she would succumb to exhaustion and the elements. Using their ATVs and a bunch of ropes, they finally managed to break the muddy suction seal that trapped the young wild hose and they pulled her out of her freezing prison. When they finally pulled her out, they quickly undid the ropes they had used to free her, expecting her to bolt for the hills. They could tell she was exhausted and starving and knew she had to have been trapped for quite some time. However, instead of running away in fear and confusion, the young filly stuck around and showed her rescuers her gratitude and let them know she knew they were friends and that they could be trusted.
It just goes to show how smart these wild animals are and how important it is to protect them and all the other creatures that make up the diverse ecosystem of the Canadian wilderness!