Adorable Story Involving a Puppy Unfolds at a Red Light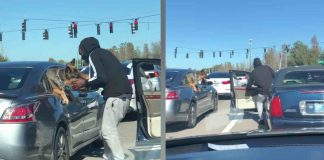 Everyone has to deal with traffic and most of us would freely admit that we hit more red lights than we would like. When parked at a red light some people sit patiently while others play around on their phones; however, if someone sees another individual get out of their motor vehicle at a red light, this is usually not a good sign. Furthermore, it is moments like this that often lead to incidents of road rage. They might even lead to a car accident, a physical confrontation, or some other disaster that might ruin someone's day. Fortunately, this story is a little bit different. It is a story of something good that happens when someone gets out of their vehicle at a red light.
In a video that was taken at a red light, something awesome unfolded. A young driver was sitting parked at a red light earlier this month in Tampa Bay, FL. This young driver was sitting at a red light when she noticed something that was a little bit unusual. She was sitting there, patiently, waiting for the light to turn green when she saw someone get out of his car. He had an adorable puppy in his hand. This puppy was clearly excited to be out and about, enjoying the various smells and sights of the coastal city. In the other car, a huge dog pops his head out of the window. It turned out to be a German Shepherd. The big dog sticks his head out of the window and gives a series of kisses to the tiny puppy. It doesn't get much sweeter than this.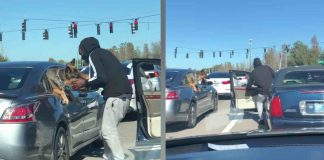 While all of this was happening, the light did eventually turn green. The man who had gotten out of his car with the puppy was a bit worried about holding up traffic. Fortunately, the person taking the video knew that she had just watched something special. She can be heard telling the other driver to slow down and take his time. After all, it doesn't get much sweeter than this. After watching a video like this unfold, the imagination starts to run wild. The two dogs had likely spotted each other long before the video ever started recording. They were likely barking at each other because they wanted to meet. Instead of ignoring their cries for attention, this man got out of his car and made the meeting happen. There are authorities on this topic that have stated that barking is one of the ways that dogs communicate. It was nice to see that happen in this situation.
It is the responsibility of the owner to keep his or her dog safe. At the same time, when dogs want to meet each other, it is fine to do this. Barking and body language can be used to tell whether or not a dog is afraid of what's happening or is excited to meet someone new. This video, which has been viewed more than 120,000 times to this point, is a great way for owners to learn how to get their dogs to interact in a safe manner. Even though many people get impatient at red lights, it is nice to see that happy moments can unfold as well. If more of us behaved like the individuals who starred in this viral video, the world would be a happier place. Chances are, our dogs would feel the same way as well. We all owe the narrator of this video and the people in it a token of our thanks.
A Florida High School First: Dissecting Synthetic Frogs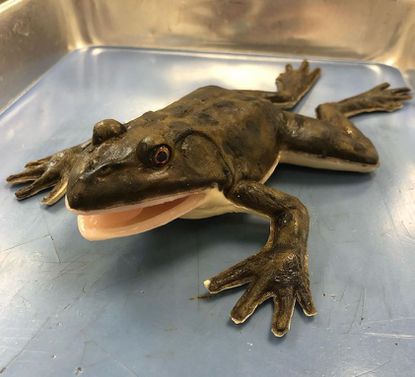 Dissecting frogs has been part of the curriculum for high school students in the United States since the 1920's. It's an essential part of a Biology requirement because it offers a hands-on learning experience for students in animal anatomy. J.W. Mitchell High School in New Port Richey, Florida has just tapped into a new synthetic option that might just save students from the dubious and grossly controversial dissecting practice.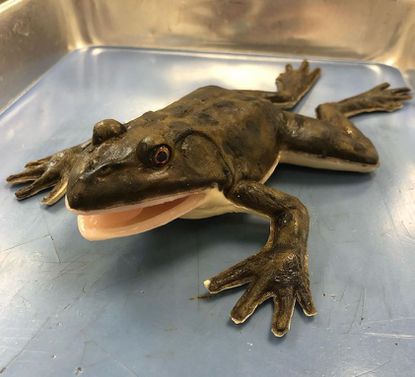 Why Dissecting is Controversial?
Dissecting animals in the classroom is controversial for a number of reasons, but the education validity of this practice is what is being called into question more than anything else. If it is really important for educational purposes, why have so many schools already chosen to rely on alternative methods to fulfill the requirements?
Here's an overview of the key points to consider.
Unethical.
Dissecting frogs and other animals is controversial because of animal welfare concerns. Students are uncomfortable with the requirement, but the process has caused concerns that it encourages callousness toward animals. An estimated 20 million animals are used for dissection every year in the United States. Those are animals that are used once in a classroom setting and then discarded as waste.
Alternatives.
Eighteen states now allow students to choose dissection alternatives without penalty. The earliest forms of alternative legislation date to 2000 with the Illinois' Dissection Alternatives Act, but there are other laws on the books that allow alternatives. Dissecting alternatives now include computer programs, life-life models, and high-quality videos. So, it's no longer strictly essential for students to dissect animals.
Cost.
The cost of dissecting "real" animal cadavers is much higher than alternative options. The cost for animal dissection has been estimated at $6,850 over five years, compared with the $900 for a site license for Digital Frog 2.5. For those schools and teachers who still prefer a more "real-life" experience for students, there's now the SynFrog, a synthetic frog that was designed by SynDaver as an alternative to dissecting "real" animals.
What About the SynFrog?
The SynFrog is the latest synthetic alternative to frog dissection, spearheaded by PETA in partnership with SynDaver. These synthetic frogs are priced at $150 per frog, and they are reusable. The students at J.W. Mitchell High School in New Port Richey, Florida became the first students to use the synthetic frogs as a viable solution to the gross and controversial "real" frogs. The high school students have been offered this opportunity through a partnership with SynDaver.
Education is always important, but the SynFrog demonstrates that there are ways to accomplish the goals of education without unnecessary destruction and cruelty to animals. These synthetic frogs are designed to be as "life-like" as possible, with a synthetic skeleton, organs, skin, muscles, and even a reproductive system to mimic the real deal—minus the gore, guts, and discarded critters at the end of the lesson.
Perhaps instead, teachers can reiterate the Hippocratic Oath: "First, do no harm," as they offer alternatives for learning with synthetic learning options.