Adorable Story Involving a Puppy Unfolds at a Red Light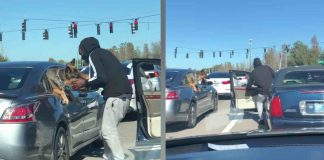 Everyone has to deal with traffic and most of us would freely admit that we hit more red lights than we would like. When parked at a red light some people sit patiently while others play around on their phones; however, if someone sees another individual get out of their motor vehicle at a red light, this is usually not a good sign. Furthermore, it is moments like this that often lead to incidents of road rage. They might even lead to a car accident, a physical confrontation, or some other disaster that might ruin someone's day. Fortunately, this story is a little bit different. It is a story of something good that happens when someone gets out of their vehicle at a red light.
In a video that was taken at a red light, something awesome unfolded. A young driver was sitting parked at a red light earlier this month in Tampa Bay, FL. This young driver was sitting at a red light when she noticed something that was a little bit unusual. She was sitting there, patiently, waiting for the light to turn green when she saw someone get out of his car. He had an adorable puppy in his hand. This puppy was clearly excited to be out and about, enjoying the various smells and sights of the coastal city. In the other car, a huge dog pops his head out of the window. It turned out to be a German Shepherd. The big dog sticks his head out of the window and gives a series of kisses to the tiny puppy. It doesn't get much sweeter than this.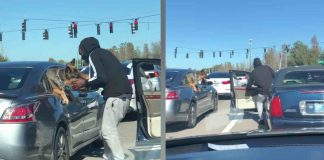 While all of this was happening, the light did eventually turn green. The man who had gotten out of his car with the puppy was a bit worried about holding up traffic. Fortunately, the person taking the video knew that she had just watched something special. She can be heard telling the other driver to slow down and take his time. After all, it doesn't get much sweeter than this. After watching a video like this unfold, the imagination starts to run wild. The two dogs had likely spotted each other long before the video ever started recording. They were likely barking at each other because they wanted to meet. Instead of ignoring their cries for attention, this man got out of his car and made the meeting happen. There are authorities on this topic that have stated that barking is one of the ways that dogs communicate. It was nice to see that happen in this situation.
It is the responsibility of the owner to keep his or her dog safe. At the same time, when dogs want to meet each other, it is fine to do this. Barking and body language can be used to tell whether or not a dog is afraid of what's happening or is excited to meet someone new. This video, which has been viewed more than 120,000 times to this point, is a great way for owners to learn how to get their dogs to interact in a safe manner. Even though many people get impatient at red lights, it is nice to see that happy moments can unfold as well. If more of us behaved like the individuals who starred in this viral video, the world would be a happier place. Chances are, our dogs would feel the same way as well. We all owe the narrator of this video and the people in it a token of our thanks.
Zookeepers Set Up Camera And Capture Pregnant Rhino Giving Birth Without Any Assistance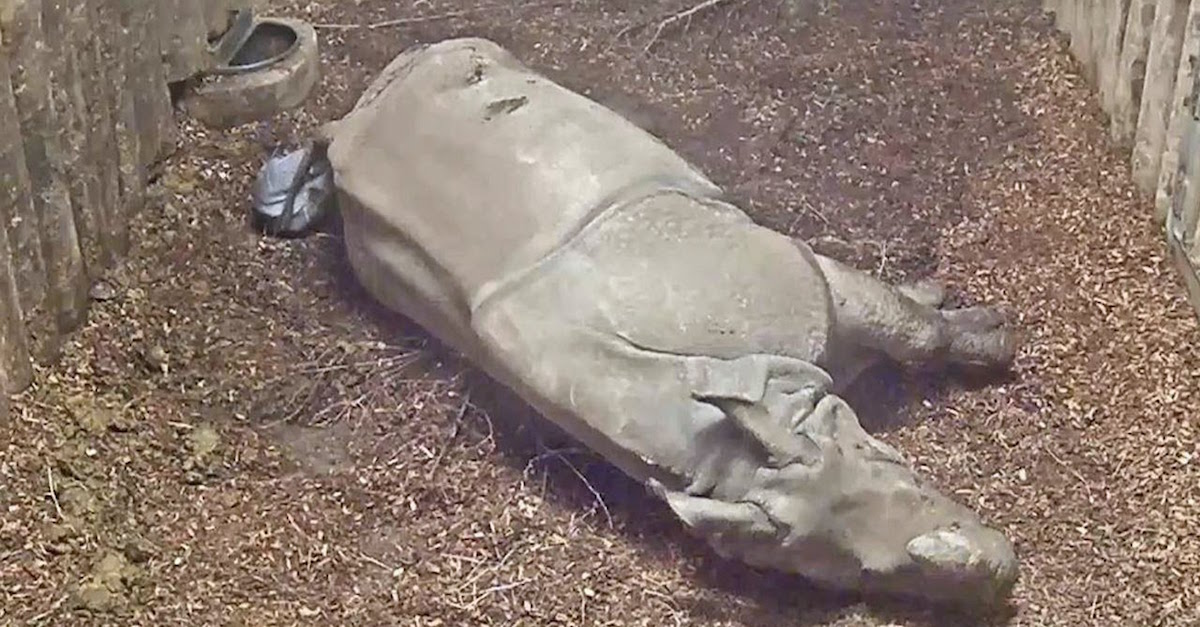 For a whopping sixteen months, Asha carried her baby in her womb. Asha, a rare greater one-horned rhinoceros, lives at the Chester Zoo in Cheshire, England. Luckily, her labor and delivery were much quicker than the gestational period was for her baby Rhino to come into the world.
After only about 20 minutes of labor, Asha successfully delivered a healthy male calf in the early morning hours on May 3, 2018, at her home at the Chester Zoo. The staff at the zoo were able to capture Asha's labor and delivery on video. The mama had an easy delivery on the floor of her enclosure and did not require assistance from the staff as she labored and brought her 132-pound baby boy. Once he is fully grown, Asha's son will balloon to an eye-popping two tons plus in weight!
Guests of the Chester Zoo were excited to visit the little rhino and his mama in their exhibit. Asha's baby is named Akeno which means "beautiful sunrise." Along with his birth, Akeno's first steps were also caught on tape along with snuggles with his 11-year-old mother Asha. They are a hit at the zoo and seem to be getting along well.
The staff at the well-visited zoo have been working towards keeping beautiful animals like Asha and baby Akeno together and better protected. One-horned rhinos are one-horned rhinos that are endangered at this point in a critical way and the staff is hoping the miraculous birth will not only attract visitors to the zoo but will draw attention to their work on this front. Animals like Asha and baby Akeno are the object of hunters who illegally poach them to be able to obtain their horns and sell them. There is a market for them as they are used in traditional Chinese medicine. A hunter can sell a single horn on the Asian black market for around $65,000 United States dollars. Even more offensive is the fact that wealthy hunters simply want the horns to hang on their walls and show off to friends as a status symbol of wealth and popularity.
According to a staff member of the Chester Zoo, not long ago there were less than 200 greater one-horned rhinoceros in the wild.
"They were hunted almost to extinction. Just in time steps were taken to protect them. Now there are about 2,600, but they still face threats in India and Nepal… it's important we do all we can to stop their numbers going down to critical levels again."
As the staff and many others work hard to fight against the illegally poaching of these beautiful animals, Asha and Akeno, who appears like he is dressed in a dark gray suit of armor, are enjoying their stay at the zoo and the many delighted visitors they come into contact with each day. The birth of Akeno on video has drawn more new visitors to the Chester Zoo and everyone seems to be happy with this new situation.