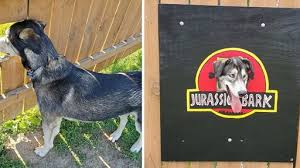 Adorable Pop Culture Dog Fence Brightens Neighborhood
Dogs are a special light in many people's lives, thanks to their infectious personalities and undoubtedly adorable faces. Throughout the COVID-19 pandemic, dogs have played an especially important role, keeping their owners company and entertaining families while they stayed safe and stayed home.
Out of all the sweet, feel-good stories that have emerged this year, one of the best for dog lovers comes from a pretty pooch named Burger King, or Burger for short. Burger and his brother Ripley are part of the Stanley family, and their owner Brian hatched a plan to boost morale in their neighborhood with the help of his four-legged pals.
As COVID-19 flipped the world upside down, Brian decided to make some changes to their yard. After finding himself without work and his son at home following the school closures, he and his son Cameron were left to hang with the dogs all day. Burger and Ripley are always watching their neighbors and keeping a close eye on them through a hole in the fence. This is a huge pastime for the dogs as they spend a good chunk of the day examining the neighbor's every move. None of the local residents or passer-by seemed to mind the observers, but Brian thought he could step things up a notch and make the dog's pastime more fun.
Brian got to work, adding an artistic flair around the hole to give Burger and Ripley an unforgettable background. His creation became a big hit with the neighborhood, who eagerly await the next masterpiece. All of the dog fence art is built from cardboard, so Brian can just swap the painted pieces out when he's ready to give the dogs a new backdrop.
The father and son pair observed more foot and bicycle traffic on the street beside the fence, which further inspired the dog-themed artwork to frame the hole. Burger's trademark move of sticking his head through the window was made even better with the new art.
Brian's successful neighborhood project dates back a year ago when Burger was just a puppy who wouldn't stop digging a hole in the ground by the fence. Brian cut a small hole in the fence to give him a window and distract him from digging. It worked and eventually led to a promising project that entertains and delights everyone in the neighborhood. Pictures of the dogs at the fence line have become extremely popular on social media too, as Brian started an Instagram account for the canine brothers @thedogfence.
It all started with a Paws poster modeled after the Jaws shark post. Burger and Ripley would stick their noses through the fence, surrounded by a deep rich blue color much like the shark-infested waters from the famous movie. It's hard to resist the funny sight of the dogs saying hello, unaware of the artwork decorating the scene.
Many people also loved the recreation of Edvard Munch's painting The Scream. The fresh take was appropriately titled The Bark. A Pacman painting was another big hit as Burger and Ripley posed for super cute photos showing them in the center of the game. Although this Fourth Of July was unlike any other due to the ongoing pandemic, the twist on the traditional Uncle Sam poster brought a smile to many faces. The dogs did their best to attract new friends to play fetch with the colorful creation.
Burger is a funny and friendly pooch, a mix between a husky and a golden retriever, and he was adopted as a young puppy. He's all about attention and seems to enjoy the backyard project, which is something the entire family works can get involved in. The traffic-stopping sight attracts both humans and their canine companions, who can't help but take a closer look at the living action art.
The Stanley clan has no plans to slow down on the artwork anytime soon, as the project has become a wonderful activity they can all do together while celebrating their dogs and the positive difference they make in their lives. Plus, Burger and Ripley were adopted, and Brian reminds fans on social media to #adoptdontshop.
An Exciting Sky Diving Video In An Inflatable Raft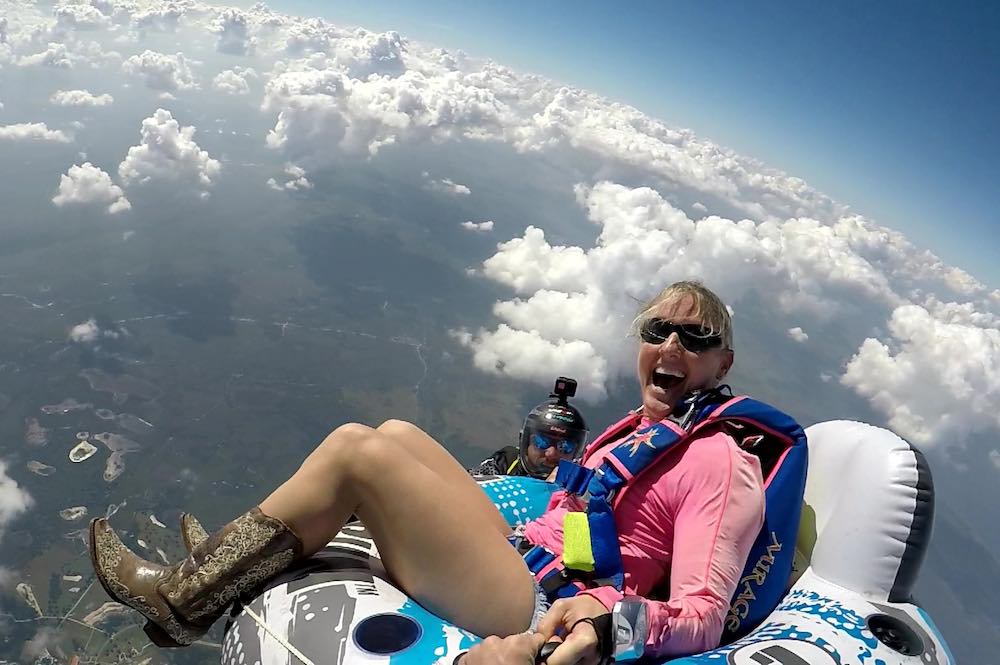 Lots of people would love to know exactly what it's like to go sky diving. However, it's obviously the sort of experience that has been traditionally been difficult to accurately record. The actual sky dive itself might seem like it lasts longer than it does to the people who are actually experiencing the event. However, objectively speaking, it usually won't take all that long. The moment is over so quickly that it's easy for it to get lost.
However, technology is constantly improving, and it's giving individuals everywhere the chance to see a lot of very different events from purely original perspectives. For a long time, the people who have never traveled have been able to see different places remotely.
Obviously, the experience of going there in person will be different in a lot of ways. However, it's still possible for people to learn a lot by seeing high-quality images and videos. Traveling is expensive, and many of the people who are interested in activities like sky diving are concerned about some of the associated risks. It's possible to reduce the risks associated with sky diving, and the costs associated with travel.
However, the people who have a more casual interest in sky diving might just want to get a more basic idea of what it's like. With this new footage, they might finally get the chance to do so accurately.
The woman in this video has actually leaped out of an airplane from an altitude of thirteen thousand and five hundred feet. She was seated inside an inflatable ring made from rubber at the time. Her name is Robin Moore, and this footage of her will be seen by millions of people now. It's just the sort of video that gets viewed over and over again over the years, since it's just not the sort of thing that gets seen on film all that often.
A lot of people get nervous when they sky dive, even if they were excited about it initially. They might be happy right up until they're actually about to literally make the leap, at which point they panic or get terribly nervous at least. This was not the case for Robin Moore, which is one of the many reasons why this was such a great video. She seemed absolutely ecstatic the entire time, which really comes through in the images themselves.
This occurred in Florida at River Ranch, and the raft was being stabilized by Robin Moore's friends. Interestingly, Robin Moore is a physician who works in the emergency room. She's clearly a person who is used to being in a lot of stressful situations and working in an environment with high stakes and more.
For someone in her profession, something like sky diving might not be all that scary. It would explain why she was able to take to an activity like this so easily. Raft jumps involving sky diving are not entirely standard, but they still happen. It seems that Robin Moore is a person who enjoys challenging activities even when not at work. This is an activity and experience that she was able to share with the world.
The fact that she was and is so enthusiastic only improves the quality of the video. While some people may have been interested in footage that captured a different range of emotions, many other people would want to see someone having fun with this sort of activity, which was clearly the case here. A lot of people would like to know what it is like to do something like sky diving, and it is now possible to at least have an idea after footage like this has been made available to the world.