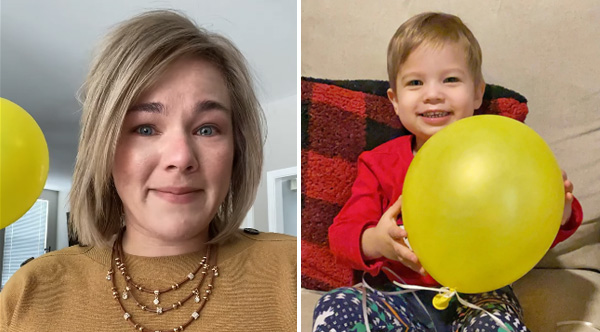 Act of Kindness at Party City Launches Heartwarming Viral Challenge
When Natasha and her son Grayson packed up their bags to visit Party City in Martinsburg, WV, they really had no idea what they were getting themselves into. Ostensibly on a trip to get some Valentine's Day gifts for school, Natasha and her son would end up engaging in a conversation with the cashier at the register. A short talk later and the cashier would gift young 2-year-old Grayson a yellow balloon. While the interaction may have seemed relatively mundane at a glance, it would go on to launch a viral challenge that would bring smiles to households around the world.
Launching a Viral Challenge — on Accident!
After returning home from Party City, Natasha Kable Fogle realized the depth of how touched she was by the gesture of kindness. Natasha would turn to Facebook in order to highlight the act of kindness granted at Party City as well as what it meant to her son, Grayson. While Natasha had wanted to spread the word about Party City's positive practices, she had no idea that her Facebook message would become the next big thing in viral challenges!
Natasha uploaded a video thanking the cashier at Party City for her act of kindness, and it wasn't long until the message had found its way around the internet. Pretty soon, a local law firm near Natasha would decide to launch the #YellowBalloonChallenge. The law firm, named Catrow Law PLLC, decided to launch the challenge on Twitter to start an avalanche of positive acts of kindness.
Catrow Law described the #YellowBalloonChallenge as a game of passing kindness forward in ways both large and small. From mowing the lawn or shoveling a driveway to paying for the car behind you at the coffee shop, the Yellow Balloon Challenge would quickly find its footing on the internet. To get things started, Catrow Law PLLC would pay $100 to Meals on Wheels by paying for a stranger's account. The donation was tagged with a simple message, "Keep the yellow balloon challenge going!"
The Internet Saves the Day
From Catrow Law PLLC, the Yellow Balloon Challenge would find its way to Studio M Boutique where it was summarily accepted. Studio M Boutique would agree to donate 10% of its sales for an entire night to a client that had been engaging in a fight against cancer. Not only would Studio M Boutique end up raising an exceptional amount of funds, but the business would push the Yellow Balloon Challenge into another demographic of potential challengers. Among the other local businesses to engage in the Yellow Balloon Challenge was TJ's Pit Stop who had dedicated its donations to The Boys and Girls Club.
Viral social media challenges have played a huge role in day-to-day life and the Yellow Balloon Challenge was no exception. First there was the Ice Bucket ALS challenge and now the Yellow Balloon Challenge. What else can the internet do to help those in need?
A 100-Year-Old Woman Still Works at McDonalds: And Wants Birthday Cards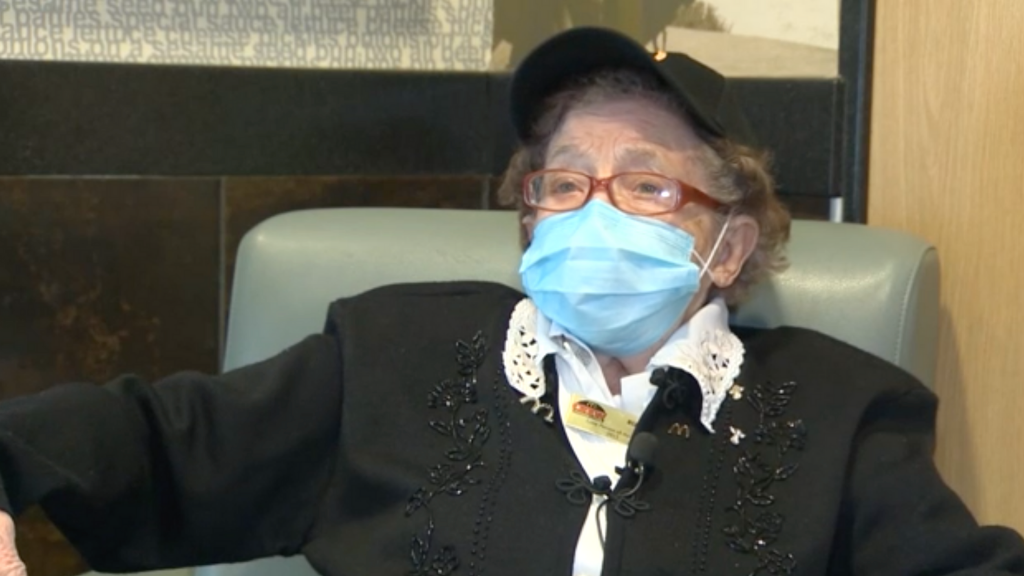 Working in a fast-food environment can often feel like a thankless job for many people. Often, workers are youngsters who either start their work career here, but some older people stay there for many years. For example, a Pennsylvania woman who just turned 100 is still working at McDonald's in her hometown. And she plans to work there as long as she can – and her dedication earned her many birthday cards.
The Incredible Story
For years, Ruth Shuster has been at McDonald's, working as a restaurant greeter and a table wiper. Though she only works three days a week, she says that the work keeps her engaged, introduces her to new people, and pays her few remaining bills. Even during the Covid pandemic, she has gone to work every day, though she misses seeing large crowds and her dancing expeditions.
That's right – Ruth Shuster, a 100-year-old woman, loves dancing. Before Covid-19, she would go out four nights a week with her friends and has kept in great shape by continually working and exercising in this way. Ruthie (as she prefers to be called) has been working for 50 years of her life when her husband passed away when she was just 50. This work has been inspiring to her. She said:
"I became a widow when I was 50, and I've been working ever, ever, ever since and I like working." Ruthie has not given any thought to retiring – for her, the work is much too enjoyable, and she keeps going to work every day, not just for the money but to see people. At her age, she says, the chance to see young people and to be immersed in her community is more than worth it.
"To me (age), it's just a number," she said. "I get payday! I get paid and I pay my bills…I never had a lot of money but I always had enough." Ruthie has indicated that she is likely to stay at McDonald's for the foreseeable future. They are very welcoming, provide her with a free Egg McMuffin on workdays (her favorite McDonald's meal), and accommodate her unique needs as a worker.
The Cards Keep Coming
When Shuster turned 100 on March 3, she started getting so many birthday cards that McDonald's gave her a personal mailbox. These cards are nothing unusual for Ruthie – she has been getting them for years at the restaurant because of her popularity with customers – but the big 100 has inspired many people to send cards. The rush has been overwhelming and has given her even more joy in her late life.
Ruthie and McDonald's have welcomed people from outside of the community to send her birthday cards. Many are on display in the restaurant to celebrate her dedication to her job. Anyone who wishes to send these cards can do so at 9061 Lincoln Hwy, North Huntingdon, Pennsylvania 15642. Ruthie encourages personalized greetings to make the card even more memorable.