A Woman Who Finally Became Confident With Her Birthmark Inspires Others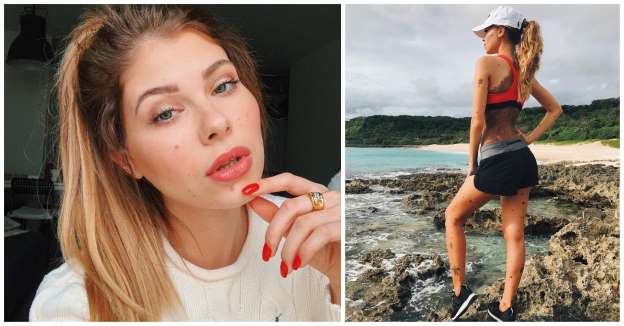 Beauty, they say, is in the eye of the beholder. Unfortunately, not everyone has been seen or regarded as being beautiful by many folks. Having blemish on the skin (birthmark) is one of the most common reasons why many people have been laughed at, scorned at, and even bullied. Truth be told, anyone can develop a mole or discoloration on the skin which can happen before birth or soon after being born. While some could disappear early in life, most birthmarks typically remain visible for life.
In a bid to avoid public criticisms, some people would prefer to conceal the blemish on their skin by wearing makeup (especially if it's on the face) or by wearing long or bogus dresses (when it is on other parts of the body). No doubt, it is generally difficult to embrace something that you don't find beauty in. But this is not how it ought to be. Just so you know, there are many people with birthmarks that freely live their life as they choose to without caring about what others may say.
While many people see their birthmarks as the reason for their low esteem, there are those who simply see their own discoloration as a beautiful splash of color. Evidently, these are people that see no reason to hide their natural skin color. Yulianna Youssef is one of such wonderful people. She's an ambitious young woman who hails from Warsaw Poland.
Currently working as an Instagram blogger, 25-year-old Yulianna has not only chosen to become confident with her large birthmarks but has also begun taking actionable steps to inspire others to openly embrace their situations. During a recent interview with Mirror Online, she publicly talked about how she managed to live her life as a young girl who has a largely conspicuous birthmark on her body.
According to the Instagram influencer, growing up as a kid with a huge blemish on the skin was never a pleasant experience. As a matter of fact, she had to face lots of criticisms from both children and adults. Covering much of her skin, the blemish was caused by congenital melanocytic nevus (CMN) – a rare condition that can affect babies at birth.
According to her, the marks made her undergo severe bullying from other children while growing up. But she just had to see it as part of life and endure them. Aside from the discouraging comments she received, she rarely had an opportunity to play with other kids who were restricted by their parents to do so because they misjudged her to be contagious.
But all these did not demoralize the young girl from becoming who and what she wants to be. Even with her large birthmarks, Yulianna believed in herself, doing everything possible to feel sexy, confident, beautiful, healthy, and happy in her own skin. Initially, she got into hiding from the public to avoid been laughed or scorned at.
Most times, she wouldn't dare to come outside the house during the day until with was dark just to avoid the stares and teasing of people. But she soon grew sick and tired of the act and decided to find a way out for herself. Things turned around when she decided to accept her own self for who she is.
Getting to this level in life wasn't an easy feat at all. She basically had to face life as it came to survive against all odds. In her own words, "It's been a long way."No doubt, she grew up strong embracing her skin as it is and proving her childhood bullies wrong. Now, Yulianna is educating others about her condition from the Instagram page she has started.
The little boy shares a special moment with a police officer during a protest rally for George Floyd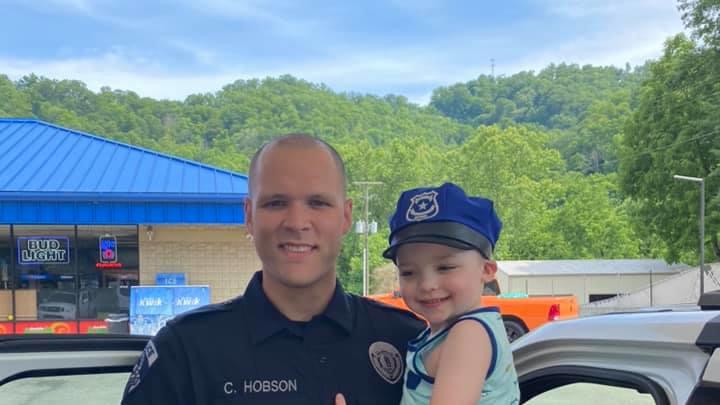 The ruthless killing of George Floyd has caused a thunderous uproar and rage throughout the world. In Winston-Salem, NC, hundreds of people gathered to protest against the killing of Floyd. They took to one knee for 8 minutes and 46 seconds that is the exact length of time former police officer Derek Chauvin had shoved his knee onto Floyd's neck which resulted in Floyd's death. The killing of George Floyd has become a symbol of injustice not only in American society but throughout the world. "Say no to racism" has been the most trending topic in all regions of the globe. In this particular incident, it was a black man who was the victim and this is not the only time it has happened. Several cases have occurred which demonstrated the lack of compassion and justice in the way law enforcement has dealt with individuals from minority racial groups.
Yolanda Williams Dickey, a resident of Winston-Salem, NC, was driving by the protest when she decided she wanted her family to be part of this protest as a sign of solidarity against discrimination against the minority groups. She went home to pick up her husband and son, who were glad they got a chance to be part of this historic protest. For her little son, Kamari it was quite the experience. He had never seen a protest rally before this. He saw a lot of anger and pain in the faces of the protestors. He could also see his parents being very emotional too. His parents had told him what the protest was about and how Floyd had been murdered. Kamari couldn't understand why the former police officer did what he did to George Floyd.
Kamari's attention went to the police officers on the sidelines. He watched them very closely as they stood by making sure there was no violence at the protest. Kamari had always wanted to a police officer himself but now his mother was concerned that after this incident, maybe he would not want to be one. Most of the toys that Kamari had were related to the police and he spent most of his days playing with them. He often told his parents that when he grows up he wanted to be a police officer so he could catch the bad guys. This unfortunate killing of George Floyd might have shattered the dreams of the little boy. At the protest, as the family moved closer to the police officers, Kamari approached Sgt. Dan Battjes, who was sitting on his motorcycle.
Kamari formally introduced himself to the police officer, who was very kind and friendly to the boy. After a few minutes of talking, Kamari said goodbye to the officer by a friendly fist pump. While the citizens of the country are demonstrating against the police and there is an unbelievable level of anger toward law enforcement, this little boy kept no hatred in his heart. The innocence of the little boy showed the resilience of the American community. One incident cannot dismantle years of peaceful coexistence. Yes, there have been cases where the minority communities have been discriminated and there should be strict actions and reforms against such incident but Americans still need to live together. The dream of Kamari to become a police officer might still be alive. The question remains, is the dream of a multi-racial America living with each other with love, compassion, and tolerance still alive? Only time will tell if this dream is alive.