A Woman Who Finally Became Confident With Her Birthmark Inspires Others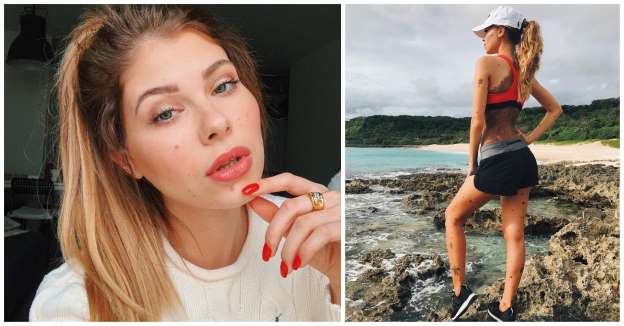 Beauty, they say, is in the eye of the beholder. Unfortunately, not everyone has been seen or regarded as being beautiful by many folks. Having blemish on the skin (birthmark) is one of the most common reasons why many people have been laughed at, scorned at, and even bullied. Truth be told, anyone can develop a mole or discoloration on the skin which can happen before birth or soon after being born. While some could disappear early in life, most birthmarks typically remain visible for life.
In a bid to avoid public criticisms, some people would prefer to conceal the blemish on their skin by wearing makeup (especially if it's on the face) or by wearing long or bogus dresses (when it is on other parts of the body). No doubt, it is generally difficult to embrace something that you don't find beauty in. But this is not how it ought to be. Just so you know, there are many people with birthmarks that freely live their life as they choose to without caring about what others may say.
While many people see their birthmarks as the reason for their low esteem, there are those who simply see their own discoloration as a beautiful splash of color. Evidently, these are people that see no reason to hide their natural skin color. Yulianna Youssef is one of such wonderful people. She's an ambitious young woman who hails from Warsaw Poland.
Currently working as an Instagram blogger, 25-year-old Yulianna has not only chosen to become confident with her large birthmarks but has also begun taking actionable steps to inspire others to openly embrace their situations. During a recent interview with Mirror Online, she publicly talked about how she managed to live her life as a young girl who has a largely conspicuous birthmark on her body.
According to the Instagram influencer, growing up as a kid with a huge blemish on the skin was never a pleasant experience. As a matter of fact, she had to face lots of criticisms from both children and adults. Covering much of her skin, the blemish was caused by congenital melanocytic nevus (CMN) – a rare condition that can affect babies at birth.
According to her, the marks made her undergo severe bullying from other children while growing up. But she just had to see it as part of life and endure them. Aside from the discouraging comments she received, she rarely had an opportunity to play with other kids who were restricted by their parents to do so because they misjudged her to be contagious.
But all these did not demoralize the young girl from becoming who and what she wants to be. Even with her large birthmarks, Yulianna believed in herself, doing everything possible to feel sexy, confident, beautiful, healthy, and happy in her own skin. Initially, she got into hiding from the public to avoid been laughed or scorned at.
Most times, she wouldn't dare to come outside the house during the day until with was dark just to avoid the stares and teasing of people. But she soon grew sick and tired of the act and decided to find a way out for herself. Things turned around when she decided to accept her own self for who she is.
Getting to this level in life wasn't an easy feat at all. She basically had to face life as it came to survive against all odds. In her own words, "It's been a long way."No doubt, she grew up strong embracing her skin as it is and proving her childhood bullies wrong. Now, Yulianna is educating others about her condition from the Instagram page she has started.
"Homeless Hero" Saves Multiple People from Fiery Highway Crash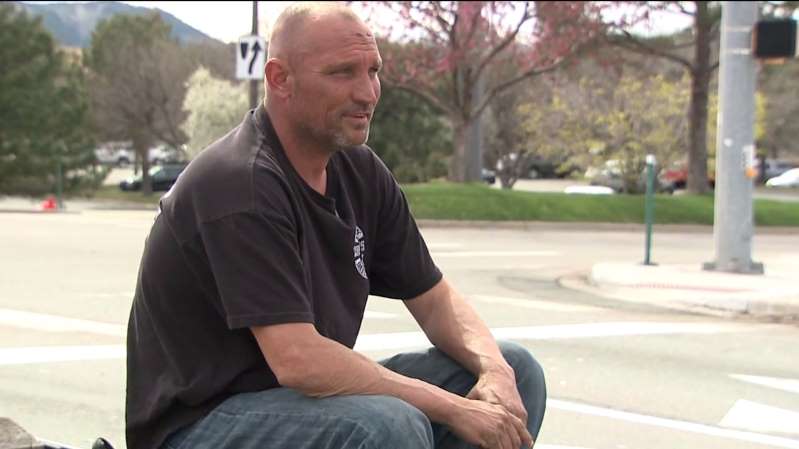 Just two short days ago a man named Darin Barton, who the people and news are calling the "Homeless Hero," saved multiple people from a fiery car crash on Colorado's Interstate 70.
Reports say the late April crash was caused by a truck driver that had lost control of his vehicle and collided with oncoming traffic. The same company has a bad history of problems with their vehicles. There are multiple reports letting trucks in need of repair on the road—including vehicles with break problems.
Luckily for the survivors of the crash, Darin Barton just happened to be passing by. Barton, a local homeless man, saw the crash happen and immediately sprang into action. He was able to pull several victims from the wreckage before emergency services arrived on the scene. The survivors of the crash are all lucky to have had the "Homeless Hero" passing by in their time of need.
Interestingly, this isn't the first time Barton has been a hero to the victims of a traffic accident. Two years ago, Barton saved a woman named Valerie Blease from a flaming car wreck. Blease describes how the collision left her confused and unable to escape her burning car when the "Homeless Hero" arrived and pulled her from the fire. She recalls that in the moment, she didn't know what was happening, only that someone was telling her there was a fire and she needed to get out.
Barton has become something of a local celebrity in Colorado despite his homelessness. He has appeared several times on the local news. Each of these appearances have been stories covering his heroics and even interviews with the "Homeless Hero" and the people he has saved. One of the victims of April's pileup said she "wasn't surprised" to learn that Barton had saved people from these kinds of wrecks before.
Not to leave this selfless hero unrewarded, the local community has banded together and raised thousands of dollars to help Barton in his time of need. Just like he has helped save people from car crashes on multiple occasions, the people of Colorado have come together to help Barton. Local news agencies have started a fundraising effort that has, so far, raised thousands of dollars to help cover Barton's costs as he finds work and a place to live. There have been some concerns that Barton may be the target of robbery given his insecure living situation and sudden rush to local fame, but a few local news agencies said they are working with local authorities to help ensure Barton's safety.
Darin Barton, the "Homeless Hero," is an inspiration reminder that even those of us with the least to give can still help people in the time of need. When interviewed, Barton said he was just helping people in need and hopes that others will be inspired to do the same.