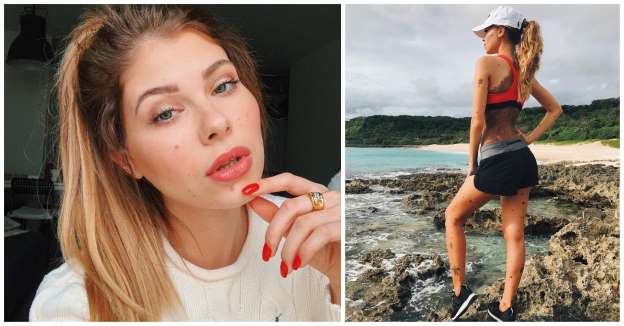 A Woman Who Finally Became Confident With Her Birthmark Inspires Others
Beauty, they say, is in the eye of the beholder. Unfortunately, not everyone has been seen or regarded as being beautiful by many folks. Having blemish on the skin (birthmark) is one of the most common reasons why many people have been laughed at, scorned at, and even bullied. Truth be told, anyone can develop a mole or discoloration on the skin which can happen before birth or soon after being born. While some could disappear early in life, most birthmarks typically remain visible for life.
In a bid to avoid public criticisms, some people would prefer to conceal the blemish on their skin by wearing makeup (especially if it's on the face) or by wearing long or bogus dresses (when it is on other parts of the body). No doubt, it is generally difficult to embrace something that you don't find beauty in. But this is not how it ought to be. Just so you know, there are many people with birthmarks that freely live their life as they choose to without caring about what others may say.
While many people see their birthmarks as the reason for their low esteem, there are those who simply see their own discoloration as a beautiful splash of color. Evidently, these are people that see no reason to hide their natural skin color. Yulianna Youssef is one of such wonderful people. She's an ambitious young woman who hails from Warsaw Poland.
Currently working as an Instagram blogger, 25-year-old Yulianna has not only chosen to become confident with her large birthmarks but has also begun taking actionable steps to inspire others to openly embrace their situations. During a recent interview with Mirror Online, she publicly talked about how she managed to live her life as a young girl who has a largely conspicuous birthmark on her body.
According to the Instagram influencer, growing up as a kid with a huge blemish on the skin was never a pleasant experience. As a matter of fact, she had to face lots of criticisms from both children and adults. Covering much of her skin, the blemish was caused by congenital melanocytic nevus (CMN) – a rare condition that can affect babies at birth.
According to her, the marks made her undergo severe bullying from other children while growing up. But she just had to see it as part of life and endure them. Aside from the discouraging comments she received, she rarely had an opportunity to play with other kids who were restricted by their parents to do so because they misjudged her to be contagious.
But all these did not demoralize the young girl from becoming who and what she wants to be. Even with her large birthmarks, Yulianna believed in herself, doing everything possible to feel sexy, confident, beautiful, healthy, and happy in her own skin. Initially, she got into hiding from the public to avoid been laughed or scorned at.
Most times, she wouldn't dare to come outside the house during the day until with was dark just to avoid the stares and teasing of people. But she soon grew sick and tired of the act and decided to find a way out for herself. Things turned around when she decided to accept her own self for who she is.
Getting to this level in life wasn't an easy feat at all. She basically had to face life as it came to survive against all odds. In her own words, "It's been a long way."No doubt, she grew up strong embracing her skin as it is and proving her childhood bullies wrong. Now, Yulianna is educating others about her condition from the Instagram page she has started.
500,000-Year-Old Wooden Structure Rewrites History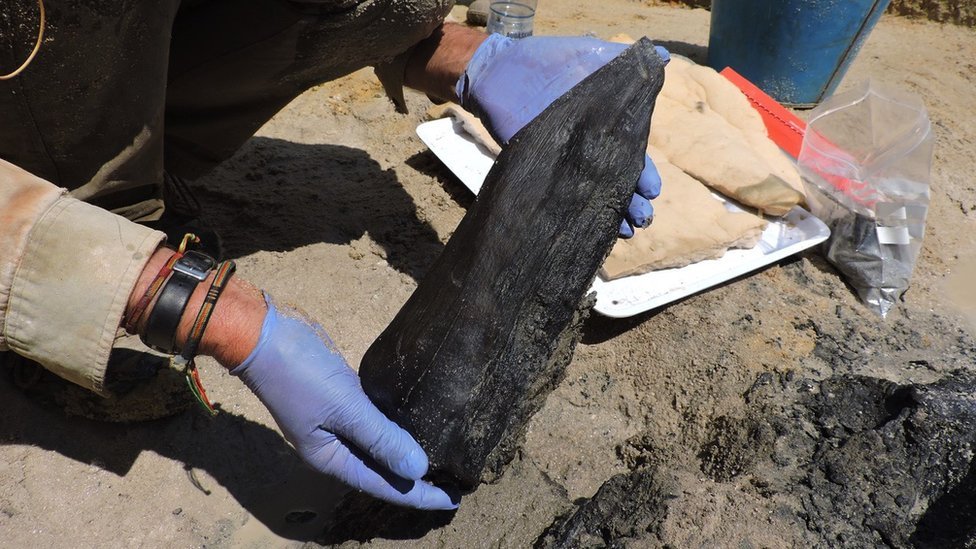 In an archaeological discovery, a wooden structure dating back an astonishing 500,000 years has been unearthed on the banks of a river in Zambia, challenging long-held beliefs about the capabilities of ancient humans. Researchers stumbled upon these ancient wooden logs, a revelation that has the potential to reshape our understanding of the lives of early humans.
The find, located on the riverbanks near Zambia's Kalambo Falls, provides compelling evidence that stone-age people may have constructed primitive shelters, forever altering our perception of their intelligence and resourcefulness. Archaeologist Prof Larry Barham, who led the research, was profoundly impacted by the discovery, stating, "This find has changed how I think about our early ancestors."
What makes this find truly remarkable is that it suggests ancient humans did more than merely survive; they thrived by creating something entirely new. These early humans exhibited intelligence, imagination, and craftsmanship by fashioning structures from wood, a material that had never before been transformed into such large and sophisticated objects.
The researchers also uncovered ancient tools, including digging sticks, but the most exciting find was two pieces of wood positioned at right angles to each other. "One is lying over the other, and both pieces of wood have notches cut into them," explained Geoff Duller, a professor of geography at the University of Aberystwyth and a member of the research team. "You can clearly see those notches have been cut by stone tools, making the two logs fit together to become structural objects."
Radiocarbon dating confirmed the wood's age, placing it at a staggering 476,000 years old. This revelation has ignited curiosity about the woodworking traditions of ancient societies, challenging the prevailing notion that early humans led simplistic, nomadic lives.
Perrice Nkombwe, a team member from the Livingstone Museum in Zambia, expressed her astonishment, saying, "I was amazed to know that woodworking was such a deep-rooted tradition. It dawned on me that we had uncovered something extraordinary."
The preservation of the wooden structure itself is a miracle. Typically, wood decays over time unless preserved under specific conditions. However, in the waterlogged environment along the Kalambo Falls, the wood remained intact, essentially pickled by the elements for millennia.
While the exact purpose of this ancient wooden structure remains a mystery, it has sparked numerous speculations. Prof. Duller suggests it might have been used as a place to sit beside the river and fish, although a complete understanding of its function remains elusive.
Moreover, the identity of the individuals who constructed this structure raises intriguing questions. "We don't know – it could have been Homo sapiens, and we just haven't discovered fossils from that age yet," Prof. Duller added. "But it could be a different species – [perhaps] Homo erectus or Homo naledi – there were a number of hominid species around at that time in southern Africa."
This discovery has the potential to enrich our understanding of ancient woodworking techniques, craftsmanship, and human interaction with the environment. As researchers continue their work at the Kalambo Falls site, the pages of history are being rewritten, and our appreciation for the ingenuity of our ancient ancestors grows ever deeper.