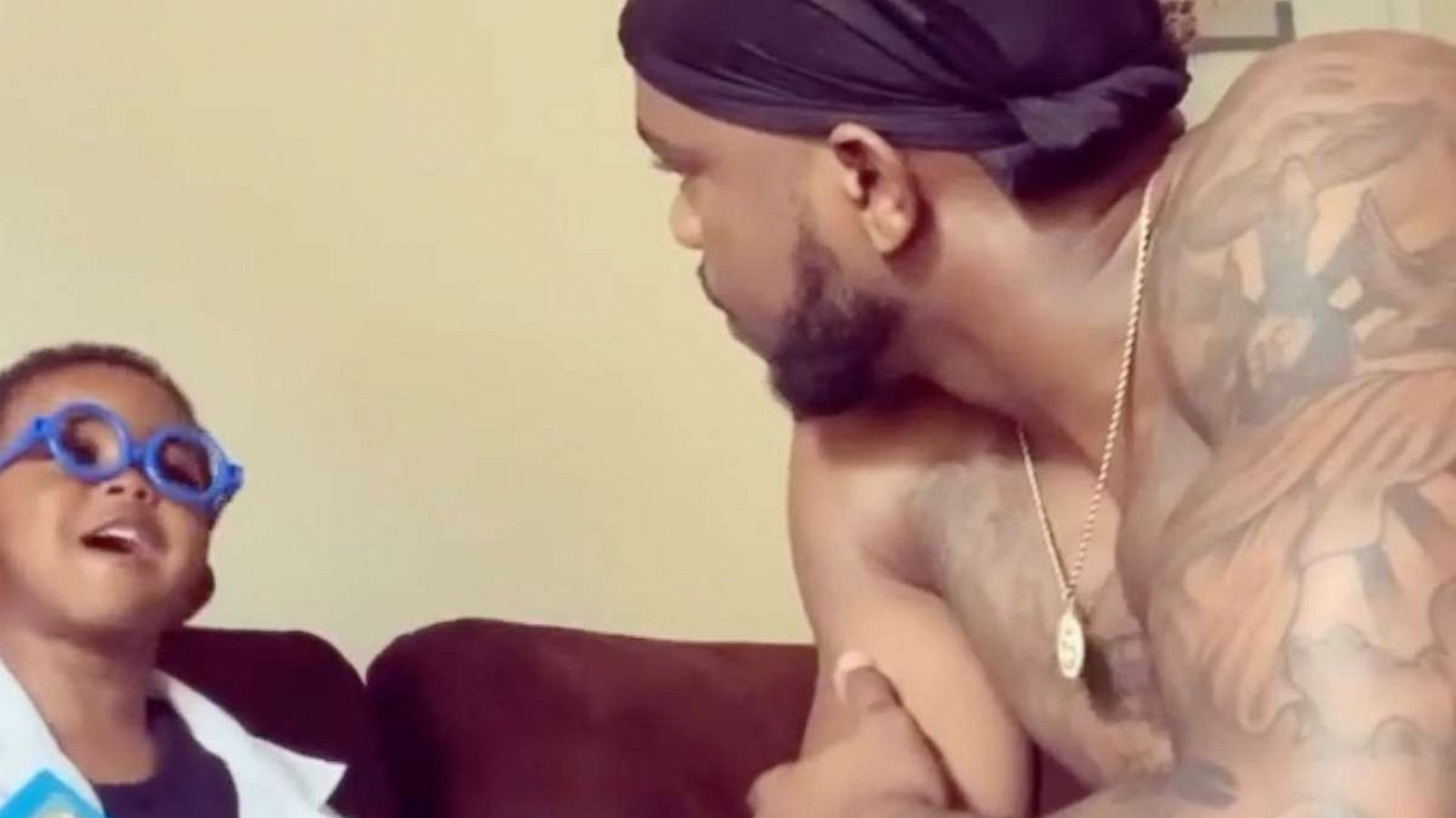 A Viral Video of a Kid Who Wants to Be a Doctor
Some doctors say that they always knew that they wanted to be doctors. Many of them dreamed about entering the profession when they were very young children. Jakobi Nichols might be in that category some day. There's a viral video of him giving his father Dequan Nichols a checkup. Jakobi is three years old now, and he might have an interesting perspective on this video when he watches it again as an adult.
Jakobi was wearing a labcoat and even had a clipboard in the video. He asked Dequan his name, and Dequan said 'Dada.' Dequan then talked about having an achy neck in the morning, which is an issue that a lot of people have. Jakobi took his dad's heart rate using the stethoscope and had a delightfully energetic reaction to it.
Many people never truly figure out what they want to do with their lives. Jakobi already wants to be a doctor. Dequan has already encouraged his son by buying him a full doctor costume. The costume set even had toy medical instruments. One of the instruments was a stethoscope, of course, which is one of the most iconic and recognizable medical instruments.
The set also came with some round glasses that don't have lenses. Most people will need glasses while they're still young these days. Kids don't usually tease each other about wearing glasses anymore, since it's so common. Kids already get used to the idea of wearing glasses early in life. They're living in a very different world than people did in the past.
People all over the world have now seen this video, and it just keeps on accumulating more views. It's a video that really resonates with a lot of people. Parents can relate to it. Many of them have had these sorts of adorable moments with their kids. They aren't always lucky enough to be able to catch them on video, however, which can be upsetting. When parents like Dequan Nicholas are able to do so and share those moments with the world, it's special for all of us.
Plenty of people would like to see some cheerful videos online these days, since it's a complicated time period in many ways. Videos like this are brightening everyone's day.
It's also interesting that kids in Jakobi's generation will be able to look back on these videos of themselves. Three generations have been able to do so, and he's a member of the third generation to have grown up with the Internet. People used to have a few small sets of photographs of themselves from when they were kids. They didn't usually share those pictures with anyone other than family members or the occasional friend. Members of the general public certainly never got to see them.
Now, videos like this go viral all the time. People can see precious family moments being recorded. The people who share these videos can make friends from all over the world as a result.
Parents used to tell kids stories from their childhood, and the kids wouldn't always believe them. They wouldn't necessarily remember what happened, or they would think that their parents were exaggerating. Now, kids can look back on videos that were genuinely taken when they were very young. Many of their classmates would have seen these videos. People have long and detailed records of themselves, which really does make this time period stand out in a unique way.
Jakobi might decide to be a doctor one day. He might even mention this video when people ask him about what made him decide to be a doctor.
Pets Elected As Mayors, Earn Town Money For Project Development
Fundraisers are a dime a dozen, but great or unique fundraisers, on the other hand, are not so common.
Desperate times call for desperate measures or thinking outside of the box, and that's exactly what officials at a town in the state of Vermont did.
Instead of moping about the pandemic's impact on their city, they decided to go back to the drawing table and come up with a plan to develop a proper playground for the children in the town and its environs.
So what did they come up with? The election of two animals, a dog, and a goat, as mayors. That fundraiser may probably be one of the greatest of all times, (goat) or just doggone smooth, but either way, the plan has been working.
The fundraiser began in 2018 in the Vermont town of Fair Haven, where they elected a goat named Lincoln to hold the position as their honorary mayor.
The project aimed to raise funds to remodel a park that has been in a state of disrepair after serving the community for more than thirty years.
Once Lincoln completed his term as honorary mayor, he was succeeded by Murphee, a dog who still handles the special mayoral duties to garner funds for the project.
Both Lincoln and Murphee make frequent appearances at events, and people have been spending their money to catch a glimpse of them.
Murphee is a King Charles Spaniel, and his owner was ready from the onset of being approached to use her dog for the fundraiser.
Little did she know that it would become a significant undertaking attracting thousands of people and raising thousands of dollars.
The city aims to raise a hundred thousand dollars, and so far, the animals have helped to warn approximately thirty thousand of the amount.
The town has added another twenty thousand dollars to the amount raised, putting them at half the amount needed.
With the honorary mayors gaining national prominence, it is expected that they'll make the full amount needed for the redevelopment project at the park and more.
The federal Land and Water Conservation Fund has given a grant amounting to the other half required for the development, to Fair Bank.
Therefore, any additional earnings will go to other things needed in the community.
Residents are genuinely appreciative of the show put on by both Lincoln and Murphee in refined style and plan to begin the park renovation project in the spring.
Everyone is looking forward to the transformation of the park, which will enhance the aesthetics of the town.
It is not yet clear if the honorary mayors will be popularly featured at the park or if they'll be participating in the ribbon-cutting ceremony.
However, it turns out; this is undoubtedly going to be spoken about for many years to come. It will be a great story to tell the future generation about how the funds were raised to build the fantastic Park that they now enjoy.