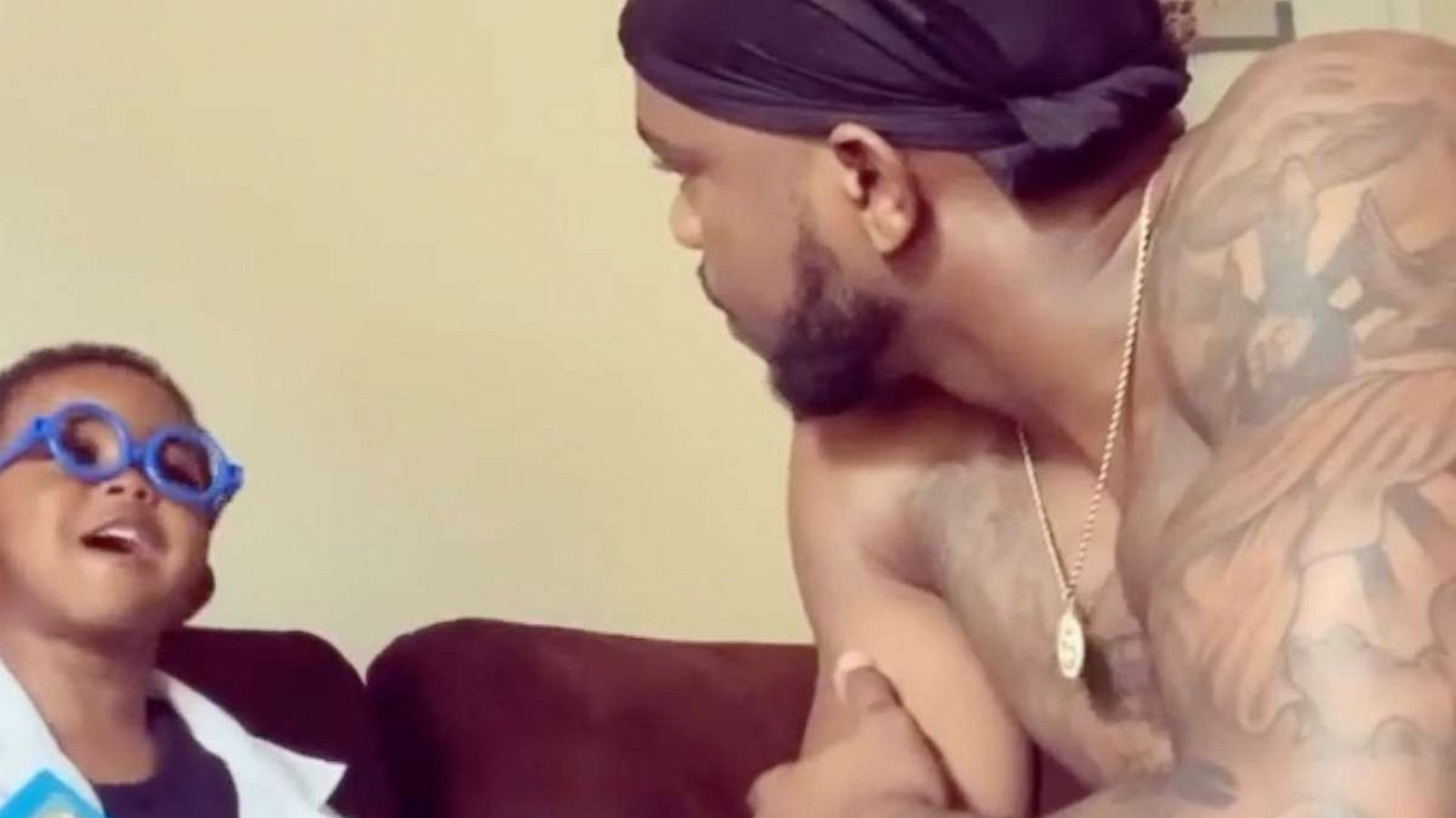 A Viral Video of a Kid Who Wants to Be a Doctor
Some doctors say that they always knew that they wanted to be doctors. Many of them dreamed about entering the profession when they were very young children. Jakobi Nichols might be in that category some day. There's a viral video of him giving his father Dequan Nichols a checkup. Jakobi is three years old now, and he might have an interesting perspective on this video when he watches it again as an adult.
Jakobi was wearing a labcoat and even had a clipboard in the video. He asked Dequan his name, and Dequan said 'Dada.' Dequan then talked about having an achy neck in the morning, which is an issue that a lot of people have. Jakobi took his dad's heart rate using the stethoscope and had a delightfully energetic reaction to it.
Many people never truly figure out what they want to do with their lives. Jakobi already wants to be a doctor. Dequan has already encouraged his son by buying him a full doctor costume. The costume set even had toy medical instruments. One of the instruments was a stethoscope, of course, which is one of the most iconic and recognizable medical instruments.
The set also came with some round glasses that don't have lenses. Most people will need glasses while they're still young these days. Kids don't usually tease each other about wearing glasses anymore, since it's so common. Kids already get used to the idea of wearing glasses early in life. They're living in a very different world than people did in the past.
People all over the world have now seen this video, and it just keeps on accumulating more views. It's a video that really resonates with a lot of people. Parents can relate to it. Many of them have had these sorts of adorable moments with their kids. They aren't always lucky enough to be able to catch them on video, however, which can be upsetting. When parents like Dequan Nicholas are able to do so and share those moments with the world, it's special for all of us.
Plenty of people would like to see some cheerful videos online these days, since it's a complicated time period in many ways. Videos like this are brightening everyone's day.
It's also interesting that kids in Jakobi's generation will be able to look back on these videos of themselves. Three generations have been able to do so, and he's a member of the third generation to have grown up with the Internet. People used to have a few small sets of photographs of themselves from when they were kids. They didn't usually share those pictures with anyone other than family members or the occasional friend. Members of the general public certainly never got to see them.
Now, videos like this go viral all the time. People can see precious family moments being recorded. The people who share these videos can make friends from all over the world as a result.
Parents used to tell kids stories from their childhood, and the kids wouldn't always believe them. They wouldn't necessarily remember what happened, or they would think that their parents were exaggerating. Now, kids can look back on videos that were genuinely taken when they were very young. Many of their classmates would have seen these videos. People have long and detailed records of themselves, which really does make this time period stand out in a unique way.
Jakobi might decide to be a doctor one day. He might even mention this video when people ask him about what made him decide to be a doctor.
Young Boy Keeps Toy He Was Measured Against As A Premature Baby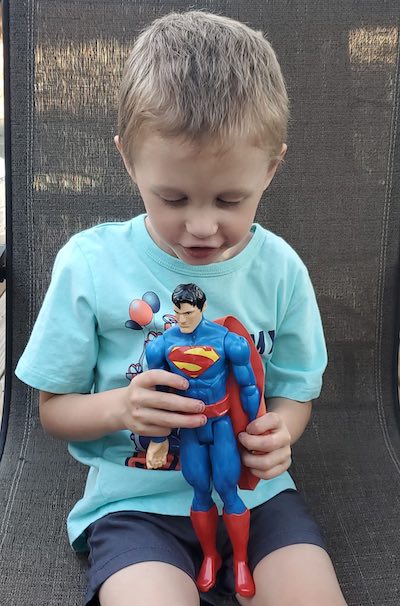 Doctors sent home a woman and her husband to prepare for a miscarriage, but the defiant parents stayed put and now have the tale of a lifetime to tell.
So does their four-year-old son Logan Ray, born less than six months of pregnancy, has a Superman action-figure as proof of how small he was at birth. He was only 12 inches in length and weighed a pound and a half. He and the action figure his parents Rob and Val placed beside him shortly after his birth, are now inseparable.
How did this fascinating and heartwarming story come about?
Nearly five years ago, when Val was pregnant with their son, doctors wiped the smiles off their faces by announcing that the baby would not make it to full term. The Physician claims the baby would not survive at all, and they should brace themselves for any eventuality.
The reason for the bad news was that Val had been diagnosed with a cervix problem. The doctors said examinations showed her Cervix was incompetent. That situation usually transpires when unstable cervical tissue induces or contributes to premature delivery or the loss of pregnancy even though the gestation is, on the other hand, healthy.
Val and Rob blocked out the bad news they received, and we're adamant that they would remain in the hospital to see the pregnancy through. The baby was a fighter too and stayed put for all of twenty-three weeks. Val helped out by keeping her feet elevated and staying in bed for three weeks without getting up to do anything that could further jeopardize the pregnancy.
She gave birth to a child now known as the "Superman Baby" for dual reasons. He was mighty strong and put up a fight to survive, and he was the size of a Superman toy. The toy idea came about when the nurses suggested to the mom that she should use something like a keepsake to measure the baby alongside. When she ran the idea by her husband, he was very supportive and they agreed on the Superman novelty.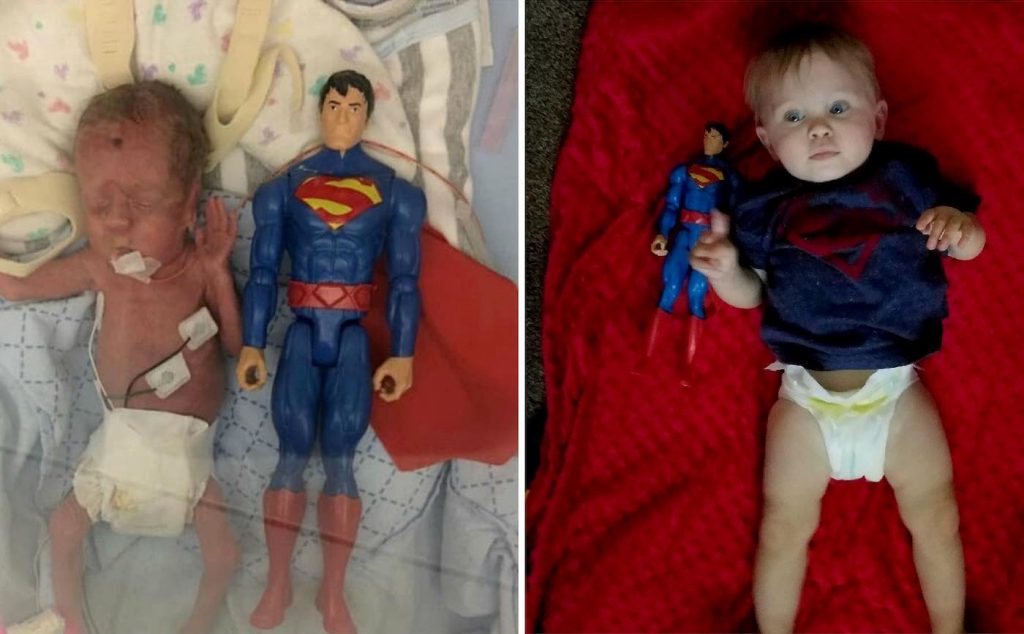 The doll was sanitized and placed beside Logan. For fifteen weeks, he remained in an incubator at the Randall Children's Hospital in Portland, Oregon fighting a myriad of complications that many feared would hinder the survival of Logan, but he pulled through like a champ. It was after those four months that he was finally able to leave with his parents.
From the hospital days to now, four years later, Val has been taking a multitude of photos with Logan carrying around his action figure. The doll is an indicator of Logan's successful development after a traumatic experience in the first few months of his life.
According to the happy and grateful parents, they communicate with the doctor who wants a regular update on Logan, who he refers to as " tough."
Many people consider not just Logan's survival but the fact that he has no further complications a miracle. Just like his action figure, Logan is healthy and strong as any regular child his age. His parents say they will never get rid of the Superman tog as memorabilia is not just for them, but for Logan when he becomes an adult.
He will have a tear-jerking story to tell years from now if or when he becomes a parent as well.