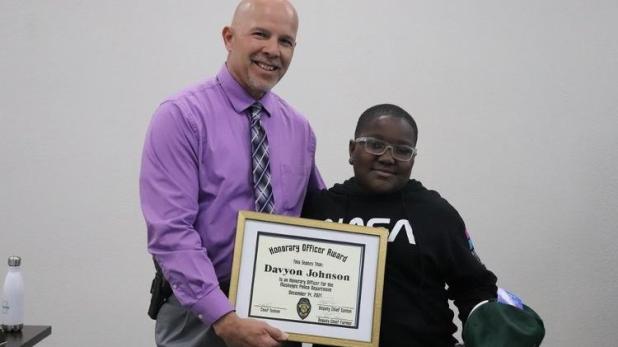 A Very Humble Boy Saved Two People's Lives In One Day
When someone saves another's life in a day, it's oftentimes an amazing thing. When that happens twice in the same day, folks start thinking in terms of fate or predestined roles that people play without knowing them until the time to do so arrives. That was the case with one 11-year-old who was in the right place at the right time twice in one day.
The first happened at school, while Davyon Johnson was just doing whatever kids in school do, going to classes, walking back and forth between lockers and socializing with friends. However, at the right moment, Johnson happened to see a fellow student in trouble. Another student was fiddling with a water bottle, taking the cap off with his mouth. Doing so, the student accidently swallowed the cap and started choking. Johnson saw what happened and immediately jumped to help save the teen. With a standard Heimlich maneuver, Davyon Johnson was able to help dislodge the bottle cap so the student could cough it up. Doing so, Johnson ended the choking incident and probably saved his fellow student's life.
However, Johnson's responsibilities weren't finished. Little did he know the boy was going to be involved again later in the day, saving someone else.
Going home after school, Davyon Johnson was making his way through the neighborhood when he saw a house on fire. Realizing the situation, Johnson ran up to the house and began banging on the door to help the owner inside. The boy ultimately helped the resident escape the burning home and get to her car for safety.
With so much having happened, folks after the fact aren't that surprised that Johnson wants to be an EMT or paramedic when he is old enough. The boy already has a natural talent for helping people under emergency conditions.
The combination of effort in one day to help so many people was not unnoticed. Multiple agencies came together afterwards to formally honor Davyon Johnson for willing to risk himself to help others without hesitating. He received two honorary status certificates from the police department and the sheriff's department, and Johnson's local school board also gave the boy an award for his heroism.
However, just looking at Johnson, he's not letting things go to his head. He just wants to hang out with his friends, avoid homework where possible, and get to the weekend for running around. But the future holds a lot of promise for the young man, especially if he does pursue his career choice.
LA Cougar Makes It Over a Freeway Known for Animal Deaths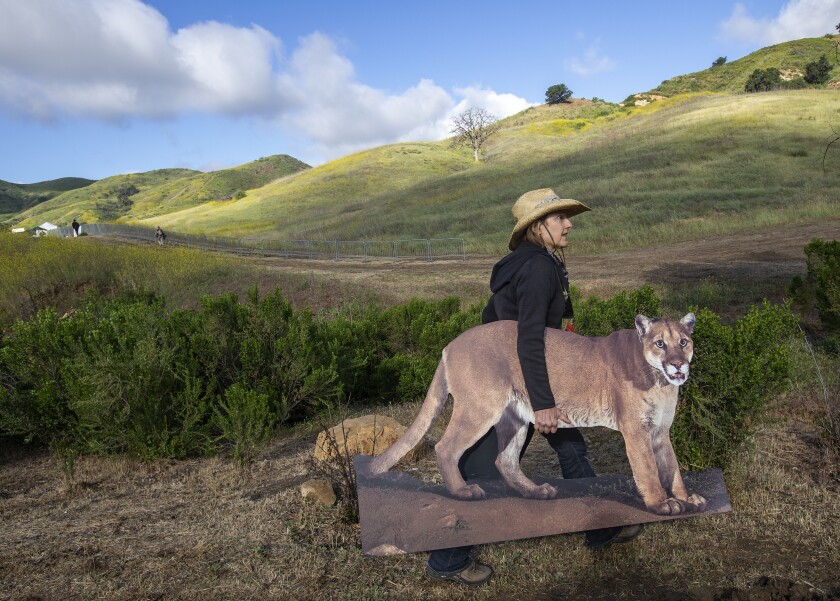 The idea of manmade infrastructure to help wildlife continue to propagate and create new generations has always been a Grand Canyon challenge for conservationists. The cost is usually prohibitive and hard to justify for animals, but the provisioning of the features makes sense as it allows wildlife displaced by development alternative paths and means to re-connect and continue to live. As development continues to spread, most often with highways first, these modern transportation corridors end up being death lines for animals who try to cross but have no idea what the dangers are.
The 101 Freeway that cuts through the Agoura Hills of California is a particularly specific example of a death-line for wildlife. It has repeatedly been a problem, killing animals by impact with cars as they try to forage for food or connect with others for mating. Instead, however, an idea was launched a decade ago to build a safety corridor that animals could use to get across safely. Essentially, the corridor was to be a bridge over the highway, natural in appearance to wildlife but functional and structural to span the highway and keep them away from cars when crossing.
A decade later, on Earth Day 2022, the 101 Freeway Wallis Annenberg Wildlife Crossing was initiated. The idea is not a new one; Europeans have been creating wildlife corridors over or under their highways for years. However, for the U.S. and California, the Annenberg Crossing is one of the first to be created by a municipality over a major traffic conduit.
Additionally, one very distinct wildlife participant will likely have a very strong interest in using the crossing. Mountain lions are extremely long-range roaming animals, directly impacted by highways and infrastructure that makes it too dangerous for them to cross. Along with hundreds of species that will likely use the cross to connect with others of their kind, mountain lions are sure to find the crossing advantageous, particularly at night when they do most of their traveling.
Safety corridors are a game-changer in the conservation world. They allow wildlife to adapt to development and live safely around it versus become blocked and eventually die off from a lack of gene diversity in breeding. They also push society to incorporate conservation impact planning into infrastructure development for the future as well. The Annenberg Crossing will be completed as a partnership between conservancies, charity, non-profit activism and California government.
Spanning over 200 feet long, the Annenberg Crossing will provide local wildlife plenty of room to maneuver across. The width measures at least 165 feet from side to side, will be a natural surface environment, and it will be high enough to keep wildlife entirely safe from passing vehicles below. It will also provide direct land connection for mountain lions who currently survive with small populations in the area and were cut off previously by the freeway.