A Tiny Home Built By a Teenager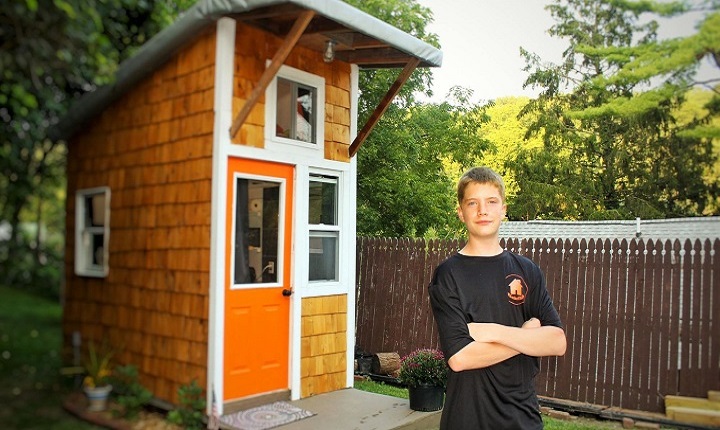 13 year old Luke Gill achieved his dream of having his own tiny home by building it himself. The teenager from Iowa used his creative energy to build his very own tiny house. He channeled his constructive, creative energy and built it in his parent's backyard.
His father contributed by helping him pay for the materials and supplies needed for the project. With his dad's support, Luke was able to build his first house. The two bonded in creating the shingle sided wood house, complete with glass windows and a front door. The entire project cost about $1,500 to make. Luke also raised money to help construct it by working for his neighbors doing odd jobs.
Luke Gill filmed the process of building his house and put it on Youtube. He said he didn't see kids younger than 14 building tiny houses, so he decided to document it. Major news networks like ABC picked up on the story, and he is an inspiration to kids and adults like. He said that his idea for building his own tiny house came from watching Youtube, and he decided to pursue the project.
His parents, Greg and Angie, saw his interest. They decided to support his ambition and gave him the go ahead to build a tiny house on a five acre property. The rules were that he had to be financially responsible with it, and take care of the costs.
His parents helped him design and complete the house. Luke's dad helped in the construction, and his mom helped with the interior decorating. His sister and brother also pitched in a hand. They helped him to barter his services with neighbors, and found friends and family who were willing to donate reclaimed materials as well as their skills. Luke's house project brought his family and community together in a goal they all worked together to achieve.
Luke's neighbor, a professional electrician, helped him to wire up the house and have lights. Luke cleaned his garage, and in exchange his neighbor taught him how to set up the wires. This powers the utilities and appliances inside.
The 89 square foot tiny home has a refrigerator, TV, mini seating area, and a fold up dining table. His friends love to stop by the house and hang out in it. They say that it's cool, and think that Luke's creation is amazing.
Luke's dad commented that Luke is a driven kid, and that contributed to him being able to finish his project. He said that when the project stalled due to funds, Luke focused and got the money together to continue.
Luke was invited to speak at a tiny house conference in Iowa, where he presented his story.  He has plans for the future, including building another tiny house.  Many other kids have reached out to Luke, and talked about their ambitions and message him pictures of their tiny houses.  Right now, Luke is helping his brother Cole build a teardrop trailer. He says that he would like to build a bigger house.
The little boy shares a special moment with a police officer during a protest rally for George Floyd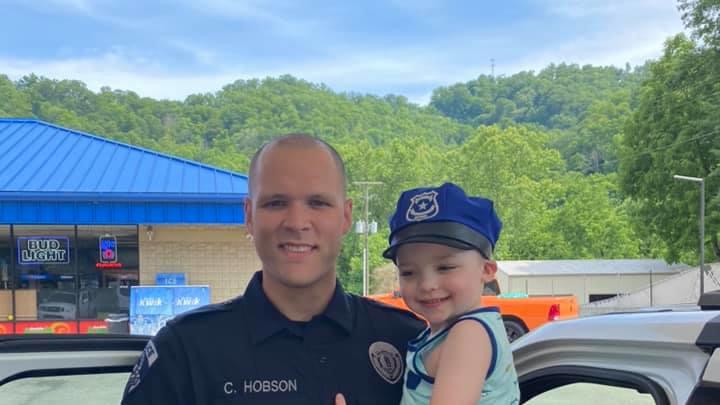 The ruthless killing of George Floyd has caused a thunderous uproar and rage throughout the world. In Winston-Salem, NC, hundreds of people gathered to protest against the killing of Floyd. They took to one knee for 8 minutes and 46 seconds that is the exact length of time former police officer Derek Chauvin had shoved his knee onto Floyd's neck which resulted in Floyd's death. The killing of George Floyd has become a symbol of injustice not only in American society but throughout the world. "Say no to racism" has been the most trending topic in all regions of the globe. In this particular incident, it was a black man who was the victim and this is not the only time it has happened. Several cases have occurred which demonstrated the lack of compassion and justice in the way law enforcement has dealt with individuals from minority racial groups.
Yolanda Williams Dickey, a resident of Winston-Salem, NC, was driving by the protest when she decided she wanted her family to be part of this protest as a sign of solidarity against discrimination against the minority groups. She went home to pick up her husband and son, who were glad they got a chance to be part of this historic protest. For her little son, Kamari it was quite the experience. He had never seen a protest rally before this. He saw a lot of anger and pain in the faces of the protestors. He could also see his parents being very emotional too. His parents had told him what the protest was about and how Floyd had been murdered. Kamari couldn't understand why the former police officer did what he did to George Floyd.
Kamari's attention went to the police officers on the sidelines. He watched them very closely as they stood by making sure there was no violence at the protest. Kamari had always wanted to a police officer himself but now his mother was concerned that after this incident, maybe he would not want to be one. Most of the toys that Kamari had were related to the police and he spent most of his days playing with them. He often told his parents that when he grows up he wanted to be a police officer so he could catch the bad guys. This unfortunate killing of George Floyd might have shattered the dreams of the little boy. At the protest, as the family moved closer to the police officers, Kamari approached Sgt. Dan Battjes, who was sitting on his motorcycle.
Kamari formally introduced himself to the police officer, who was very kind and friendly to the boy. After a few minutes of talking, Kamari said goodbye to the officer by a friendly fist pump. While the citizens of the country are demonstrating against the police and there is an unbelievable level of anger toward law enforcement, this little boy kept no hatred in his heart. The innocence of the little boy showed the resilience of the American community. One incident cannot dismantle years of peaceful coexistence. Yes, there have been cases where the minority communities have been discriminated and there should be strict actions and reforms against such incident but Americans still need to live together. The dream of Kamari to become a police officer might still be alive. The question remains, is the dream of a multi-racial America living with each other with love, compassion, and tolerance still alive? Only time will tell if this dream is alive.