A Tiny Home Built By a Teenager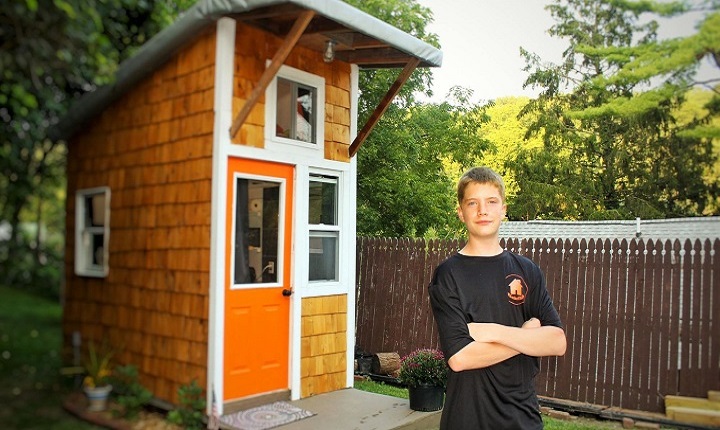 13 year old Luke Gill achieved his dream of having his own tiny home by building it himself. The teenager from Iowa used his creative energy to build his very own tiny house. He channeled his constructive, creative energy and built it in his parent's backyard.
His father contributed by helping him pay for the materials and supplies needed for the project. With his dad's support, Luke was able to build his first house. The two bonded in creating the shingle sided wood house, complete with glass windows and a front door. The entire project cost about $1,500 to make. Luke also raised money to help construct it by working for his neighbors doing odd jobs.
Luke Gill filmed the process of building his house and put it on Youtube. He said he didn't see kids younger than 14 building tiny houses, so he decided to document it. Major news networks like ABC picked up on the story, and he is an inspiration to kids and adults like. He said that his idea for building his own tiny house came from watching Youtube, and he decided to pursue the project.
His parents, Greg and Angie, saw his interest. They decided to support his ambition and gave him the go ahead to build a tiny house on a five acre property. The rules were that he had to be financially responsible with it, and take care of the costs.
His parents helped him design and complete the house. Luke's dad helped in the construction, and his mom helped with the interior decorating. His sister and brother also pitched in a hand. They helped him to barter his services with neighbors, and found friends and family who were willing to donate reclaimed materials as well as their skills. Luke's house project brought his family and community together in a goal they all worked together to achieve.
Luke's neighbor, a professional electrician, helped him to wire up the house and have lights. Luke cleaned his garage, and in exchange his neighbor taught him how to set up the wires. This powers the utilities and appliances inside.
The 89 square foot tiny home has a refrigerator, TV, mini seating area, and a fold up dining table. His friends love to stop by the house and hang out in it. They say that it's cool, and think that Luke's creation is amazing.
Luke's dad commented that Luke is a driven kid, and that contributed to him being able to finish his project. He said that when the project stalled due to funds, Luke focused and got the money together to continue.
Luke was invited to speak at a tiny house conference in Iowa, where he presented his story.  He has plans for the future, including building another tiny house.  Many other kids have reached out to Luke, and talked about their ambitions and message him pictures of their tiny houses.  Right now, Luke is helping his brother Cole build a teardrop trailer. He says that he would like to build a bigger house.
A baby bear, tiger, and a lion found in a basement 12 years ago are now best friends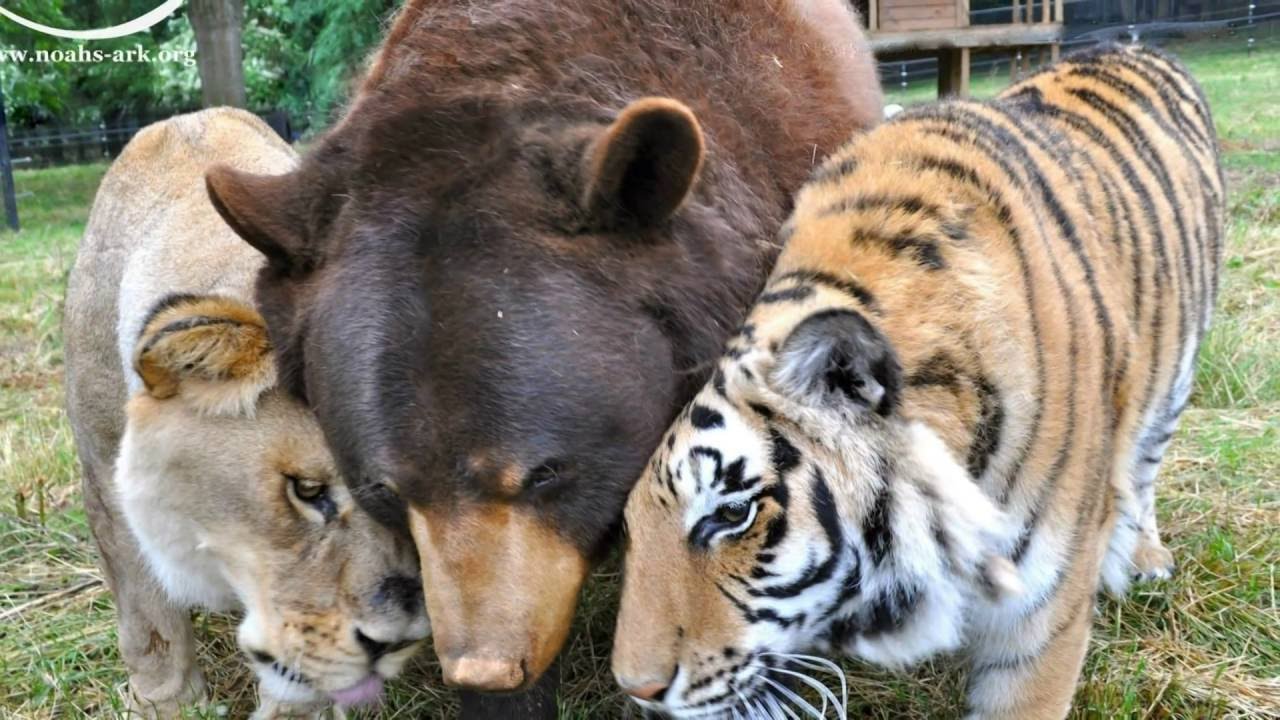 Wild animals try to stick to their natural habitat and they also tend to follow their natural social characteristics. For example, leopards are known to be very reclusive creatures and often prefer a solitary life. Bears and tigers are also not very social too.
In this fascinating story, a bear, a tiger, and a lion have grown up to become best buddies. In a video posted online, a 12-year-old Black Bear, named Baloo, walks over to his friend, Shere Khan, a Bengal Tiger, and cuddles with him as if they are brothers. Tigers don't even get along with their kin. So this friendship between the bear and tiger is even beyond kinship. To make things even more unbelievable, they have another friend, named Leo. You guessed it right, Leo is a lion.
What might explain this unusual friendship is their common history. 12 years ago, when these three animals were babies, they were being kept in terrible conditions in a basement. Fortunately, they were recovered by the police and bought to Noah's Ark Sanctuary in Locust Grove, GA. The three animals have cared for their entire life at the Sanctuary.
The staff at Noah's Ark Sanctuary have never heard of such friendship between a big cat and a bear. They do share the same habitat, especially in the Fat East, but any encounters between them as most aggressive or they just ignore each other and keep out of the way of the other. They don't walk up and cuddle each other. The staff at the sanctuary does point out that out of these three, Shere Khan has kept a little bit of natural wild mannerism but he is still very friendly. When it is sleep time, the trio shares the same room and cuddle together. They were kept as pets in that basement, which was legally not allowed. The owner of the basement was a drug dealer. They were confiscated and bought the sanctuary. Since then the owner of the sanctuary has looked after these three.
Unfortunately, Leo has passed away, leaving his loved ones with wonderful memories of him. He was 15 years of age when he passed away. He had been feeling sick and during surgery, his doctor found 80% of his liver was damaged. He could not have survived in such a condition. The difficult decision to let him go had to be made so that he does not suffer. His end in the world was peaceful.
Leo's best friends, Shere Khan and Baloo, were able to say a final goodbye to him. They have been doing all right since their best friend's departure. The staff at the sanctuary keeps a close eye to check off any worrisome signs of depression or change in behavior. The staff believes these two already knew Leo was terminally ill long before the staff was able to find out.
Leo's final resting place is located by the clubhouse at the sanctuary. Such compassion and bond in animals of different species are very rare. In the wild, they might have been foes, but at the sanctuary they were brothers. Their story is an example of when nurture overtakes nature. They grew up together and build a bond that went beyond the design of nature. Humans do not fully understand the communication or relationship dynamics of the animals. This story is an example of how wild animals can get along in the right environment.