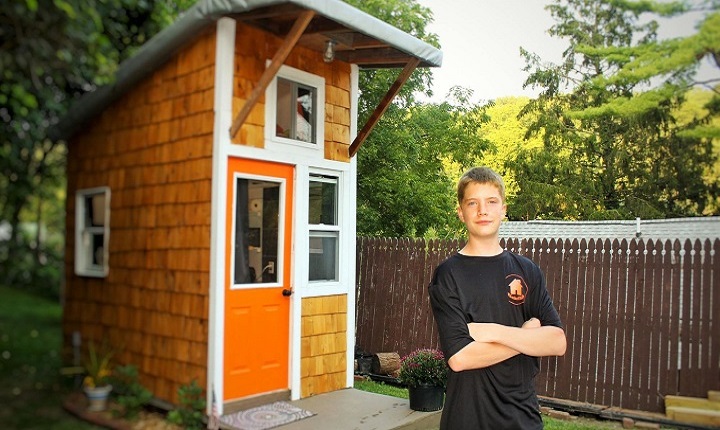 A Tiny Home Built By a Teenager
13 year old Luke Gill achieved his dream of having his own tiny home by building it himself. The teenager from Iowa used his creative energy to build his very own tiny house. He channeled his constructive, creative energy and built it in his parent's backyard.
His father contributed by helping him pay for the materials and supplies needed for the project. With his dad's support, Luke was able to build his first house. The two bonded in creating the shingle sided wood house, complete with glass windows and a front door. The entire project cost about $1,500 to make. Luke also raised money to help construct it by working for his neighbors doing odd jobs.
Luke Gill filmed the process of building his house and put it on Youtube. He said he didn't see kids younger than 14 building tiny houses, so he decided to document it. Major news networks like ABC picked up on the story, and he is an inspiration to kids and adults like. He said that his idea for building his own tiny house came from watching Youtube, and he decided to pursue the project.
His parents, Greg and Angie, saw his interest. They decided to support his ambition and gave him the go ahead to build a tiny house on a five acre property. The rules were that he had to be financially responsible with it, and take care of the costs.
His parents helped him design and complete the house. Luke's dad helped in the construction, and his mom helped with the interior decorating. His sister and brother also pitched in a hand. They helped him to barter his services with neighbors, and found friends and family who were willing to donate reclaimed materials as well as their skills. Luke's house project brought his family and community together in a goal they all worked together to achieve.
Luke's neighbor, a professional electrician, helped him to wire up the house and have lights. Luke cleaned his garage, and in exchange his neighbor taught him how to set up the wires. This powers the utilities and appliances inside.
The 89 square foot tiny home has a refrigerator, TV, mini seating area, and a fold up dining table. His friends love to stop by the house and hang out in it. They say that it's cool, and think that Luke's creation is amazing.
Luke's dad commented that Luke is a driven kid, and that contributed to him being able to finish his project. He said that when the project stalled due to funds, Luke focused and got the money together to continue.
Luke was invited to speak at a tiny house conference in Iowa, where he presented his story.  He has plans for the future, including building another tiny house.  Many other kids have reached out to Luke, and talked about their ambitions and message him pictures of their tiny houses.  Right now, Luke is helping his brother Cole build a teardrop trailer. He says that he would like to build a bigger house.
Red Wolves See Population Boost as 8 Animals Are Released Into the Wild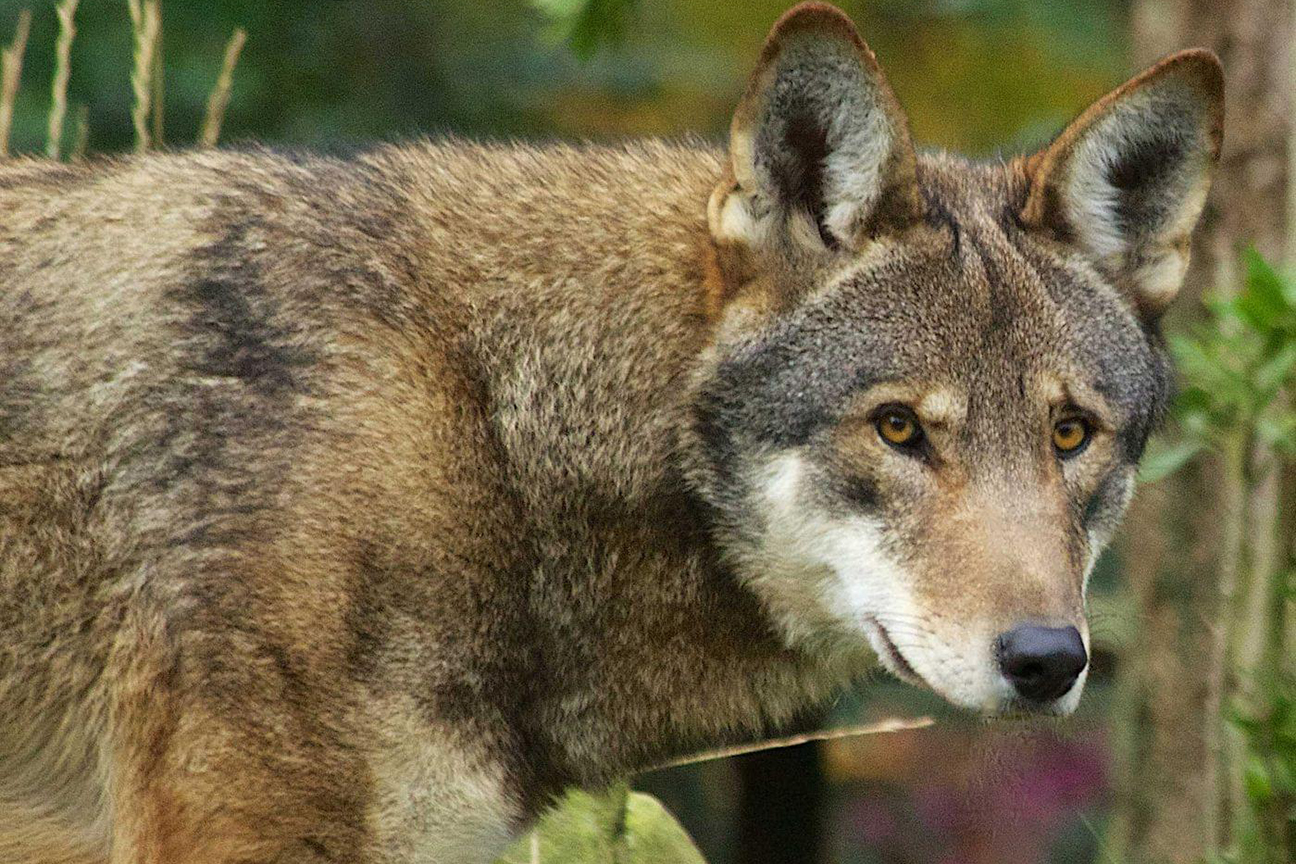 The red wolf is a striking canine endemic to the southeastern edge of the United States. As an intermediary between the common coyote and the gray wolf, the red wolf is known for its distinct size and color patterns. A contentious member of the canine debate, the red wolf is considered critically endangered as recognized by the Endangered Species Act of 1973.
While population numbers have been dwindling since the act was proclaimed, there has been some positivity to embrace in recent years. A recent court order mandated the release of eight red wolves into nature, a decision put in place by the Southern Environmental Law Center as it worked with conservation groups throughout the nation.
Urging Positive Momentum in Conservation Circles
Critically endangered since 1973, the red wolf, unfortunately, falls to the back of the pack when it comes time to have a national conversation about conservation. According to Ron Sutherland, a member of the Wildlands Network environmental group, this recent proclamation by the court to release the eight wolves was a massive step in the right direction. Sutherland said that he hopes for the Fish and Wildlife Service to start working again with the people of North Carolina to resuscitate the red wolf population.
John Tirpak is a mother prominent voice in the conservation movement geared toward supporting the red wolf population. Tirpak works as the Associate Regional Director of Ecological Services at the Fish and Wildlife Service. Through his efforts, Tirpak hopes to help craft an 'implementation plan' based upon established recovery goals to help bring the red wolf back from the brink.
Releasing Red Wolves to Nature
Our latest story of conservation in North Carolina is centered on four red wolf pups that were born at the Akron Zoo. These wolves were then placed within a den at the Pocosin Lakes Wildlife Refuge on the eastern edge of North Carolina. This was done as a proponent of pup fostering, a successful method that helps to prime young pups for re-integration in nature. With a success rate hovering near 100%, pup fostering is one of the primary conservation measures put in place to help bring red wolves back.
Unfortunately, pup fostering can be difficult work. The puppies have to be relocated before they reach two weeks old because their eyes are still closed. With closed eyes, a quick move allows wolves to acclimate with their new litter-mates as they resemble the smell at that age. To properly tackle this process, zookeepers, biologists, and volunteers must work as one across the nation.
Joe Madison serves as the Director at the Red Wolf Program in North Carolina. As the leader of the project, Madison got to watch as the wolf mother moved its foster pups to a new location with the rest of its litter. From then on, scientists have been tracking and monitoring all of their movements near the den.
Tragically, red wolves would be labeled as officially extinct in the 80s. From that point forward, people like Madison and Tirpak were vital in bringing breeding pairs back to the country. In 1987, four breeding pairs were bred from the original 14 animals held at the Alligator River Wildlife Refuge. This would lead to the 'rewilding' efforts that we see today.
Right now, Joe Madison is focused on his Prey for the Pack initiative to support landowners in improving their property. In exchange, these same landowners will allow red wolves onto their land to live in peace and quiet while the fostering and rehabilitation process continues unhindered.