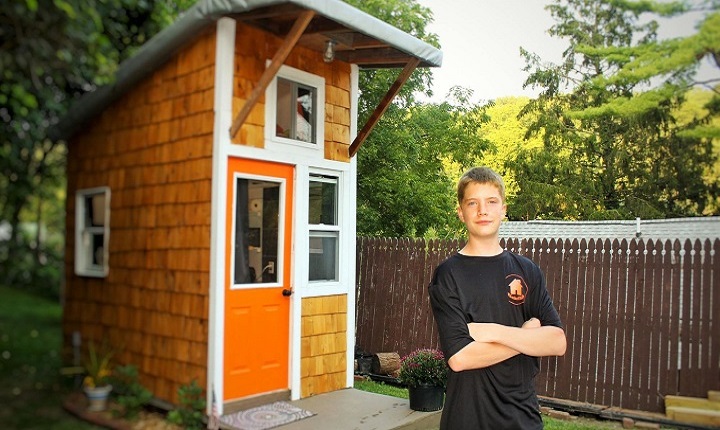 A Tiny Home Built By a Teenager
13 year old Luke Gill achieved his dream of having his own tiny home by building it himself. The teenager from Iowa used his creative energy to build his very own tiny house. He channeled his constructive, creative energy and built it in his parent's backyard.
His father contributed by helping him pay for the materials and supplies needed for the project. With his dad's support, Luke was able to build his first house. The two bonded in creating the shingle sided wood house, complete with glass windows and a front door. The entire project cost about $1,500 to make. Luke also raised money to help construct it by working for his neighbors doing odd jobs.
Luke Gill filmed the process of building his house and put it on Youtube. He said he didn't see kids younger than 14 building tiny houses, so he decided to document it. Major news networks like ABC picked up on the story, and he is an inspiration to kids and adults like. He said that his idea for building his own tiny house came from watching Youtube, and he decided to pursue the project.
His parents, Greg and Angie, saw his interest. They decided to support his ambition and gave him the go ahead to build a tiny house on a five acre property. The rules were that he had to be financially responsible with it, and take care of the costs.
His parents helped him design and complete the house. Luke's dad helped in the construction, and his mom helped with the interior decorating. His sister and brother also pitched in a hand. They helped him to barter his services with neighbors, and found friends and family who were willing to donate reclaimed materials as well as their skills. Luke's house project brought his family and community together in a goal they all worked together to achieve.
Luke's neighbor, a professional electrician, helped him to wire up the house and have lights. Luke cleaned his garage, and in exchange his neighbor taught him how to set up the wires. This powers the utilities and appliances inside.
The 89 square foot tiny home has a refrigerator, TV, mini seating area, and a fold up dining table. His friends love to stop by the house and hang out in it. They say that it's cool, and think that Luke's creation is amazing.
Luke's dad commented that Luke is a driven kid, and that contributed to him being able to finish his project. He said that when the project stalled due to funds, Luke focused and got the money together to continue.
Luke was invited to speak at a tiny house conference in Iowa, where he presented his story.  He has plans for the future, including building another tiny house.  Many other kids have reached out to Luke, and talked about their ambitions and message him pictures of their tiny houses.  Right now, Luke is helping his brother Cole build a teardrop trailer. He says that he would like to build a bigger house.
LA Cougar Makes It Over a Freeway Known for Animal Deaths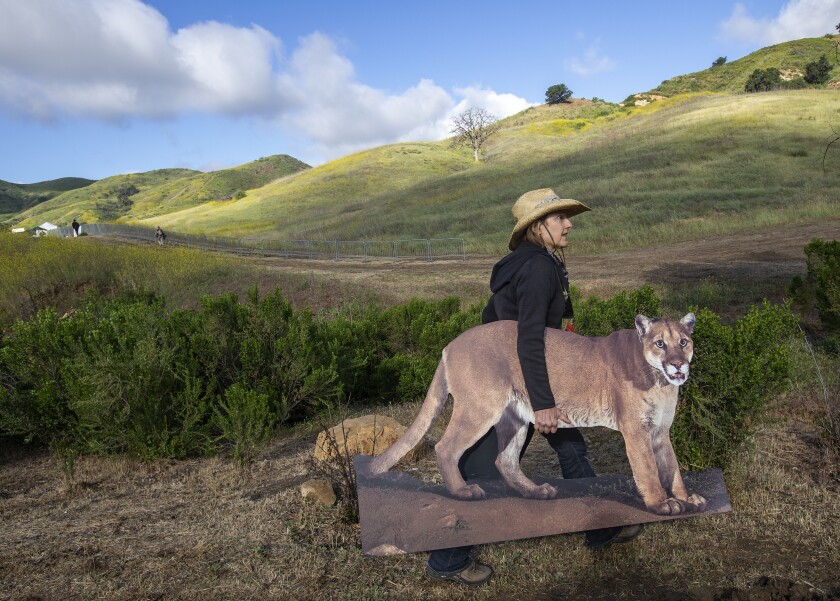 The idea of manmade infrastructure to help wildlife continue to propagate and create new generations has always been a Grand Canyon challenge for conservationists. The cost is usually prohibitive and hard to justify for animals, but the provisioning of the features makes sense as it allows wildlife displaced by development alternative paths and means to re-connect and continue to live. As development continues to spread, most often with highways first, these modern transportation corridors end up being death lines for animals who try to cross but have no idea what the dangers are.
The 101 Freeway that cuts through the Agoura Hills of California is a particularly specific example of a death-line for wildlife. It has repeatedly been a problem, killing animals by impact with cars as they try to forage for food or connect with others for mating. Instead, however, an idea was launched a decade ago to build a safety corridor that animals could use to get across safely. Essentially, the corridor was to be a bridge over the highway, natural in appearance to wildlife but functional and structural to span the highway and keep them away from cars when crossing.
A decade later, on Earth Day 2022, the 101 Freeway Wallis Annenberg Wildlife Crossing was initiated. The idea is not a new one; Europeans have been creating wildlife corridors over or under their highways for years. However, for the U.S. and California, the Annenberg Crossing is one of the first to be created by a municipality over a major traffic conduit.
Additionally, one very distinct wildlife participant will likely have a very strong interest in using the crossing. Mountain lions are extremely long-range roaming animals, directly impacted by highways and infrastructure that makes it too dangerous for them to cross. Along with hundreds of species that will likely use the cross to connect with others of their kind, mountain lions are sure to find the crossing advantageous, particularly at night when they do most of their traveling.
Safety corridors are a game-changer in the conservation world. They allow wildlife to adapt to development and live safely around it versus become blocked and eventually die off from a lack of gene diversity in breeding. They also push society to incorporate conservation impact planning into infrastructure development for the future as well. The Annenberg Crossing will be completed as a partnership between conservancies, charity, non-profit activism and California government.
Spanning over 200 feet long, the Annenberg Crossing will provide local wildlife plenty of room to maneuver across. The width measures at least 165 feet from side to side, will be a natural surface environment, and it will be high enough to keep wildlife entirely safe from passing vehicles below. It will also provide direct land connection for mountain lions who currently survive with small populations in the area and were cut off previously by the freeway.