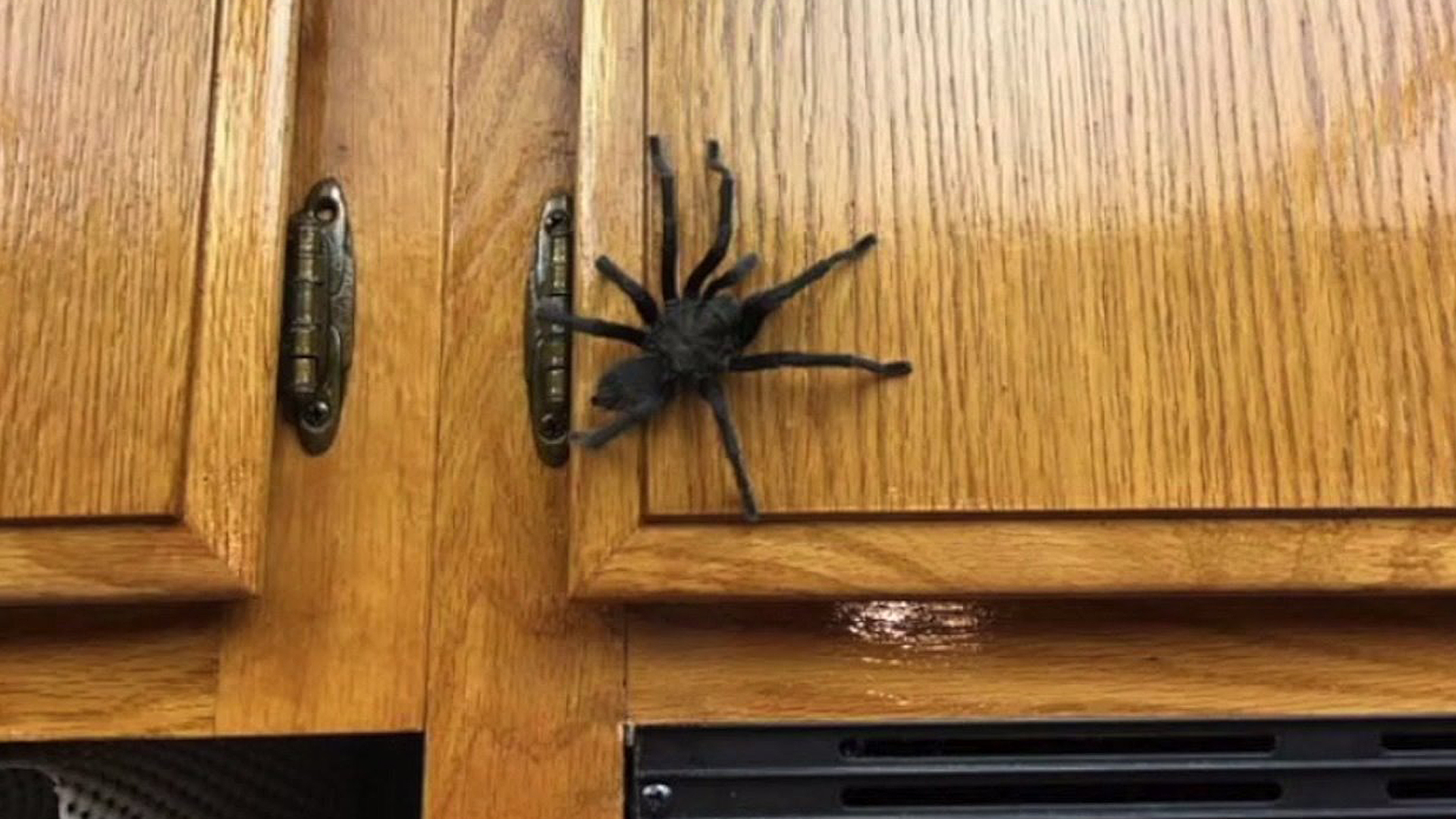 A teenager shocked to find a giant tarantula on the kitchen cabinet
A 19-year-old Hannah Dafferner was looking for a late-night snack in her kitchen when she saw a small creepy-looking figure on the kitchen cabinet. Hannah was frozen in shock. It was black colored and looked like some type of giant spider. It was near the handle of the cupboard and wasn't moving much. At first, Hannah thought it was one of her younger sister's toys or Halloween decorations. Then to her astonishment, it moved enough for Hannah to know it was not a toy. Hannah screamed as loud as she could. Her dad came rushing downstairs to a lot of screaming going on. What Hannah had seen on the kitchen cabinet was a huge tarantula. It was at least 4 inches in size and had eight legs. It would have scared most people. If the dad had not rushed downstairs, Hannah was about to call 911 for help.
The dad tried to say calm during the commotion. He grabbed an empty pitcher to try to catch the tarantula. He put the pitcher on the cupboard and waited for the tarantula to move in to. He made sure to be gentle and hurt the tarantula. The tarantula was very cooperative. He was probably more of the people. By this time the entire family was in the kitchen area. Once the tarantula was in the pitcher, everyone wanted to have a look at the amazing creature.
Tarantulas are hairy versions of a spider family. Typically, they are harmless to humans but their appearance seems to make a lot of people scared of them. On very rare occasions, they can bite humans and it can be painful. Their venom is very mild, usually less than a typical bee's. Some people suffer from a phobia of spiders or tarantula. This phobia is called arachnophobia.
The family posted photos of the tarantula on social media in an attempt to check if anyone in the neighborhood had lost a tarantula. They got a lot of comments and reactions. The next day, they got a message saying "Can we have it?" The family was more than happy to hand it over. The tarantula now belongs to a 9-year-old girl how is ecstatic to have it. The family feels glad that the episode is over but are a bit concerned about how the tarantula was allowed to intrude into their home.
Tarantulas are mostly found in tropical, subtropical or arid regions. Most people don't know this, but tarantulas are burrowers and mostly look to live underground. They are also nocturnal creatures and only venture out during night time unless it is mating season. They try to conserve as much energy as possible and only move when needed to. Insects are their main prey but occasionally they go for larger targets such as frogs or mice.
The family that found the tarantula believe it came inside from their backyard. It came into the house through the back door. They find it quite unbelievable that the tarantula was able to cover so much distance. The family was also shocked that their dogs were not able to stop the intruder. The house is located in San Diego, California. This region is known to have tarantulas and is often located inside the homes. This particular tarantula was a male spider. Male spiders require 7-10 years to mature before they can venture out their burrows and look for females. They only live a few months once they reach maturity. Females have a much longer life span and tend to live up to 25 years.
Re-purposing Old Wind Turbine Blades With Smart Ideas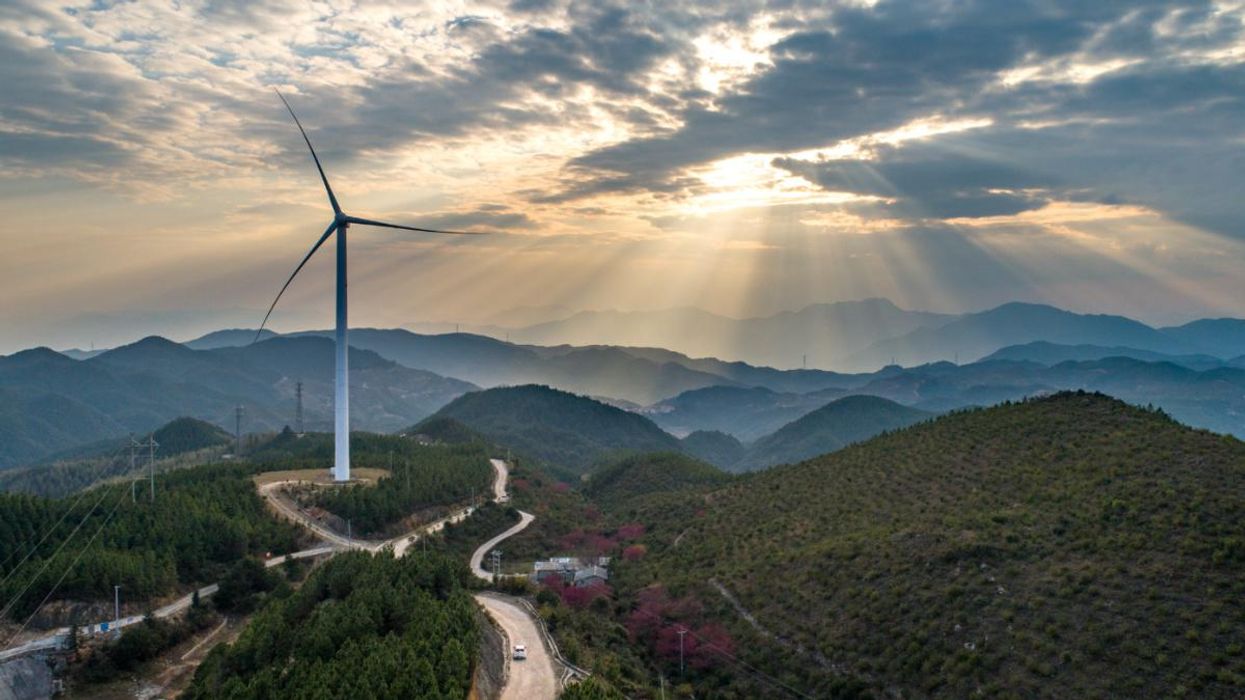 People have probably seen them in the distance next to highways or out in the country, wind farms generating energy for local and regional communities with a free resource in the local wind patterns shaped by geological forms in the area.
However, like anything mechanical, eventually even giant wind turbines start to breakdown and need replacement. And that creates a new issue about what to do with old turbine blades. Interestingly, there is no shortage of solutions for this challenge.
Industrial rafters in Ireland have found the old turbine blades ideal for being repurposed into recycled base material. The output has been turned into reinforcement for bridges, concrete forms, wake walls along the coastlines and noise barriers. Not only are the turbine blades large in size, producing a great amount of workable material for crafters, they are made of fiberglass, which is an extremely flexible and strong material. Traditionally, fiberglass is not recyclable. However, that fiberglass can become raw material for repurposed fiberglass in other structures. It finds a use for what otherwise would end up in the landfill and the same channel helps reduce the need to create more fiberglass as well.
Given the first generation of blades had some challenges with being reused until folks got creative with the fiberglass source, the subsequent generations of turbine blades are now being made from carbon fiber instead. Carbon fiber has a very high re-use factor, and that's a good thing for Ireland, which is already dealing with what do about 11,000 tons of old blades coming into waste management within the next four or five years.
A typical junked blade runs a length of 14 meters, more than long enough for small bridges that may only be 5 to 10 meters long. The blade becomes the core for a new bridge, and the outer material is wrapped around it for both protection and aesthetics. The result is a walking bridge that has an ideal gentle curve for walking and an integrity that can easily handle pathway weight on it without problems.
On the coast, wake barriers provide a needed protection to help stop erosion and keep soil on land versus being washed into the ocean. The old blades provide a durable and element-resistant material that can last for years as a barrier, stopping erosion and re-using material otherwise destined for landfill space. Alternatively, other jurisdictions are thinking about using the blades for transmission towers and electrical elevated junction points for power grids.
The creativity that is being shown with how to re-use old turbine blades has been an amazing development, and it's a good sign that the first generation of blades is not going to be yet another mistake created by good intentions but ending up polluting the environment in a different way. Not to mention, the re-utilization of the blade material has produced various other building material savings as well, producing downstream positive effects and less consumption overall as a result.