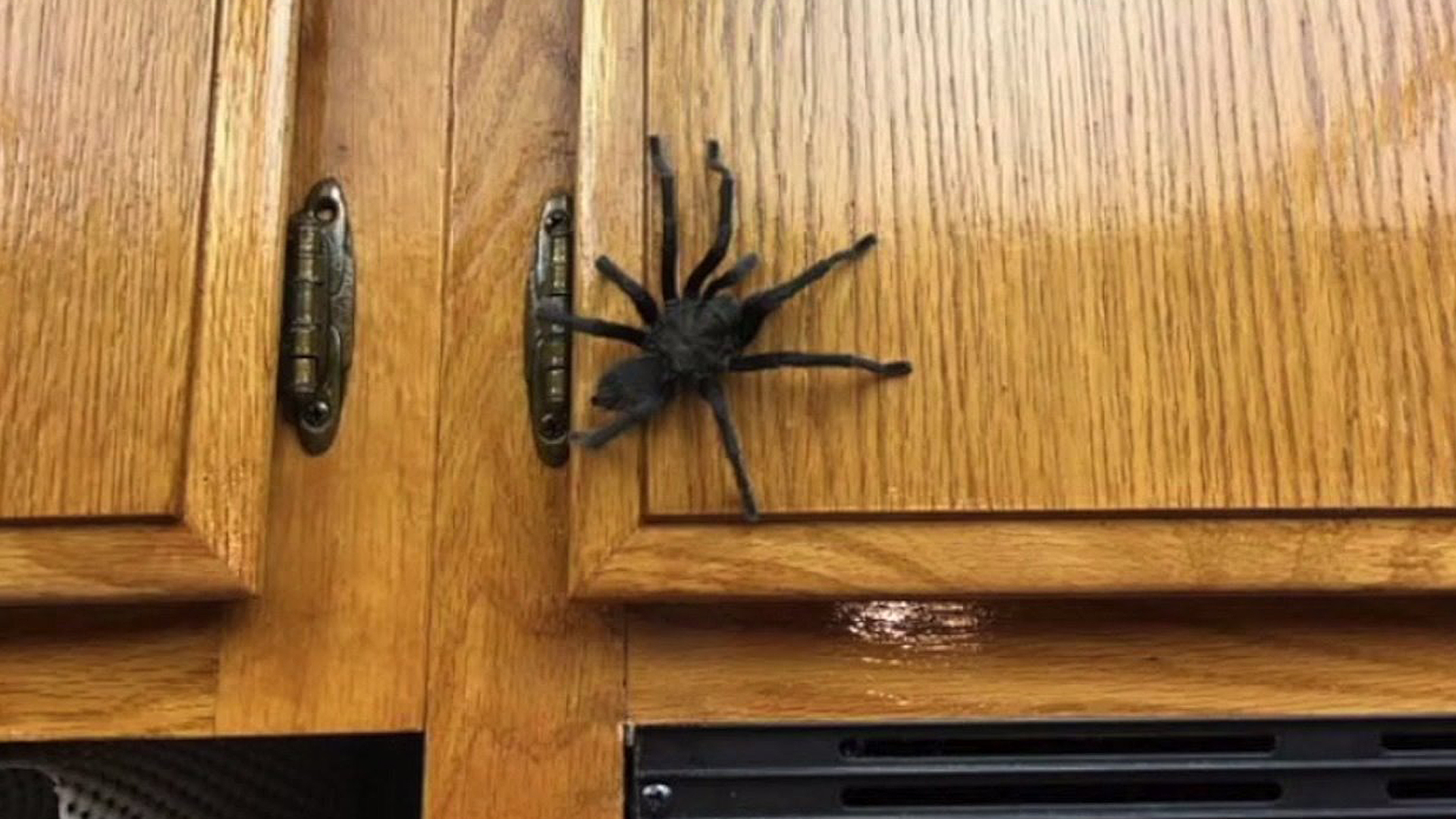 A teenager shocked to find a giant tarantula on the kitchen cabinet
A 19-year-old Hannah Dafferner was looking for a late-night snack in her kitchen when she saw a small creepy-looking figure on the kitchen cabinet. Hannah was frozen in shock. It was black colored and looked like some type of giant spider. It was near the handle of the cupboard and wasn't moving much. At first, Hannah thought it was one of her younger sister's toys or Halloween decorations. Then to her astonishment, it moved enough for Hannah to know it was not a toy. Hannah screamed as loud as she could. Her dad came rushing downstairs to a lot of screaming going on. What Hannah had seen on the kitchen cabinet was a huge tarantula. It was at least 4 inches in size and had eight legs. It would have scared most people. If the dad had not rushed downstairs, Hannah was about to call 911 for help.
The dad tried to say calm during the commotion. He grabbed an empty pitcher to try to catch the tarantula. He put the pitcher on the cupboard and waited for the tarantula to move in to. He made sure to be gentle and hurt the tarantula. The tarantula was very cooperative. He was probably more of the people. By this time the entire family was in the kitchen area. Once the tarantula was in the pitcher, everyone wanted to have a look at the amazing creature.
Tarantulas are hairy versions of a spider family. Typically, they are harmless to humans but their appearance seems to make a lot of people scared of them. On very rare occasions, they can bite humans and it can be painful. Their venom is very mild, usually less than a typical bee's. Some people suffer from a phobia of spiders or tarantula. This phobia is called arachnophobia.
The family posted photos of the tarantula on social media in an attempt to check if anyone in the neighborhood had lost a tarantula. They got a lot of comments and reactions. The next day, they got a message saying "Can we have it?" The family was more than happy to hand it over. The tarantula now belongs to a 9-year-old girl how is ecstatic to have it. The family feels glad that the episode is over but are a bit concerned about how the tarantula was allowed to intrude into their home.
Tarantulas are mostly found in tropical, subtropical or arid regions. Most people don't know this, but tarantulas are burrowers and mostly look to live underground. They are also nocturnal creatures and only venture out during night time unless it is mating season. They try to conserve as much energy as possible and only move when needed to. Insects are their main prey but occasionally they go for larger targets such as frogs or mice.
The family that found the tarantula believe it came inside from their backyard. It came into the house through the back door. They find it quite unbelievable that the tarantula was able to cover so much distance. The family was also shocked that their dogs were not able to stop the intruder. The house is located in San Diego, California. This region is known to have tarantulas and is often located inside the homes. This particular tarantula was a male spider. Male spiders require 7-10 years to mature before they can venture out their burrows and look for females. They only live a few months once they reach maturity. Females have a much longer life span and tend to live up to 25 years.
500,000-Year-Old Wooden Structure Rewrites History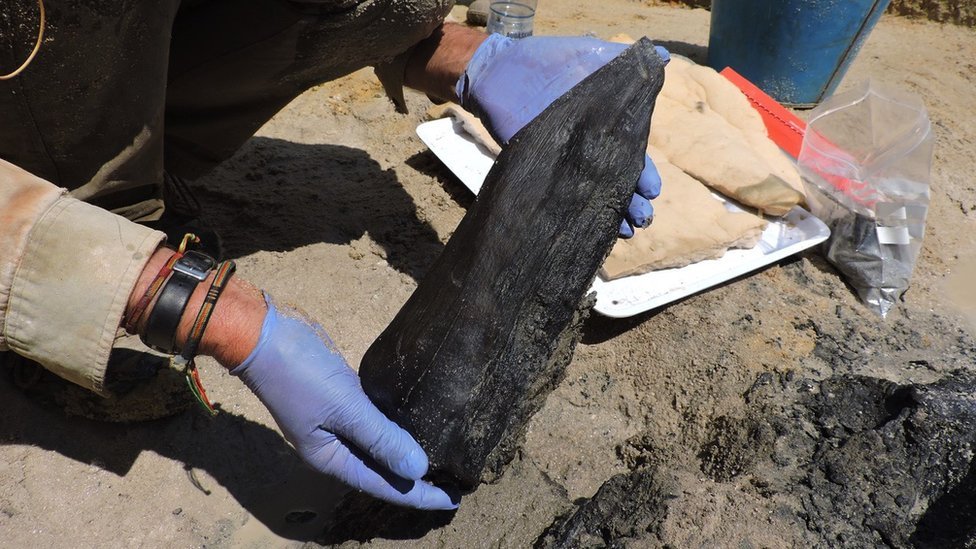 In an archaeological discovery, a wooden structure dating back an astonishing 500,000 years has been unearthed on the banks of a river in Zambia, challenging long-held beliefs about the capabilities of ancient humans. Researchers stumbled upon these ancient wooden logs, a revelation that has the potential to reshape our understanding of the lives of early humans.
The find, located on the riverbanks near Zambia's Kalambo Falls, provides compelling evidence that stone-age people may have constructed primitive shelters, forever altering our perception of their intelligence and resourcefulness. Archaeologist Prof Larry Barham, who led the research, was profoundly impacted by the discovery, stating, "This find has changed how I think about our early ancestors."
What makes this find truly remarkable is that it suggests ancient humans did more than merely survive; they thrived by creating something entirely new. These early humans exhibited intelligence, imagination, and craftsmanship by fashioning structures from wood, a material that had never before been transformed into such large and sophisticated objects.
The researchers also uncovered ancient tools, including digging sticks, but the most exciting find was two pieces of wood positioned at right angles to each other. "One is lying over the other, and both pieces of wood have notches cut into them," explained Geoff Duller, a professor of geography at the University of Aberystwyth and a member of the research team. "You can clearly see those notches have been cut by stone tools, making the two logs fit together to become structural objects."
Radiocarbon dating confirmed the wood's age, placing it at a staggering 476,000 years old. This revelation has ignited curiosity about the woodworking traditions of ancient societies, challenging the prevailing notion that early humans led simplistic, nomadic lives.
Perrice Nkombwe, a team member from the Livingstone Museum in Zambia, expressed her astonishment, saying, "I was amazed to know that woodworking was such a deep-rooted tradition. It dawned on me that we had uncovered something extraordinary."
The preservation of the wooden structure itself is a miracle. Typically, wood decays over time unless preserved under specific conditions. However, in the waterlogged environment along the Kalambo Falls, the wood remained intact, essentially pickled by the elements for millennia.
While the exact purpose of this ancient wooden structure remains a mystery, it has sparked numerous speculations. Prof. Duller suggests it might have been used as a place to sit beside the river and fish, although a complete understanding of its function remains elusive.
Moreover, the identity of the individuals who constructed this structure raises intriguing questions. "We don't know – it could have been Homo sapiens, and we just haven't discovered fossils from that age yet," Prof. Duller added. "But it could be a different species – [perhaps] Homo erectus or Homo naledi – there were a number of hominid species around at that time in southern Africa."
This discovery has the potential to enrich our understanding of ancient woodworking techniques, craftsmanship, and human interaction with the environment. As researchers continue their work at the Kalambo Falls site, the pages of history are being rewritten, and our appreciation for the ingenuity of our ancient ancestors grows ever deeper.