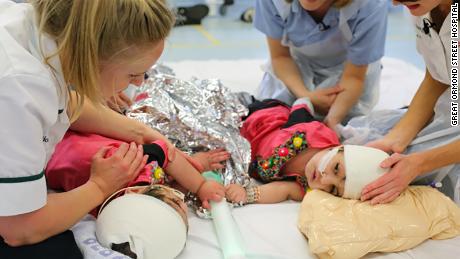 A Team of Surgeons In London Have Successfully Separated Conjoined Twins
Marwa and Safa, two conjoined twins, have returned home after a thriving separation surgery. The surgery was done in London at Great Ormond Street Hospital.
Three major surgeries have been performed on the beautiful girl twins. It took about 50 to 60 hours for the doctors to complete the whole procedure.
As informed by the doctors, conjoined twins are rare and happen only one out of 60k births. Conjoined twins are also referred to as craniopagus twins. A large majority of conjoined twins usually die after 7 or 8 years of age.
Thanks to the doctors that they have managed to succeed in the operation. A group of 100 people in Great Ormond Street Hospital, including nurses and other staff, took care of the twins.
The surgery was carried out in February 2019. All the medical expenses were paid by a Private donor, Murtaza Lakhani. He is a wealthy and kind businessman from Pakistan and extended his helping hands to save the girls.
The two girls, Marwa and Safa, have been taking regular physical therapy to boost the mobility after the operation. Since the completion of the surgery in 2019, both the girls and their mother have been living with their uncle in London to conduct the post-surgery treatments. The girls, now aged three, have some learning difficulties, as told by their physiotherapist.
However, the girl's mother, Zainab Biwi, is very optimistic about her children. "God in the face of the doctors have saved my children," said by her in an interview. She also added that the doctors had tried so much to make the operation a successful one, and she can't thank them enough regarding that.
When asked the lead surgeon, Owase Jeelani, about the operation, he said that he and his entire team is delighted to bring the smile back on the mother's face. However, he also mentioned some of his uncertainties regarding the conjoined twins. He stated, "I think Marwa has done well and carries on making progress. When I look at my family, I feel that maybe it was the right thing to do, but for Safa, as a single person, I am a bit unsure."
By answering how much he got scared before the surgery, Dr Jeelani made us learn that he is still troubled by his choices in the operation theatre. The girl twins had a common blood vessel connecting their brains, and only one of them could receive the critical blood corpuscles. Doctors gave them to Marwa, who was weaker than Safa. But as a result, Safa suffered a stroke, and now she has permanent damage in the brain. Dr. Jeelani feared she might not be able to walk ever.
He also said that both girls' outcomes would have probably been better if they were separated earlier. But it took several months to raise the fees of the surgery.
In January, the same surgical team has operated on another pair of conjoined twins from Turkey and were successful. The twin boys, named Yigit and Derman Evrensel, have responded to the treatments better than the twin girls.
The Man Who Saved Hundreds of Dogs in a Hurricane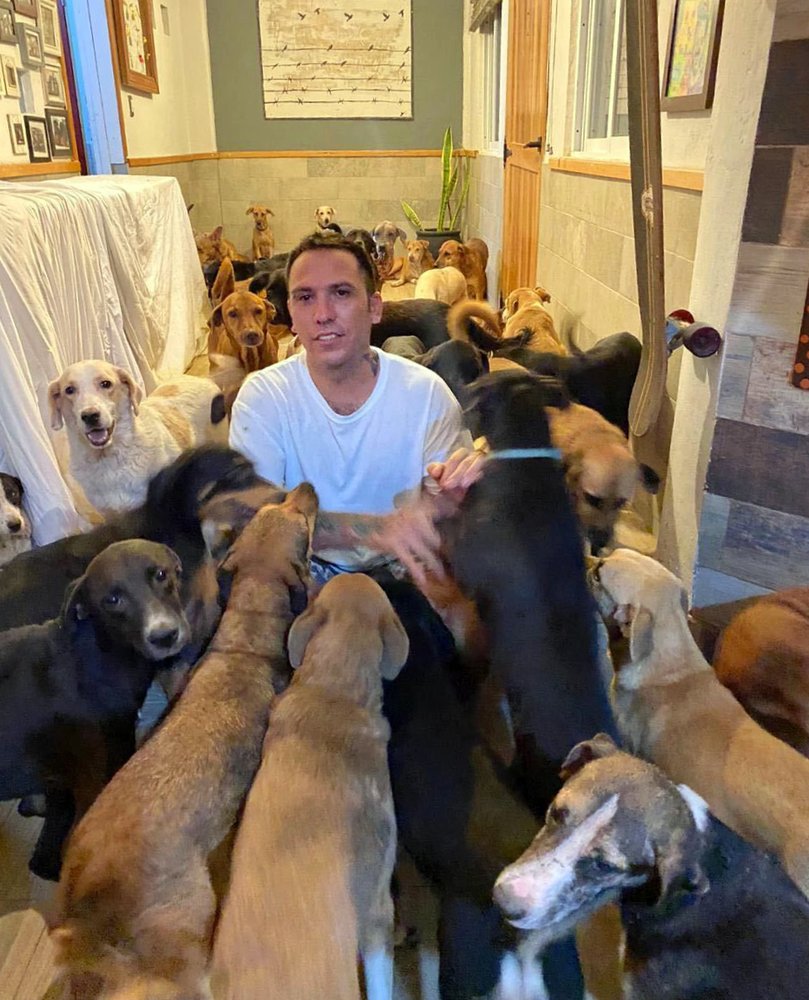 Ricardo Pimentel never expected to be compared to Noah, or a pied-piper, or a dog-whisperer. However, his role in life may have very well been fated for what he was about to do ahead of a big storm that was coming towards his region.
Hurricane Delta was expected to hit the Mexican Yucatan with full force. The area was familiar with tropical storms, but heavy-stage hurricanes were rare. One of the last times a major hurricane hit the area, it ended up leaving major city areas buried waste deep in ocean water pushed inland. Knowing full well what another hurricane could do, Ricardo decided to do his best for the animals nobody else was going to do anything about. As a result, one man managed to save over 300 dogs, more than a handful of chickens, a hedgehog, and even rabbits. And even sheep ended up finding some shelter under his patio roof.
The wind and rain howled against Ricardo's house, but it was going to stand and make it to another day. And for the animals he saved, they too were going to make it and live longer a well. The conditions afterwards were less than ideal. There was a tremendous amount of cleanup and removal of broken items that were needed. That said, the animals all seemed to understand what was going on and none of them attacked each other during the entire affair. They all made it through the hurricane safe, alive, and healthy.
For his neighbors and family, Ricardo's actions were no big surprise, however. The home and surrounding area were already well-known for being an animal sanctuary, a saving place for those creatures that either were not wanted, lost, too old to be adopted or similar. The sanctuary had managed to operate for at least a decade now, located 20 miles to the south of Cancun.
Ricardo needed help, however, during the hurricane. So, with his home computer and a basic Internet connection, he asked for help. Ricardo didn't need to say much; the photo of his room and house looked like a real-life version of a dog farm running free inside a house.
The storm passed, like they all do, but Ricardo still had 300 dogs plus the rest of the barn to take care of, feed, clean up after and relocate. Fortunately, unknown to Ricardo, his social media plea had gone into sharing mode at hyper speed. The photos and his request went viral, and everyone, thousands he never knew or will ever meet, began to help. In addition, his own neighbors chipped in and arrived to help Ricardo clean up the sanctuary as well.
In the big picture, Ricardo hopes the help can go farther and actually produce permanent homes for many of the animals he takes in, making room and allowing him to save additional new arrivals that always come in. It would be wonderful if the hurricane's outcome and attention translated into more, but Ricardo is definitely grateful for what was provided. He saved hundreds of lives among the animals he cared for. And, Ricardo even found a way to adopt one of the dogs he saved for himself as well.