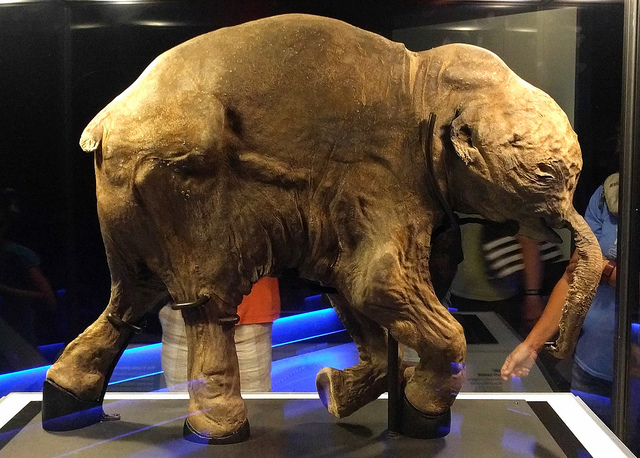 A New Baby Frozen Mammoth Discovery in Canada
Finding parts of an ancient animal tends to be par for the course for many paleontologists and researchers focused on gaining a better understanding of the biological past. And in the case of the mammoths, most times bones and assembly are spread far and wide, with some left where they landed and others used or carried for food or tools. So, to find an entire woolly mammoth complete and intact, and a juvenile at that, is a serious paleontological treasure.
Aged by estimates to an approximate 30,000 years, a mummified baby woolly mammoth was discovered during gold mining operations. The location is deep in Canada's wilderness in the Klondike Region. The territory is within the title and ownership of the Tr'ondek Hwech'in First Nation who will now also retain title to the mammoth discovery as well.
In terms of biological record, the recent baby mammoth discovery is comparable to the one found in 2007 in Russia's Siberia region, and it may even be more complete. Based on results tested so far and evaluated, the specimen is assumed to be a baby female of the species, and it was already sizeable when it perished. The local tribespeople have named it Nun cho ga, which is a literal description of the find, "big baby animal." For researchers, however, the discovery goes far deeper. The level of preservation and recovery is intense, giving them a whole new portfolio of material on which to study and know more about the mammoths that once trekked the colder parts of the world regularly in large herds.
The last major baby mammoth find was more than 70 years ago in 1948. That find was also in a gold mining operation, but in Alaska instead. Like so many discoveries during mining, the current mammoth specimen was located when the given miner involved was working a bulldozer and hit something that didn't feel right. Trained to watch out for such anomalies, the driver immediately stopped and called for a supervisor to confirm what he thought might be going on. Sure enough, there was the baby mammoth's body now exposed for the first time in probably thousands of years since it passed away. Much of the mammoth had been preserved in deep mud, protecting it from the air and deterioration, similar to how the British bogs have protected archaeological finds from oxidation as well.
With careful work and fast stabilization, the baby mammoth will be preserved and then studied for years to come, adding extensive new material for researchers to work with. No surprise, the biological journal world will be buzzing for a while based on this new Canadian discovery.
400-Pound Black Bear Rescued From Waterway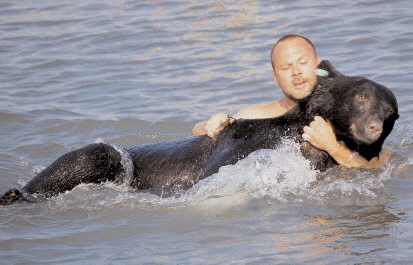 A Florida man recently became a hero after saving a 400lb black bear from drowning. Black bears are known to be excellent swimmers and are athletic animals, but the bear in question was not in its usual state when it jumped into the water. The bear had been tranquilized after walking into a residential neighborhood, and when the tranquilizer started to take effect, it ran towards the water and eventually began to sink.
Wildlife biologist Adam Warwick immediately sprang into action, jumping into the water to save the bear. Despite the bear's massive size, Adam was able to keep its head above water and pull it to safety. Although he suffered only a scratch in the process, Adam's bravery was a testament to the care and dedication of wildlife officials in protecting and preserving the natural world.
Black bears are found in various parts of North America, including Florida, and are excellent swimmers. They are known for their athletic ability and can easily swim across rivers and lakes in search of food and territory. However, when the bear in question was tranquilized, it was not in its natural state, and its swimming abilities were significantly compromised.
The incident highlights the importance of wildlife officials in preserving natural habitats and protecting animals from harm. Despite the risks involved, these officials put their lives on the line to ensure that animals receive the care and protection they need. The successful rescue of the black bear is a reminder of the importance of caring for the environment and all its inhabitants, no matter how large or small.