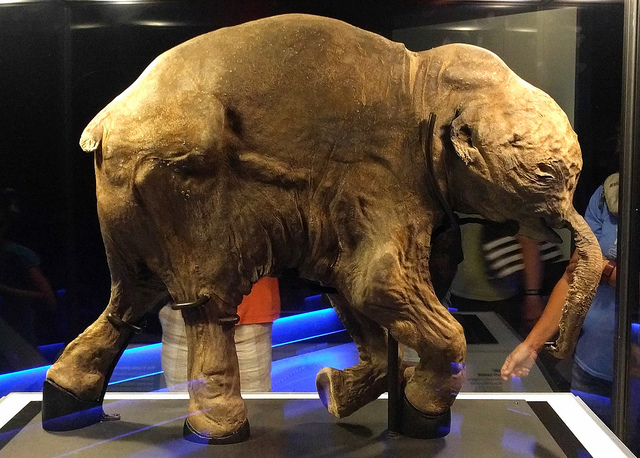 A New Baby Frozen Mammoth Discovery in Canada
Finding parts of an ancient animal tends to be par for the course for many paleontologists and researchers focused on gaining a better understanding of the biological past. And in the case of the mammoths, most times bones and assembly are spread far and wide, with some left where they landed and others used or carried for food or tools. So, to find an entire woolly mammoth complete and intact, and a juvenile at that, is a serious paleontological treasure.
Aged by estimates to an approximate 30,000 years, a mummified baby woolly mammoth was discovered during gold mining operations. The location is deep in Canada's wilderness in the Klondike Region. The territory is within the title and ownership of the Tr'ondek Hwech'in First Nation who will now also retain title to the mammoth discovery as well.
In terms of biological record, the recent baby mammoth discovery is comparable to the one found in 2007 in Russia's Siberia region, and it may even be more complete. Based on results tested so far and evaluated, the specimen is assumed to be a baby female of the species, and it was already sizeable when it perished. The local tribespeople have named it Nun cho ga, which is a literal description of the find, "big baby animal." For researchers, however, the discovery goes far deeper. The level of preservation and recovery is intense, giving them a whole new portfolio of material on which to study and know more about the mammoths that once trekked the colder parts of the world regularly in large herds.
The last major baby mammoth find was more than 70 years ago in 1948. That find was also in a gold mining operation, but in Alaska instead. Like so many discoveries during mining, the current mammoth specimen was located when the given miner involved was working a bulldozer and hit something that didn't feel right. Trained to watch out for such anomalies, the driver immediately stopped and called for a supervisor to confirm what he thought might be going on. Sure enough, there was the baby mammoth's body now exposed for the first time in probably thousands of years since it passed away. Much of the mammoth had been preserved in deep mud, protecting it from the air and deterioration, similar to how the British bogs have protected archaeological finds from oxidation as well.
With careful work and fast stabilization, the baby mammoth will be preserved and then studied for years to come, adding extensive new material for researchers to work with. No surprise, the biological journal world will be buzzing for a while based on this new Canadian discovery.
Indiana Man Saves Children During House Fire, Footage Caught on Police Body Camera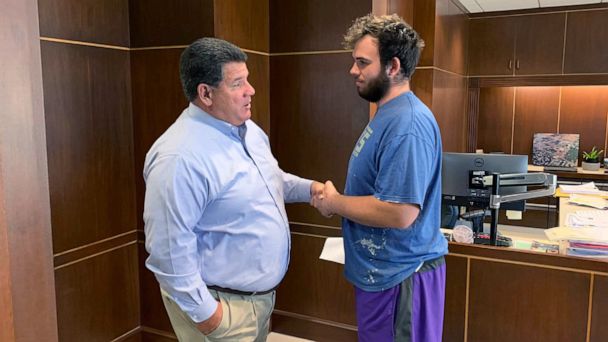 There are moments in life when we can decide to become a hero or to fade into the background. For Nicholas Bostic, a young man from Indiana, the choice was thrust upon his shoulders without much time to think. Bostic had been driving home around 12:30 in the morning when he noticed a fire billowing from the balcony of a home. A moment later, the driver was slamming on his brakes, running up a hill, and vanishing into a house engulfed in flame. Moments later, Bostic would re-appear with four saved lives.
However, there was someone still missing.
Tragedy Averted, Stunning Moments Caught on Camera
When police officers and fire response teams arrived at the Indiana home that was ablaze, they didn't know what they were walking into. However, moments after officers arrived on the scene, video footage from police body-worn cameras would reveal a stunning image of Bostic emerging from the flames with a young girl in his arms. Moments later, the two would collapse onto the sidewalk, wheezing and injured, asking for oxygen.
After initially beating law enforcement to the scene, Bostic would run into the home where he would find four young children as well as their oldest sister. After getting the small group out of the home, they would reveal that another child was still stuck inside.
Bostic didn't hesitate. In an interview with Fox 59, Bostic revealed his return to the home, "The smoke just came out of nowhere. It was pitch black, pitch black. The heat was excruciating."
Despite the billowing smoke, excruciating heat, and blinding particulates, Bostic was able to find the young child trapped in the home. Listening to her faint cries, Bostic was able to find the child on the second story of the building. The duo would jump out of the window only to appear dramatically before the waiting law enforcement officials.
Bostic and the child would both survive the incident, though Bostic would suffer from blisters, burns, and other abrasions. The entire family was uninjured.
When asked about his experience, Bostic replied, "I'd be hoping that the guy driving would consider doing the same if they were able to."
Honoring a Local Hero: Thanks From a City
According to a report by fire department officials, the fire began on the front porch and had been caused by ashes that had not been extinguished before they were emptied. Bostic's minor injuries would be treated at Eskenazi Hospital in nearby Indianapolis.
Lt. Randy Sherer of the local Lafayette Police Department cited Bostic's actions as being brave, selfless, and heroic. Lt. Sherer stated, "He has impressed many with his courage, tenacity, and steadfast calmness in the face of such perilous danger."
Local police officers stated that Bostic would be honored by the community during a local baseball game for the Aviators in August. Lafayette Mayor Tony Roswarski was also quick to thank Bostic for his actions. All proceeds earned from tickets at the local baseball game will be given to a fundraising campaign on the internet for Bostic.
As far as Bostic is concerned, his actions were just an extension of his personal faith. Bostic told the local station News 18, "I have something to remind me of why I'm here, still alive. Why God keeps me here. He used me like his instrument that night."