A Natural Wonder: The Incredible Termite Mounds of Brazil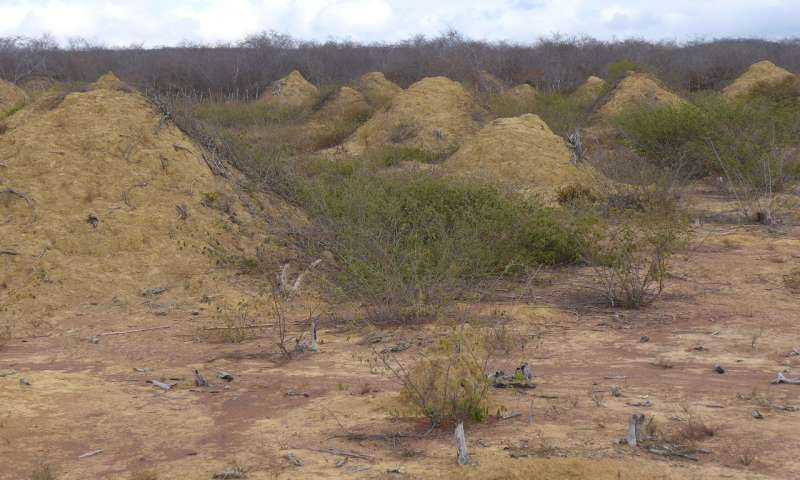 Visible from space, the eastern section of Brazil holds a dramatic count of 200 million massive mounds of earth, all created by creatures that barely measure ½ of an inch long. Created solely by termites, these mysterious cones of earth measure 30 feet wide at the base and stand 6-13 feet tall.
When contemplating the size of these mounds, it becomes staggeringly hard to grasp that an insect is capable of creating something this large. Known as the murundus, these mounds are fashioned in a honeycomb pattern, separated by about 60 feet from each other.
No one has studied the structure of these mounds more carefully than environmentalist Roy Funch, who has researched the murundus of Brazil for the past 30 years. Funch has no doubt that these mounds are created by termites. He explains, "I've seen termites building the mounds with my own eyes."
Through his extensive research with colleagues, Funch has provided us with a glimpse into how termites create these vast mounds of earth, which cover an area as large as Great Britain.
He explains that as the termite workers are foraging leaves, they excavate their nest by building a vertical tube rising upward. He notes that this tube doesn't have an opening at the top like a chimney does. Instead it has a few small side-holes around its rim. By simply excavating their nest, they throw soil out of these holes, which leads to a cone shape being created.
With such a vast amount of these massive mounds, one might assume that each mound houses its own large termite colony. However, Funch's research has shown differently.
He collected soldiers from beneath different mounds to see if they would fight with each other. What he found was that a single colony can make their home beneath many different mounds.
In their search for fallen foliage, these termites need to expand their territory to cover a large amount of forested land. To accomplish this, they build a network of tunnels, with the intention of traveling from one mound to the next.
Paul Hanson, a colleague of Funch performed an experiment to determine the age of the murundus. He analyzed grains of sand from the center of 11 different mounds. The method he used was able to determine when the grains were last exposed to sunlight. This allowed him to determine when the first grains were buried, to identify when construction on the mound began.
Here is what his research found. The youngest mound was 690 years old, and the oldest was 3,820 years old! Obviously, termites don't have this long of a lifespan. Researchers have yet to determine whether succeeding generations of termites take over these mounds, or if the mounds lay unused for hundreds of years.
Need another comparison to grasp the sheer size of these termite colonies? Through satellite imagery, the murundus of eastern Brazil have been proven to occupy 4,000 times the amount of space as the Great Pyramid of Giza. Who would have known that such a little creature could pack such a punch?

A baby bear, tiger, and a lion found in a basement 12 years ago are now best friends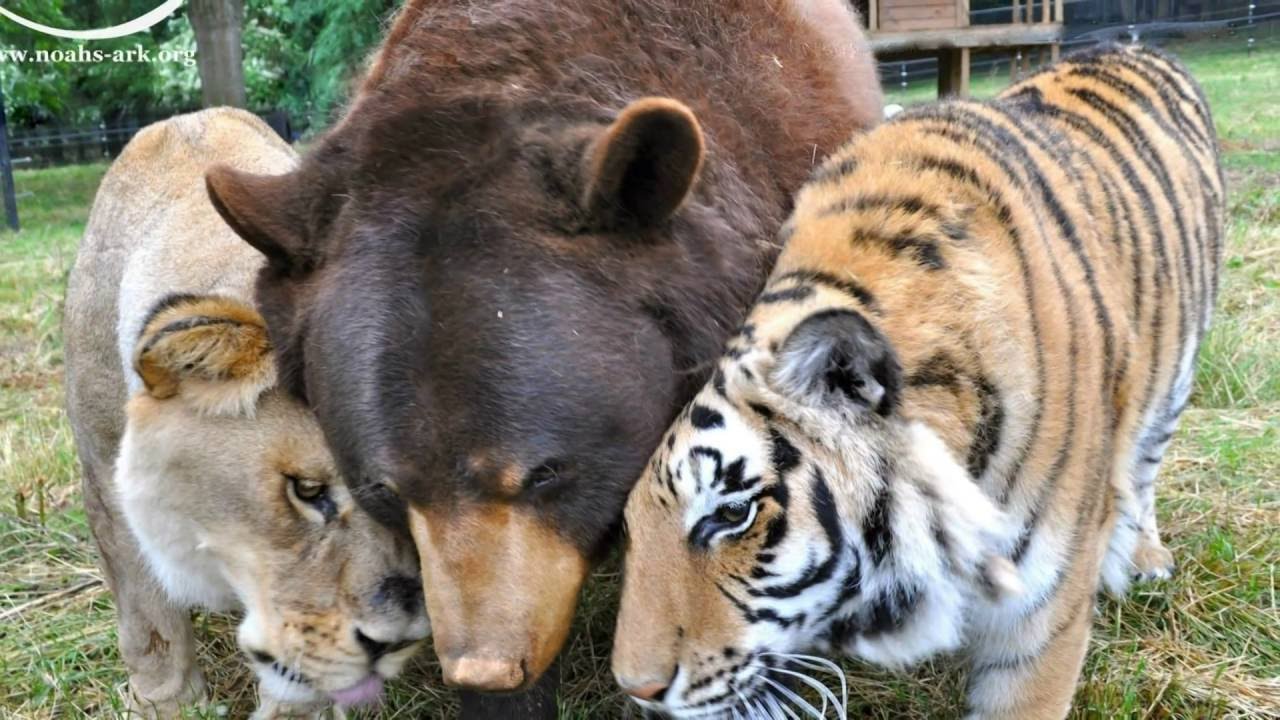 Wild animals try to stick to their natural habitat and they also tend to follow their natural social characteristics. For example, leopards are known to be very reclusive creatures and often prefer a solitary life. Bears and tigers are also not very social too.
In this fascinating story, a bear, a tiger, and a lion have grown up to become best buddies. In a video posted online, a 12-year-old Black Bear, named Baloo, walks over to his friend, Shere Khan, a Bengal Tiger, and cuddles with him as if they are brothers. Tigers don't even get along with their kin. So this friendship between the bear and tiger is even beyond kinship. To make things even more unbelievable, they have another friend, named Leo. You guessed it right, Leo is a lion.
What might explain this unusual friendship is their common history. 12 years ago, when these three animals were babies, they were being kept in terrible conditions in a basement. Fortunately, they were recovered by the police and bought to Noah's Ark Sanctuary in Locust Grove, GA. The three animals have cared for their entire life at the Sanctuary.
The staff at Noah's Ark Sanctuary have never heard of such friendship between a big cat and a bear. They do share the same habitat, especially in the Fat East, but any encounters between them as most aggressive or they just ignore each other and keep out of the way of the other. They don't walk up and cuddle each other. The staff at the sanctuary does point out that out of these three, Shere Khan has kept a little bit of natural wild mannerism but he is still very friendly. When it is sleep time, the trio shares the same room and cuddle together. They were kept as pets in that basement, which was legally not allowed. The owner of the basement was a drug dealer. They were confiscated and bought the sanctuary. Since then the owner of the sanctuary has looked after these three.
Unfortunately, Leo has passed away, leaving his loved ones with wonderful memories of him. He was 15 years of age when he passed away. He had been feeling sick and during surgery, his doctor found 80% of his liver was damaged. He could not have survived in such a condition. The difficult decision to let him go had to be made so that he does not suffer. His end in the world was peaceful.
Leo's best friends, Shere Khan and Baloo, were able to say a final goodbye to him. They have been doing all right since their best friend's departure. The staff at the sanctuary keeps a close eye to check off any worrisome signs of depression or change in behavior. The staff believes these two already knew Leo was terminally ill long before the staff was able to find out.
Leo's final resting place is located by the clubhouse at the sanctuary. Such compassion and bond in animals of different species are very rare. In the wild, they might have been foes, but at the sanctuary they were brothers. Their story is an example of when nurture overtakes nature. They grew up together and build a bond that went beyond the design of nature. Humans do not fully understand the communication or relationship dynamics of the animals. This story is an example of how wild animals can get along in the right environment.