A Natural Wonder: The Incredible Termite Mounds of Brazil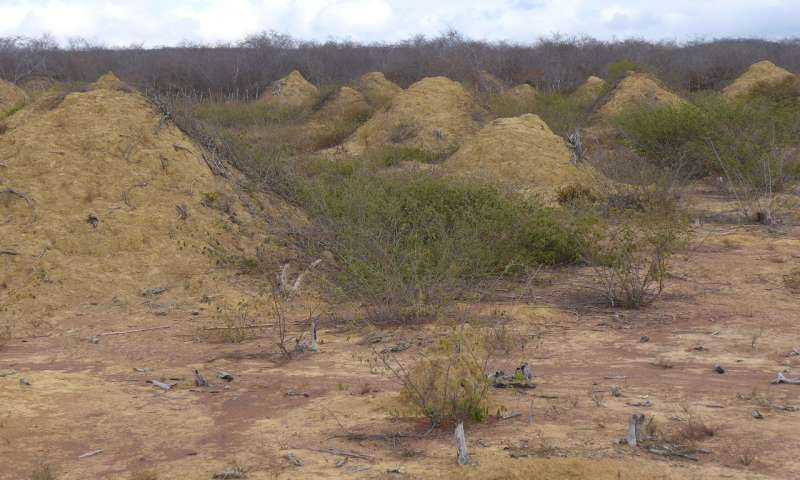 Visible from space, the eastern section of Brazil holds a dramatic count of 200 million massive mounds of earth, all created by creatures that barely measure ½ of an inch long. Created solely by termites, these mysterious cones of earth measure 30 feet wide at the base and stand 6-13 feet tall.
When contemplating the size of these mounds, it becomes staggeringly hard to grasp that an insect is capable of creating something this large. Known as the murundus, these mounds are fashioned in a honeycomb pattern, separated by about 60 feet from each other.
No one has studied the structure of these mounds more carefully than environmentalist Roy Funch, who has researched the murundus of Brazil for the past 30 years. Funch has no doubt that these mounds are created by termites. He explains, "I've seen termites building the mounds with my own eyes."
Through his extensive research with colleagues, Funch has provided us with a glimpse into how termites create these vast mounds of earth, which cover an area as large as Great Britain.
He explains that as the termite workers are foraging leaves, they excavate their nest by building a vertical tube rising upward. He notes that this tube doesn't have an opening at the top like a chimney does. Instead it has a few small side-holes around its rim. By simply excavating their nest, they throw soil out of these holes, which leads to a cone shape being created.
With such a vast amount of these massive mounds, one might assume that each mound houses its own large termite colony. However, Funch's research has shown differently.
He collected soldiers from beneath different mounds to see if they would fight with each other. What he found was that a single colony can make their home beneath many different mounds.
In their search for fallen foliage, these termites need to expand their territory to cover a large amount of forested land. To accomplish this, they build a network of tunnels, with the intention of traveling from one mound to the next.
Paul Hanson, a colleague of Funch performed an experiment to determine the age of the murundus. He analyzed grains of sand from the center of 11 different mounds. The method he used was able to determine when the grains were last exposed to sunlight. This allowed him to determine when the first grains were buried, to identify when construction on the mound began.
Here is what his research found. The youngest mound was 690 years old, and the oldest was 3,820 years old! Obviously, termites don't have this long of a lifespan. Researchers have yet to determine whether succeeding generations of termites take over these mounds, or if the mounds lay unused for hundreds of years.
Need another comparison to grasp the sheer size of these termite colonies? Through satellite imagery, the murundus of eastern Brazil have been proven to occupy 4,000 times the amount of space as the Great Pyramid of Giza. Who would have known that such a little creature could pack such a punch?

The little boy shares a special moment with a police officer during a protest rally for George Floyd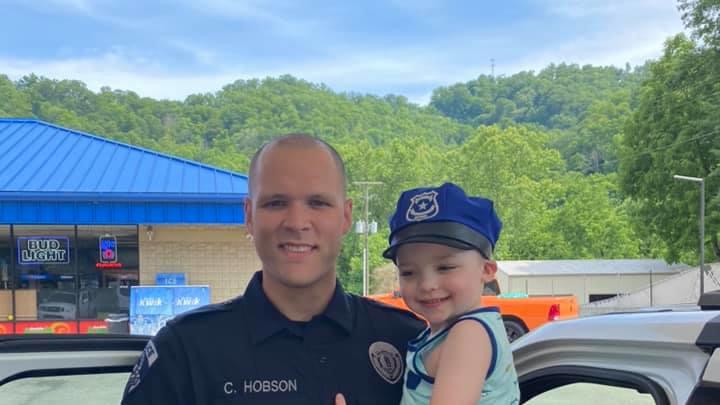 The ruthless killing of George Floyd has caused a thunderous uproar and rage throughout the world. In Winston-Salem, NC, hundreds of people gathered to protest against the killing of Floyd. They took to one knee for 8 minutes and 46 seconds that is the exact length of time former police officer Derek Chauvin had shoved his knee onto Floyd's neck which resulted in Floyd's death. The killing of George Floyd has become a symbol of injustice not only in American society but throughout the world. "Say no to racism" has been the most trending topic in all regions of the globe. In this particular incident, it was a black man who was the victim and this is not the only time it has happened. Several cases have occurred which demonstrated the lack of compassion and justice in the way law enforcement has dealt with individuals from minority racial groups.
Yolanda Williams Dickey, a resident of Winston-Salem, NC, was driving by the protest when she decided she wanted her family to be part of this protest as a sign of solidarity against discrimination against the minority groups. She went home to pick up her husband and son, who were glad they got a chance to be part of this historic protest. For her little son, Kamari it was quite the experience. He had never seen a protest rally before this. He saw a lot of anger and pain in the faces of the protestors. He could also see his parents being very emotional too. His parents had told him what the protest was about and how Floyd had been murdered. Kamari couldn't understand why the former police officer did what he did to George Floyd.
Kamari's attention went to the police officers on the sidelines. He watched them very closely as they stood by making sure there was no violence at the protest. Kamari had always wanted to a police officer himself but now his mother was concerned that after this incident, maybe he would not want to be one. Most of the toys that Kamari had were related to the police and he spent most of his days playing with them. He often told his parents that when he grows up he wanted to be a police officer so he could catch the bad guys. This unfortunate killing of George Floyd might have shattered the dreams of the little boy. At the protest, as the family moved closer to the police officers, Kamari approached Sgt. Dan Battjes, who was sitting on his motorcycle.
Kamari formally introduced himself to the police officer, who was very kind and friendly to the boy. After a few minutes of talking, Kamari said goodbye to the officer by a friendly fist pump. While the citizens of the country are demonstrating against the police and there is an unbelievable level of anger toward law enforcement, this little boy kept no hatred in his heart. The innocence of the little boy showed the resilience of the American community. One incident cannot dismantle years of peaceful coexistence. Yes, there have been cases where the minority communities have been discriminated and there should be strict actions and reforms against such incident but Americans still need to live together. The dream of Kamari to become a police officer might still be alive. The question remains, is the dream of a multi-racial America living with each other with love, compassion, and tolerance still alive? Only time will tell if this dream is alive.