A Natural Wonder: The Incredible Termite Mounds of Brazil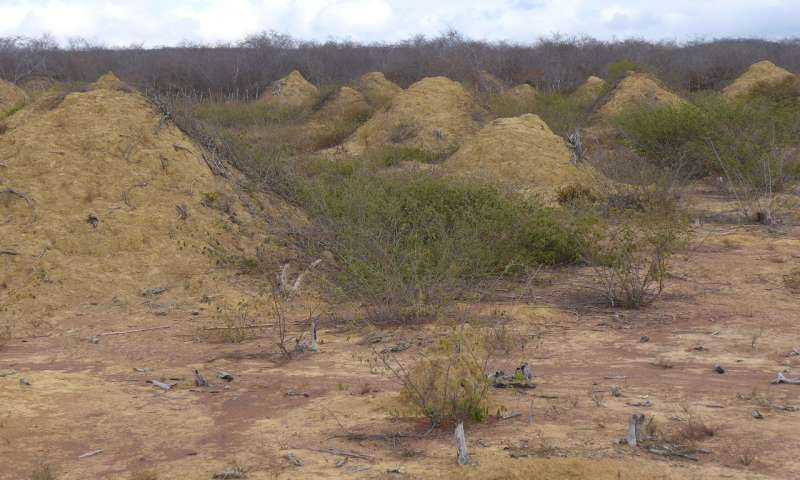 Visible from space, the eastern section of Brazil holds a dramatic count of 200 million massive mounds of earth, all created by creatures that barely measure ½ of an inch long. Created solely by termites, these mysterious cones of earth measure 30 feet wide at the base and stand 6-13 feet tall.
When contemplating the size of these mounds, it becomes staggeringly hard to grasp that an insect is capable of creating something this large. Known as the murundus, these mounds are fashioned in a honeycomb pattern, separated by about 60 feet from each other.
No one has studied the structure of these mounds more carefully than environmentalist Roy Funch, who has researched the murundus of Brazil for the past 30 years. Funch has no doubt that these mounds are created by termites. He explains, "I've seen termites building the mounds with my own eyes."
Through his extensive research with colleagues, Funch has provided us with a glimpse into how termites create these vast mounds of earth, which cover an area as large as Great Britain.
He explains that as the termite workers are foraging leaves, they excavate their nest by building a vertical tube rising upward. He notes that this tube doesn't have an opening at the top like a chimney does. Instead it has a few small side-holes around its rim. By simply excavating their nest, they throw soil out of these holes, which leads to a cone shape being created.
With such a vast amount of these massive mounds, one might assume that each mound houses its own large termite colony. However, Funch's research has shown differently.
He collected soldiers from beneath different mounds to see if they would fight with each other. What he found was that a single colony can make their home beneath many different mounds.
In their search for fallen foliage, these termites need to expand their territory to cover a large amount of forested land. To accomplish this, they build a network of tunnels, with the intention of traveling from one mound to the next.
Paul Hanson, a colleague of Funch performed an experiment to determine the age of the murundus. He analyzed grains of sand from the center of 11 different mounds. The method he used was able to determine when the grains were last exposed to sunlight. This allowed him to determine when the first grains were buried, to identify when construction on the mound began.
Here is what his research found. The youngest mound was 690 years old, and the oldest was 3,820 years old! Obviously, termites don't have this long of a lifespan. Researchers have yet to determine whether succeeding generations of termites take over these mounds, or if the mounds lay unused for hundreds of years.
Need another comparison to grasp the sheer size of these termite colonies? Through satellite imagery, the murundus of eastern Brazil have been proven to occupy 4,000 times the amount of space as the Great Pyramid of Giza. Who would have known that such a little creature could pack such a punch?

North Carolina Teen Bitten by Shark, Unassailed
Paige Winter, 17, was swimming at Atlantic Beach in North Carolina with her sister when she was pulled under in waist-high water. It quickly became clear that it was a shark attack.
Paige initially gave in, perhaps initially not realizing that it was a shark. She'd thought it was a turtle. When she realized what was happening, she fought back hard. It is that tenacity and courage that has continued to aid her in her survival and recovery. She just would not give up.
Paige's Rescue
Witnesses reported screaming and panic. Paige's father, Charlie, is a paramedic, so he immediately jumped to her rescue. He dove underwater and punched at the shark until he was able to wrestle her free from the shark and carry her to the beach. A bystander offered a belt, which her father used as a tourniquet to stop the bleeding on the beach.
Paige was quickly transported via medical helicopter to Vidant Medical Center in Greenville, where her leg was amputated. She underwent additional surgeries for his leg, pelvis, and hand.
No parent ever would dream of seeing their child being dragged underwater by a shark, but her father's quick actions saved Paige's life. Then, bystanders and emergency medical personnel were a part of the rescue, as well as doctors and surgeons who worked to save Paige's life.
Next Steps
What lies ahead for Paige is recovery and rehabilitation as she learns to walk again with a prosthetic limb. She must also re-learn how to function with more limited functionality in her hands.
Paige's resilience is clear, though, despite the severe injuries she sustained, and the body altering surgeries. She remains positive and in good spirits. Her family says that she was groggy but already telling jokes when she first woke up after the shark attack in the hospital. Her continued road to recovery won't be easy, but her will to live and overcome the odds has already gotten her this far.
Doctors and also her father mentioned the serendipitous collision of chance encounters and dumb luck that both brought her to the beach that day but also saved her life. When so much could have gone horribly, impossibly wrong, enough separate events went right that she will someday walk again.
Paige survived. It's not all the "pieces of the puzzle." Some are missing, as she told Washington Post, but "it's okay." She still advocates for marine life and doesn't blame the shark for biting her and shaking her like that. Her message is about education, learning more about sharks and understanding.
Spunky as ever, Paige told the medic, "Don't be mad. Sharks are good people." That positive attitude and that willingness to forgive even in the face of a savage attack is part of what has made her story a viral sensation across media spheres.