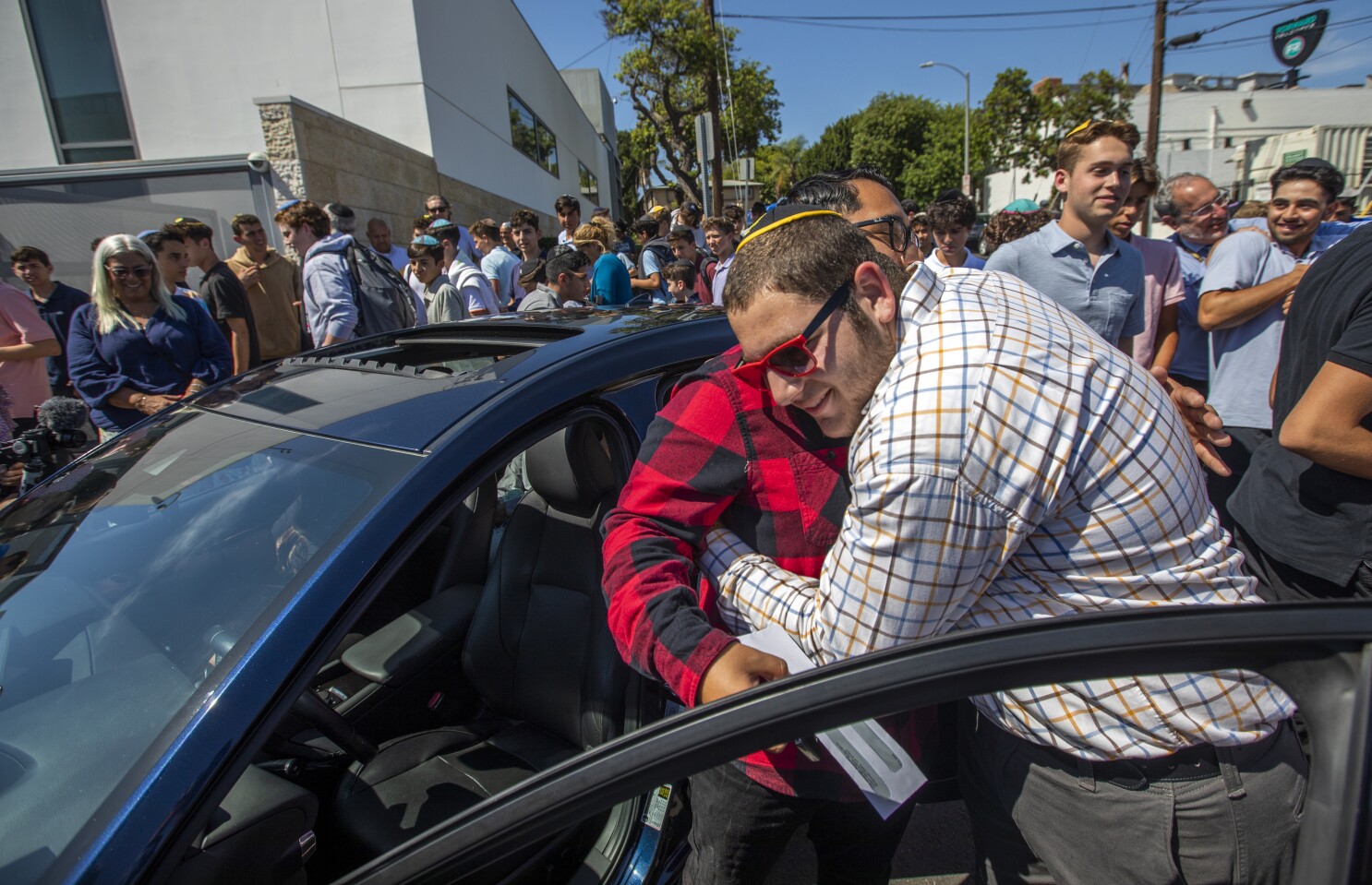 A Math Teacher Gets An Amazing Surprise From His Students
Math teachers and Los Angeles seem to have an odd relationship. Many folks remember the movie "Stand Up & Deliver," which provided a Hollywood version of Jaime Escalante's challenges of teaching math to inner city students and helping them realize more in their education. As it turns out, Julio Castro, another math teacher in the same city years later, made just as much of an impression on his students. While it's not likely that Castro's story will turn into a blockbuster movie, he will definitely be remembered class after class for his influence on helping students learn math.
His life is a definition of discipline. Julio Castro gets up every day at 4:30am in the morning, well before the sun comes up, then he makes his way on a basic push scooter to the Metrolink after navigating six miles of sidewalk, and then another mile to the high school after the train stops. And, by the crack of dawn, Castro was at work, doing his job, getting ready for the first class of the day by 8am. However, the first day of school this year was going to be different. Castro just didn't know it yet.
At 31, the first day of school for 2022 was going to be like every other; a typical teacher introduction, a blurb about what he did over the summer, and then a brief description of which classes Castro was going to cover for the 2022-23 year. While things droned on, Castro had no idea what dozens upon dozens of students had been up to for weeks. Instead of spending the summer lounging, these Los Angeles high school students had been working on fundraising. They had managed to pull together $13,000 to help their high school math teacher get his own working car. The goal was a blue Mazda, something that Castro had mentioned to one of his students how much he liked.
The entire effort had been started much earlier in the year, but it was all kept under wraps. At first, everything seemed pretty crazy and on the wrong side of impossible. However, because of how much of an impact Castro had had on many of the students, they remained committed to making something good happen for him. Everyday he tootled down sideways, to and from the Metrolink, to teach them. Every day, he used public transit, rain or shine, and got them through math, algebra, trig, calculus and all. The man deserved more than just a thanks at the end of the school year.
Even when he was brought into the gym, Castro was completely duped in some kind of teacher appreciation event, giving the teacher basic gift cards as combined thank you's from the students. So when his name was called and Castro went to the podium, it didn't dawn on the math teacher what was going on and why he was being recorded on video and phones. However, Castro had to wait for a presentation first. The students most affected by Castro had made a video in which they talked about and described how much of an impact the math teacher had had on them. Then, the students were dismissed, only to form a human path for Castro to find his way to the blue Mazda sitting outside waiting for him. By this point, the math teacher was entirely confused.
Out of the gym Castro went and realized he had to walk down the tunnel. Each step was more and more of a surprise, with confetti pops and cheering. He had no idea what was going on. And then Castro found himself in front of the blue Mazda. It was a sedan, navy blue, and with black leather seats, the same style and features he had said he wanted years earlier. And Castro's face turned into a big smile as he was floored and hugged by the students he had been so dedicated to as a teacher. With some additional help matching the students' fundraising, they not only got Castro the car, but also a year's worth of fuel and insurance as well. It all added up to a gift of $30,000 approximately.
There wasn't a whole lot of math Castro had to do with his new gift. He was immensely thankful. More importantly, he was fundamentally impressed by how many lives the math teacher had touched.

Brave 12-Year-Old Girl Saves Family from Carbon Monoxide Poisoning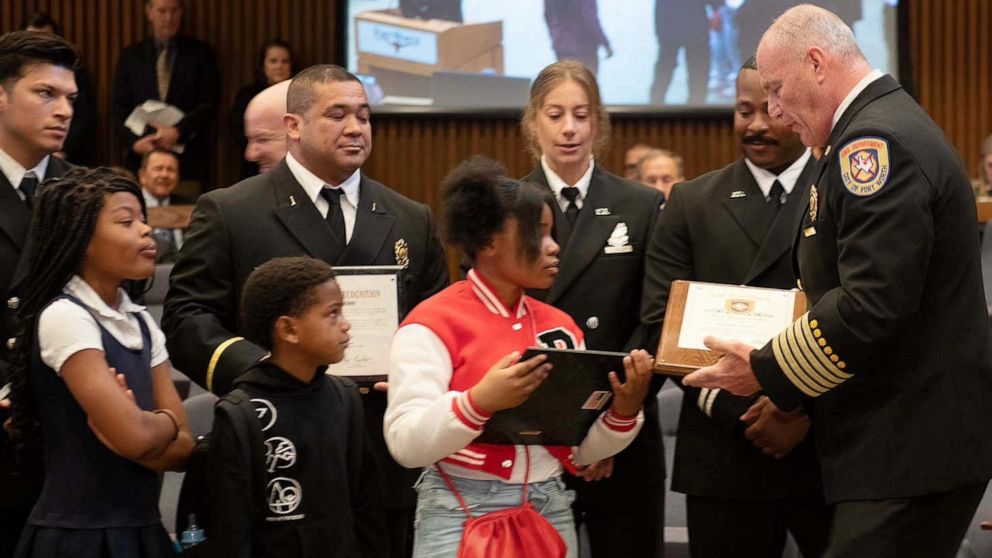 In a remarkable act of courage and quick thinking, 12-year-old Jaziyah Parker from Fort Worth, Texas, became a true hero when she saved her family from a dangerous situation. Jaziyah's keen observation and immediate action prevented a potential tragedy from unfolding.
One day, while Jaziyah was at home, she noticed something was wrong. Her mother and younger brother began to feel sick and lose consciousness. Jaziyah didn't panic but instead sprang into action. She grabbed the phone and dialed 911, desperately seeking help. In the recording of the 911 call, Jaziyah can be heard saying, "Something wrong with my mama. Can you hurry up and come?" Her plea for assistance was a crucial step that would ultimately save her entire family.
Little did Jaziyah know, her family's home was filling up with a silent but deadly gas called carbon monoxide. This odorless and colorless gas can be extremely harmful and even fatal when inhaled. But Jaziyah's sharp instincts and timely call for help prevented a tragic outcome. Her actions ensured that her family received the necessary assistance in time.
The Fort Worth Fire Department recognized Jaziyah's bravery and quick thinking during a special ceremony held on May 23, 2023. The firefighters honored her for her heroic act, commending her for the bravery she displayed in a challenging situation. Jaziyah's actions exemplify the importance of staying calm and taking action during emergencies.
Carbon monoxide poisoning is a serious concern, as it can occur in any home due to faulty appliances, heating systems, or ventilation issues. This incident serves as a reminder for everyone to have carbon monoxide detectors installed in their homes and to be aware of the signs and symptoms of poisoning. Symptoms such as dizziness, headaches, nausea, and confusion should never be ignored, as they could indicate carbon monoxide exposure.
Jaziyah's story is an inspiration to us all. Her courage and quick response saved her family from a potentially fatal situation. She serves as a shining example of how even young individuals can make a significant impact and help those in need. Her actions remind us that heroes can emerge at any age, and we should always be prepared to lend a helping hand in times of crisis.