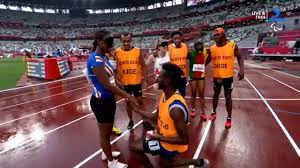 A Marriage Proposal on the Race Track
Making a marriage proposal can be a risky step. Doing it in front of thousands of people is really taking a big chance that could go sideways. As it turned out, that's exactly what a runner's guide did at the 2021 Tokyo Paralympics, giving his partner the biggest award of her life.
Keula Nidreia has been a top notch runner most of her life. She's also visually impaired. Competing in the 200-meter women's event has been a top goal of hers, especially in reaching the ParaOlympics representing her country, Cape Verde. Ideally, what she wanted to win by preparing for, practicing and developing her strategy for the big race, was to win the gold metal. She was not expecting to win something else instead.
Being visually impaired, Keula has long needed a guide to help her during the training, development, sporting events and similar. The guide's role is to help make up for the contestant's limitations during the unfamiliar portions of an event, helping the athlete find and learn exactly where things are to be able to compete effectively as well as run on the track. Manuel Antonio Vaz da Vega has been Keula's guide for years, and he has been with her during most of the runner's primary athletic development. However, while everyone's focus on the race has been Keula's ability to compete, no one was expecting what Manuel had up his sleeve.
When Keula finished her race, however, a Paralympics gold medal was not in the cards. She finished in the hardest spot possible, fourth. However, as the deflation of the moment battled with Keula catching her breath and realizing the results, Manuel walked up to her with a close crowd nearby and the entire audience watching. Then, he knelt down on one knee, and he asked Keula to marry him, holding her hand with a ring box. Within a fraction of a second, Keula's disappointment in the race disappeared as she realized she had won something much, much bigger in life. Crying sudden tears, Keula embraced Manuel and said yes. They hugged and the entire stadium applauded along with the other athletes present.
Life imitated life. During the race and training all those years, Keula had been tied by tether to Manuel to know how to race and where to be on the track. Now she would be tied in marriage to him. They switched from the track of the Paralympics to the track of life as many in the audience noted. The Paralympics soon tweeted similar in the official coverage of the race and related events. All the other racers immediately reacted as their guides explained what had just occurred with Keula. No surprise, she became the biggest winner of the 200-meter event.
A Speedy Baby Sloth Arrival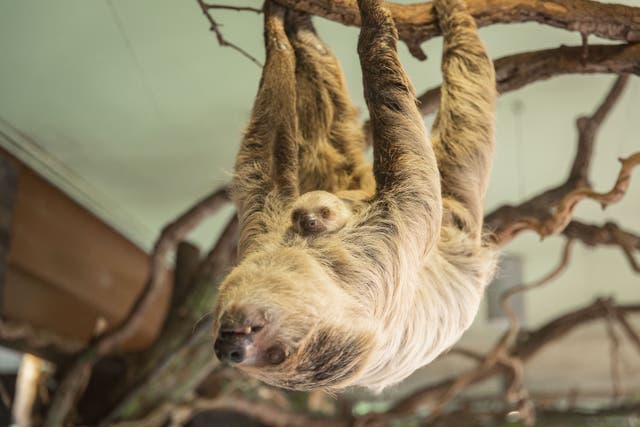 Sloths are slow, amazingly, grindingly slow when it comes to moving. However, one particular baby sloth didn't get the appropriate speed memo before being born. Instead, veterinarians and zoo staff and the London Zoo had the awkward experience of dealing with a particular newborn who wanted to see the new world at full speed.
A pregnant sloth is a pretty obvious affair to a trained zookeeper's eye. And the zoo team had a pretty good idea the mother involved was going to be due at some point. However, while everyone thought the mother was sleeping and resting, little did they know the incoming baby sloth decided to make an appearance. Fortunately, zoo teams are required to do regular hourly checks on their wards to make sure everything is okay and no issues are developing, especially for a pregnant animal. As it turned out, the pregnant sloth in question was well underway in labor and producing a newborn with an amazing amount of speed for a creature famous for not being fast at anything.
The first inspection of the day provided no hint what was about to occur. According to the resident sloth keeper, there was no sign of any changes in the mother sloth's condition signaling a birth. However, one hour later, a little arm was visible next to the mother's sloth's belly. Sure enough, a new baby sloth had been born while nobody was watching. Nature is sneaky that way, even in a zoo.
According to the zoo team, the big entrance was made as the mother sloth positioned herself in her cage tree, twisting enough for a full view, and there was a fully developed newborn sloth clinging and taking in a brand new world. For the mom, everything seemed normal, run of the mill, and just another day at the zoo aside from a new roommate in the sloth cage.
Two weeks later, the newborn sloth was growing healthy and had a new name, Terry. However, other details are still up in the air until the DNA analysis of specimens confirms the full details of Terry's status and gender. The baby sloth was named after Terry March, a well-known figure at the London Zoo for all the work done by him on conservation of vulnerable animals as well as enlightening the public of the same. Today, Mr. March is a peppy age 65, but his relationship with the London Zoo started back in 1973 as a basic entry trainee. Sources