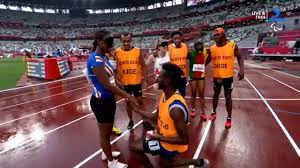 A Marriage Proposal on the Race Track
Making a marriage proposal can be a risky step. Doing it in front of thousands of people is really taking a big chance that could go sideways. As it turned out, that's exactly what a runner's guide did at the 2021 Tokyo Paralympics, giving his partner the biggest award of her life.
Keula Nidreia has been a top notch runner most of her life. She's also visually impaired. Competing in the 200-meter women's event has been a top goal of hers, especially in reaching the ParaOlympics representing her country, Cape Verde. Ideally, what she wanted to win by preparing for, practicing and developing her strategy for the big race, was to win the gold metal. She was not expecting to win something else instead.
Being visually impaired, Keula has long needed a guide to help her during the training, development, sporting events and similar. The guide's role is to help make up for the contestant's limitations during the unfamiliar portions of an event, helping the athlete find and learn exactly where things are to be able to compete effectively as well as run on the track. Manuel Antonio Vaz da Vega has been Keula's guide for years, and he has been with her during most of the runner's primary athletic development. However, while everyone's focus on the race has been Keula's ability to compete, no one was expecting what Manuel had up his sleeve.
When Keula finished her race, however, a Paralympics gold medal was not in the cards. She finished in the hardest spot possible, fourth. However, as the deflation of the moment battled with Keula catching her breath and realizing the results, Manuel walked up to her with a close crowd nearby and the entire audience watching. Then, he knelt down on one knee, and he asked Keula to marry him, holding her hand with a ring box. Within a fraction of a second, Keula's disappointment in the race disappeared as she realized she had won something much, much bigger in life. Crying sudden tears, Keula embraced Manuel and said yes. They hugged and the entire stadium applauded along with the other athletes present.
Life imitated life. During the race and training all those years, Keula had been tied by tether to Manuel to know how to race and where to be on the track. Now she would be tied in marriage to him. They switched from the track of the Paralympics to the track of life as many in the audience noted. The Paralympics soon tweeted similar in the official coverage of the race and related events. All the other racers immediately reacted as their guides explained what had just occurred with Keula. No surprise, she became the biggest winner of the 200-meter event.
An Alligator Comfort Pet…Wait Wait What?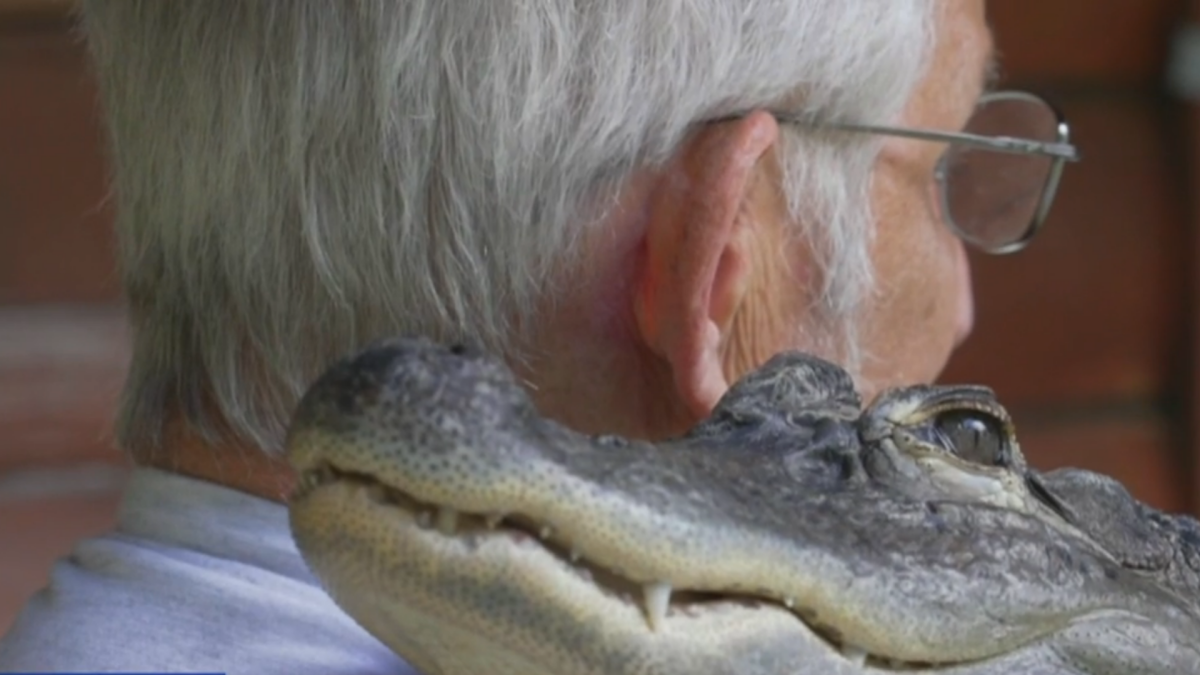 Joie Henney is the first to admit he has issues. Suffering from repeated deep depression, he has regularly had to seek out help to get out of deep funks that could become seriously negative. However, while many folks use counseling, pharmaceuticals or support groups, Henney has an odd comfort pet for emotional support. He has an alligator.
Personal pets are well-known for their mental health benefits, especially for people who otherwise suffer significantly from loneliness and isolation. And that emotional bond is not restricted to ordinary pets like dogs or cats. Many farm animals have been known to provide emotional support as well, like horses, ducks and even pigs. Some even had fictional made about the same. However, no one until Henney has specifically identified an alligator as a comfort pet.
Alligators are normally treated and placed in the category of dangerous predators. They are typically cold-blooded, no pun intended, killers that will snap at anything they consider food, including people. As it turns out though, Henney is also an alligator expert. So he knows a bit more about big lizards than the average person.
Dubbed, "Wally," Henney's comfort pet is a wayward fellow who first crossed paths with Henney when Wally mistakenly parked himself in a pond at the local Florida Disney World. Obviously, Wally and Disney visitors were not a good mix, so Henney was brought in to remove the confused alligator. Under state law, relocated alligators can't just be dumped in the wild again once they've been exposed to developed human areas, so Henney adopted the fellow instead. Wally can't complain much; he gets a steady diet of raw chicken legs and Cheetos at Henney's home in Pennsylvania.
Henney isn't an idiot about alligators either. From his own training and experience, Henney knows alligators will snap at anything near their face or head. Wally, for some reason, was not a snapper. In fact, Wally doesn't like to close his mouth. The odd behavior might explain why the alligator ended up at Disney World, unable to function normally in the wild. So, Henney figured out that Wally was very different and treated him accordingly. In his own words, Henney would describe their friendship and bond as very unique and special.
Um…what?
Henney himself has been through a lot. Having lost a number of close friends and relatives, he's been through the ringer with depression and many times would feel very down day to day. For some reason, Wally picked up on this and clearly made it evident he was there to help and comfort Henney. How was that signaled? Well, Henney would be sleeping on the couch and, since Wally was never kept in a cage, the alligator would find a way to get up on the couch and park himself on Henney. At least he didn't bite.
Some could argue the alligator just wanted to warm up on Henney since cold-blooded animals can't regulate their body heat well, but Henney has decided it's something more. These days, Henney brings Wally with him wherever he goes, whether it's on a walk or a visit to the doctor. Of course, they do have to keep their distance from folks, and the duo use the drive-through option a lot. Henney did get married as well, and Wally was the ringbearer. That said, no one was quick to grab the ring from the big lizard.
And for Henney, Wally has been a lifesaver, keeping the alligator expert out of depression and looking forward to tomorrow.