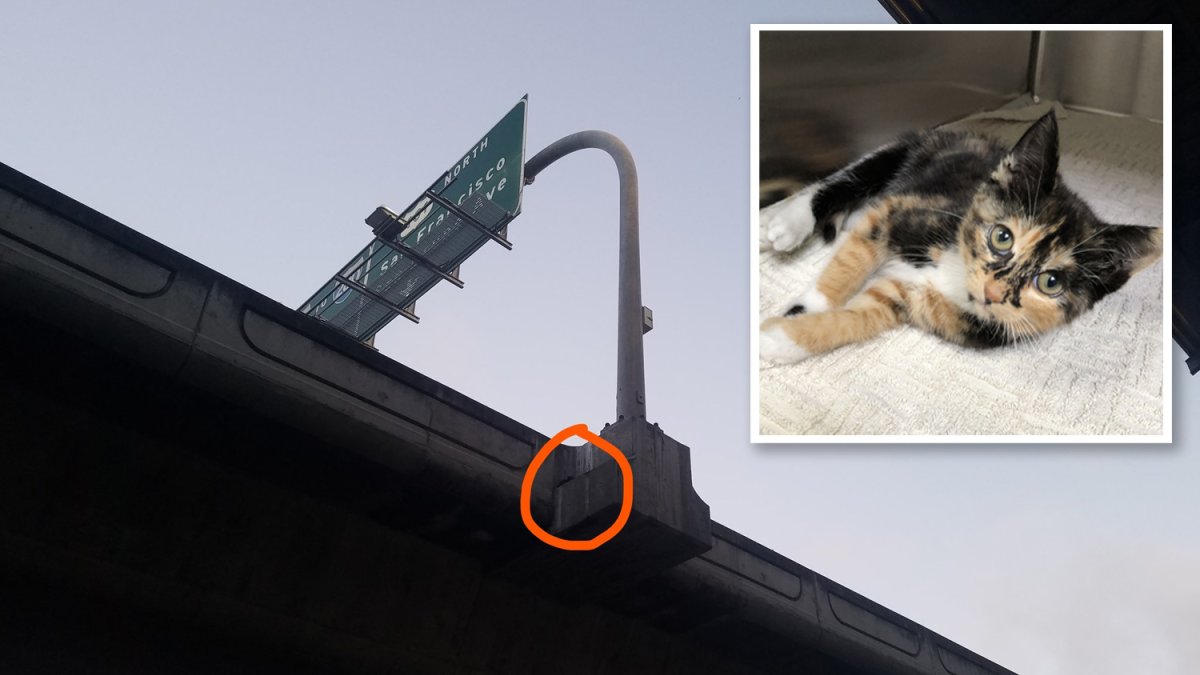 A Kitten Goes Through Nine Lives in One Day
There's a bit of good news in animal land. A particular kitten who became famous for getting herself stuck on a highway sign situated in one of the busiest freeways in California has been adopted and now enjoys a new, safer home.
Gwyneth, managed to make big news when she was spotted yowling her heart out in a small highway nook next to San Francisco International Airport. The particular location was a highway sign base on an overpass leading to the airport off of Highway 101 South. The calico kitten was pretty much in a bad place, digging her claws into the patch of cement she found for safety on the edge of the overpass wall opposite the deadly traffic moving at full speed. The fact that the kitten was seen at all was amazing enough. How she got to that location in the first place without being runover is anyone's guess in terms of the miracles she went through on the trip. Whatever it was, everyone agreed her nine lives were banked and charged in full by the time the kitten found herself in the nook overlooking the main highway below her.
An SFO airport worker with a keen eye was the first witness on the scene to realize what was going on, and that person made the call to the local SPCA chapter to get help for the small cat. Operating via the Peninsula Humane Society/SPCA, response folks realized the location of the cat was deadly on description. The feline was stuck in a sign flare of the cement on the 380 connector with at least a 50 foot drop to the 101 South Highway below. Even if she survived the fall, the cat would likely have been instantly run over by the traffic below, and the same risk was present if she managed to jump and get back up on the overpass as well. The cat, it turned out, did the smartest thing it could do – stay still and scream for help.
Eventually, a crew was able to get to the location, block off traffic and rescue the kitten, which was clearly traumatized by the entire event. So, on June 10, 2021, Gwyneth, the name given to the errant cat, managed to save her 9th life with the help of the local SPCA and survived getting stuck on a highway and otherwise certain death.
After a full check, Gwyneth was estimated to be about three or four months old, hungry, but otherwise a healthy kitten. The PHS/SPCA put her up for adoption, along with the kitten's crazy story, and now the cat has been thoroughly adopted into a safe, solid home far away from highways, overpasses and fast-moving cars. She's also been micro-chipped just in case Gwyneth gets the wandering itch again to go exploring.
An Alligator Comfort Pet…Wait Wait What?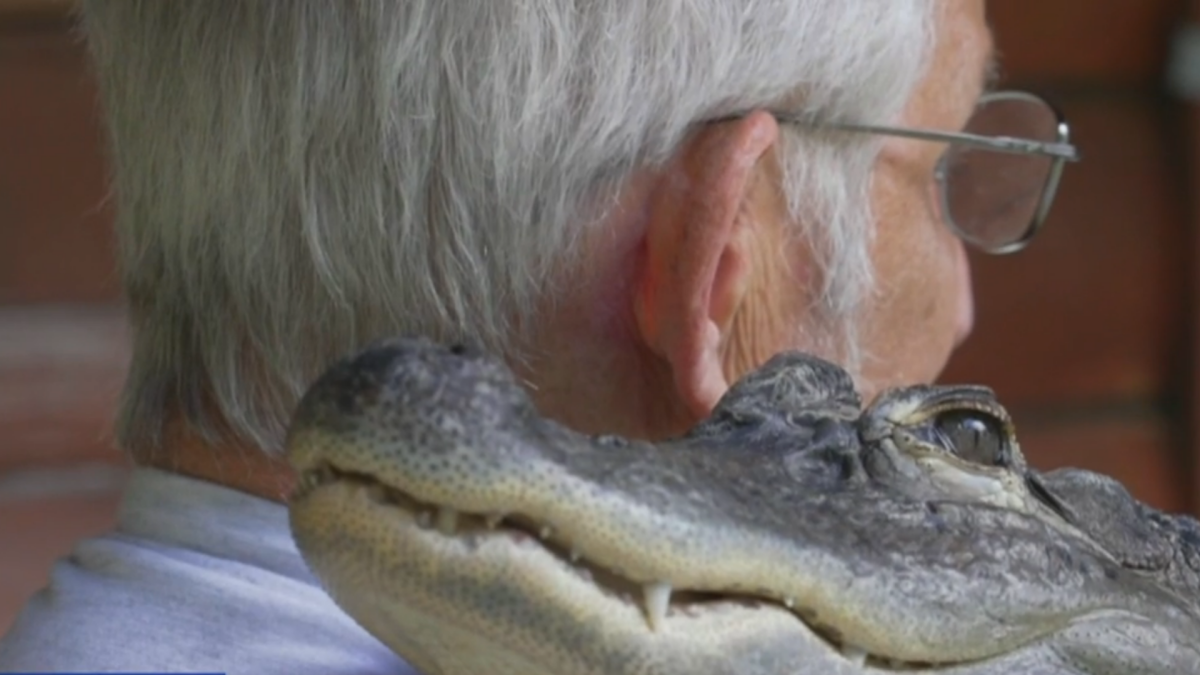 Joie Henney is the first to admit he has issues. Suffering from repeated deep depression, he has regularly had to seek out help to get out of deep funks that could become seriously negative. However, while many folks use counseling, pharmaceuticals or support groups, Henney has an odd comfort pet for emotional support. He has an alligator.
Personal pets are well-known for their mental health benefits, especially for people who otherwise suffer significantly from loneliness and isolation. And that emotional bond is not restricted to ordinary pets like dogs or cats. Many farm animals have been known to provide emotional support as well, like horses, ducks and even pigs. Some even had fictional made about the same. However, no one until Henney has specifically identified an alligator as a comfort pet.
Alligators are normally treated and placed in the category of dangerous predators. They are typically cold-blooded, no pun intended, killers that will snap at anything they consider food, including people. As it turns out though, Henney is also an alligator expert. So he knows a bit more about big lizards than the average person.
Dubbed, "Wally," Henney's comfort pet is a wayward fellow who first crossed paths with Henney when Wally mistakenly parked himself in a pond at the local Florida Disney World. Obviously, Wally and Disney visitors were not a good mix, so Henney was brought in to remove the confused alligator. Under state law, relocated alligators can't just be dumped in the wild again once they've been exposed to developed human areas, so Henney adopted the fellow instead. Wally can't complain much; he gets a steady diet of raw chicken legs and Cheetos at Henney's home in Pennsylvania.
Henney isn't an idiot about alligators either. From his own training and experience, Henney knows alligators will snap at anything near their face or head. Wally, for some reason, was not a snapper. In fact, Wally doesn't like to close his mouth. The odd behavior might explain why the alligator ended up at Disney World, unable to function normally in the wild. So, Henney figured out that Wally was very different and treated him accordingly. In his own words, Henney would describe their friendship and bond as very unique and special.
Um…what?
Henney himself has been through a lot. Having lost a number of close friends and relatives, he's been through the ringer with depression and many times would feel very down day to day. For some reason, Wally picked up on this and clearly made it evident he was there to help and comfort Henney. How was that signaled? Well, Henney would be sleeping on the couch and, since Wally was never kept in a cage, the alligator would find a way to get up on the couch and park himself on Henney. At least he didn't bite.
Some could argue the alligator just wanted to warm up on Henney since cold-blooded animals can't regulate their body heat well, but Henney has decided it's something more. These days, Henney brings Wally with him wherever he goes, whether it's on a walk or a visit to the doctor. Of course, they do have to keep their distance from folks, and the duo use the drive-through option a lot. Henney did get married as well, and Wally was the ringbearer. That said, no one was quick to grab the ring from the big lizard.
And for Henney, Wally has been a lifesaver, keeping the alligator expert out of depression and looking forward to tomorrow.