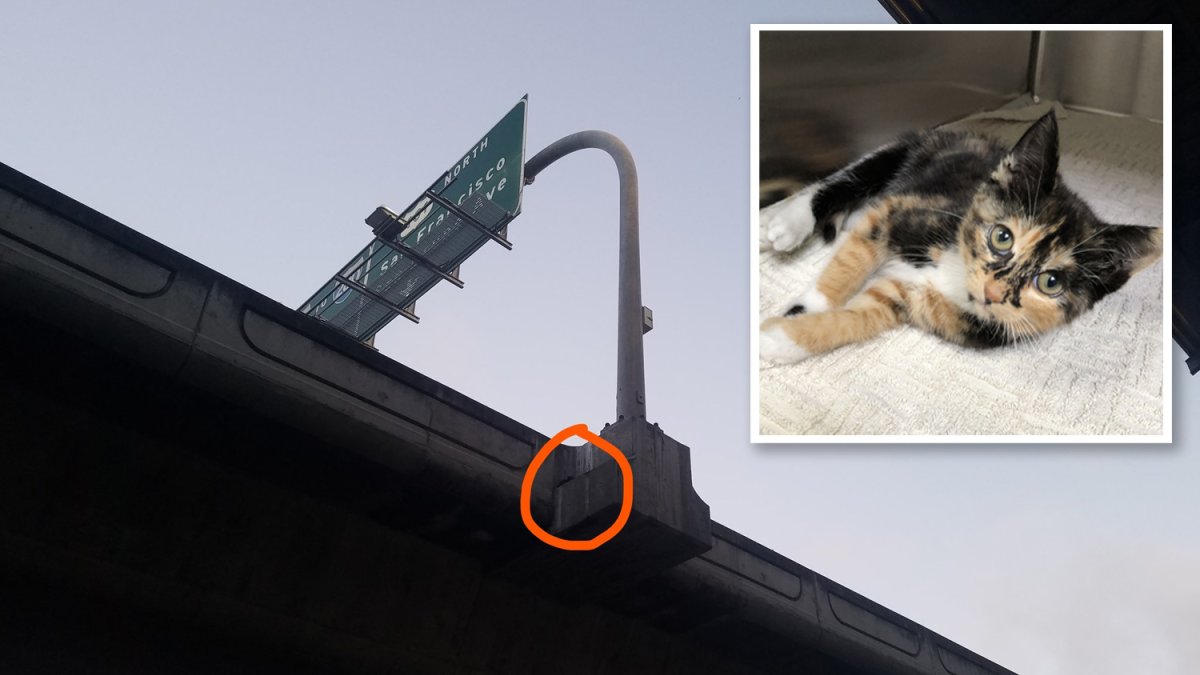 A Kitten Goes Through Nine Lives in One Day
There's a bit of good news in animal land. A particular kitten who became famous for getting herself stuck on a highway sign situated in one of the busiest freeways in California has been adopted and now enjoys a new, safer home.
Gwyneth, managed to make big news when she was spotted yowling her heart out in a small highway nook next to San Francisco International Airport. The particular location was a highway sign base on an overpass leading to the airport off of Highway 101 South. The calico kitten was pretty much in a bad place, digging her claws into the patch of cement she found for safety on the edge of the overpass wall opposite the deadly traffic moving at full speed. The fact that the kitten was seen at all was amazing enough. How she got to that location in the first place without being runover is anyone's guess in terms of the miracles she went through on the trip. Whatever it was, everyone agreed her nine lives were banked and charged in full by the time the kitten found herself in the nook overlooking the main highway below her.
An SFO airport worker with a keen eye was the first witness on the scene to realize what was going on, and that person made the call to the local SPCA chapter to get help for the small cat. Operating via the Peninsula Humane Society/SPCA, response folks realized the location of the cat was deadly on description. The feline was stuck in a sign flare of the cement on the 380 connector with at least a 50 foot drop to the 101 South Highway below. Even if she survived the fall, the cat would likely have been instantly run over by the traffic below, and the same risk was present if she managed to jump and get back up on the overpass as well. The cat, it turned out, did the smartest thing it could do – stay still and scream for help.
Eventually, a crew was able to get to the location, block off traffic and rescue the kitten, which was clearly traumatized by the entire event. So, on June 10, 2021, Gwyneth, the name given to the errant cat, managed to save her 9th life with the help of the local SPCA and survived getting stuck on a highway and otherwise certain death.
After a full check, Gwyneth was estimated to be about three or four months old, hungry, but otherwise a healthy kitten. The PHS/SPCA put her up for adoption, along with the kitten's crazy story, and now the cat has been thoroughly adopted into a safe, solid home far away from highways, overpasses and fast-moving cars. She's also been micro-chipped just in case Gwyneth gets the wandering itch again to go exploring.
Tony Hawk Trades Skateboard With a 6-Year-Old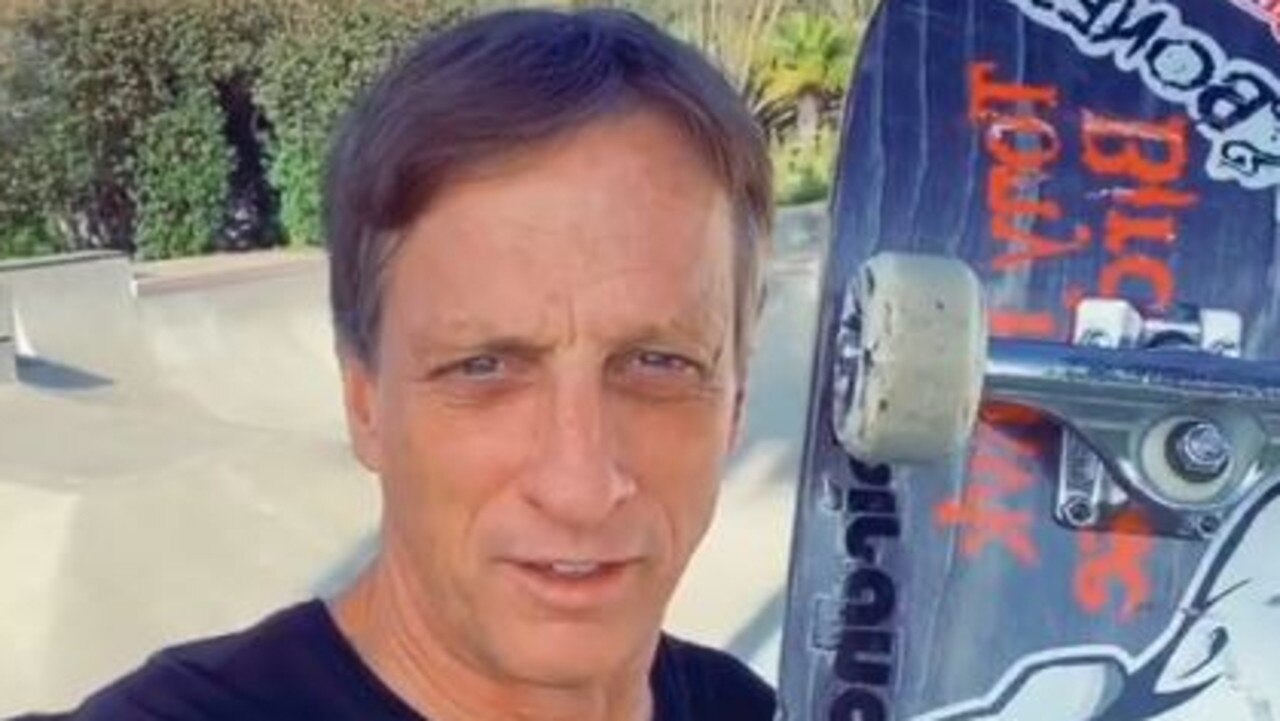 Kids have the most straightforward, amazing imaginations. They aren't burdened by the complications of the adult world. For example, in the case of FedEx carrier, Mikail Farrar, he found himself challenged to make the connection between a 6-year-old, Cooper Taylor, and a famous skateboarder, Tony Hawk. As the FedEx deliveryman was making his rounds, Cooper stopped him and asked the FedEx employee to deliver one, well-used skateboard titled "Tony Hawk" to the famed skate hero. Cooper's mom was behind the boy and nodded in a knowing manner that what the boy was asking for was a bit impossible, but she was going along with it anyways. However, Farrar took the matter a bit more seriously.
Instead, the FedEx employee got online and started trying to figure out what Tony Hawk's shipping address was. The skateboard only had his name; kids don't think in terms of addresses and zip codes at Cooper's age. So, off to TikTok the driver went to see what some group-thinking could do in the digital age. It turned out to be an extremely smart move. By that evening, Farrar's phone was getting so hot from activity, it was becoming a bit uncomfortable to hold. As it turned out, Farrar either accidentally or ingeniously tagged the video correctly, and everyone saw the info request, at least everyone that mattered in the skateboard world. Not only did the video get attention, it went viral!
As it turned out, even Tony Hawk himself got involved, a rarity given that he generally has avoided TikTok since 2018. Hawk arranged for the delivery of the board with FedEx and, in the video message response he posted, he made it clear he wanted to meet up with Cooper as well. Between the adults involved, Farrar and Hawk made the arrangement for the old skateboard to get to its destination as desired by Cooper, and, for anyone checking online with tracking, it arrived at Hawk's address on May 27, 2022.
Farrar himself didn't expect Tony Hawk to engage the way he did. While even as a FedEx driver he knew who Tony Hawk was, Farrar had no real hope that Hawk himself would get involved. Generally, he assumed celebrities are far more engaged in other things than answering kids' requests. In that respect, Farrar definitely didn't know about Hawk's reputation of engaging with kids and skateboarding proactively, regularly going to classrooms for speeches, and showing up for charities and nonprofits when he can.
So, as the story went along, Cooper as well as his sibling, Tucker, both ended up getting a response from Tony Hawk. The two boys, literally looking skater-poster ready with long hair and over-sized T-shirts, responded on TikTok to Tony Hawk and thanked him for their presents, courtesy of Hawk. Both kids got brand new boards with slick graphics and plenty of Bones brand equipment for their new boards as well.
For their father, the whole thing is a bit of a dream come true. He skated when he was younger, idolizing the tricks and amazing aerial stunts Tony Hawk became famous for. To see his kids connect with a hero is a bit of an amazing moment for the boys' parents as well.