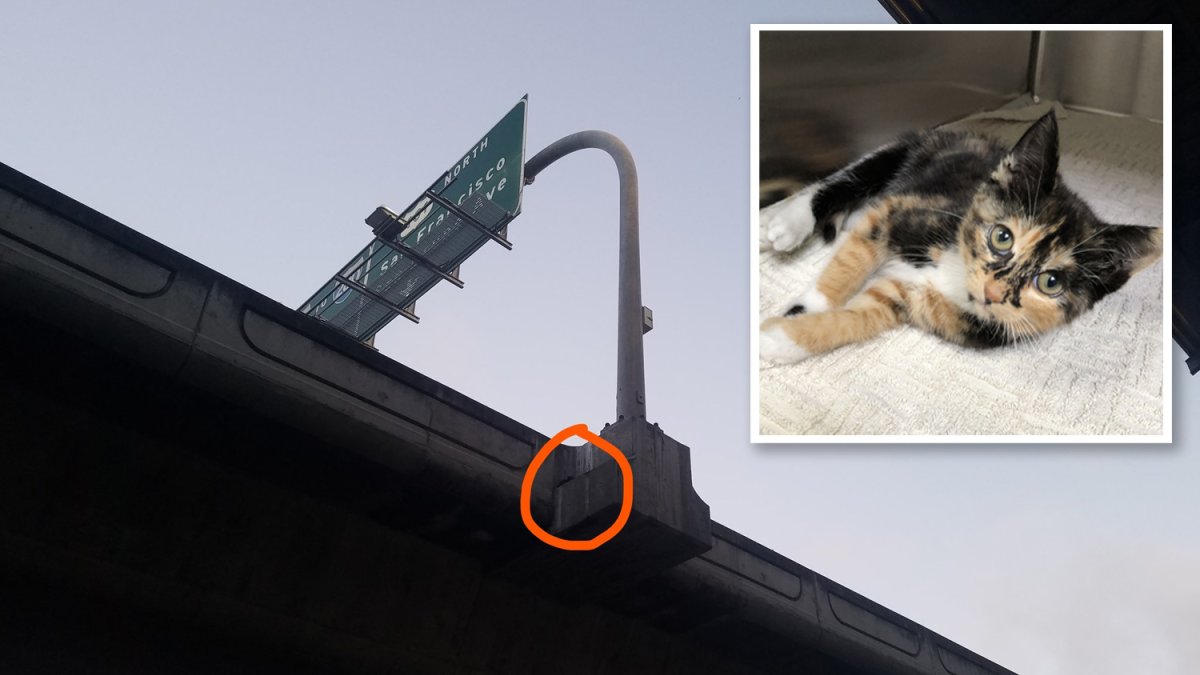 A Kitten Goes Through Nine Lives in One Day
There's a bit of good news in animal land. A particular kitten who became famous for getting herself stuck on a highway sign situated in one of the busiest freeways in California has been adopted and now enjoys a new, safer home.
Gwyneth, managed to make big news when she was spotted yowling her heart out in a small highway nook next to San Francisco International Airport. The particular location was a highway sign base on an overpass leading to the airport off of Highway 101 South. The calico kitten was pretty much in a bad place, digging her claws into the patch of cement she found for safety on the edge of the overpass wall opposite the deadly traffic moving at full speed. The fact that the kitten was seen at all was amazing enough. How she got to that location in the first place without being runover is anyone's guess in terms of the miracles she went through on the trip. Whatever it was, everyone agreed her nine lives were banked and charged in full by the time the kitten found herself in the nook overlooking the main highway below her.
An SFO airport worker with a keen eye was the first witness on the scene to realize what was going on, and that person made the call to the local SPCA chapter to get help for the small cat. Operating via the Peninsula Humane Society/SPCA, response folks realized the location of the cat was deadly on description. The feline was stuck in a sign flare of the cement on the 380 connector with at least a 50 foot drop to the 101 South Highway below. Even if she survived the fall, the cat would likely have been instantly run over by the traffic below, and the same risk was present if she managed to jump and get back up on the overpass as well. The cat, it turned out, did the smartest thing it could do – stay still and scream for help.
Eventually, a crew was able to get to the location, block off traffic and rescue the kitten, which was clearly traumatized by the entire event. So, on June 10, 2021, Gwyneth, the name given to the errant cat, managed to save her 9th life with the help of the local SPCA and survived getting stuck on a highway and otherwise certain death.
After a full check, Gwyneth was estimated to be about three or four months old, hungry, but otherwise a healthy kitten. The PHS/SPCA put her up for adoption, along with the kitten's crazy story, and now the cat has been thoroughly adopted into a safe, solid home far away from highways, overpasses and fast-moving cars. She's also been micro-chipped just in case Gwyneth gets the wandering itch again to go exploring.
More than Three Decades After Adoption, DNA Reunites Mother and Son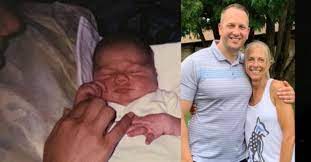 Melanie Pressley found out she was pregnant when she was 18 years old. Her boyfriend insisted on a termination, which she declined, but she worried that she wouldn't be able to give her kid the life he deserved. She gave her baby child up for adoption, but she never forgot about him. The mother and son have eventually reunited after 33 years apart.
Pressley described what lead her to explore adoption in an interview. "I simply knew I wouldn't be able to accomplish it financially," she explained. "And the second issue is that I wished him to have parents, so I thought it best to place him for adoption at that juncture."
During her pregnancy, Pressley engaged with an adoption center with the help of her family. She gave birth to her son in June of 1988 but didn't name him. After an initial objection, she convinced a nurse to hold the baby, and her sister snapped a photo.
Even after marrying and having three additional children, she pondered what her first child looked like while stressing every year on his birthday. After the death of Pressley's mother, she became overwhelmed with the desire to meet her son and cried since her mother never got the opportunity.
As a result, one of her daughters sent her a 23andMe kit as a surprise gift in May 2021. Meanwhile, her kid was doing the same activity approximately 300 miles away.
When Greg Vossler was nine years old, his parents informed him that he was adopted, but he was uninterested in learning more about his biological family. "I used to joke that 'I don't see a star who looks like me,' or 'No one who is a king or queen in some foreign nation looks like me,'" he remarked. "And I always claimed it was a joke. It was my method of getting that fast reply in my back pocket whenever someone asked; I'd never actually given it any serious thought."
But later, Vossler had his child, a son whom he named after himself. "One night, my spouse and I were relaxing and talking, and I remarked, 'I don't know anything about my medical records, heredity, or where I came from,'" he recalled. "And there was some 23andMe campaign going on." As a result, I took the exam."
Vossler did the test in 2019; therefore, when Pressley sent in her specimen in 2021, he was immediately identified as a match. Pressley stated, "I immediately sent a reply, and my first text was, I believe we're related." "I feel I am your birth mother," said the following message. And it just exploded up from there."
They started conversing, though Pressley stated that she didn't want to hear his voice until they met in person. They were ultimately reunited earlier this summer, and the bond was instantaneous. Vossler not only met his original mother, but he also received new family members. Meanwhile, Pressley has a recent photo of herself with her long-lost son.
"Everyone is emotional; they're all holding hands or hugging one other. 'Hey, I'm your half-brother, half-sister,' and so on. Melanie's elder sister, who was key in permitting Melanie to take that initial photo, approached me and touched my face. "It's the first time she's seen me in 33 years," Vossler said. "It's an incredible sensation. And that demonstrates that there's always space for families to develop and more love to share among them."