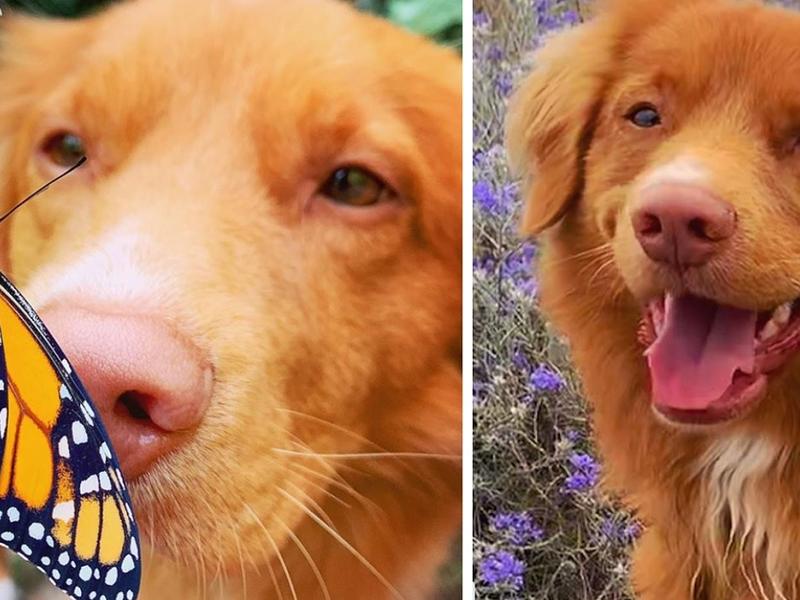 A Furry Companion Unlike Any Other
People enjoy learning about pets on social media sites and when a dog seems to exude a behavior that is unique or charming, many people may wind up viewing a post, ultimately making a canine a worldwide sensation. In the past, there was a small dog named Boo, who was noted for popular Instagram photos and videos, which showcased the dog's tendency to be dressed up in cute clothing. Boo normally spent time alongside his pal Buddy. Unfortunately Boo passed away a few years ago, but he did live a long and happy life.
Today, there is a new internet star by the name of Milo. Milo is a duck tolling retriever and already has over 30,000 followers on Instagram. He enjoys spending time outdoors and is especially fond of butterflies. This interest became apparent when his owner, Jenn Bennet, noticed that Milo was carefully observing some Monarch butterflies that were flying in her flower garden.
Some of the butterflies actually landed on Milo's head and his owner took a picture of him. This picture is what first made Milo popular with people worldwide. "He has a gentle demeanor and loves nature and living creatures", stated Jenn during an interview on Good Morning America. Monarchs are dwindling in number worldwide and Jenn wants to do her part to protect this species from harm.
Another one of Milo's interests has to deal with hobby cooking. Milo doesn't actually cook, but Jenn jokes around about how Milo is her helper and how he will sit patiently waiting for her to create dog treats. The treats include peanut butter carrot cake, peanut butter donuts, and granola bars. Jenn has created personal recipes for a while now and she enjoys trying out new flavor combinations and allowing Milo to taste test each creation.
All natural ingredients are used for each recipe and the snacks are offered in conjunction with Milo's normal diet. "Milo will sit patiently on the floor, watching me add ingredients to a bowl and observing me whisk the items until they are blended. Before using cookie cutters or a roller, I allow Milo to sample each batch of goodies. Milo's way of thanking me is by using his tongue to give me a sloppy kiss", stated Jenn.
Jenn has been sharing her love of cooking and the healthy ingredient combinations that she uses to create dog treats. If you would like to learn more about the treats that Milo prefers, you can acquire a listing of the ingredients used and the preparation steps, by visiting Jenn's Instagram page.
Additionally, if you want to be inspired by a furry creature who is only 2 years old, but has a lot of character and love for life, be sure to stay updated, by browsing the photos and the unique captions that Jenn shares with her audience. Who knows, you may even become inspired to adopt your own dog companion and to share some of the heartwarming moments that you experience when you are alone with your new pet.
Young Boy Keeps Toy He Was Measured Against As A Premature Baby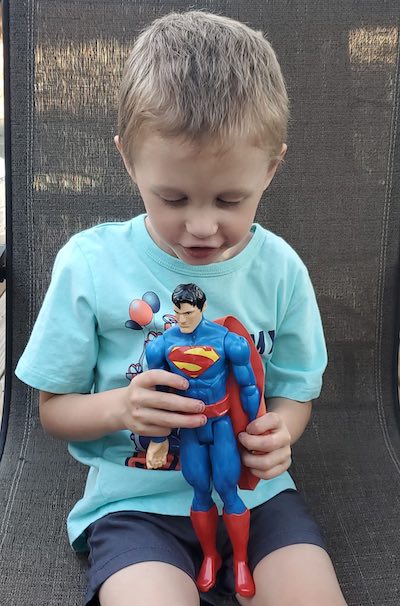 Doctors sent home a woman and her husband to prepare for a miscarriage, but the defiant parents stayed put and now have the tale of a lifetime to tell.
So does their four-year-old son Logan Ray, born less than six months of pregnancy, has a Superman action-figure as proof of how small he was at birth. He was only 12 inches in length and weighed a pound and a half. He and the action figure his parents Rob and Val placed beside him shortly after his birth, are now inseparable.
How did this fascinating and heartwarming story come about?
Nearly five years ago, when Val was pregnant with their son, doctors wiped the smiles off their faces by announcing that the baby would not make it to full term. The Physician claims the baby would not survive at all, and they should brace themselves for any eventuality.
The reason for the bad news was that Val had been diagnosed with a cervix problem. The doctors said examinations showed her Cervix was incompetent. That situation usually transpires when unstable cervical tissue induces or contributes to premature delivery or the loss of pregnancy even though the gestation is, on the other hand, healthy.
Val and Rob blocked out the bad news they received, and we're adamant that they would remain in the hospital to see the pregnancy through. The baby was a fighter too and stayed put for all of twenty-three weeks. Val helped out by keeping her feet elevated and staying in bed for three weeks without getting up to do anything that could further jeopardize the pregnancy.
She gave birth to a child now known as the "Superman Baby" for dual reasons. He was mighty strong and put up a fight to survive, and he was the size of a Superman toy. The toy idea came about when the nurses suggested to the mom that she should use something like a keepsake to measure the baby alongside. When she ran the idea by her husband, he was very supportive and they agreed on the Superman novelty.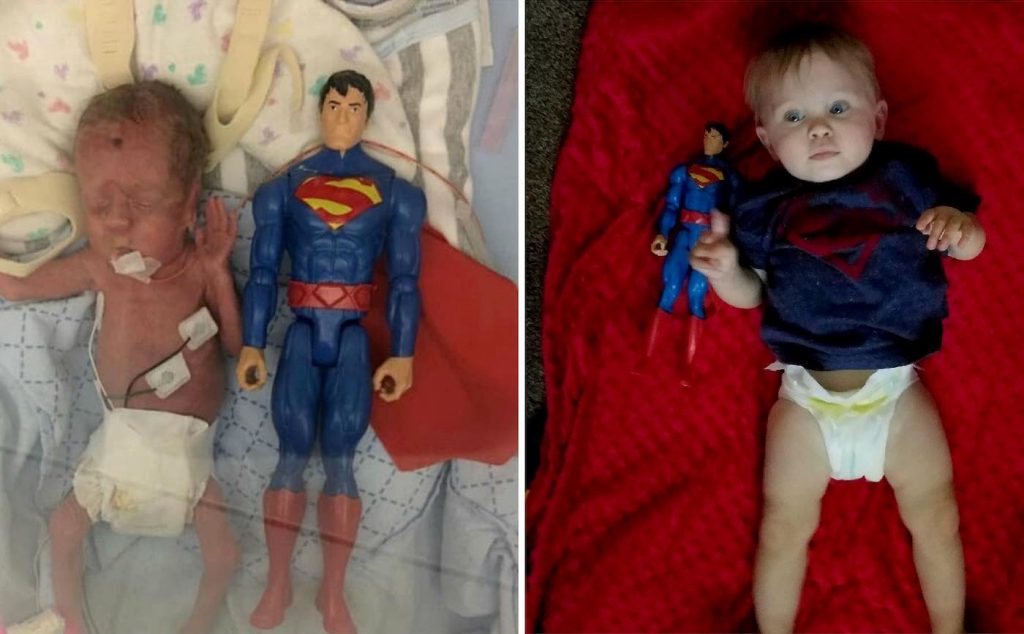 The doll was sanitized and placed beside Logan. For fifteen weeks, he remained in an incubator at the Randall Children's Hospital in Portland, Oregon fighting a myriad of complications that many feared would hinder the survival of Logan, but he pulled through like a champ. It was after those four months that he was finally able to leave with his parents.
From the hospital days to now, four years later, Val has been taking a multitude of photos with Logan carrying around his action figure. The doll is an indicator of Logan's successful development after a traumatic experience in the first few months of his life.
According to the happy and grateful parents, they communicate with the doctor who wants a regular update on Logan, who he refers to as " tough."
Many people consider not just Logan's survival but the fact that he has no further complications a miracle. Just like his action figure, Logan is healthy and strong as any regular child his age. His parents say they will never get rid of the Superman tog as memorabilia is not just for them, but for Logan when he becomes an adult.
He will have a tear-jerking story to tell years from now if or when he becomes a parent as well.