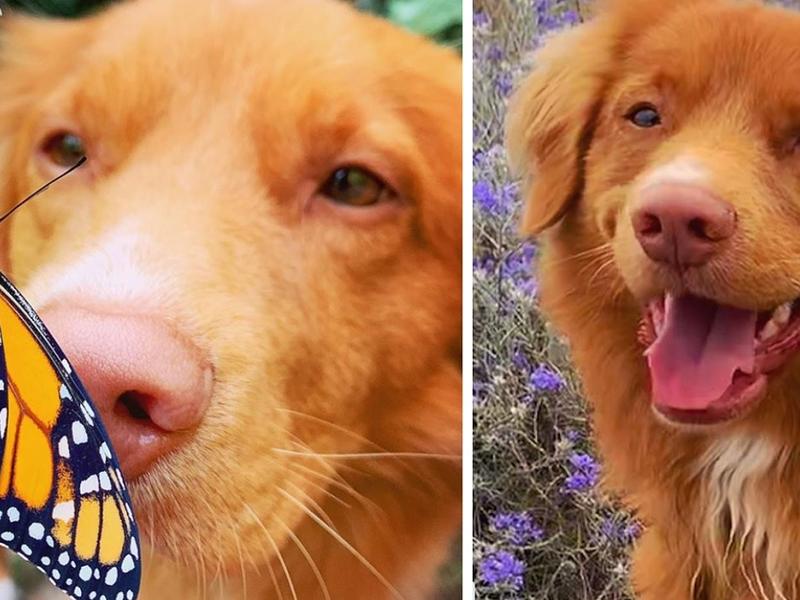 A Furry Companion Unlike Any Other
People enjoy learning about pets on social media sites and when a dog seems to exude a behavior that is unique or charming, many people may wind up viewing a post, ultimately making a canine a worldwide sensation. In the past, there was a small dog named Boo, who was noted for popular Instagram photos and videos, which showcased the dog's tendency to be dressed up in cute clothing. Boo normally spent time alongside his pal Buddy. Unfortunately Boo passed away a few years ago, but he did live a long and happy life.
Today, there is a new internet star by the name of Milo. Milo is a duck tolling retriever and already has over 30,000 followers on Instagram. He enjoys spending time outdoors and is especially fond of butterflies. This interest became apparent when his owner, Jenn Bennet, noticed that Milo was carefully observing some Monarch butterflies that were flying in her flower garden.
Some of the butterflies actually landed on Milo's head and his owner took a picture of him. This picture is what first made Milo popular with people worldwide. "He has a gentle demeanor and loves nature and living creatures", stated Jenn during an interview on Good Morning America. Monarchs are dwindling in number worldwide and Jenn wants to do her part to protect this species from harm.
Another one of Milo's interests has to deal with hobby cooking. Milo doesn't actually cook, but Jenn jokes around about how Milo is her helper and how he will sit patiently waiting for her to create dog treats. The treats include peanut butter carrot cake, peanut butter donuts, and granola bars. Jenn has created personal recipes for a while now and she enjoys trying out new flavor combinations and allowing Milo to taste test each creation.
All natural ingredients are used for each recipe and the snacks are offered in conjunction with Milo's normal diet. "Milo will sit patiently on the floor, watching me add ingredients to a bowl and observing me whisk the items until they are blended. Before using cookie cutters or a roller, I allow Milo to sample each batch of goodies. Milo's way of thanking me is by using his tongue to give me a sloppy kiss", stated Jenn.
Jenn has been sharing her love of cooking and the healthy ingredient combinations that she uses to create dog treats. If you would like to learn more about the treats that Milo prefers, you can acquire a listing of the ingredients used and the preparation steps, by visiting Jenn's Instagram page.
Additionally, if you want to be inspired by a furry creature who is only 2 years old, but has a lot of character and love for life, be sure to stay updated, by browsing the photos and the unique captions that Jenn shares with her audience. Who knows, you may even become inspired to adopt your own dog companion and to share some of the heartwarming moments that you experience when you are alone with your new pet.
Jacksonville Man Spreads Love and Positivity at the Beach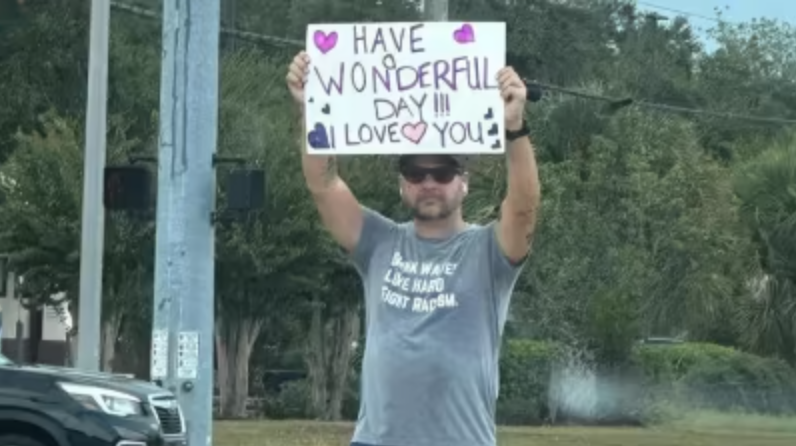 In Jacksonville, Florida, a man has been making waves of positivity and spreading kindness at the Beach Boulevard and San Pablo Road South intersection. With handmade signs that read, "Have a wonderful Day!! I Love You" and "You are Relevant," this man is on a mission to uplift the spirits of those who pass by. His heartwarming gestures have not gone unnoticed, and his actions are especially poignant during National Suicide Prevention Month.
Rika, a local resident, had a unique encounter with this compassionate individual. She was on her way to pick up her lunch when she saw a man standing in the median of the road, holding these uplifting signs. Most of us would just glance and continue on our way, but Rika decided to take a closer look. As she stopped at a red light, she took a few pictures to capture the moment. To her surprise, the man approached her car and handed her a sunflower.
"So picture this… you're out going to pick up your lunch, and there's this random guy walking by with a handmade sign," Rika recounted. "I'm sure like most of us, we'd glance and keep it moving, but I decided to read his sign since I was at a stop light. I snapped a few pictures because why not, but as I was doing this, he approached my car door to hand me a sunflower! Don't forget to appreciate the small things."
This simple act of kindness had a profound impact on Rika, as it has on many others who have encountered this man and his signs. His message of love and importance reminds us all to appreciate the small joys in life and to acknowledge our worth.
The man's efforts are not just a random act of kindness; they hold special significance during National Suicide Prevention Month. September is a time when people and organizations across the country work to raise awareness about mental health and suicide prevention. This Jacksonville man's compassionate actions align perfectly with the spirit of this month, as he strives to remind people that they matter and that there is goodness in the world.