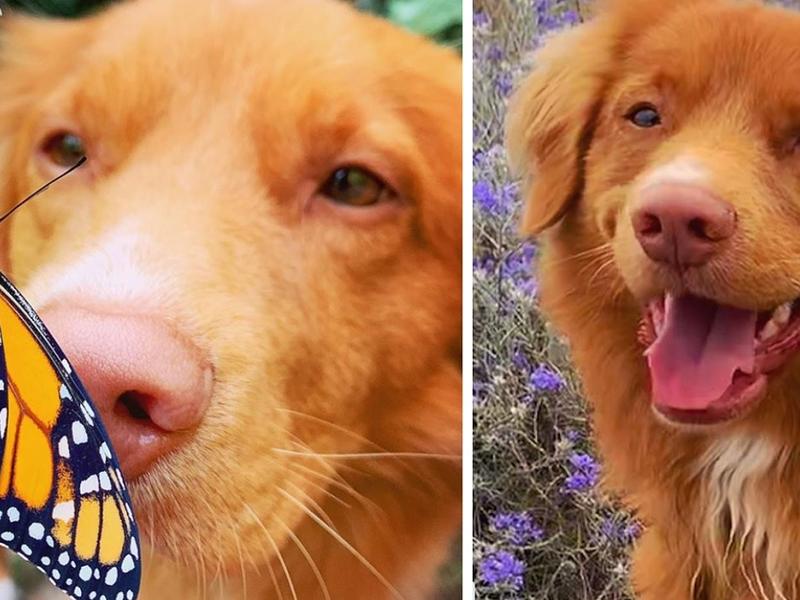 A Furry Companion Unlike Any Other
People enjoy learning about pets on social media sites and when a dog seems to exude a behavior that is unique or charming, many people may wind up viewing a post, ultimately making a canine a worldwide sensation. In the past, there was a small dog named Boo, who was noted for popular Instagram photos and videos, which showcased the dog's tendency to be dressed up in cute clothing. Boo normally spent time alongside his pal Buddy. Unfortunately Boo passed away a few years ago, but he did live a long and happy life.
Today, there is a new internet star by the name of Milo. Milo is a duck tolling retriever and already has over 30,000 followers on Instagram. He enjoys spending time outdoors and is especially fond of butterflies. This interest became apparent when his owner, Jenn Bennet, noticed that Milo was carefully observing some Monarch butterflies that were flying in her flower garden.
Some of the butterflies actually landed on Milo's head and his owner took a picture of him. This picture is what first made Milo popular with people worldwide. "He has a gentle demeanor and loves nature and living creatures", stated Jenn during an interview on Good Morning America. Monarchs are dwindling in number worldwide and Jenn wants to do her part to protect this species from harm.
Another one of Milo's interests has to deal with hobby cooking. Milo doesn't actually cook, but Jenn jokes around about how Milo is her helper and how he will sit patiently waiting for her to create dog treats. The treats include peanut butter carrot cake, peanut butter donuts, and granola bars. Jenn has created personal recipes for a while now and she enjoys trying out new flavor combinations and allowing Milo to taste test each creation.
All natural ingredients are used for each recipe and the snacks are offered in conjunction with Milo's normal diet. "Milo will sit patiently on the floor, watching me add ingredients to a bowl and observing me whisk the items until they are blended. Before using cookie cutters or a roller, I allow Milo to sample each batch of goodies. Milo's way of thanking me is by using his tongue to give me a sloppy kiss", stated Jenn.
Jenn has been sharing her love of cooking and the healthy ingredient combinations that she uses to create dog treats. If you would like to learn more about the treats that Milo prefers, you can acquire a listing of the ingredients used and the preparation steps, by visiting Jenn's Instagram page.
Additionally, if you want to be inspired by a furry creature who is only 2 years old, but has a lot of character and love for life, be sure to stay updated, by browsing the photos and the unique captions that Jenn shares with her audience. Who knows, you may even become inspired to adopt your own dog companion and to share some of the heartwarming moments that you experience when you are alone with your new pet.
Lion At Zoo Boise Finally Getting A Friend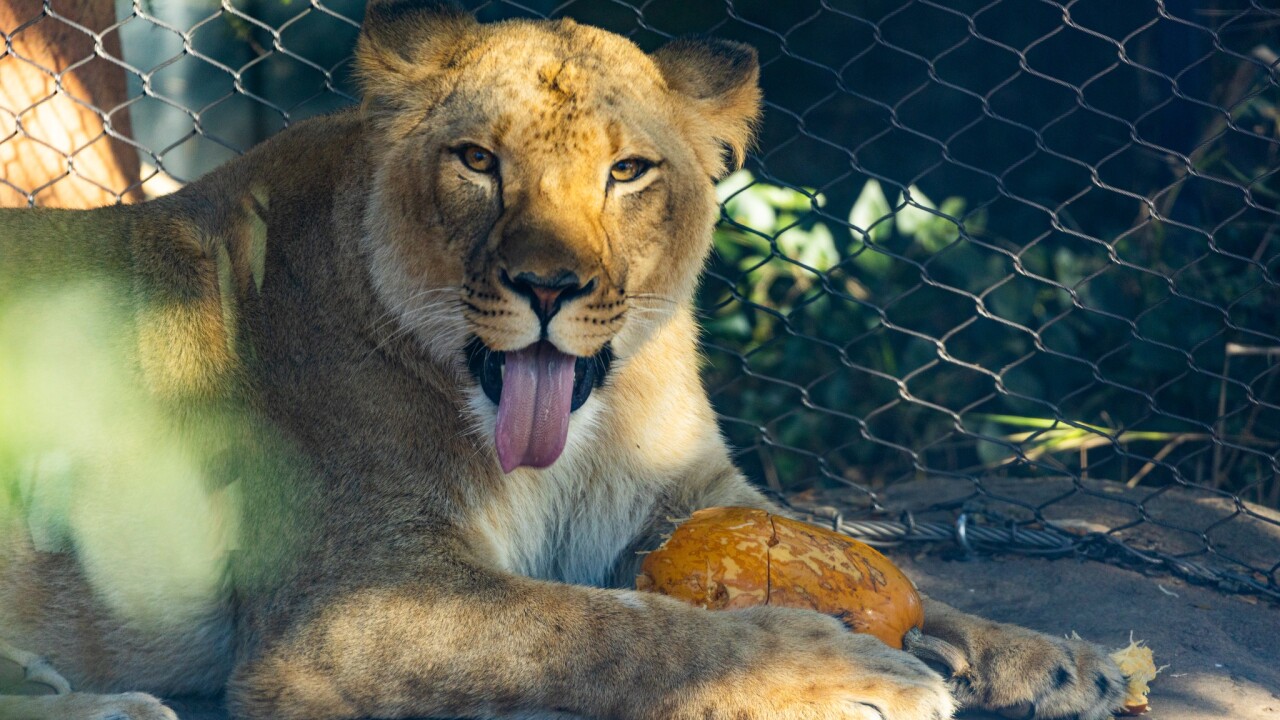 The Boise Zoo in Idaho is about to get a new addition to their animal family. A two-year-old lioness will be arriving from the Santa Barbara Zoo to join the male lion, Revan. The female African lion has not yet been named, but she was born in 2020 to parents Felicia and Ralph.
The decision to pair the two lions together was made with the intention of providing companionship for Revan, who has been living solo for the past year. While the two lions will not be bred, they will have the opportunity to socialize and form a bond with each other.
African lions are the only cats that live in groups called prides. These social structures consist of a few males, a dozen or so females, and their young. Lions are apex predators and are found throughout sub-Saharan Africa. They are known for their distinctive manes, with males sporting large, thick manes around their necks.
The Boise Zoo is located in Julia Davis Park and covers 11 acres of land. It is home to over 200 animals from around the world. In addition to lions, the zoo also houses primates, birds, reptiles, and many other animals. The zoo's mission is to provide a high-quality environment for its animals while also educating visitors about conservation and animal welfare.
Revan, the male lion, has been at the Boise Zoo since 2018. He was born in captivity at the Oakland Zoo in California and arrived in Boise at the age of 5. He is currently 10 years old and weighs over 400 pounds. He is known for his playful personality and enjoys interacting with his zookeepers.
The arrival of the new lioness is a significant event for the zoo, as it provides an opportunity for the animals to form a bond and engage in natural behaviors. Visitors to the zoo will also have the opportunity to see the two lions together and learn more about these magnificent animals.