A Fisherman Saves a Kitten From Certain Death in the River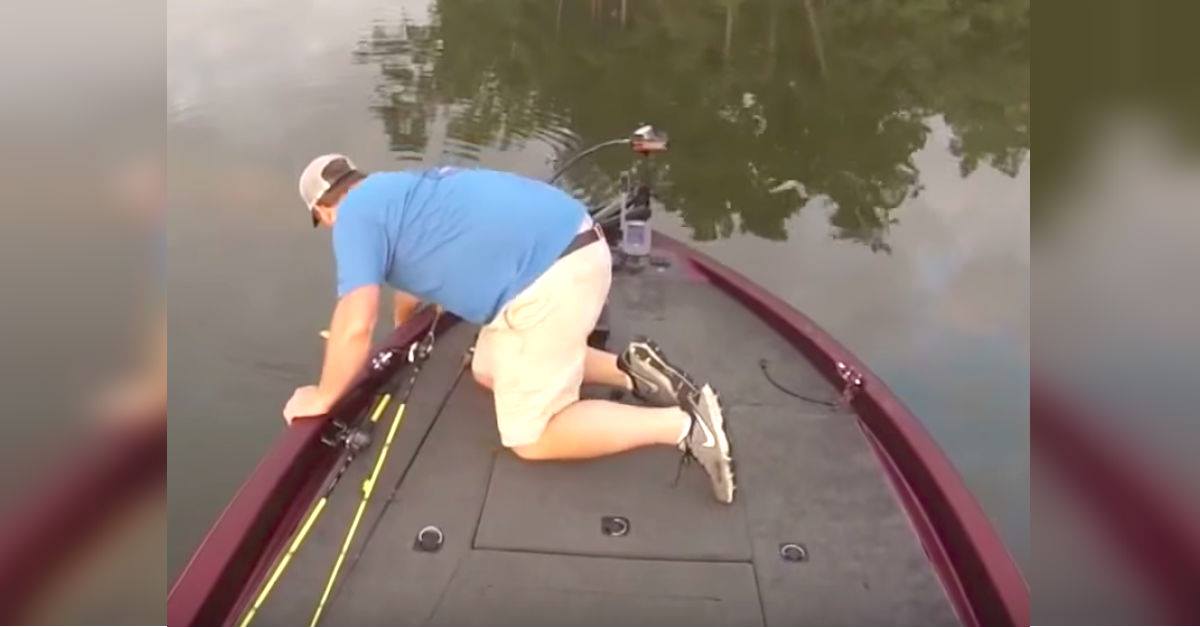 There is a saying that fortune favors the prepared. In some cases, it might be phrased that fortune favors the bold. This story is one that exemplifies that turn of phrase perfectly. Several years ago, an experienced fisherman was out on a local river in Alabama. He was minding his own business, hoping the fish would bite. Fishing is a great way for someone to take a break, think about life, and come up with answers to some of life's biggest mysteries. He was watching his line and minding his own business when something shocking appeared beneath the surface of the water.
The fisherman wasn't quite sure what he was looking at. He hadn't seen something like this underneath the surface of the water in quite some time. At first, he thought it was a catfish. He wasn't quite sure what he was going to do with this animal. Then, he realized it wasn't a catfish at all. It was actually a cat! There was a tiny cat lurking underneath the surface of the water, struggling to stay afloat. The fisherman knew that if he did not jump into action quickly, the kitten was certainly going to drown. He decided to intervene and save the kitten's life.
The kitten was clearly aware of what was going on. She was struggling to swim toward the boat, thinking the people on board would help her. She realized that the people had noticed her and started to meow. She was clearly in distress, crying to be saved. There were obvious ripples in the water, indicative of her efforts to try to scratch and claw her way closer to the boat. All she wanted was someone to pull her out of the water and move her to safety.
Eventually, the boat and the kitten close the gap to within arm's reach. The fisherman reaches into the water and yanks the adorable orange kitten out of the water. Then, he plops on the ground, safely in the boat. If this isn't an unusual story for a fisherman, it is hard to tell what could top it. He looked around and said, as he tries to calm down the kitten, that this was the craziest thing he had ever seen. In a line of work where people are known for telling tall tales, there is nothing that is going to top this.
Well, actually, the story continued. Just as he was relaxing the first kitten, he looked out and couldn't believe what he saw. The first kitten must have had a sibling because there was another kitten that was struggling to stay afloat. He believed the two kittens were twins. Therefore, he decided to put the boat into action one more time and save that one as well. To this day, the fisherman isn't quite sure what the cats were doing in the water. He thinks that someone must have abandoned the kittens and left them to fend for themselves near the water. He thinks they floated down the river. The closest houses in the area are a few miles away. Perhaps they got washed downstream by the current.
Thankfully, this fisherman was in the right place at the right time. He happened to come across the kittens as he was fishing during the day. He was able to pluck them out of the water and save their lives. Then, he took it upon himself to find the kittens a safe home where they would be loved. As he says, there is a first time for everything.
Man's Best Friend, Except When It's Time for the Weather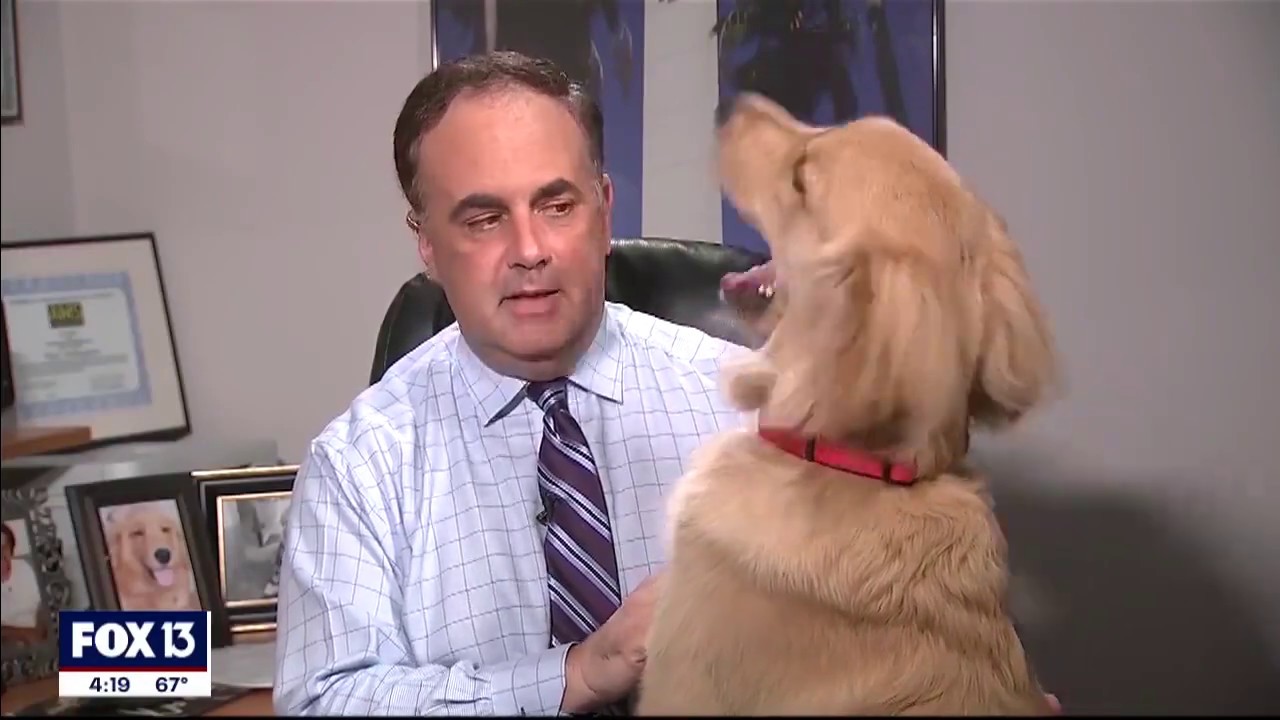 Working from home these days comes with a number of new challenges and risks that most never expected to deal with in their careers. But when the computer camera or conference video is placed in one's private accommodations, all sorts of issues can pop up that folks normally don't deal with in the office setting. Everything from what kind of photos, art or prints one has in the background to their furniture in a personal room to everything else the home is shared with becomes potentially exposed. And in the case of a particular weatherman trying to provide his meteorologist work online, man's best friend can be a notable interruption.
Paul Dellegato regularly works as meteorologist for Fox 13 based in Florida. However, like many others, Paul had to figure out in short notice how to relocate his work and his broadcast to his home to maintain social distance and health safety. While the access to his work networks and computer setups wasn't too hard, the readjustment to a home office and presentation place for his work took a bit of additional thinking. He had to pick a place in the house that would be free of distractions, walk-in surprises, problematic backgrounds, and not be invasive to his own home as well. What Paul didn't count on was that his own extended family might end up being the real disruption to Paul's broadcast.
In the clip provided, Paul is working as usual on his life TV broadcast and covering the weather for the day and the next few days' expectation. As he's going through the details and the changes in high and low pressures as well as the temperature predictions, someone doesn't want to let the weatherman continue. Paul's golden retriever, Brody, has decided to be a gate crasher and literally jump up in Paul's face and personal space. No matter how much Paul tries, his dog just keeps being persistent for his master's attention. Chances are the dog is probably hungry for dinner and is making a point about it. Doing so, however, Paul's dog is not only making a presence on the screen, the canine is goofing up the weather graphics on the nearby computer, making a ton of noise, and showing how useless it is for Paul to try to and stop the chaos. The audience loves it and Brody, and Paul's dog became the new digital mascot for Fox 13.
The weatherman's crisis resonates with all of us. We're all going through a big disruption, trying to reconstruct our professional work lives from home all over the country. So, to find a bit of humor in Paul's online dilemma with Brody provides a cathartic effect, helping us all find some humor and a bit of lightness in watching. Once you watch the show clip, you'll understand why Paul's situation went viral so fast.
Things didn't turn out bad for Paul. He earned big commendations for how patient he was able to stay under duress from Brody and the dog's insistent interruptions of his weather show. And it was clear Paul loves his furry buddy. So, the feeling now is the heck with the weather maps. How Brody behaves on camera will indicate if tomorrow will be a good weather day or otherwise.