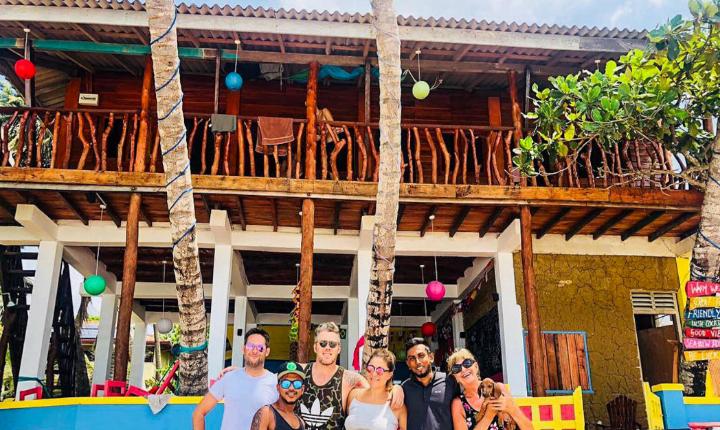 A Couple on Their Honeymoon in Sri Lanka Ended up Buying Their Hotel
Couples on their honeymoon are relaxed and often spending some time lounging on beaches with drinks in their hand. For one London couple, the power of making decisions while under the influence of some rum-filled cocktails proved real. Gina Lyons and Mark Lee were married in June last year and were backpacking through Sir Lanka for three weeks on their honeymoon in December. While most couples would come back with some souvenirs from their travels, such as market trinkets or even just some pictures at different famous landmarks, this couple came back from their travels with much more.
After a series of events, Gina and Mark become the owners of the hotel where they were staying. The newlyweds decided to spend the night at a slightly rundown, but still cozy hotel in Tangalle, a beach town. The couple quickly fell in love with the views of the water and the hotel that gave off a tree house vibe. The couple went out for drinks one night and discovered from locals that the lease was coming up on the property. What happened next may be a blur for the couple, since they consumed 12 glasses of rum that night while chatting. When they woke up, while still hungover, Mark and Gina learned that they had offered 30,000 pounds and that their offer for the hotel had been accepted. While the couple may have had a chance to get out of their hotel deal, then went through with it and sealed the deal wearing their beachwear and quickly started preparing for the rewards and challenges that owning a hotel can bring.
Many other people will do a lot of stupid things under the influence, such as get into fights or send texts that will get them in trouble. Some do more permanent things, like Mark and Gina, and elope. For many, these decisions don't pan out. However, for Gina and Mark, their decision to buy the hotel has worked out for them. Shortly after their purchase, they found out that Gina was pregnant, so they worked hard to refurbish and fix up the property and started immediately promoting it to travelers. The couple later welcomed their daughter in December 2018, according to an Instagram post.
The hotel, named The Lucky Beach Tangalle, is now advertised as a destination for flashpackers. It has great reviews from guests. There is a dedicated staff and Mark and Gina balance running the hotel along with careers they have built up in London. The hotel features a bar and restaurant, although there is no word if any deals are being made by guests getting a little too drunk off of cocktails there. Reviewers state the hotel is in a great location and that the rooms have sea views and are nicely done. Guests rave about the staff and say that they feel welcome and would recommend the property to others. The location is not far away from Tangalle Lagoon and Mulkirigla Rock Monastery. Guests who want to stay at the hotel can book through booking.com and see some gorgeous pictures from the hotel's Instagram account. The Instagram account also shows the changes the couple made to the hotel in the story highlights. The account also features photos of food and drink, likely from the hotel bar and restaurant. Just be careful with some of those drinks, since you never know where those drunken nights are going to take you. For Gina and Mark, it turns out some drunken decisions do pay off.
The little boy shares a special moment with a police officer during a protest rally for George Floyd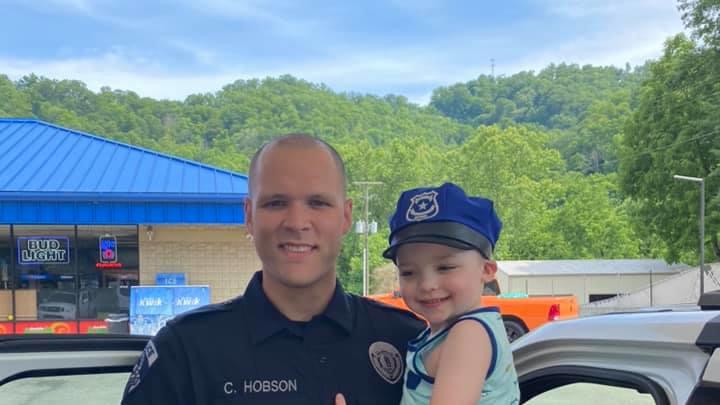 The ruthless killing of George Floyd has caused a thunderous uproar and rage throughout the world. In Winston-Salem, NC, hundreds of people gathered to protest against the killing of Floyd. They took to one knee for 8 minutes and 46 seconds that is the exact length of time former police officer Derek Chauvin had shoved his knee onto Floyd's neck which resulted in Floyd's death. The killing of George Floyd has become a symbol of injustice not only in American society but throughout the world. "Say no to racism" has been the most trending topic in all regions of the globe. In this particular incident, it was a black man who was the victim and this is not the only time it has happened. Several cases have occurred which demonstrated the lack of compassion and justice in the way law enforcement has dealt with individuals from minority racial groups.
Yolanda Williams Dickey, a resident of Winston-Salem, NC, was driving by the protest when she decided she wanted her family to be part of this protest as a sign of solidarity against discrimination against the minority groups. She went home to pick up her husband and son, who were glad they got a chance to be part of this historic protest. For her little son, Kamari it was quite the experience. He had never seen a protest rally before this. He saw a lot of anger and pain in the faces of the protestors. He could also see his parents being very emotional too. His parents had told him what the protest was about and how Floyd had been murdered. Kamari couldn't understand why the former police officer did what he did to George Floyd.
Kamari's attention went to the police officers on the sidelines. He watched them very closely as they stood by making sure there was no violence at the protest. Kamari had always wanted to a police officer himself but now his mother was concerned that after this incident, maybe he would not want to be one. Most of the toys that Kamari had were related to the police and he spent most of his days playing with them. He often told his parents that when he grows up he wanted to be a police officer so he could catch the bad guys. This unfortunate killing of George Floyd might have shattered the dreams of the little boy. At the protest, as the family moved closer to the police officers, Kamari approached Sgt. Dan Battjes, who was sitting on his motorcycle.
Kamari formally introduced himself to the police officer, who was very kind and friendly to the boy. After a few minutes of talking, Kamari said goodbye to the officer by a friendly fist pump. While the citizens of the country are demonstrating against the police and there is an unbelievable level of anger toward law enforcement, this little boy kept no hatred in his heart. The innocence of the little boy showed the resilience of the American community. One incident cannot dismantle years of peaceful coexistence. Yes, there have been cases where the minority communities have been discriminated and there should be strict actions and reforms against such incident but Americans still need to live together. The dream of Kamari to become a police officer might still be alive. The question remains, is the dream of a multi-racial America living with each other with love, compassion, and tolerance still alive? Only time will tell if this dream is alive.