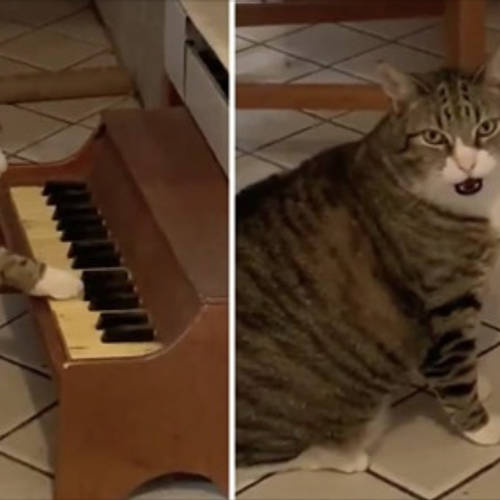 A Cat Who Plays the Piano
Cats often spend most of their days trying to get the attention of their owners. Many people find it hard to type when their cats are around, since their cats will frequently jump on their keyboards when they're trying to work. Some cats will vocalize almost all day, and their owners try to interpret what different vocalizations mean.
While cats are often trying to tell their owners that they want to be fed, they often just want their owners to pay attention to them. Cats are still social animals, even though they're often considered independent and solitary.
Winslow is a cat who has found an entirely new strategy, and his might be particularly effective. He actually has a tiny toy piano that's conveniently situated right beside his bowl of food, whether it's a full or empty bowl. He seems to play a few specific notes each time, making it almost sound as if bells are ringing.
Many cat owners like it when their cats vocalize, but some cats are unusually noisy. It seems like this was the case with Winslow, and he still is quite a vocal cat. Kate Nyx is his owner, and she is a musician. The piano was her idea, and it's not a skill that Winslow picked up by accident or by simply observing her.
Kate Nyx didn't want Winslow to constantly vocalize, which used to be the case for him. He used to be quite loud, and cats tend to make the same sounds over and over again. Kate Nyx trained Winslow to use the piano instead, which means that she gets to hear something different when Winslow wants to be fed.
Of course, Winslow now knows that the piano works. When he wants attention from Kate Nyx, he'll still play his piano. Interestingly, he also uses this trick to let her know that his cat litter must be changed.
It's possible that he would use the piano if some other problem presented itself. Cats have been known to help alert their owners to different threats in the past, even though dogs tend to be better at this. Winslow's little piano might become part of a sort of backup security alarm in some ways. Of course, for now, it's just a creative device that gives Winslow the opportunity to more effectively communicate with his owner.
It seems that Winslow is not an especially patient cat, since he's often already at his piano two hours before dinner. If he isn't fed immediately, he'll still vocalize. Winslow also seems to like to vigorously rub his face against the piano, which also causes another very brief echo of piano music.
Winslow's skills have already made him a celebrity online now. A clip of him playing the piano has already managed to get a million views, and the clip has nearly one hundred thousand 'likes.' The clip itself should only get more attention as more people hear about it and share it with their friends.
Kate Nyx also wrote a short and charming song about Winslow, and it has its own video. This song is sure to make a lot of people happy, and some people have already said that they've listened to it several times. The song has over one hundred thousand views, and it may soon be as popular as the video that specifically features Winslow and the piano.
Many cat owners will recognize a lot of these situations themselves. It's possible that after hearing about Kate Nyx and Winslow, more people might try training their cats to use little pianos or something similar in the future.
Newly Discovered Flower Blooms Atop One of the World's RAREST Trees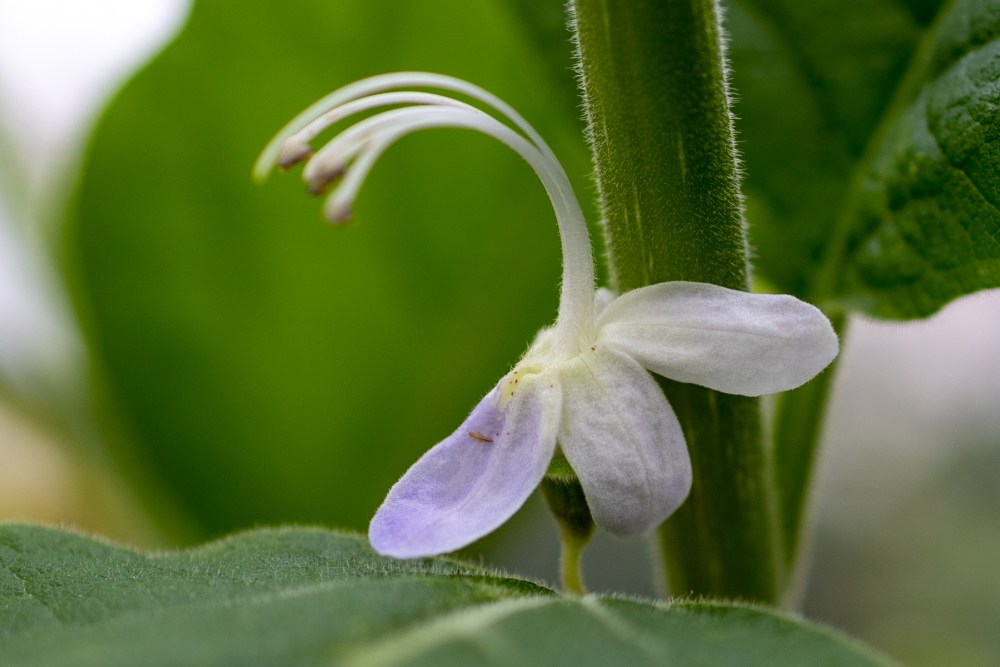 The Missouri Botanical Garden in St. Louis is known by locals for the intense work performed by the experts inside. When a small purple-and-white flower began to grow within their greenhouse, the team of experts at the Missouri Botanical Garden were confused. From their perspective, they were seeing something brand new – a completely fresh discovery.
Discovery on May 3rd
Justin Lee is a senior horticulturist at the Missouri Botanical Garden, and he was performing regular work on a Karomia Gigas sapling in the greenhouse when he first stumbled upon the rare purple-and-white flower. The Karomia Gigas is a tree from Africa with close relations to the mint plant. An endangered tree species in Africa, Justin was confused by the flower that had grown nearly an inch in length atop the tree.
Lee says of his discovery, "It's a bit odd for a mint flower. It seems flipped inside out."
The flower measured an inch in length with a strong halo of purple petals, sloping gently downward toward white stamens bearing pollen. According to Lee, the mint family likes to put out tube-styled flowers in an attempt to attract bees, butterflies, and moths. Lee also suggests that the tree can self-pollinate if necessary.
As the discovery made headlines around the city, the researchers at Missouri's Botanical Garden are preparing for more blooms in the future. Research has suggested that more Karomia Gigas flowers will grow at the greenhouse and it is then that their scientific research will really begin. Lee and his team are focused on successfully cultivating cross-pollination, thus improving the survivability of the plant in the world. At the time of this writing, only about two dozen of the Karomia Gigas trees can be found in the wilds throughout Tanzania.
The Wilds of Tanzania
At the time of this writing, the Karomia Gigas is considered so rare as to not even have a local Tanzanian nickname, nor is there an English one. What little is broadly known about the Karomia is that it can grow in straight stretches for up to 80 feet, limiting branch exposure until nearly halfway to its final height. As a result of its odd, stick-like growth, finding these unseen flower blooms has been harder than you might anticipate!
Roy Gereau is a program director for Tanzania at the Missouri Botanical Garden. Surprised but not shocked by the flower, Gereau was quick to admit that the bloom was new. Gereau said of the rare flower, "There certainly is no record of the flowers in scientific literature."
More important than discovering the flower, researchers in Missouri believe that they can maintain the health of the newly bloomed petals to prevent them from disappearing. Andrew Wyatt is the VP of Horticulture at the Missouri Botanical Garden, and he said, "We can make sure the species doesn't go extinct."
It has been a challenge to grow the plant in Missouri, as has been repeated by researchers at the facility. Seeds had been collected in 2018 from a series of Tanzanian field expeditions. These seeds were shipped to St. Louis where only around 100 were thought to be viable. To make things even more difficult, it was a task to match Tanzanian growing conditions within greenhouses in Missouri.
Despite the challenges that they had to face, it looks like the Karomia is finding solid footing within St. Louis. With some momentum and optimism on their side, what's next?
Andrew Wyatt said of the rare blooming flower and of his own future, "We were debating whether it would even flower in our careers."