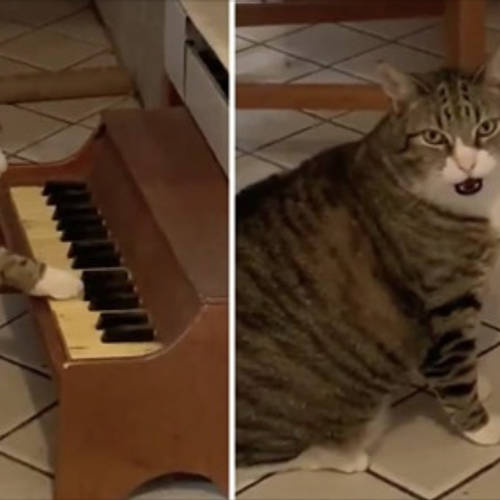 A Cat Who Plays the Piano
Cats often spend most of their days trying to get the attention of their owners. Many people find it hard to type when their cats are around, since their cats will frequently jump on their keyboards when they're trying to work. Some cats will vocalize almost all day, and their owners try to interpret what different vocalizations mean.
While cats are often trying to tell their owners that they want to be fed, they often just want their owners to pay attention to them. Cats are still social animals, even though they're often considered independent and solitary.
Winslow is a cat who has found an entirely new strategy, and his might be particularly effective. He actually has a tiny toy piano that's conveniently situated right beside his bowl of food, whether it's a full or empty bowl. He seems to play a few specific notes each time, making it almost sound as if bells are ringing.
Many cat owners like it when their cats vocalize, but some cats are unusually noisy. It seems like this was the case with Winslow, and he still is quite a vocal cat. Kate Nyx is his owner, and she is a musician. The piano was her idea, and it's not a skill that Winslow picked up by accident or by simply observing her.
Kate Nyx didn't want Winslow to constantly vocalize, which used to be the case for him. He used to be quite loud, and cats tend to make the same sounds over and over again. Kate Nyx trained Winslow to use the piano instead, which means that she gets to hear something different when Winslow wants to be fed.
Of course, Winslow now knows that the piano works. When he wants attention from Kate Nyx, he'll still play his piano. Interestingly, he also uses this trick to let her know that his cat litter must be changed.
It's possible that he would use the piano if some other problem presented itself. Cats have been known to help alert their owners to different threats in the past, even though dogs tend to be better at this. Winslow's little piano might become part of a sort of backup security alarm in some ways. Of course, for now, it's just a creative device that gives Winslow the opportunity to more effectively communicate with his owner.
It seems that Winslow is not an especially patient cat, since he's often already at his piano two hours before dinner. If he isn't fed immediately, he'll still vocalize. Winslow also seems to like to vigorously rub his face against the piano, which also causes another very brief echo of piano music.
Winslow's skills have already made him a celebrity online now. A clip of him playing the piano has already managed to get a million views, and the clip has nearly one hundred thousand 'likes.' The clip itself should only get more attention as more people hear about it and share it with their friends.
Kate Nyx also wrote a short and charming song about Winslow, and it has its own video. This song is sure to make a lot of people happy, and some people have already said that they've listened to it several times. The song has over one hundred thousand views, and it may soon be as popular as the video that specifically features Winslow and the piano.
Many cat owners will recognize a lot of these situations themselves. It's possible that after hearing about Kate Nyx and Winslow, more people might try training their cats to use little pianos or something similar in the future.
"Superhero of the homeless!" Chants in Santiago describe real-life Batman that gives food to the homeless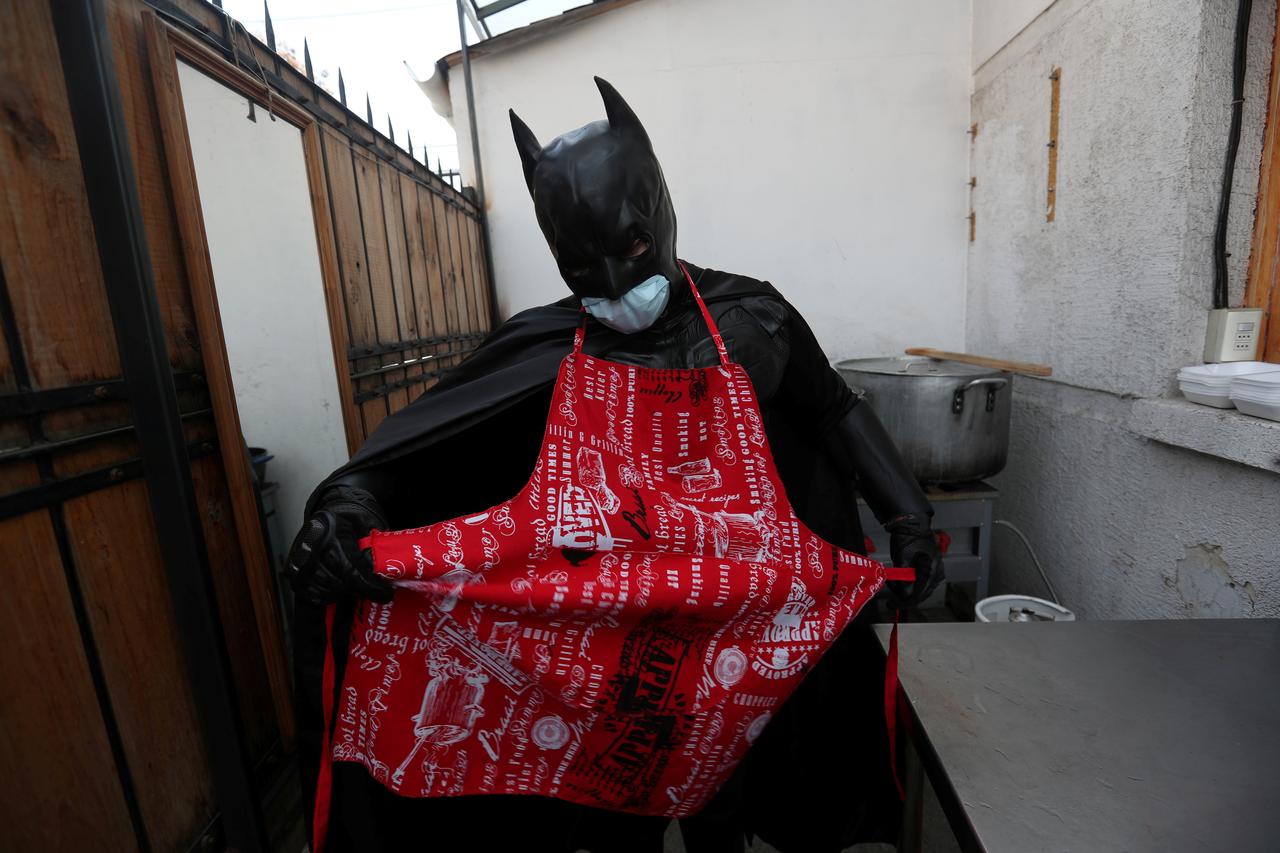 Unlike the fictional city of Gotham, the streets of Santiago are very real, but running in the dark, and fighting hunger is a true life superhero with the face of the Dark Knight, Batman.
Now he doesn't ride a Batmobil or know the first thing about Brazilian jujitsu, but he does his best in making life better for the homeless on the streets of Santiago by bringing them food on a regular basis. He doesn't solve crime or own any special combat gadgets, but he protects the homeless civilians from the villain of hunger and malnutrition.
With his Batmobil-esque SUV, he rides around the city distributing hot meals in his impressive costume- a cape and two masks, one with the typical bat ears and eye slots, and other for protection from the Coronavirus (even the fictional batman wasn't immune to viral diseases. So yeah, this one had to protect himself.)
The self-proclaimed "Solidarity Batman" is contributing his quota in making lockdown and the wave of the pandemic less agonizing for individuals on the streets, and we must say that he is doing a hell of a job. Many of his beneficiaries have only good things to say about him, and are super grateful for his selfless acts of benevolence.
Just like Bruce Wayne, this Batman knows his way around words, and he sure drops a few words of motivation, humor, and affection to people alongside giving them food.
What a guy!
He fills their stomachs, and gives them words of hope? If we didn't know better, we would be clamoring for the Avengers to consider him joining their team- Captain America certainly needs some real competition in motivational speaking.
According to him, Batman was the perfect superhero for his mission, as he represents community unity, and is loved by the people.
"Look around you, see if you can dedicate a little time, a little food, a little shelter, a word sometimes of encouragement to those who need it," he said in an interview.
Just like most masked superheroes, Santiago's Caped Crusader prefers to keep his identity unknown. But his face doesn't matter, does it? His good works already paint him as a beacon of hope and the world would be a better place if there were more of him running around.