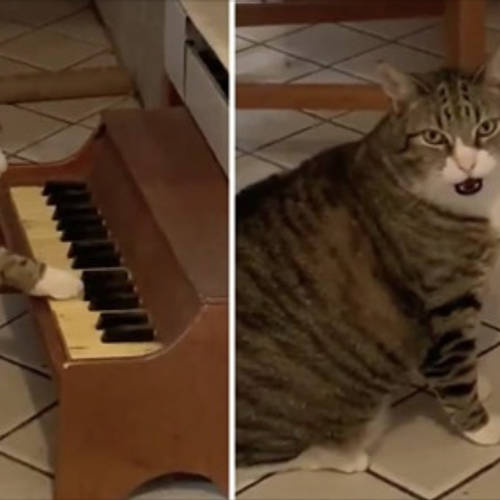 A Cat Who Plays the Piano
Cats often spend most of their days trying to get the attention of their owners. Many people find it hard to type when their cats are around, since their cats will frequently jump on their keyboards when they're trying to work. Some cats will vocalize almost all day, and their owners try to interpret what different vocalizations mean.
While cats are often trying to tell their owners that they want to be fed, they often just want their owners to pay attention to them. Cats are still social animals, even though they're often considered independent and solitary.
Winslow is a cat who has found an entirely new strategy, and his might be particularly effective. He actually has a tiny toy piano that's conveniently situated right beside his bowl of food, whether it's a full or empty bowl. He seems to play a few specific notes each time, making it almost sound as if bells are ringing.
Many cat owners like it when their cats vocalize, but some cats are unusually noisy. It seems like this was the case with Winslow, and he still is quite a vocal cat. Kate Nyx is his owner, and she is a musician. The piano was her idea, and it's not a skill that Winslow picked up by accident or by simply observing her.
Kate Nyx didn't want Winslow to constantly vocalize, which used to be the case for him. He used to be quite loud, and cats tend to make the same sounds over and over again. Kate Nyx trained Winslow to use the piano instead, which means that she gets to hear something different when Winslow wants to be fed.
Of course, Winslow now knows that the piano works. When he wants attention from Kate Nyx, he'll still play his piano. Interestingly, he also uses this trick to let her know that his cat litter must be changed.
It's possible that he would use the piano if some other problem presented itself. Cats have been known to help alert their owners to different threats in the past, even though dogs tend to be better at this. Winslow's little piano might become part of a sort of backup security alarm in some ways. Of course, for now, it's just a creative device that gives Winslow the opportunity to more effectively communicate with his owner.
It seems that Winslow is not an especially patient cat, since he's often already at his piano two hours before dinner. If he isn't fed immediately, he'll still vocalize. Winslow also seems to like to vigorously rub his face against the piano, which also causes another very brief echo of piano music.
Winslow's skills have already made him a celebrity online now. A clip of him playing the piano has already managed to get a million views, and the clip has nearly one hundred thousand 'likes.' The clip itself should only get more attention as more people hear about it and share it with their friends.
Kate Nyx also wrote a short and charming song about Winslow, and it has its own video. This song is sure to make a lot of people happy, and some people have already said that they've listened to it several times. The song has over one hundred thousand views, and it may soon be as popular as the video that specifically features Winslow and the piano.
Many cat owners will recognize a lot of these situations themselves. It's possible that after hearing about Kate Nyx and Winslow, more people might try training their cats to use little pianos or something similar in the future.
Whales Adopt Other Whales, Even Between Species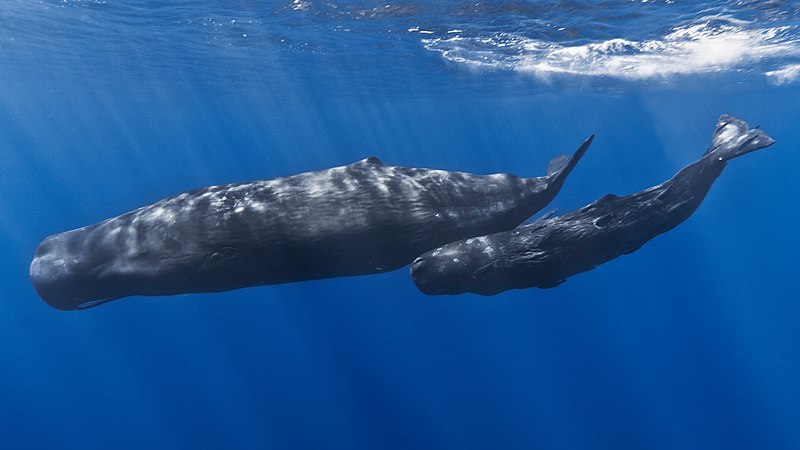 Do animals adopt young of other species? It's been known to happen among canines as well as raptors. However, for the first time, marine scientists have now confirmed whales are willing to adopt the young of different whale species as well.
As it turns out, an orphaned humpback whale has found a new parental figure with a southern right whale, completely mixing two different breeds of whale. Granted, both are large sea mammals, both breathe air and generally consume the same food groups, and they are technically both whales. But in the animal world, the differences are as distinct as a horse to a cow or a dog to a black bear. However, there the pair were, swimming together and clearly bonded right off the coast of an Esperance beach. From the researcher's perspective, the answer is clear; the adult southern whale has adopted the young and clearly smaller humpback whale.
Interestingly, the difference was caught immediately. Instead, it was Jess Wohling going over her work on a recent photography shoot who figured out what she was looking at was two different whales acting like mother and pup. At first, Wohling thought there was a camera glitch or a bad light exposure. However, as she studied the digital images from her camera, it became very clear, two different whales were swimming next to each other in tandem or like a parent and child whale pod. With the detail captured by the camera, Wohling compared the aspects of her image to whale images on the Internet, and she confirmed her hunch.
At that point, Wohling transmitted the digital image files to a whale researcher she knew, Katy Fannei. Looking at the images, Fannei not only confirmed Wohling's assumption, she was also shocked by the documented behavior and pretty much floored. The news hit the digital wire immediately as Fannei started sharing the news with everyone she knew in her professional circle. Everyone who got the communication and images, including researchers with far more experience than Fannei were also shocked by the apparent adoption behavior.
While it is quite possible for southern right whales to come into contact with humpback whales, they almost never converge with each other for any extended period of time. A lot of new hypotheses started getting thrown around. Was the southern right whale a female in mothering mode? Maybe it lost its own pup and the timing of finding a stray humpback child was a coincidence, or maybe some sort of protection in company perspective was going on. Most agreed on the idea of adoption taking place. Again, this wasn't unheard of in other species. Recently, an eagle pair adopted a falcon fledgling in Canada and have been raising it along with their eaglets.
The key behavior pattern arguing for adoption involves the close positioning of the humpback pup to the adult southern right whale in the water. It literally looks like a mother and child whale behavior. The major filter now is determining whether the pair are already tracked somewhere in the known southern right whale database the researchers use. If not, then the discovery will represent a unique and new biological finding.