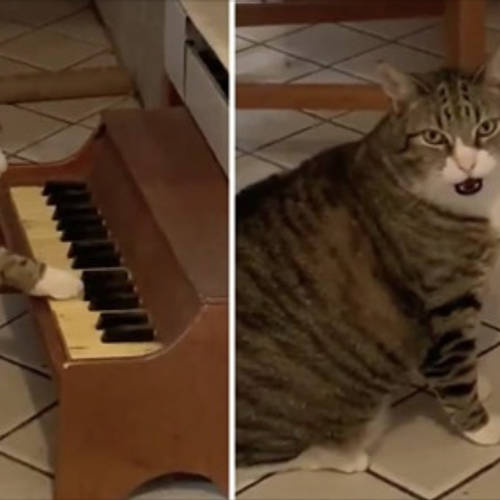 A Cat Who Plays the Piano
Cats often spend most of their days trying to get the attention of their owners. Many people find it hard to type when their cats are around, since their cats will frequently jump on their keyboards when they're trying to work. Some cats will vocalize almost all day, and their owners try to interpret what different vocalizations mean.
While cats are often trying to tell their owners that they want to be fed, they often just want their owners to pay attention to them. Cats are still social animals, even though they're often considered independent and solitary.
Winslow is a cat who has found an entirely new strategy, and his might be particularly effective. He actually has a tiny toy piano that's conveniently situated right beside his bowl of food, whether it's a full or empty bowl. He seems to play a few specific notes each time, making it almost sound as if bells are ringing.
Many cat owners like it when their cats vocalize, but some cats are unusually noisy. It seems like this was the case with Winslow, and he still is quite a vocal cat. Kate Nyx is his owner, and she is a musician. The piano was her idea, and it's not a skill that Winslow picked up by accident or by simply observing her.
Kate Nyx didn't want Winslow to constantly vocalize, which used to be the case for him. He used to be quite loud, and cats tend to make the same sounds over and over again. Kate Nyx trained Winslow to use the piano instead, which means that she gets to hear something different when Winslow wants to be fed.
Of course, Winslow now knows that the piano works. When he wants attention from Kate Nyx, he'll still play his piano. Interestingly, he also uses this trick to let her know that his cat litter must be changed.
It's possible that he would use the piano if some other problem presented itself. Cats have been known to help alert their owners to different threats in the past, even though dogs tend to be better at this. Winslow's little piano might become part of a sort of backup security alarm in some ways. Of course, for now, it's just a creative device that gives Winslow the opportunity to more effectively communicate with his owner.
It seems that Winslow is not an especially patient cat, since he's often already at his piano two hours before dinner. If he isn't fed immediately, he'll still vocalize. Winslow also seems to like to vigorously rub his face against the piano, which also causes another very brief echo of piano music.
Winslow's skills have already made him a celebrity online now. A clip of him playing the piano has already managed to get a million views, and the clip has nearly one hundred thousand 'likes.' The clip itself should only get more attention as more people hear about it and share it with their friends.
Kate Nyx also wrote a short and charming song about Winslow, and it has its own video. This song is sure to make a lot of people happy, and some people have already said that they've listened to it several times. The song has over one hundred thousand views, and it may soon be as popular as the video that specifically features Winslow and the piano.
Many cat owners will recognize a lot of these situations themselves. It's possible that after hearing about Kate Nyx and Winslow, more people might try training their cats to use little pianos or something similar in the future.
Dutch Artist Pays Off Student Loan Debt with Unique Tapestry Creation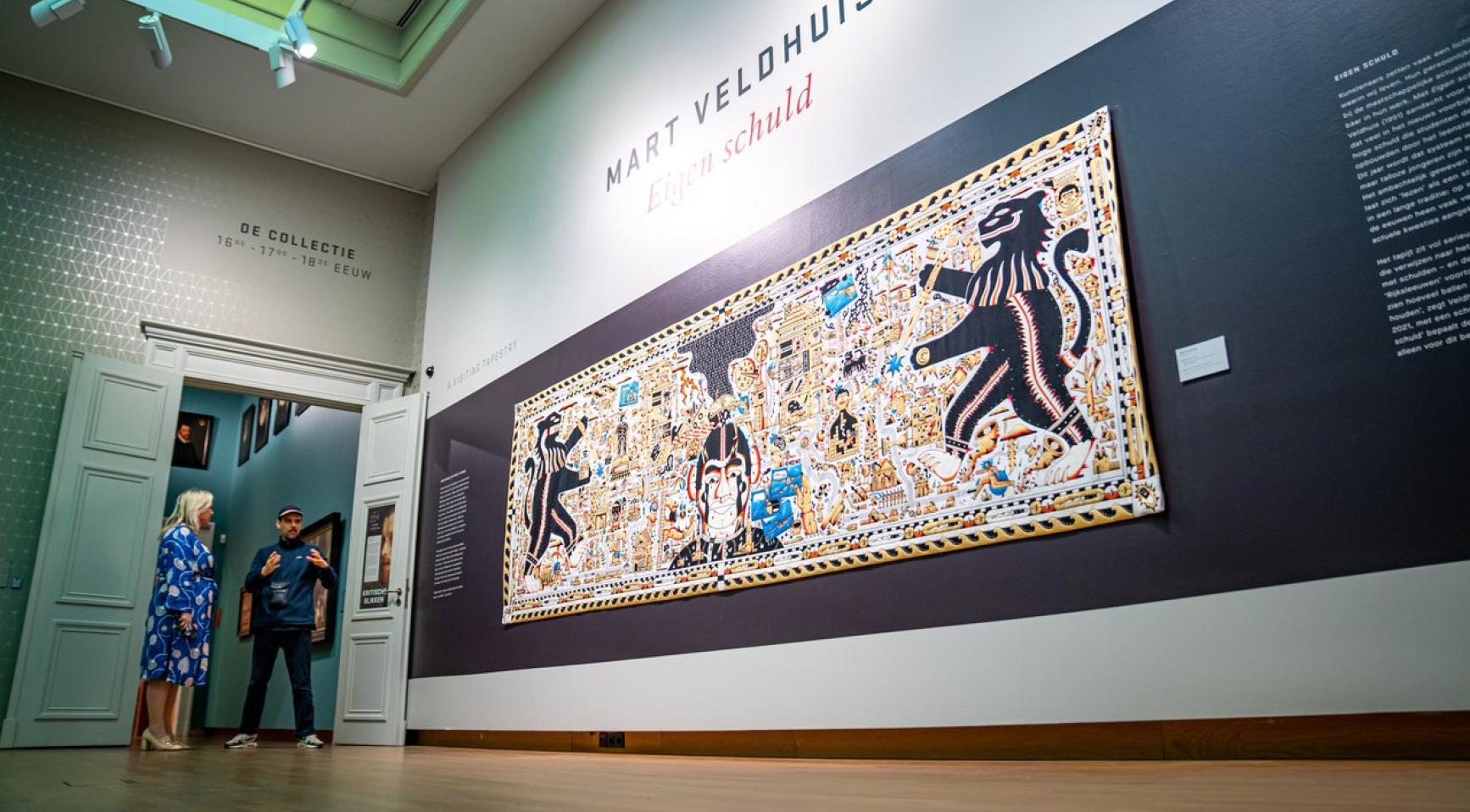 Mart Veldhuis, a talented Dutch artist, found a creative way to pay off his student loan debt. He crafted a remarkable tapestry that depicted the 46,000 euros he owed. This intricate work of art, titled "Eigen Schuld," meaning "Own Debt" or "Own Fault," became a symbol of Veldhuis' financial burden.
Once completed, the tapestry found its home in the prestigious Dordrechts Museum. Unexpectedly, a buyer was captivated by the artwork and decided to purchase it for 45,879.40 euros. This generous offer brought Veldhuis closer to becoming debt-free, leaving him in a state of disbelief and joy. "This is what I had hoped for, but when I heard the news, I was really speechless. It still feels very unreal," shared Veldhuis.
The tapestry itself was a visually striking piece, featuring various elements that conveyed Veldhuis' feelings towards his indebtedness. One of the central motifs portrayed a Dutch lion clutching a menacing sword, symbolizing the artist's perception of owing a significant debt to the state. The tapestry served as a powerful medium for Veldhuis to express his emotions and experiences.
The Dordrechts Museum facilitated the transaction and revealed the identity of the buyers as renowned art dealers Joke van Veen, 75, and Jaap Versteegh, 69. When asked about their decision to acquire the tapestry, Versteegh explained, "We bought the tapestry in the first place because we think it's a good work of art. It is innovative and visually strong. In addition, the social theme of the work – the consequences of student debt and the social loan system – strongly appeals to us."
Veldhuis' creation not only captured the attention of art enthusiasts but also highlighted the pressing issue of student loan debt. Many students struggle with the financial burden of loans, and Veldhuis's artwork serves as a reminder of this widespread concern. By showcasing his own experience, he sparked conversations about the consequences of student debt and the loan system in society.
The success of Veldhuis' tapestry represents a triumph for the artist and sheds light on the power of art to address social issues. Through his creative expression, he not only managed to alleviate his financial struggles but also stimulated meaningful discussions about the challenges faced by students burdened with debt.
As Veldhuis moves forward, he can embrace a debt-free future, thanks to his artistic talent and the support of individuals who recognized the significance of his work. The tapestry will forever stand as a symbol of his journey, inspiring others to find innovative ways to confront their own challenges.