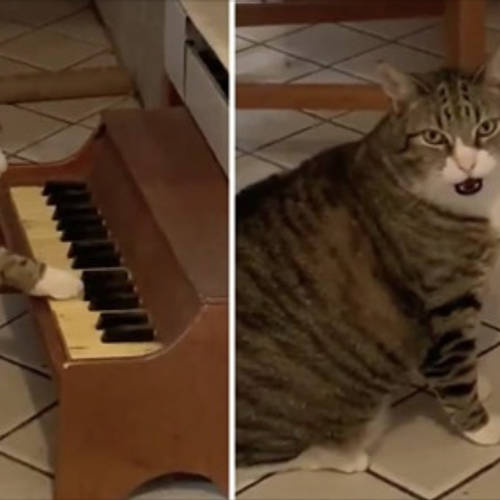 A Cat Who Plays the Piano
Cats often spend most of their days trying to get the attention of their owners. Many people find it hard to type when their cats are around, since their cats will frequently jump on their keyboards when they're trying to work. Some cats will vocalize almost all day, and their owners try to interpret what different vocalizations mean.
While cats are often trying to tell their owners that they want to be fed, they often just want their owners to pay attention to them. Cats are still social animals, even though they're often considered independent and solitary.
Winslow is a cat who has found an entirely new strategy, and his might be particularly effective. He actually has a tiny toy piano that's conveniently situated right beside his bowl of food, whether it's a full or empty bowl. He seems to play a few specific notes each time, making it almost sound as if bells are ringing.
Many cat owners like it when their cats vocalize, but some cats are unusually noisy. It seems like this was the case with Winslow, and he still is quite a vocal cat. Kate Nyx is his owner, and she is a musician. The piano was her idea, and it's not a skill that Winslow picked up by accident or by simply observing her.
Kate Nyx didn't want Winslow to constantly vocalize, which used to be the case for him. He used to be quite loud, and cats tend to make the same sounds over and over again. Kate Nyx trained Winslow to use the piano instead, which means that she gets to hear something different when Winslow wants to be fed.
Of course, Winslow now knows that the piano works. When he wants attention from Kate Nyx, he'll still play his piano. Interestingly, he also uses this trick to let her know that his cat litter must be changed.
It's possible that he would use the piano if some other problem presented itself. Cats have been known to help alert their owners to different threats in the past, even though dogs tend to be better at this. Winslow's little piano might become part of a sort of backup security alarm in some ways. Of course, for now, it's just a creative device that gives Winslow the opportunity to more effectively communicate with his owner.
It seems that Winslow is not an especially patient cat, since he's often already at his piano two hours before dinner. If he isn't fed immediately, he'll still vocalize. Winslow also seems to like to vigorously rub his face against the piano, which also causes another very brief echo of piano music.
Winslow's skills have already made him a celebrity online now. A clip of him playing the piano has already managed to get a million views, and the clip has nearly one hundred thousand 'likes.' The clip itself should only get more attention as more people hear about it and share it with their friends.
Kate Nyx also wrote a short and charming song about Winslow, and it has its own video. This song is sure to make a lot of people happy, and some people have already said that they've listened to it several times. The song has over one hundred thousand views, and it may soon be as popular as the video that specifically features Winslow and the piano.
Many cat owners will recognize a lot of these situations themselves. It's possible that after hearing about Kate Nyx and Winslow, more people might try training their cats to use little pianos or something similar in the future.
Tony the Plant Man Grows Very Expensive Plants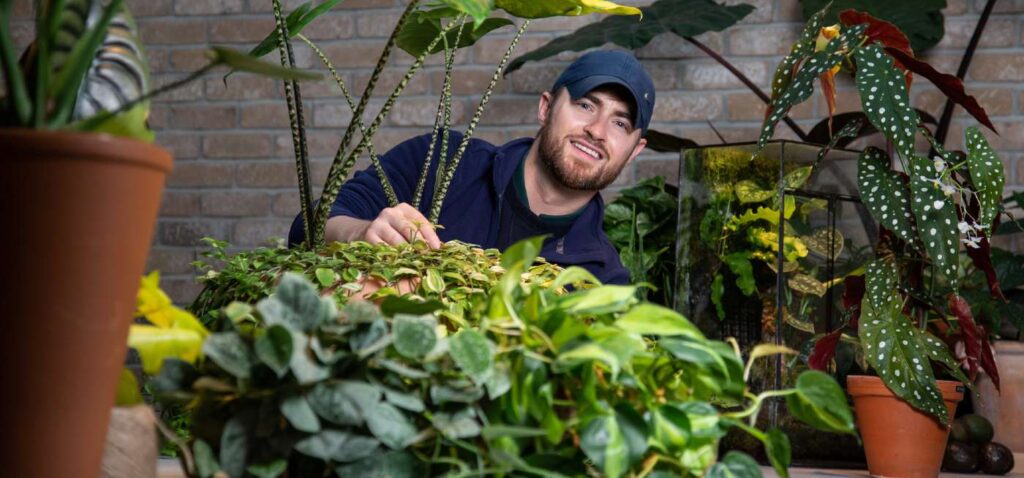 A Briton has quietly created his own Garden of Eden in his home, including one plant that is so rare, it could easily command almost $16,000 for one leaf. The botanist extraordinaire is a fellow named Tony Le-Britton.
Tony is, like many geniuses, a bit odd and extremely dedicated to his work. He's so committed to plants and growing them, an entire room of his home is an indoor jungle, complete with a personal greenhouse and environment control to help support the kind of plants he is able to bring to full fruition. Tony's collection, however, isn't the typical plant collection one gets from seeds at the local hardware store or plant farm. His focus is on growing some of the world's most uncommon and rare plants altogether. In fact, some of his flora are so rare, plant scientists and researchers around the world would love to spend a day with Tony simply examining his plants. He even has some plants that the scientific folks thought was completely gone and no longer alive, i.e. extinct.
Plant-growing, however, was not Tony's only career. As it turns out, he's quite adept as a photographer as well, having enjoyed a professional career producing images of hair and beauty. However, given how much his plants are in demand now, it's pretty clear his plants will also take care of him too financially. Just the leaves alone versus the entire plant has the financial capacity to provide him a living income.
The most valuable plant that Tony has in his greenhouse is known as a Rhaphidophora Tetrasperma Variegata. This particular plant is different version from a far more common plant that could be bought anywhere. Because it is a genetic mutation, an anomaly that has occurred due to a genetic change that occurred at the DNA level, it is extremely rare and practically impossible to find elsewhere. As a result, even samples of the plant are in high demand for collection or study or both. At the time of the interview, Tony had three orders on standby for just a leaf with a hefty price tag of $12,000 British Pounds. Of course, just taking leaves off the plant willy-nilly could kill it. So he has a waiting list, and the plant is literally growing money for him.
The above said, Tony has other plants in his stable as well. He is also a cultivator of an extremely rare Monastera sp Bolivia, a plant that has no complete documentation from a research or botany perspective. Tony was lucky enough to score a small stem, and he's since been able to grow the plant to a tremendous size. The size and robust nature of the plant is so unique, Tony's is constantly getting request for photographs of the plant for reference.
Another flora sample that was generally thought to be extinct in the wild is the Begonia Chloristica. Again, finding one with a collector in Europe, Tony was able to get another sample and grow is own version in his personal greenhouse in England.
The plant-growing interest, zeal, skill and hobby came from his grandparents, according to Tony. As a boy, they would spend a lot of time in the grandparents' garden. When they didn't have their hands in the soil, the boy and his grandmother would watch "Gardener's World" on the TV.
In short, Tony is a working plant genius. He's learned his skill and expertise in practice, trial and error, and 25 years of hands-on work. And, one notable trick is that he doesn't over-care his plants. In fact, many times, he lets the plants take care of themselves, which in fact allows them to grow stronger and self-sufficient to an extent. After all, Tony still controls and maintains the greenhouse with temperature, humidity and the light levels.
Most importantly, however, Tony enjoys what he does, which also makes a huge difference in his success. He has created an amazing collection of flora that nobody else would otherwise know exists, and it's his achievement.