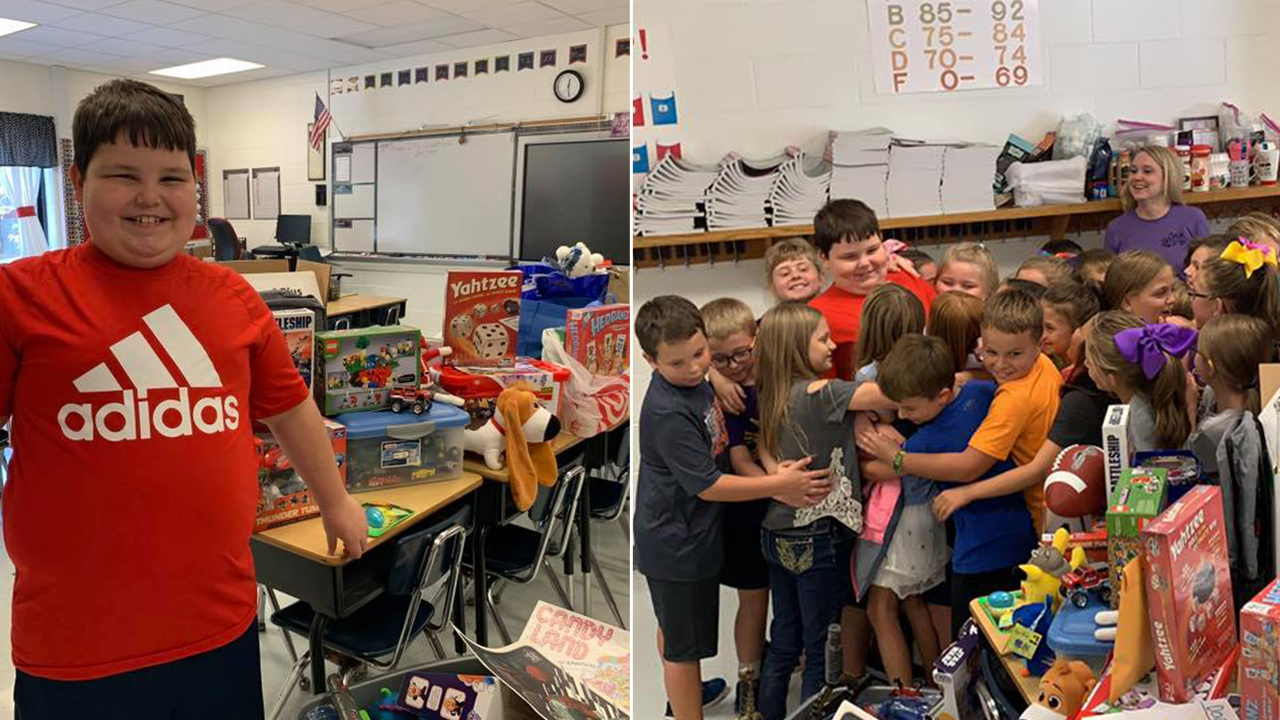 A Call to Change by An Amazing Third Grade Class
I have always believed that hate and greed are things that humans are taught- that they are learned behaviors- not characteristics that we are born with. Children are pure and, unless taught otherwise, they are full of love and compassion. This story encompasses this theory more than any other I have ever seen.
Just a few weeks ago on September 21, 2019, sweet and lovable eight year old Daniel Hunt's and his family's Tennessee home went up in smoke, along with their possessions. This included all of Daniel's beloved toys. What was a devastating blow to this child did not stop him from being the happy and friendly kid on campus.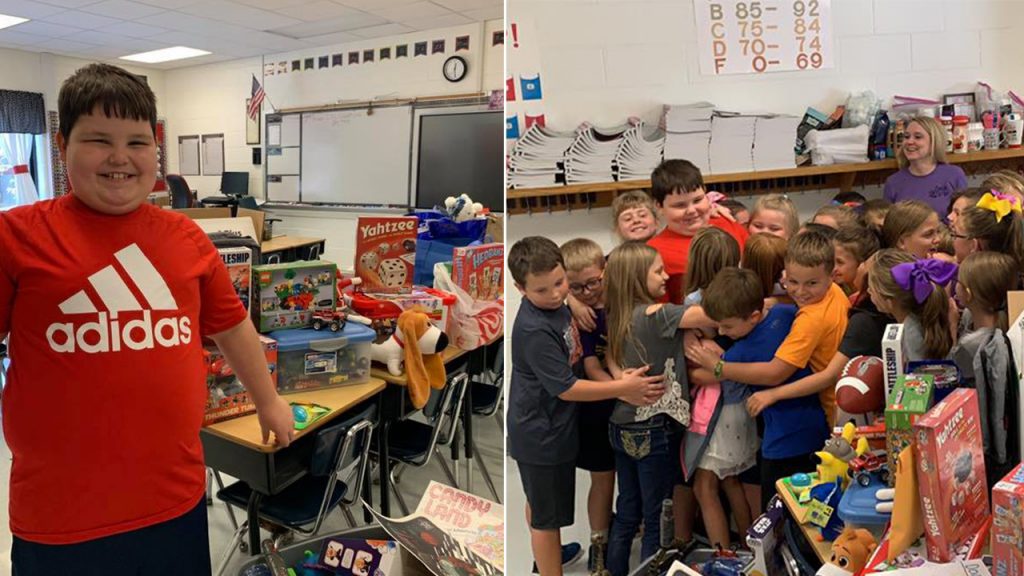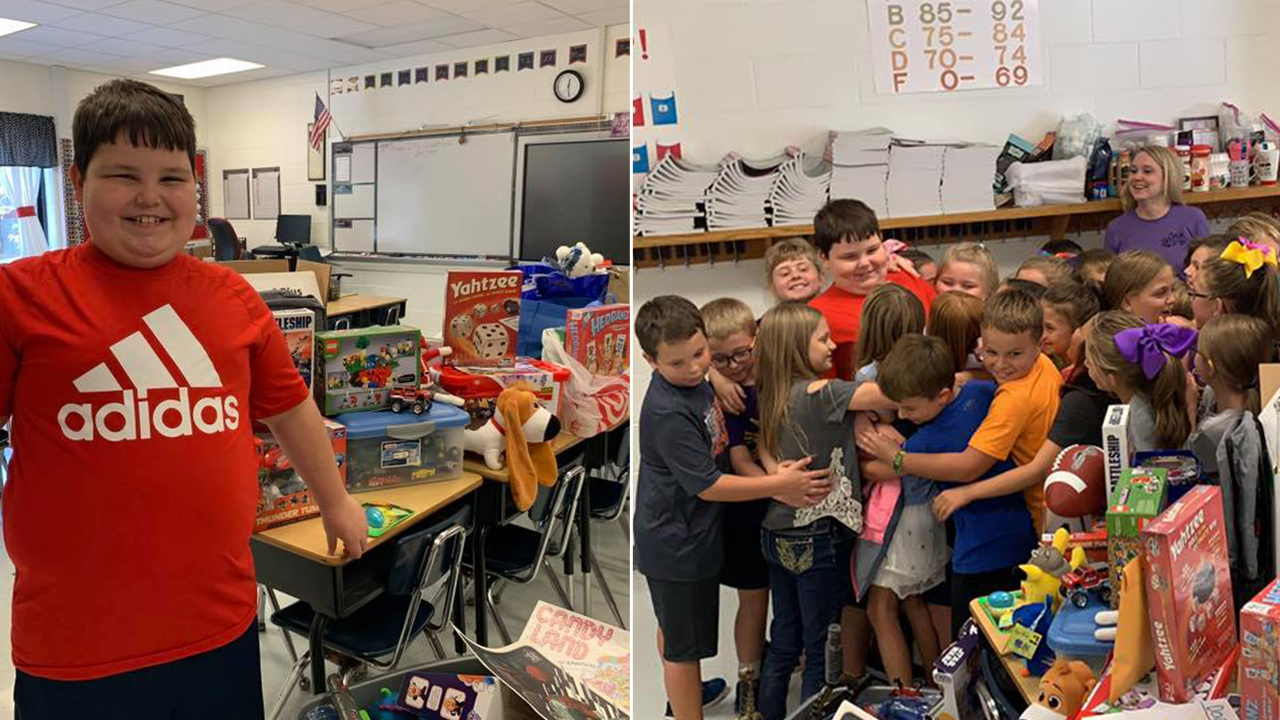 More touching, though, is his classmates' response. It started with being overly friendly- making an extra effort to play with him, holding doors for him, even sharpening his pencils for class- but sweet Daniel could have never guessed just how far it would go.
After being sent on an errand by the teacher, Daniel Hunt returns to his classroom to find a large pile of toys and classmates yelling, "Surprise!" Turns out, his teachers and classmates had been secretly collecting toys for Daniel. This group of 8 year olds had such compassion for their classmate that they put extreme effort into replacing the possessions that kids love most- his toys.
And, in true Daniel Hunt fashion, while being elated at his new toys, he responded in a way that most adults would not: He turned to his classmates first- before even approaching his new toys- to say, "I love it!" and called them all in for a giant group hug.
These selfless, loving, and compassionate acts from such young hearts is incredibly touching. At the same time, it calls us to question ourselves. When is the last time we have given so selflessly to others in need? As adults, it is so easy to worry about whether our bills are paid as opposed to caring for others as we should. Not these young children- they simply worried that their friend had nothing to play with.
This group of eight years olds- both Daniel and his classmates- can inspire the world to be different. They can remind us of the compassion that we should show other humans. They can remind us of the joy of giving. It is time that we learn to give again.
People are in need year round, so there is always a reason to give, but this time of year is a great time to start. With the holidays quickly approaching, we should bear in mind the families who cannot afford to buy their children Christmas presents, the elderly who have no family to visit them, the single moms and dads who are merely trying to keep their heads above water, the families with no heat for the winter, and those with no home at all.
Let's take a lesson from these incredible children and find the love that we were born with to give to others what they need this year and every year to come.

500,000-Year-Old Wooden Structure Rewrites History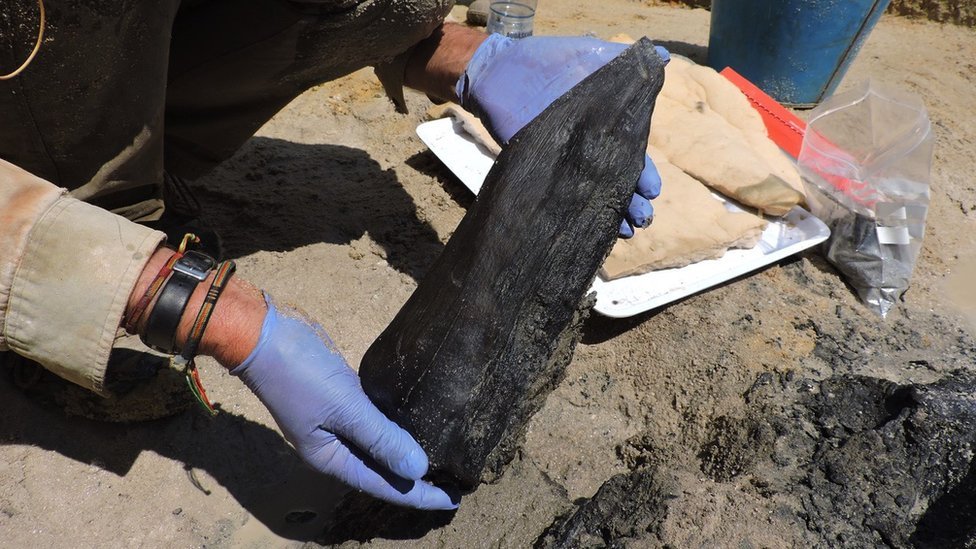 In an archaeological discovery, a wooden structure dating back an astonishing 500,000 years has been unearthed on the banks of a river in Zambia, challenging long-held beliefs about the capabilities of ancient humans. Researchers stumbled upon these ancient wooden logs, a revelation that has the potential to reshape our understanding of the lives of early humans.
The find, located on the riverbanks near Zambia's Kalambo Falls, provides compelling evidence that stone-age people may have constructed primitive shelters, forever altering our perception of their intelligence and resourcefulness. Archaeologist Prof Larry Barham, who led the research, was profoundly impacted by the discovery, stating, "This find has changed how I think about our early ancestors."
What makes this find truly remarkable is that it suggests ancient humans did more than merely survive; they thrived by creating something entirely new. These early humans exhibited intelligence, imagination, and craftsmanship by fashioning structures from wood, a material that had never before been transformed into such large and sophisticated objects.
The researchers also uncovered ancient tools, including digging sticks, but the most exciting find was two pieces of wood positioned at right angles to each other. "One is lying over the other, and both pieces of wood have notches cut into them," explained Geoff Duller, a professor of geography at the University of Aberystwyth and a member of the research team. "You can clearly see those notches have been cut by stone tools, making the two logs fit together to become structural objects."
Radiocarbon dating confirmed the wood's age, placing it at a staggering 476,000 years old. This revelation has ignited curiosity about the woodworking traditions of ancient societies, challenging the prevailing notion that early humans led simplistic, nomadic lives.
Perrice Nkombwe, a team member from the Livingstone Museum in Zambia, expressed her astonishment, saying, "I was amazed to know that woodworking was such a deep-rooted tradition. It dawned on me that we had uncovered something extraordinary."
The preservation of the wooden structure itself is a miracle. Typically, wood decays over time unless preserved under specific conditions. However, in the waterlogged environment along the Kalambo Falls, the wood remained intact, essentially pickled by the elements for millennia.
While the exact purpose of this ancient wooden structure remains a mystery, it has sparked numerous speculations. Prof. Duller suggests it might have been used as a place to sit beside the river and fish, although a complete understanding of its function remains elusive.
Moreover, the identity of the individuals who constructed this structure raises intriguing questions. "We don't know – it could have been Homo sapiens, and we just haven't discovered fossils from that age yet," Prof. Duller added. "But it could be a different species – [perhaps] Homo erectus or Homo naledi – there were a number of hominid species around at that time in southern Africa."
This discovery has the potential to enrich our understanding of ancient woodworking techniques, craftsmanship, and human interaction with the environment. As researchers continue their work at the Kalambo Falls site, the pages of history are being rewritten, and our appreciation for the ingenuity of our ancient ancestors grows ever deeper.