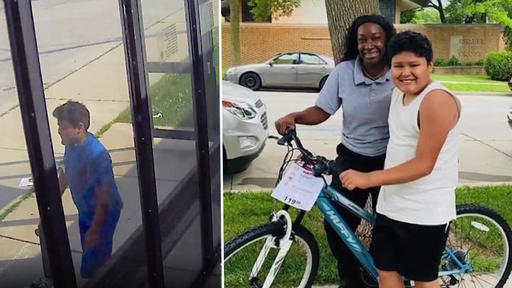 A bus that broke down resulted in the most unlikely of friendships
It was a hot 92-degree day in Milwaukee as Shamika began her daily bus route. Shamika drives one of many city buses that provides cheap and convenient transportation for the inner city. As she drove the bus down the city's streets, the bus began to buckle and make odd noises.
After a few minutes of weird engine noises and trouble accelerating, fate struck. The bus came to a stop and the engine shut off, but would not turn on again. That also meant Shamika and the other passengers were left without air conditioning on that hot 92-degree day.
With no other options, Shamika was forced to make the passengers leave the bus and wait outside. The inside of the bus was quickly heating up beyond 92 degrees. This happened because the heat entering the bus had no way to leave it, resulting in a sauna of sorts.
As Shamika sat outside waiting for the city to send a tow truck for the bus, a young boy saw her. The boy was ten years old DJ Fromme or just DJ for short. He sat outside, killing time with his skateboard at hand. DJ watched the scene unfold and saw that Shamika was standing outside and was bored but looked unhappy.
DJ then decided to walk over the Shamika and try to cheer her up. He pulled out his skateboard and asked Shamika if she wanted to learn how to skateboard. With nothing else to do, Shamika agreed. The two quickly formed a bond as DJ showed her tricks and other tips for riding the skateboard.
Eventually, the two grew so comfortable with one another that DJ began to open up about his home life. Likely with no one else to talk to, DJ felt comfortable talking about his struggles with Shamika. DJ explained that he never met his biological parents. That alone had brought a lot of stress and negativity into DJ's life, considering he was adopted.
To make matters worse, DJ also told Shamika that his current legal guardian was diagnosed with brain cancer. Shamika did her best to listen and comfort the DJ while explaining the things in his life, causing him grief.
After waiting a little while longer, the tow truck eventually arrived, and Shamika had to leave. Having been moved by DJ's kindness and compassion, Shamika said goodbye to DJ at the bus stop and left.
The story could have ended there, but Shamika decided to return the kindness DJ showed. The next day, Shamika knocked on the door of where the DJ lived.
He answered the door and was surprised to see her standing at his doorstep alongside a brand new bicycle. DJ had said he wished for a bicycle the other day as the two became friends. DJ then accepted the bicyle and the two have contiued to be firends and a source of inspiration for others to be kind.
Tasmanian Devils Make Historic Return To Mainland Australia After Missing For 3,000 Years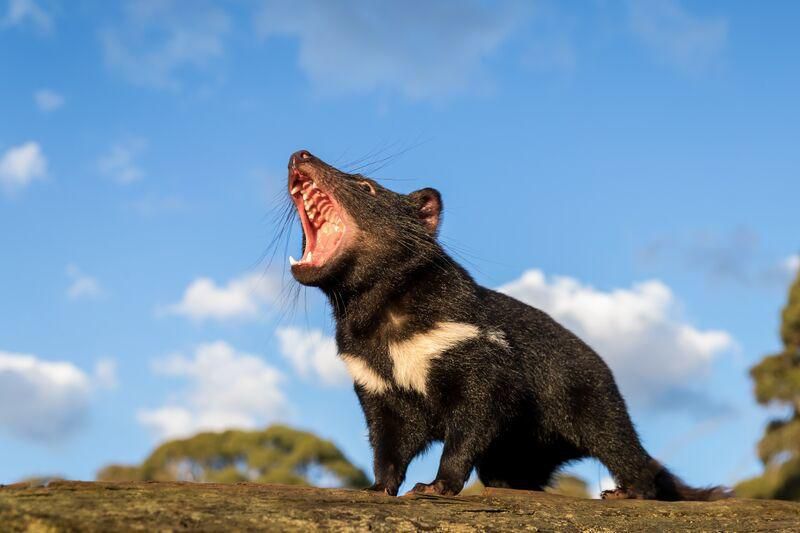 Tasmanian devil which was believed to be extinct has made its return to the forests of Australia. This is the first time the animal has been spotted since over 3,000 years ago.
This return is seen as the first move in the new plan to take Australia back to its flourishing wild life it once had. This was contained in the statement given by the nonprofit Aussie Ark and its partners Global Wildlife Conversation and Wild Ark.
Furthermore, Aussie Ark restated its plan in bringing back Australia's ecosystems that existed before the pre-European settlement. This new plan will ensure the habitat is free from feral predators.
Aussie Ark has nurtured over 390 Tasmanian devils, in a manner that promotes natural behavior in the animals. This will help them settle comfortably when released to the wild.
And this year alone, Aussie Ark has followed through with its mission. 26 Tasmanian devils have been released into a 400-hectare wild sanctuary. But there are bigger plans by the organization. There is the intent of introducing two batches of 20 Tasmanian devils each. If this goes as scheduled, offsprings will be produced by the devils culminating in a growing population.
This reintroduction is a welcome development, and as native apex predators and being the largest carnivorous marsupials, they help limit the dominance of other felines and foxes over endangered species.
They are also hunters and with their hunting skills, they keep their habitat clean and safe from harm.
With their reappearance in the wild, this serves as an indication that Australia is keen on its mission of "rewilding".
Previously, Tasmanian devils were wiped out from mainland Australia due to the introduction of dingoes which hunted them in packs. Just like wolves.
They were only safe on the island of Tasmania, a place the Dingoes never got to.
In the island of Tasmania, a deadly disease called Devil Facial Tumour completely destroyed up to 90 percent of the Tasmanian community. Now, only 25,000 devils remain on the island.
The Tasmanian species Aussie Ark has reintroduced will be subject to intensive monitoring. Using surveys, radio collars fit with transmitters and camera traps, this will enable researchers to know how the animals are faring.
It will also help to disclose the problems the animals face in their new environment, feeding habits and their mode of mating.
This information will guide subsequent animals that will be released on Tasmania and on the mainland.