A Blind Marathon Runner's Journey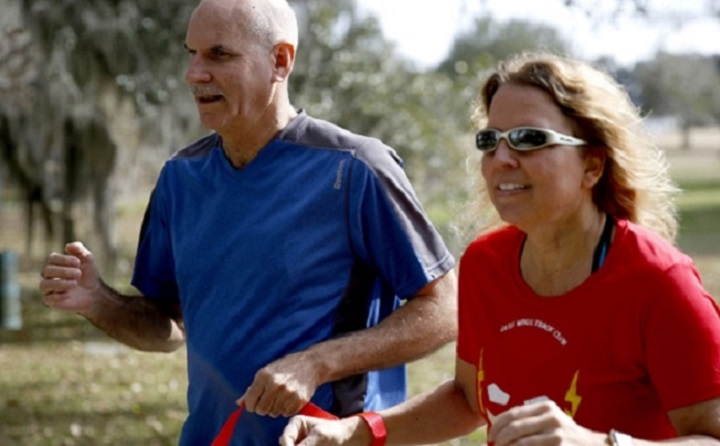 Being visually impaired may seem like a valid reason for most people to avoid even the most basic activities. If you have ever tried walking or running with your eyes closed, you understand how challenging it is. Being unable to see where you are going or how far you have come may demotivate you. That is not the case for 56-year old Randall Crosby. The blind runner from Tallahassee Southwood has not allowed his condition to stop him from achieving his dreams. Tethered to his friend, Crosby runs around the neighborhood a few times every week. Last week, he competed in the Tallahassee marathon. It is a 26.6-mile annual marathon that includes the locals.
Randall Crosby's Blindness
Unlike other runners, Crosby does not have the luxury of slipping into his favorite sneakers and heading out for a jog. He needs someone to guide him. The marathoner was not always blind. He has memories of the times when he could enjoy the view of his beautiful neighborhood and the beautiful face of his wife. According to Randall, it was love at first. He became blind at age 27 after suffering from a disorder called retinitis pigmentosa, RP. After suffering from the disease, he had to quit his job where he worked as a hotel supervisor. He spent his time taking care of his kids. He did not expect that he would ever get a job again.
Before he lost his vision, Crosby had always been interested in athletics and physical work. H was, however, unable, to play football because he suffered from night blindness. The bright stadium lights made it difficult for him to see. He participated in other sports such as wrestling, skiing, and swimming. He also helped his father with work on his farm. His Retinitis Pigmentosa went from night blindness to tunnel vision and finally to complete blindness. He, however, did not lose hope. Crosby acknowledges that he wishes he could get his sight back. He, however, has learned to accept his situation and lead a positive life.
Running For Life
Ironically, Crosby did not start running until he completely lost his sight. He jogs around his neighborhood, but it does not end there. Crosby has run in marathons that many people with perfect sight would be unable to run. Crosby's friend encouraged him to participate in a 5K, and he has been in marathons ever since. 'It begins and ends in my mind,' he says. He has become an inspiration to other runners and people who are looking for positive inspiration in their lives. Gabrielle Gabrielli and Billy Miller, Crosby's running guides, feel that he is one of the most positive people. All his actions are a reminder that losing sight is not necessarily the loss of human connection.
Crosby's Café Inc.
Crosby now runs Crosby's Café Inc. A program by the Randolph-Sheppard Act allows the visually impaired to get licenses for operating food services on government properties Crosby has experience in the business because he previously worked in the Kennedy Space Center and Denver's capitol building. His spirit of gratitude and positivity is extended even in his area of work.
The little boy shares a special moment with a police officer during a protest rally for George Floyd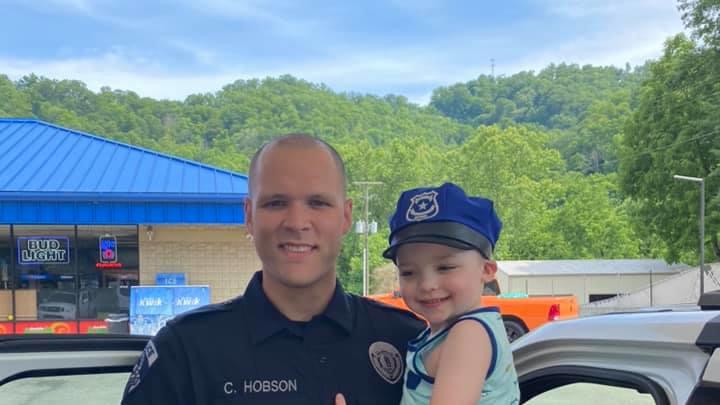 The ruthless killing of George Floyd has caused a thunderous uproar and rage throughout the world. In Winston-Salem, NC, hundreds of people gathered to protest against the killing of Floyd. They took to one knee for 8 minutes and 46 seconds that is the exact length of time former police officer Derek Chauvin had shoved his knee onto Floyd's neck which resulted in Floyd's death. The killing of George Floyd has become a symbol of injustice not only in American society but throughout the world. "Say no to racism" has been the most trending topic in all regions of the globe. In this particular incident, it was a black man who was the victim and this is not the only time it has happened. Several cases have occurred which demonstrated the lack of compassion and justice in the way law enforcement has dealt with individuals from minority racial groups.
Yolanda Williams Dickey, a resident of Winston-Salem, NC, was driving by the protest when she decided she wanted her family to be part of this protest as a sign of solidarity against discrimination against the minority groups. She went home to pick up her husband and son, who were glad they got a chance to be part of this historic protest. For her little son, Kamari it was quite the experience. He had never seen a protest rally before this. He saw a lot of anger and pain in the faces of the protestors. He could also see his parents being very emotional too. His parents had told him what the protest was about and how Floyd had been murdered. Kamari couldn't understand why the former police officer did what he did to George Floyd.
Kamari's attention went to the police officers on the sidelines. He watched them very closely as they stood by making sure there was no violence at the protest. Kamari had always wanted to a police officer himself but now his mother was concerned that after this incident, maybe he would not want to be one. Most of the toys that Kamari had were related to the police and he spent most of his days playing with them. He often told his parents that when he grows up he wanted to be a police officer so he could catch the bad guys. This unfortunate killing of George Floyd might have shattered the dreams of the little boy. At the protest, as the family moved closer to the police officers, Kamari approached Sgt. Dan Battjes, who was sitting on his motorcycle.
Kamari formally introduced himself to the police officer, who was very kind and friendly to the boy. After a few minutes of talking, Kamari said goodbye to the officer by a friendly fist pump. While the citizens of the country are demonstrating against the police and there is an unbelievable level of anger toward law enforcement, this little boy kept no hatred in his heart. The innocence of the little boy showed the resilience of the American community. One incident cannot dismantle years of peaceful coexistence. Yes, there have been cases where the minority communities have been discriminated and there should be strict actions and reforms against such incident but Americans still need to live together. The dream of Kamari to become a police officer might still be alive. The question remains, is the dream of a multi-racial America living with each other with love, compassion, and tolerance still alive? Only time will tell if this dream is alive.