A Blind Marathon Runner's Journey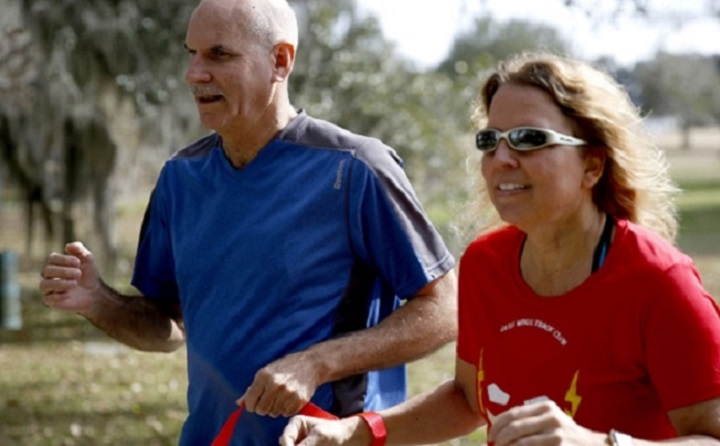 Being visually impaired may seem like a valid reason for most people to avoid even the most basic activities. If you have ever tried walking or running with your eyes closed, you understand how challenging it is. Being unable to see where you are going or how far you have come may demotivate you. That is not the case for 56-year old Randall Crosby. The blind runner from Tallahassee Southwood has not allowed his condition to stop him from achieving his dreams. Tethered to his friend, Crosby runs around the neighborhood a few times every week. Last week, he competed in the Tallahassee marathon. It is a 26.6-mile annual marathon that includes the locals.
Randall Crosby's Blindness
Unlike other runners, Crosby does not have the luxury of slipping into his favorite sneakers and heading out for a jog. He needs someone to guide him. The marathoner was not always blind. He has memories of the times when he could enjoy the view of his beautiful neighborhood and the beautiful face of his wife. According to Randall, it was love at first. He became blind at age 27 after suffering from a disorder called retinitis pigmentosa, RP. After suffering from the disease, he had to quit his job where he worked as a hotel supervisor. He spent his time taking care of his kids. He did not expect that he would ever get a job again.
Before he lost his vision, Crosby had always been interested in athletics and physical work. H was, however, unable, to play football because he suffered from night blindness. The bright stadium lights made it difficult for him to see. He participated in other sports such as wrestling, skiing, and swimming. He also helped his father with work on his farm. His Retinitis Pigmentosa went from night blindness to tunnel vision and finally to complete blindness. He, however, did not lose hope. Crosby acknowledges that he wishes he could get his sight back. He, however, has learned to accept his situation and lead a positive life.
Running For Life
Ironically, Crosby did not start running until he completely lost his sight. He jogs around his neighborhood, but it does not end there. Crosby has run in marathons that many people with perfect sight would be unable to run. Crosby's friend encouraged him to participate in a 5K, and he has been in marathons ever since. 'It begins and ends in my mind,' he says. He has become an inspiration to other runners and people who are looking for positive inspiration in their lives. Gabrielle Gabrielli and Billy Miller, Crosby's running guides, feel that he is one of the most positive people. All his actions are a reminder that losing sight is not necessarily the loss of human connection.
Crosby's Café Inc.
Crosby now runs Crosby's Café Inc. A program by the Randolph-Sheppard Act allows the visually impaired to get licenses for operating food services on government properties Crosby has experience in the business because he previously worked in the Kennedy Space Center and Denver's capitol building. His spirit of gratitude and positivity is extended even in his area of work.
A baby bear, tiger, and a lion found in a basement 12 years ago are now best friends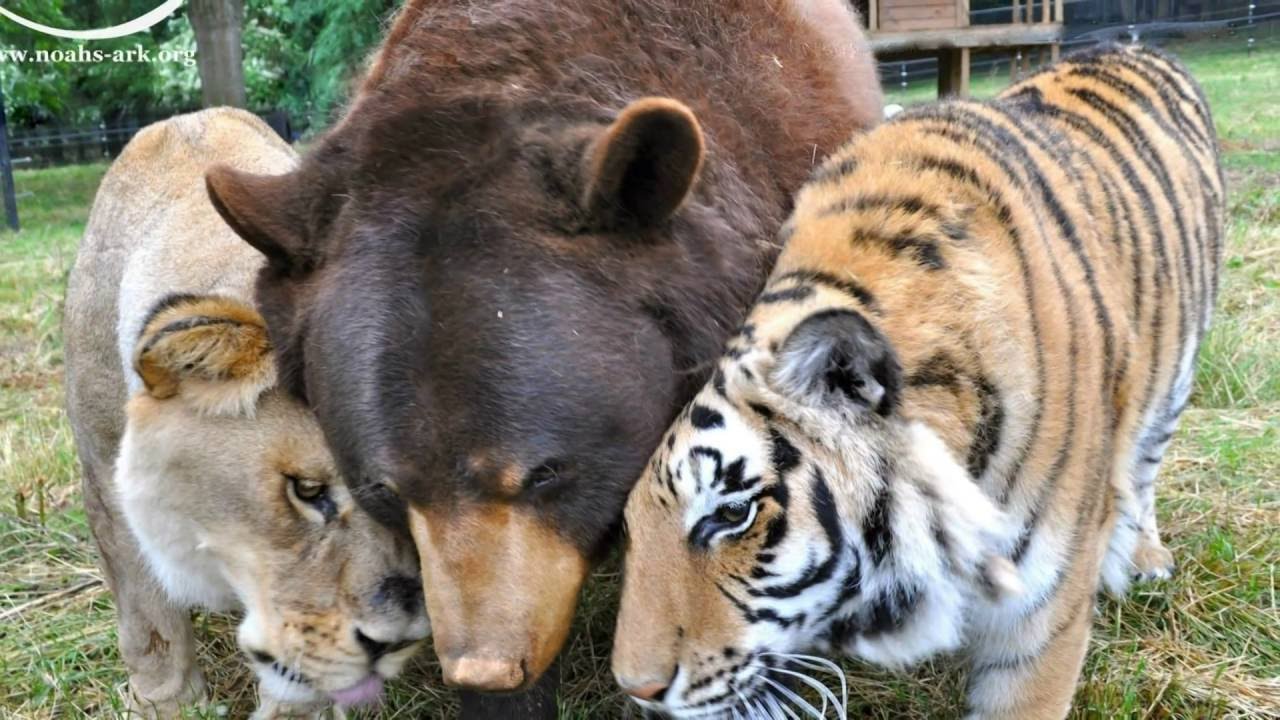 Wild animals try to stick to their natural habitat and they also tend to follow their natural social characteristics. For example, leopards are known to be very reclusive creatures and often prefer a solitary life. Bears and tigers are also not very social too.
In this fascinating story, a bear, a tiger, and a lion have grown up to become best buddies. In a video posted online, a 12-year-old Black Bear, named Baloo, walks over to his friend, Shere Khan, a Bengal Tiger, and cuddles with him as if they are brothers. Tigers don't even get along with their kin. So this friendship between the bear and tiger is even beyond kinship. To make things even more unbelievable, they have another friend, named Leo. You guessed it right, Leo is a lion.
What might explain this unusual friendship is their common history. 12 years ago, when these three animals were babies, they were being kept in terrible conditions in a basement. Fortunately, they were recovered by the police and bought to Noah's Ark Sanctuary in Locust Grove, GA. The three animals have cared for their entire life at the Sanctuary.
The staff at Noah's Ark Sanctuary have never heard of such friendship between a big cat and a bear. They do share the same habitat, especially in the Fat East, but any encounters between them as most aggressive or they just ignore each other and keep out of the way of the other. They don't walk up and cuddle each other. The staff at the sanctuary does point out that out of these three, Shere Khan has kept a little bit of natural wild mannerism but he is still very friendly. When it is sleep time, the trio shares the same room and cuddle together. They were kept as pets in that basement, which was legally not allowed. The owner of the basement was a drug dealer. They were confiscated and bought the sanctuary. Since then the owner of the sanctuary has looked after these three.
Unfortunately, Leo has passed away, leaving his loved ones with wonderful memories of him. He was 15 years of age when he passed away. He had been feeling sick and during surgery, his doctor found 80% of his liver was damaged. He could not have survived in such a condition. The difficult decision to let him go had to be made so that he does not suffer. His end in the world was peaceful.
Leo's best friends, Shere Khan and Baloo, were able to say a final goodbye to him. They have been doing all right since their best friend's departure. The staff at the sanctuary keeps a close eye to check off any worrisome signs of depression or change in behavior. The staff believes these two already knew Leo was terminally ill long before the staff was able to find out.
Leo's final resting place is located by the clubhouse at the sanctuary. Such compassion and bond in animals of different species are very rare. In the wild, they might have been foes, but at the sanctuary they were brothers. Their story is an example of when nurture overtakes nature. They grew up together and build a bond that went beyond the design of nature. Humans do not fully understand the communication or relationship dynamics of the animals. This story is an example of how wild animals can get along in the right environment.