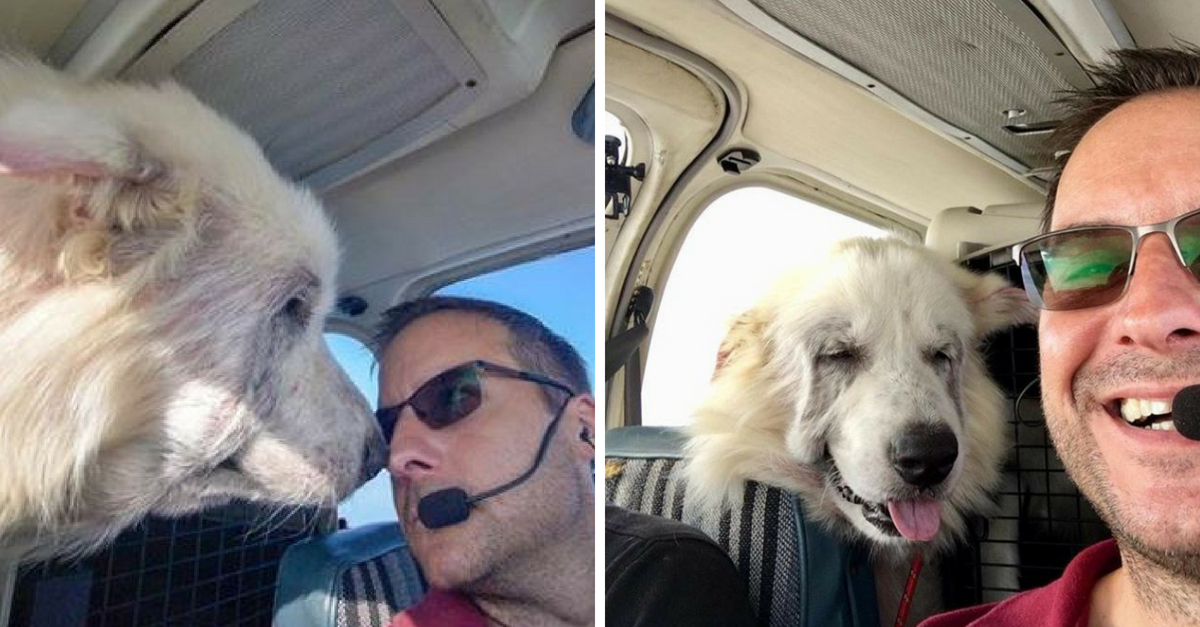 A Big Fluffy Dog in the Air
Think back and a bit and try to remember your first plane ride if you've been on one. If not, try to imagine what it might be like, a mix if excitement, anxiety and a whole lot of the unknown. Then you feel the plane moving, the engine humming, and you see the runway zipping by the window. Suddenly, you feel gravity pull on you as the plane lifts off the ground and you are truly flying for the first time. It's not a sensation one quickly forgets right away.
So, what might that same adventure be like as an experience for a dog? Well, that's how a 5-year-old Great Pyrenees named Woody got to find out. He was able to receive his very own plane ride from his past to his new home.
Woody didn't start off with a wonderful, exciting life. Instead, for a good number of years Woody lived as a stray dog, wandering around North Carolina. But the time animal control was able to secure the dog, is was pretty banged up and suffering from a lot of health problems. The dog had parasites inside him, his fur was messed up with mange, and the dog was mentally depressed as exhibited in his cage behavior. The shelter folks really didn't have a lot of hope for Woody, especially given how expensive his medical care was going to be to get the dog back into a good place.
However, once they heard about the dog, the staff at LaMancha Animal Rescue wanted to help and bring the dog in. The problem was distance. The Animal Rescue was located in Unionsville, PA. Woody was half a nation away from that critical help. So, it took Paul Steklenski and his work with Flying Fur Animal Rescue to bridge the gap. And in doing so, Woody was going to take a ride on a plane for the first time in his dog life.
Steklenski was no stranger to saving dogs. He's flown more than 1,000 different dogs to life-saving locations via plane. After adopting his own dog, Tessa, Paul realized that he could help save hundreds of dogs just getting them to the right location with a plane. It literally meant the difference between having a life in a rescue shelter or adoption versus being euthanized.
That said, Woody's trip wasn't a luxury ride. Steklanski had to move five dogs in total, so the trip was going to be a bit cramped. However, once the plane got off the ground, Woody's curiosity came alive and the big dog started moving towards a window to see what was going on. He started watching the clouds and perking up. Not only did Woody do so well flying, he even help Paul relax during some bumpy stretches with testy air turbulence. Woody eventually got tired and napped a bit. But when he woke up the dog was in a great mood and looking out the window again.
After finally arriving at LaMancha Animal Rescue, Woody eventually did very well. He regained weight, his fur became healthy again, and Woody regained a wonderful disposition. He even remembered Paul when the rescue flyer visited again two weeks later. And, like a giant furball, Woody loves to play with everyone who deals with him. And, believe it or not, Woody also got adopted and found a permanent home too. The flight really was a new beginning for the big dog, and it saved his life. The rescue also reaffirmed Paul Steklanski's work and that of all animal rescues.
Love, Laughter, and 75 Years Together: Gene and Virginia Nelson's Remarkable Anniversary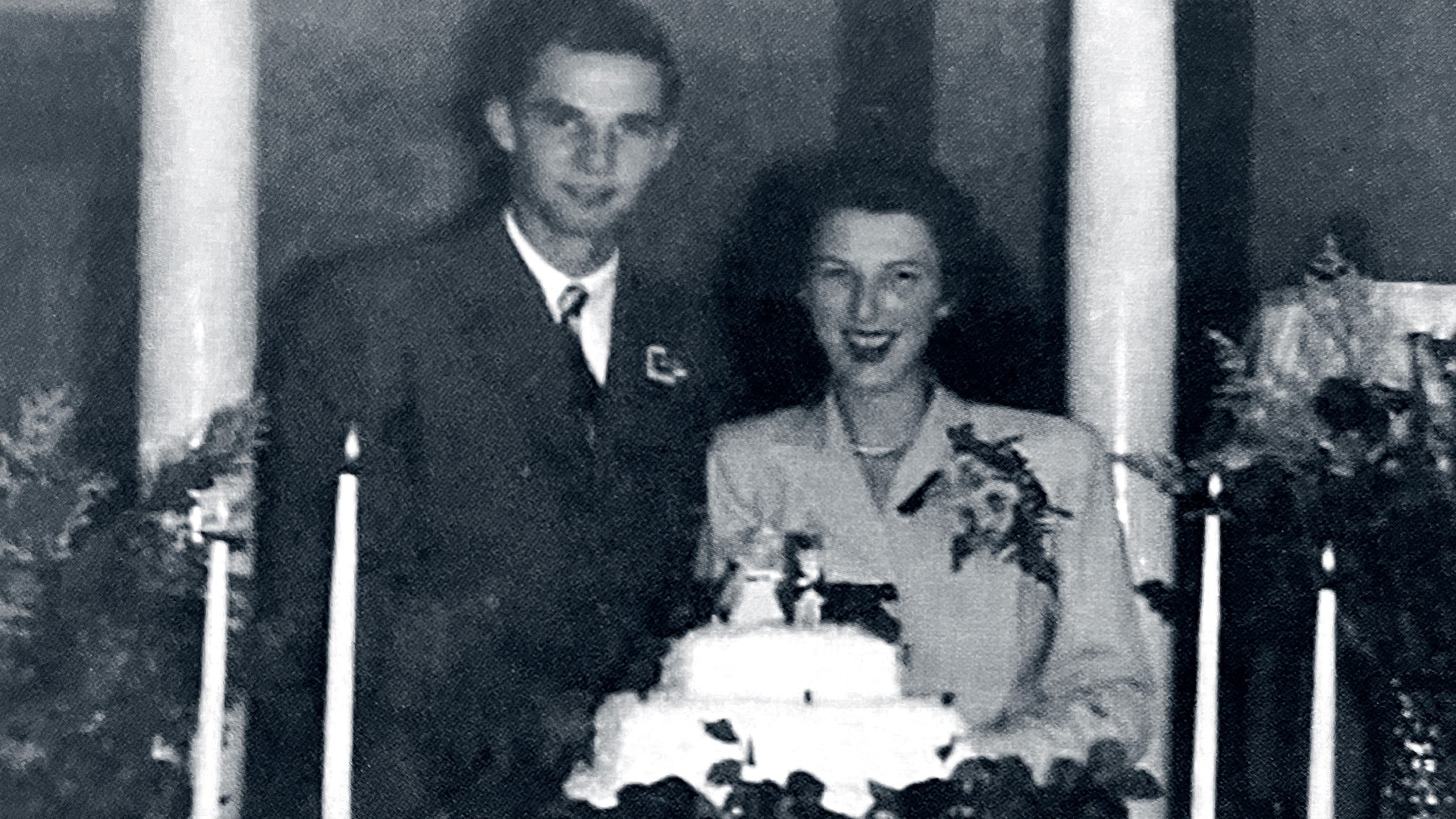 Gene and Virginia Nelson of Canby, Oregon, have a relationship that showcases love's enduring power. The couple recently celebrated an incredible 75 years of marriage, a milestone that very few can claim to have reached. When asked the secret to their lasting love, they attribute it to patience, trust, and a good sense of humor.
Gene, at 95, and Virginia, at 92, have seen a lifetime of changes and challenges, but their love has remained steadfast. When questioned about their enduring bond, Virginia simply replied, "We were just meant to be together!" Gene chimed in, "Have patience through the good times and the bad, try to be honest and faithful."
Their journey began 75 years ago on August 8 when they decided to elope from Brownsville, Oregon, in Linn County. They hopped on a bus to Reno and got married, a move that still brings a giggle to Virginia's lips as she recalls how they outfoxed their parents. At the time, Virginia was just 17, and Gene was 20, with Gene humorously adding, "I was 20 and five months, lacked 2 days, and she was 17 years and 25 days."
According to their grandson, Cody Westphal, their sharp minds are one of the reasons behind their enduring relationship. He said, "Just actively trying to exercise your mind is how it stays sharp."
The couple has three children and seven grandchildren, with the youngest being 29 years old. Gene recalled what made him know that Virginia was the one, saying, "She was a sweet girlfriend, and I hadn't found out any of her faults yet when we were young," which elicited laughter from both of them.
Judy, their daughter, expressed her pride in her parents' long-lasting love. She said, "It takes a lot to make it 75 years and not give up, and they never gave up."
Their sense of humor remains a cornerstone of their relationship, as Judy shared, "They both have a really good sense of humor." Gene and Virginia often engage in friendly banter, and even if they have disagreements during the day, they never go to bed angry.
The couple's thrifty nature is another shared trait. They still have the refrigerator they purchased right after their wedding from Sears Roebucks, and it's still in working condition. Just like their marriage, it has stood the test of time. Gene proudly mentioned, "Never had a service charge, and it's still working! We've always been thrifty."
Their light-hearted arguments, thrifty habits, and enduring love have earned them the nickname "the Bickersons" among family members. Cody noted, "Even if they fight all day, they don't go to bed angry. I think that's why they wake up the next day, and they're still the Bickersons!"
In the twilight of their lives, Gene and Virginia continue to cherish their partnership. As Gene put it, "We're in our waning days. I hope she outlives me because I don't want to outlive her." Their story is a heartwarming reminder that love, patience, and a good sense of humor can make a marriage truly timeless.