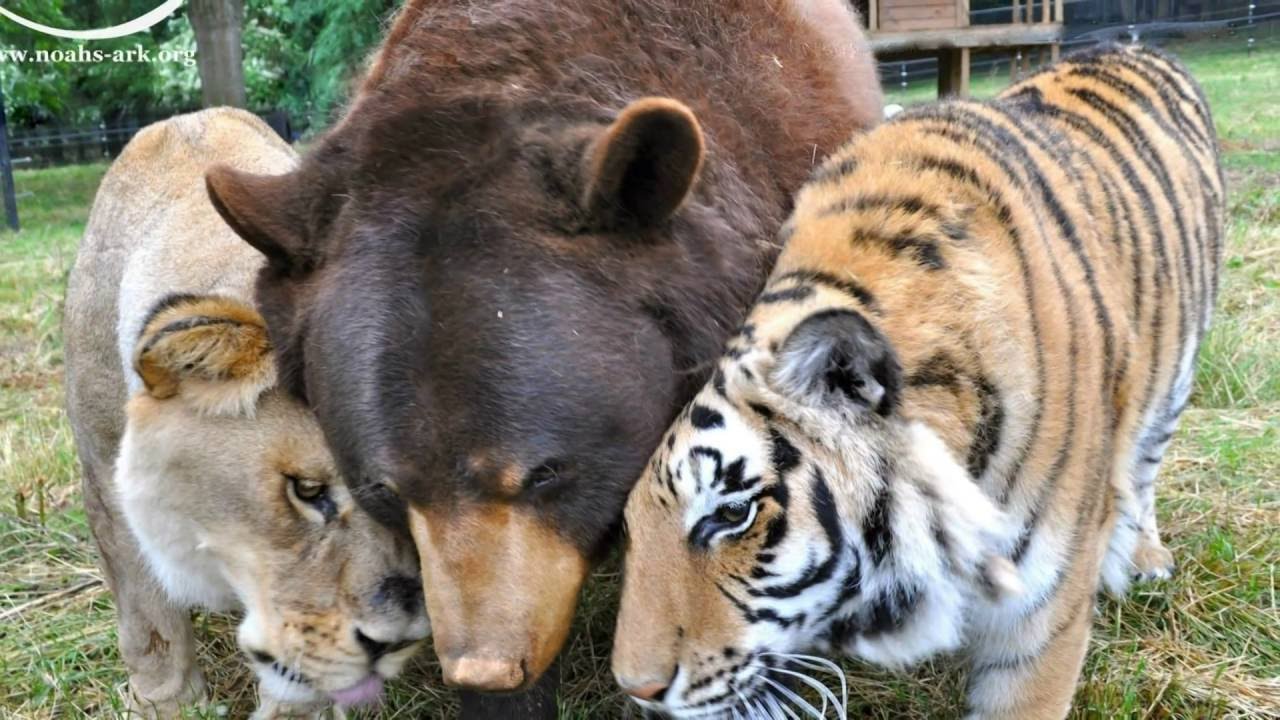 A baby bear, tiger, and a lion found in a basement 12 years ago are now best friends
Wild animals try to stick to their natural habitat and they also tend to follow their natural social characteristics. For example, leopards are known to be very reclusive creatures and often prefer a solitary life. Bears and tigers are also not very social too.
In this fascinating story, a bear, a tiger, and a lion have grown up to become best buddies. In a video posted online, a 12-year-old Black Bear, named Baloo, walks over to his friend, Shere Khan, a Bengal Tiger, and cuddles with him as if they are brothers. Tigers don't even get along with their kin. So this friendship between the bear and tiger is even beyond kinship. To make things even more unbelievable, they have another friend, named Leo. You guessed it right, Leo is a lion.
What might explain this unusual friendship is their common history. 12 years ago, when these three animals were babies, they were being kept in terrible conditions in a basement. Fortunately, they were recovered by the police and bought to Noah's Ark Sanctuary in Locust Grove, GA. The three animals have cared for their entire life at the Sanctuary.
The staff at Noah's Ark Sanctuary have never heard of such friendship between a big cat and a bear. They do share the same habitat, especially in the Fat East, but any encounters between them as most aggressive or they just ignore each other and keep out of the way of the other. They don't walk up and cuddle each other. The staff at the sanctuary does point out that out of these three, Shere Khan has kept a little bit of natural wild mannerism but he is still very friendly. When it is sleep time, the trio shares the same room and cuddle together. They were kept as pets in that basement, which was legally not allowed. The owner of the basement was a drug dealer. They were confiscated and bought the sanctuary. Since then the owner of the sanctuary has looked after these three.
Unfortunately, Leo has passed away, leaving his loved ones with wonderful memories of him. He was 15 years of age when he passed away. He had been feeling sick and during surgery, his doctor found 80% of his liver was damaged. He could not have survived in such a condition. The difficult decision to let him go had to be made so that he does not suffer. His end in the world was peaceful.
Leo's best friends, Shere Khan and Baloo, were able to say a final goodbye to him. They have been doing all right since their best friend's departure. The staff at the sanctuary keeps a close eye to check off any worrisome signs of depression or change in behavior. The staff believes these two already knew Leo was terminally ill long before the staff was able to find out.
Leo's final resting place is located by the clubhouse at the sanctuary. Such compassion and bond in animals of different species are very rare. In the wild, they might have been foes, but at the sanctuary they were brothers. Their story is an example of when nurture overtakes nature. They grew up together and build a bond that went beyond the design of nature. Humans do not fully understand the communication or relationship dynamics of the animals. This story is an example of how wild animals can get along in the right environment.
Joyous Return of Assumed Extinct Mini Pig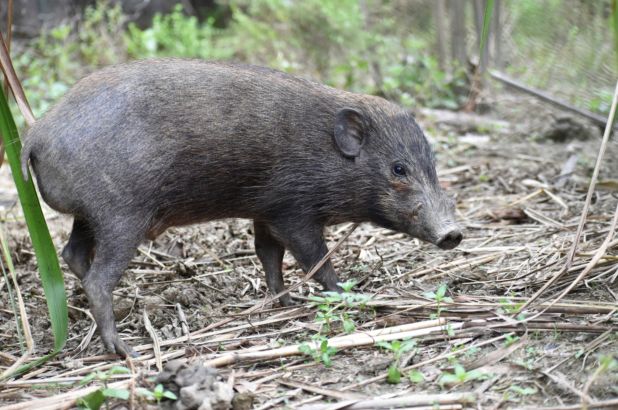 When animals go extinct, they become a footnote in history. The return of an assumed extinct species is not common. In fact, it's downright rare. So, in 1971, when the pygmy pig in India disappeared, many biologists and researchers expected the creature to be done for. The little creature normally lived in the foothills before the Himalayas reach up for the clouds and normally would reach a rocketing 10 inches in height off the ground. Given its natural size, the pygmy pig generally tried to stay out of sight to keep off the dinner menu of predators. It's own diet consisted of bugs and tubers, more than enough to keep the creature fed.
An Amazing Turnaround
However, after 100 years of human intervention and encroachment, by the 1970s the pig was written off. It wasn't until another 20 or so years later, researchers in the area managed to catch a few of the pygmy pigs alive. They nurtured them in captivity until they bred, and then the teams worked to continue increasing the pigs numbers. Finally, enough of a population was raised that the researchers could actually attempt to let the pygmy pigs go. The releases began in Assam, in the northeast part of India. And so began 25 more years of work trying to get the wild pigs to increase their number and avoid a complete wipeout. Today, some 300 to 400 creatures are estimated to be alive, running wild. Another 76 are held in reserve and continue to be raised in captivity, just in case. However, the best news is, the species is living again.
More Than One Colony Makes a Party
In addition to the original release in Assam, additional pigs have been released, with colonies established in Manas as well as Orang, both national parks in India, as well as a pair of animal sanctuaries.
The world can't afford to lose more species to extinction thanks to human development, including pigs. Currently, there are only 17 types of pigs left today. Without the efforts of conservationists, that number would drop further. Each extinction is like someone taking a giant eraser to a chalkboard of millions of years of evolution.
Of course, now the problem is nature itself as well. While the pygmy pig population has stabilized and is growing, the bigger problem is that they are still fragile. Swine flu and similar conditions can easily decimate these pigs before anyone can stop it simply through contagion. So, the conservationists have their hands full trying to keep the populations safe and separated from any carriers with potential viral threats.
Conservationism can be hard, and oftentimes it ends in disappointment trying to save an endangered creature. However, in India, this time the pygmy pig can be considered a win. And, if things stay on track, it should be able to re-establish itself very well.