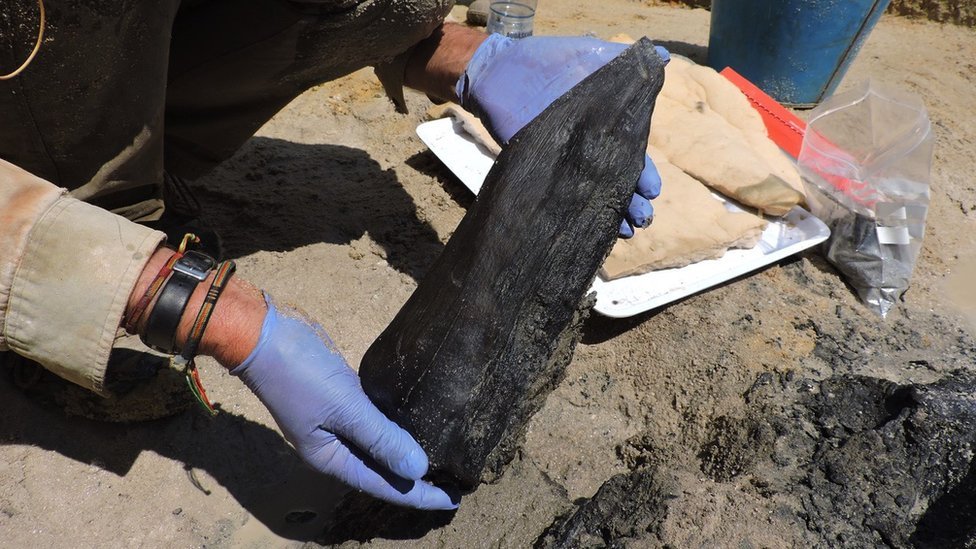 500,000-Year-Old Wooden Structure Rewrites History
In an archaeological discovery, a wooden structure dating back an astonishing 500,000 years has been unearthed on the banks of a river in Zambia, challenging long-held beliefs about the capabilities of ancient humans. Researchers stumbled upon these ancient wooden logs, a revelation that has the potential to reshape our understanding of the lives of early humans.
The find, located on the riverbanks near Zambia's Kalambo Falls, provides compelling evidence that stone-age people may have constructed primitive shelters, forever altering our perception of their intelligence and resourcefulness. Archaeologist Prof Larry Barham, who led the research, was profoundly impacted by the discovery, stating, "This find has changed how I think about our early ancestors."
What makes this find truly remarkable is that it suggests ancient humans did more than merely survive; they thrived by creating something entirely new. These early humans exhibited intelligence, imagination, and craftsmanship by fashioning structures from wood, a material that had never before been transformed into such large and sophisticated objects.
The researchers also uncovered ancient tools, including digging sticks, but the most exciting find was two pieces of wood positioned at right angles to each other. "One is lying over the other, and both pieces of wood have notches cut into them," explained Geoff Duller, a professor of geography at the University of Aberystwyth and a member of the research team. "You can clearly see those notches have been cut by stone tools, making the two logs fit together to become structural objects."
Radiocarbon dating confirmed the wood's age, placing it at a staggering 476,000 years old. This revelation has ignited curiosity about the woodworking traditions of ancient societies, challenging the prevailing notion that early humans led simplistic, nomadic lives.
Perrice Nkombwe, a team member from the Livingstone Museum in Zambia, expressed her astonishment, saying, "I was amazed to know that woodworking was such a deep-rooted tradition. It dawned on me that we had uncovered something extraordinary."
The preservation of the wooden structure itself is a miracle. Typically, wood decays over time unless preserved under specific conditions. However, in the waterlogged environment along the Kalambo Falls, the wood remained intact, essentially pickled by the elements for millennia.
While the exact purpose of this ancient wooden structure remains a mystery, it has sparked numerous speculations. Prof. Duller suggests it might have been used as a place to sit beside the river and fish, although a complete understanding of its function remains elusive.
Moreover, the identity of the individuals who constructed this structure raises intriguing questions. "We don't know – it could have been Homo sapiens, and we just haven't discovered fossils from that age yet," Prof. Duller added. "But it could be a different species – [perhaps] Homo erectus or Homo naledi – there were a number of hominid species around at that time in southern Africa."
This discovery has the potential to enrich our understanding of ancient woodworking techniques, craftsmanship, and human interaction with the environment. As researchers continue their work at the Kalambo Falls site, the pages of history are being rewritten, and our appreciation for the ingenuity of our ancient ancestors grows ever deeper.
Jughead's Journey: A Dog Is Rescued After Surviving With Jug On Head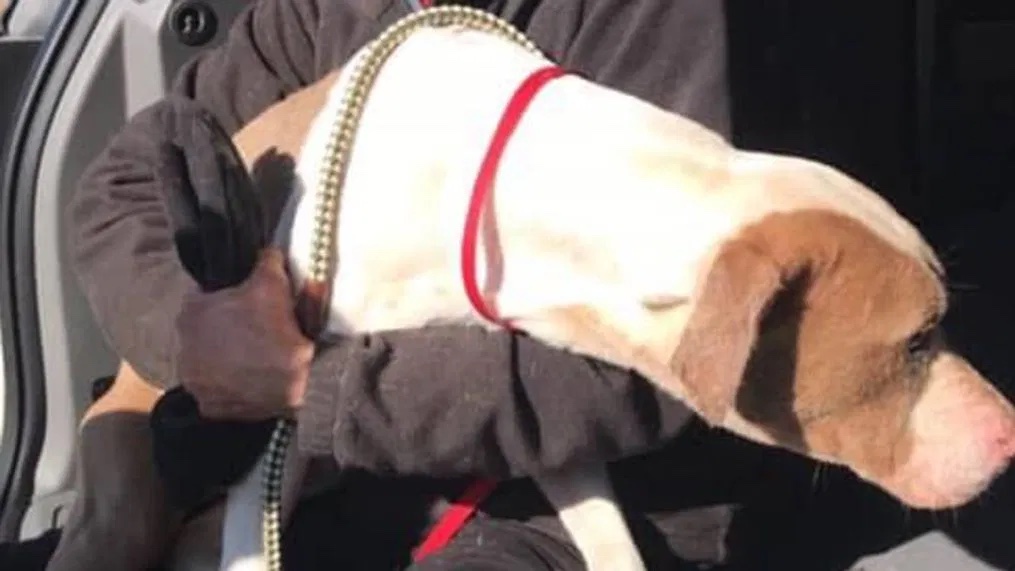 In the quiet neighborhoods of Montgomery County, Texas, a furry friend named Jughead found himself in a tight spot—literally. This courageous canine had inadvertently stuck his head inside a jug, turning a simple act of scavenging for food into a perilous predicament. Little did he know, a compassionate woman named Teri Goodnight would become his guardian angel.
Jughead, a stray dog with a name as unique as his misadventure, was affectionately dubbed after the container that caused his troubles. The jug, which turned out to be a cat feeder, became a makeshift helmet for poor Jughead, restricting his vision and creating a challenging barrier to eating and drinking. Enter Teri Goodnight, a woman with a heart full of compassion and a determination to make a difference.
Teri spent an entire month, investing not only time and effort but also several hundred dollars in fuel, on a mission to rescue Jughead. His elusive nature made the task a formidable challenge, as he roamed the neighborhoods near FM 1314 and Lazy Lane in the Porter area. But Teri refused to give up.
"We took wire cutters and cut all the way around it and pulled it off of his head. So this was the only way he was able to eat and drink or see," Teri explained. Despite the initial fear that Jughead couldn't breathe, it became clear that he could still manage essential functions. Yet, Teri's determination to free him from his plastic prison only intensified.
Jughead's story is not one of despair but of resilience and triumph. Teri's tireless efforts paid off, and Jughead, along with his friend Red, was finally captured and rescued. The jug was removed, unveiling a grateful pup who could now enjoy the simple pleasures of life without hindrance.
Reflecting on the emotional moment, Teri shared, "I literally cried for 10 minutes after I caught him, I just broke down started crying. I was relieved it was over." Jughead's rescue was not just a personal victory; it represented the power of kindness and the difference one person can make in the life of an innocent creature.
Now under the care of the East Texas Hoof and Paw Animal Rescue, Jughead and Red have a chance at a brighter future. Teri expressed her hope that they would find loving homes, breaking free from the challenges of street life.
"These two had a foster, they are now with a rescue so they will be vetted and adopted out and go to loving homes and not have to be street dogs anymore," Teri joyfully shared, emphasizing the transformative impact of compassion and dedication in the world of animal rescue.
Jughead's journey from a jug-bound wanderer to a hopeful candidate for a forever home is a testament to the remarkable bond between humans and animals, proving that sometimes, all it takes is one person with a big heart to change a life.