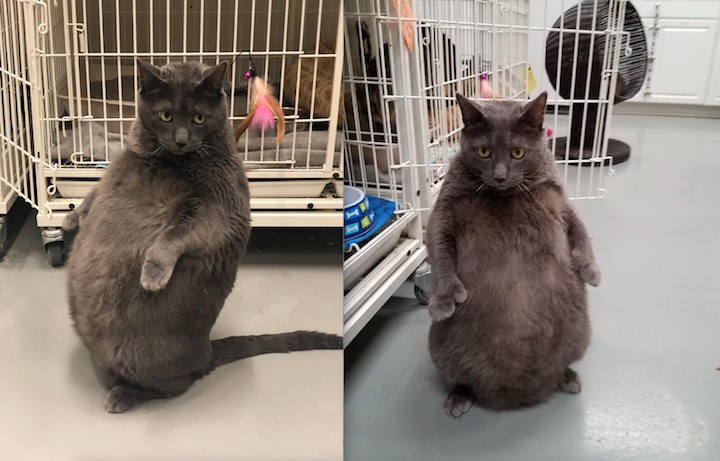 25-Pound Cat Beast Becomes Internet Famous
Cats are irresistible to the general public. Did you know that 15 percent of online traffic is in some way related to cats? Kitties and their cute antics are just adorable. Perhaps that's why internet people love them. Bruno is one of those internet-famous cats. He's cute and quirky, just like other kitties who came to be famous via social media. But Bruno is a unique little creature − he isn't your typical internet famous cat.
For starters, Bruno weighs 25 pounds. He loves standing on his hind legs while eating and being cute. But this unique little kitty found himself homeless after his owners gave him up for adoption. But it all worked out well, you can say that's why Bruno is now famous on the internet. Being given up for adoption was a blessing in disguise for this adorable kitty. At the Wright Way Rescue animal shelter in Morton, Illinois, Bruno became famous and got a new home.
Special Kitty
Bruno's previous owners had been with him since he was a kitten. To them, Bruno was a special kitty and giving him up for adoption wasn't an easy decision. The cat didn't relate very well with the owner's kids back at home, so they felt like they had to give him up for adoption so that he could find a new home where things would be a little easier for him. That's according to Jacoby Andrick, the Director of Marketing and Communications for Wright Way Rescue.
The animal shelter seeks homes for pets rescued on the streets or given for adoption by the owners, and they began the process of doing the same for Bruno. The shelter uses its social media pages to post pictures of the adorable animals. It wasn't long until Bruno got the attention of Facebook users after Wright Way Rescue posted several pictures of the kitty on their Facebook page. They fell in love with him.
A New Mom
There are no words to stress just how unique Bruno is. The 25-pounder can stand on his limb legs for more than 20 minutes which is just incredible. He's adorable, and for that, he became an internet sensation. And he loves to eat. At the shelter, Bruno used to sneak into cages belonging to other cats in search of food. It's impossible not to fall in love with the kitty. His fame on social media found him a new mom. Lucky for Bruno, she's a famous singer and actress from Chicago, so they have that in common.
Both the shelter and Bruno chose Lauren Paris to be the new owner. She's known and loved by everyone at Wright Way Rescue and they believed that she'll be a good mom for Bruno, and she already is. She wrote an original song for Bruno and since he was already internet famous, Lauren set up an Instagram account for him (@theebrunobartlett) to continue the legacy. Bruno's Instagram account has close to 50,000 followers at the moment. You can check it out for cute pictures and videos.
Politics Are Never an Empty Field – Barbie Runs for Office in 2020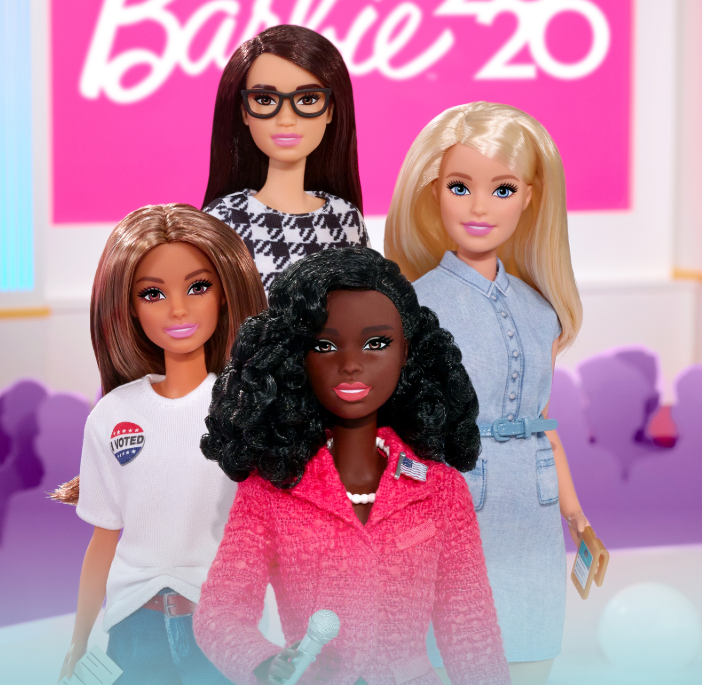 The classic American doll, Barbie, has performed, been portrayed in, or taken over just about every professional function in society. So, it's no surprise that given the real themes in 2020 that Barbie would also decide to go into politics. Art imitating life it may be, but Barbie is likely to represent a serious contender against even the most seasoned politicians, that is if her fans were old enough to vote.
2020 is not the first time Barbie has entered politics. Believe it or not, her first foray into elections was some 28 years ago in 1992 when she tried to run for President. However, the toy doll was a bit of an independent at the time and didn't get a lot of recognition on her own. Today, things are different. Not only is Barbie a 2020 candidate, she also has in place a solid professional election team on her side as well. Along with her are a handful of cool, savvy and with the times staffers and election strategists. The early polls are already showing Walmart and Target segments are responding, carrying her entire campaign team on the shelves and selling them as a combined unit.
Examined up close and interested electorate fans will find Barbie's campaign manager as a key strategist, her campaign fundraiser to keep things paid and moving, and even a Barbie voter. Of course, her fans can add votes too. The entire team is set to hit the prime time. Barbie herself is positioned to show herself as a leader ready to hit the ground running, complete in business suit and with her telecom assortment of communication tools. And, let's not forget, every business jacket should have an American flag lapel pin too.
Her campaign manager is decked out in a professional ensemble as well, ready to manage the stage as well as cue to the poll analysts and computer graphics behind the scenes to support her candidate. And Barbie's fundraiser is hitting the road in blue denim and comfortable style, driving miles and miles to bring in the donors.
The key message from Barbie, however, is to prime young girls for politics. Girls and women can not only have their part in campaigns, they can be the lead candidate as well. And the idea of a real woman President is no figment of the imagination. While Barbie is, after all, just a toy, the reality of a woman President is very likely in the next two elections if not the third. In fact, the U.S. is behind the curve in this respect, as many countries around the world have already had women leaders and many still do. When that happens, given elections happen every four years, the next candidate in 20 years may have well be a young girl who had Barbie as her own special election candidate.
In the meantime, Barbie and her campaign team let girls practice for the future now, complete with all the accessories and campaign road style needed to win the big ticket.