25-Pound Cat Beast Becomes Internet Famous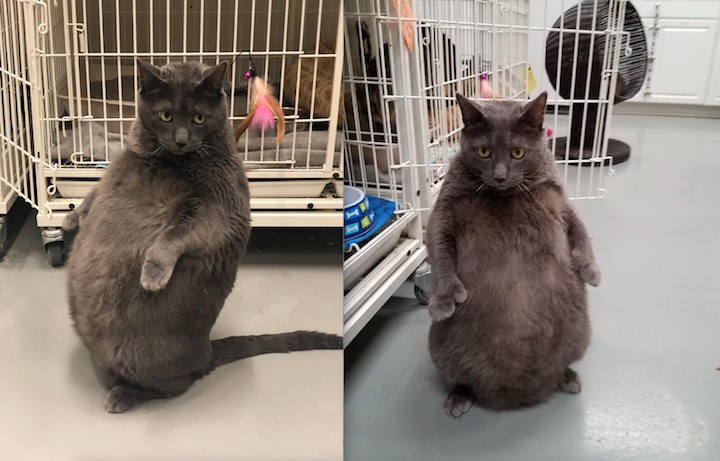 Cats are irresistible to the general public. Did you know that 15 percent of online traffic is in some way related to cats? Kitties and their cute antics are just adorable. Perhaps that's why internet people love them. Bruno is one of those internet-famous cats. He's cute and quirky, just like other kitties who came to be famous via social media. But Bruno is a unique little creature − he isn't your typical internet famous cat.
For starters, Bruno weighs 25 pounds. He loves standing on his hind legs while eating and being cute. But this unique little kitty found himself homeless after his owners gave him up for adoption. But it all worked out well, you can say that's why Bruno is now famous on the internet. Being given up for adoption was a blessing in disguise for this adorable kitty. At the Wright Way Rescue animal shelter in Morton, Illinois, Bruno became famous and got a new home.
Special Kitty
Bruno's previous owners had been with him since he was a kitten. To them, Bruno was a special kitty and giving him up for adoption wasn't an easy decision. The cat didn't relate very well with the owner's kids back at home, so they felt like they had to give him up for adoption so that he could find a new home where things would be a little easier for him. That's according to Jacoby Andrick, the Director of Marketing and Communications for Wright Way Rescue.
The animal shelter seeks homes for pets rescued on the streets or given for adoption by the owners, and they began the process of doing the same for Bruno. The shelter uses its social media pages to post pictures of the adorable animals. It wasn't long until Bruno got the attention of Facebook users after Wright Way Rescue posted several pictures of the kitty on their Facebook page. They fell in love with him.
A New Mom
There are no words to stress just how unique Bruno is. The 25-pounder can stand on his limb legs for more than 20 minutes which is just incredible. He's adorable, and for that, he became an internet sensation. And he loves to eat. At the shelter, Bruno used to sneak into cages belonging to other cats in search of food. It's impossible not to fall in love with the kitty. His fame on social media found him a new mom. Lucky for Bruno, she's a famous singer and actress from Chicago, so they have that in common.
Both the shelter and Bruno chose Lauren Paris to be the new owner. She's known and loved by everyone at Wright Way Rescue and they believed that she'll be a good mom for Bruno, and she already is. She wrote an original song for Bruno and since he was already internet famous, Lauren set up an Instagram account for him (@theebrunobartlett) to continue the legacy. Bruno's Instagram account has close to 50,000 followers at the moment. You can check it out for cute pictures and videos.
Handicapped Puppy Befriends Flightless Pigeon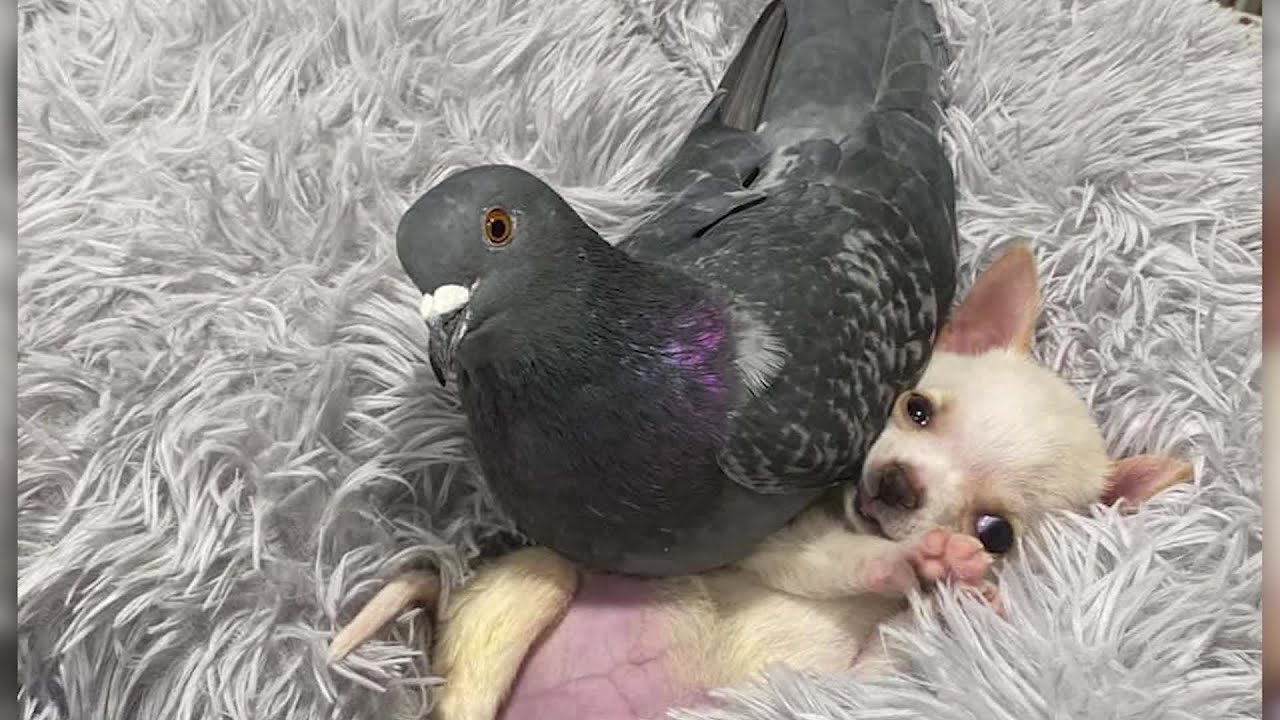 In Rochester, NY, Sue Rogers runs a non-profit called the Mia Foundation. The rescue organization rescues and rehabilitates animals who have birth defects or deformities and tries to find them a loving home. About a year ago, a pigeon was found unable to move in the parking lot of a car dealership. The pigeon was huddled and cowering on the ground. When a local wildlife rescue was called, they said the bird had neurological damage that caused him not to be able to fly. They thought that euthanization would be the best option for him.
Sue was having none of that. She stepped in and took the bird, who she named Herman, under her wing, so to speak. She made space for him in her shelter and kept him close where she could keep an eye on him. He liked to sit on a furry dog pillow and watch her work.
A couple months ago, a tiny Chihuahua was brought to the Mia Foundation. He was an infant, maybe a few months old, when his South Carolina breeders sent him to Sue. He's a teacup sized Chihuahua they named Little Lundy and he was born with spinal cord damage. Sue also determined that he was suffering from swimmers syndrome. Swimmers syndrome is a developmental deformity that causes the front and hind legs to be splayed out. This makes it almost impossible for Little Lundy to walk.
Although swimmers syndrome is thought to be untreatable, according to a few studies and an article in a veterinary journal, it can be treatable. With some physical therapy and at-home treatment, Little Lundy could live a long and happy life, which is exactly what Sue plans for him.
When Little Lundy arrived at the Mia Foundation he decided to get acquainted with his new surroundings and the other animals at the shelter. One particular encounter, created a friendship that has gone viral. Herman and Little Lundy, a puppy and a pigeon, are the unlikeliest of friends, but they have a lot in common. They both have trouble walking, or flying in Hermans case, and they were living in the same place. You could say, they were in the right place at the right time to become instant friends.
In the six weeks they have been together, Herman and Little Lundy have become inseparable. They do everything together, which is a lot of sleeping and snuggling. Mostly, with Herman sitting on top of Little Lundy, which doesn't bother him in the slightest. This friendship was so out of the ordinary that Sue had to document it. The viral sensation of the puppy and pigeon has brought attention to the Mia Foundation that was much needed. The rescue organization runs solely on donations to help cover the costs of taking care of the animals and for needed surgeries. So far, about $6000 was donated because of this unlikely friendship and over 100 adoption inquiries. Hopefully when they are adopted, they are able to stay together.