190-Pound Mastiff Floyd Has No Shame Being Rescued Down a Mountain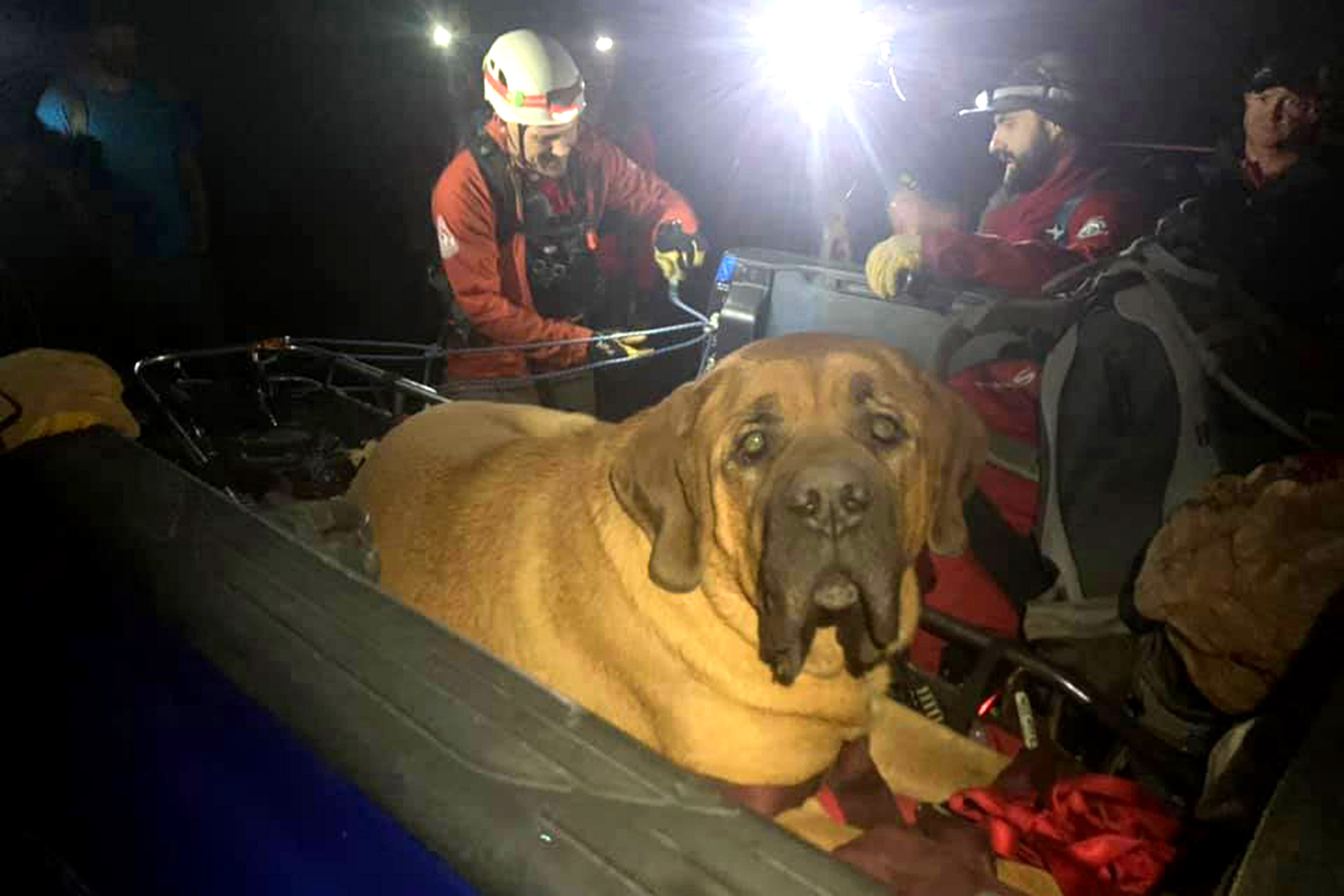 Grandeur Park: a Popular Summit for Amateur Hikers
Grandeur Peak is an 8,299 feet summit located on the east side of Salt Lake Valley, and anyone who makes it to the top gets great views of the valley and the surrounding mountains. As far as the local mountain peaks go, this one is relatively fast to summit, so many people enjoy taking one of the trails to get to the top.
There are two choices of easier trails to get to the top of Grandeur Peak: hikers can choose Church Fork Trailhead, which is wide, well-marked, and easy to follow. The beginning of the trail is at the Church Fork Picnic Area in Mill Creek Canyon. The other trail is the Grandeur Peak Trail, which follows a stream into the forest and then climbs to a saddle by way of switchbacks. A saddle is a low part of a ridge between two higher points, and switchbacks are places that go up and down on the path. Going up and down quickly could cause a climber to get more tired.
Floyd the Mastiff Goes on a Hike
Floyd was one 3 years old when he took the hike up Grandeur Pike Trail with his dad. He enjoyed exercise, and his dad didn't have any reason to think Floyd wouldn't be able to make it to the end of the trail.
Unfortunately, after hiking for several miles, Floyd realized he simply couldn't go any further. Floyd made it two miles up the Trail before he lay down and refused to move again. He simply couldn't take anymore.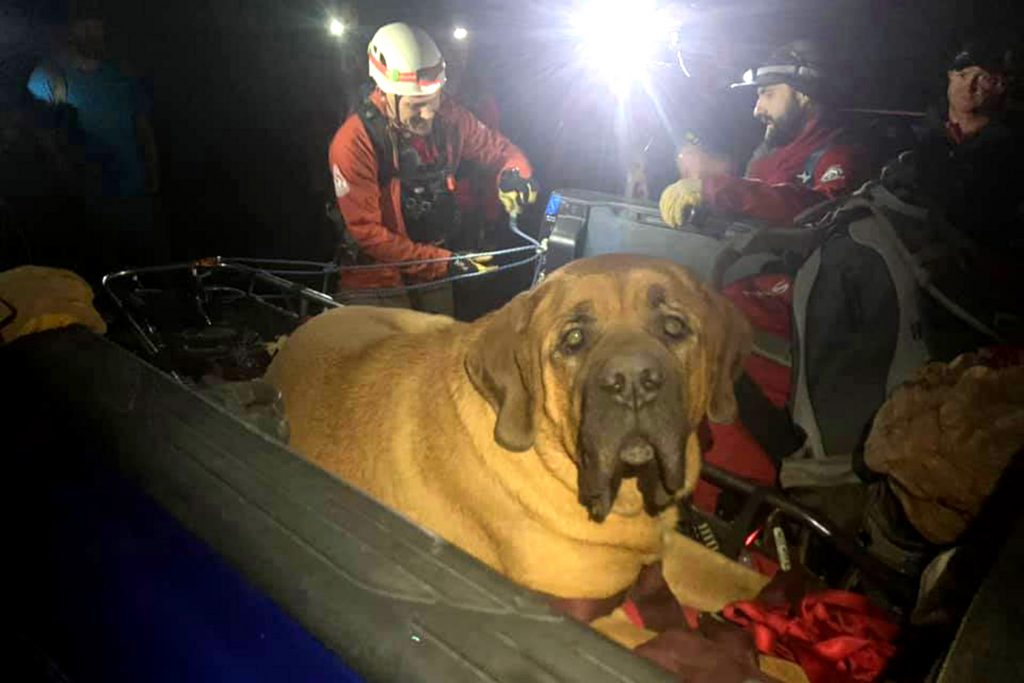 Floyd is a Big Dog
If Floyd had been a regular-sized dog, his dad would have probably picked him up and carried him back down the mountain. Unfortunately, Floyd weighs 190 pounds, and his dad wasn't able to do it.
He couldn't leave him behind, so Floyd's owner decided the only thing to do was get ready to spend the night on the mountain. He was ready mentally, but he was worried about the temperature. It can get cold at night, especially if you are two miles up a mountain. If it got too cold, it could be dangerous, but the later it got, the harder it would be to leave. Climbing down in the dark would be difficult if not impossible.
Rescue!
Even though they didn't ask for help, help came for Floyd and his dad anyway. Some of the people who passed by Floyd and his dad were worried and they told the police what was happening.
To their great surprise, an entire rescue crew showed up to rescue Floyd and his dad. They brought medical equipment, emergency gear, and a stretcher big enough to carry a 190-pound mastiff. The rescue crew strapped Floyd safely in and, with one person in front and one behind, carried him down the mountain.
An Act of Kindness
The Salt Lake County Sheriff's Office search and rescue team is made up entirely of volunteers. They didn't hesitate for a second, even when they knew they were going to help a dog. They showed up and helped because that's the kind of people they are.
For his part, Floyd is a good boy and he appreciated the help. He might have been all right to finish the hike if he and his dad hadn't gotten turned around on the trail. Floyd is just happy to be back home getting all the love and attention he needs.
Routine Traffic Stop Turns into Heartwarming Occasion Thanks to Officer's Kind Gesture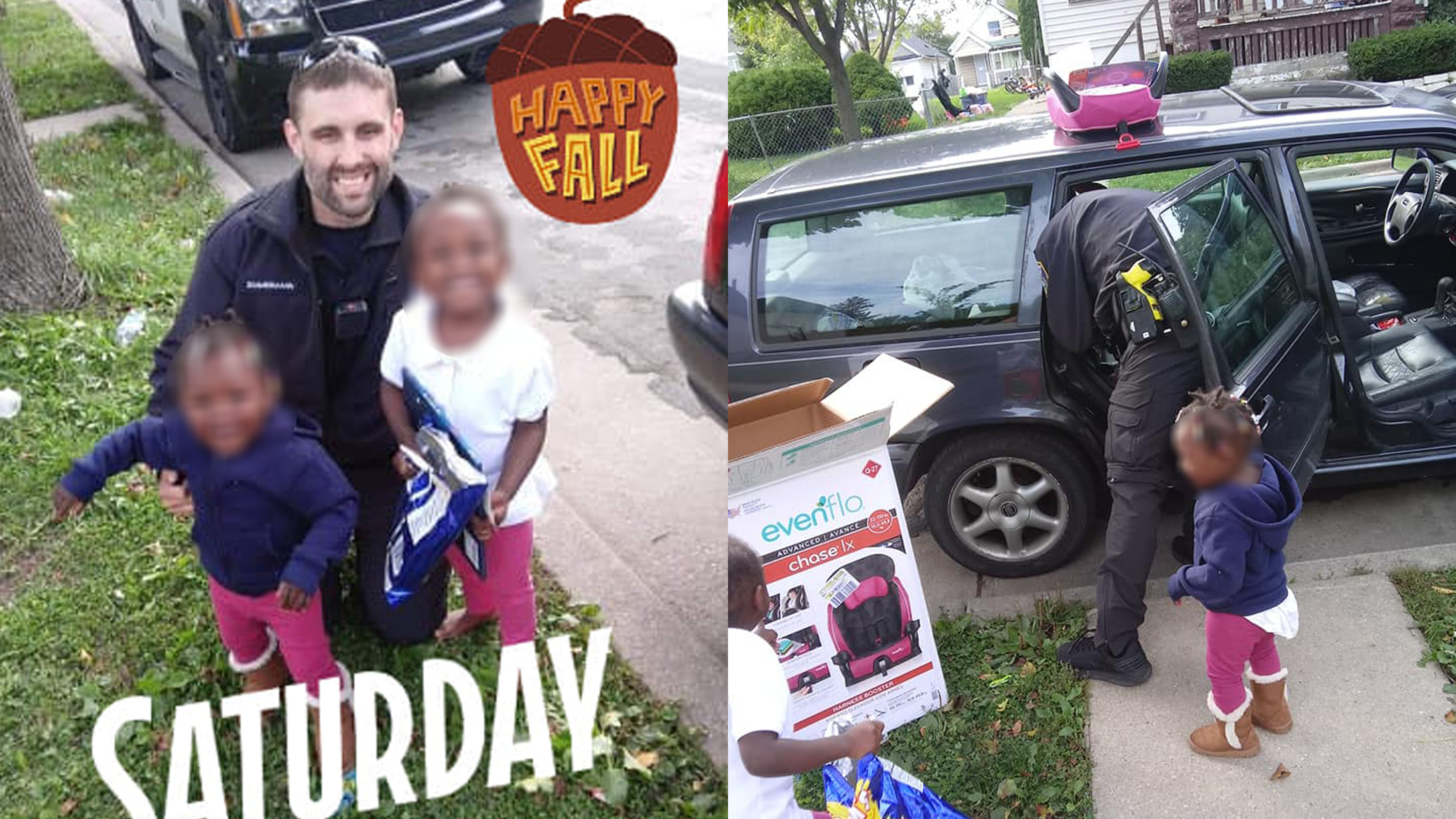 Getting pulled over can be a stressful situation. You may not know right away why you were asked to stop, but you probably have a good hunch that it's not for a good reason.
More often than not, that premonition we have about being pulled over turns out to be accurate and we have to be involved in a less than ideal situation. It's why many of us dread stopping to talk to an officer so much.
Andrella Jackson may now have different thoughts about being asked to stop by an officer though.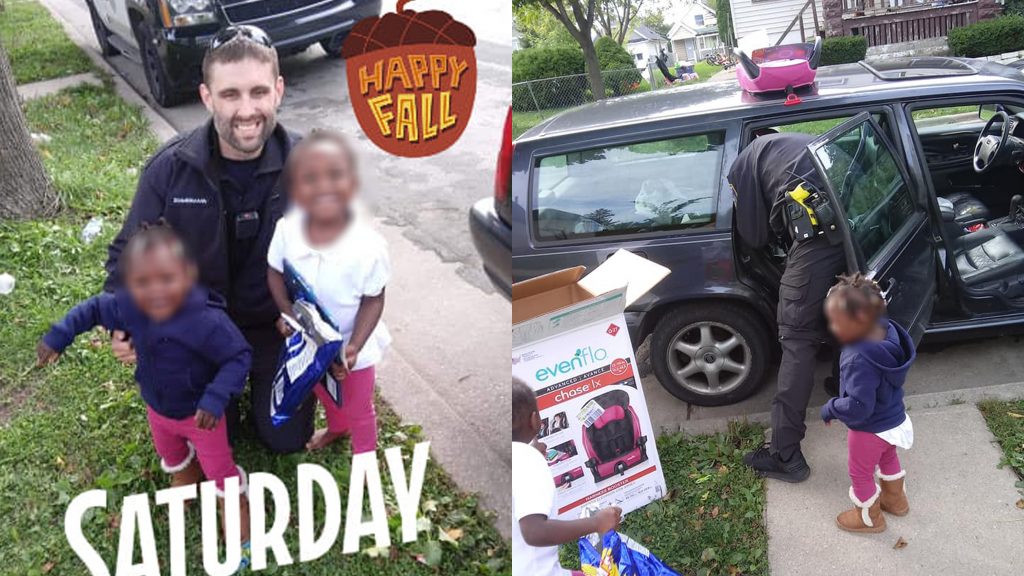 Not too long ago, Jackson was spotted by Milwaukee police officer Kevin Zimmerman and was asked to pull over. Officer Zimmerman requested that Jackson stop because she had the wrong registration for her car.
As he approached the vehicle though, something else caught the eye of Officer Zimmerman. To be more specific, he saw that there were three kids in the backseat of Jackson's car and two of them were still very small, WTMJ-TV reported. He also noticed that the two small children in question were not in car seats.
Officer Zimmerman then asked Jackson why the small kids were not placed in car seats and she said that she did not have the money to pay for those essential pieces of safety equipment at that time. Jackson mentioned that with winter on the way, she was saving up to buy her children new coats and boots.
A shortage of money is the same reason why Jackson had failed to get her vehicle registered properly.
Per the American Automobile Association (AAA), there are laws in every state dictating that children should be in car seats or restraints.
It would have been easy for Officer Zimmerman to issue Jackson tickets for her violations, but he opted to handle things a different way. Instead of adding to her problems, he went about solving one of them.
Officer Zimmerman soon made his way to a nearby Walmart, and after learning how much the kids weighed from Jackson, he went ahead and purchased two car seats using money out of his own pocket. He even stuck around to install the car seats himself.
By the way, the police officer did more than just give Jackson and her kids new car seats. According to this report from CNN, Officer Zimmerman also made a stop at the police department to pick up a few things – children's books and stickers – that he also gifted to Jackson's kids.
The police officer explained why he went the extra mile to help out Jackson. Officer Zimmerman shared that he has kids of his own. He hinted at how frightening the thought is of his own kids moving around in a vehicle with no car seats and how they can be placed in grave danger if an accident occurs.
Officer Zimmerman also said that he was always taught to "do the right thing even if no one is looking." In this case, both Jackson and the Milwaukee Police Department wanted to make sure that Officer Zimmerman would receive the recognition he deserved even if he wasn't looking for that.
The generous act touched Jackson, prompting her to shower Officer Zimmerman with numerous "thank yous." Her kids got in on the chorus of generosity as well.
Jackson called Officer Zimmerman "awesome" and that she is appreciative of the kindness he showed. She added that with the car seats now purchased and installed, she will be able to allocate a bigger budget that will then be used to buy those new coats and boots that her kids need.
What could have turned into an even more trying situation for Jackson and her kids became a shining example of humanity at its best and that is thanks to the generosity exhibited by Officer Zimmerman.