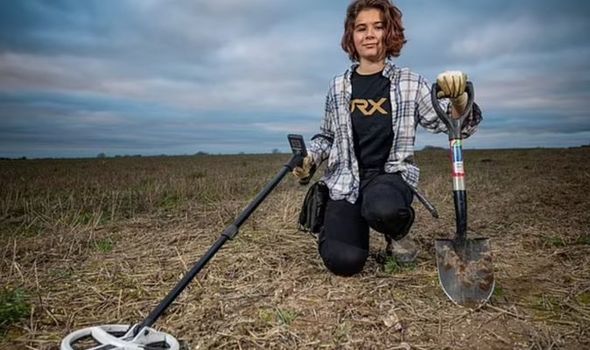 13-year-old Unearths What Appears to be Huge Bronze -Age Treasure Stash
These days, there are very few hobbies in which young children and teens are not involved. Children do not venture into some because of the danger they pose, but nowadays, from coin collecting to rockhounding and exploring, you'll find young people delving in full force.
Therefore, it came as no surprise that a large batch of valuable artifacts was uncovered by a young girl recently. A passion she developed for metal-detecting was encouraged by her very supportive parents and has proven worthwhile.
On her third metal-detecting trip, a 13-year-old girl discovered a large stash of Bronze Age axes. Milly located the first of 65 artifacts stretching back to around 1300 BC while sifting through a field near Royston, Hertfordshire.
In the beginning, Milly and her dad jokingly thought it could be an ax while their father dug up the first one.
Archaeologists excavated the whole hoard, and they sent it to the British Museum in London. After her third time out, Milly admitted that she had no idea what she was doing.
As soon as my father began digging, I shouted, "This might be an ax," and he burst out laughing. Even though they found about 20 artifacts, the location had to be protected until expert archaeologists could excavate the next day.
When they completed the task, they had a collection of 65 Bronze Age artifacts. It was Milly's understanding that she and the landowner would split any money she found.
A "diggie tool" – a tiny shovel that her father uses – was Milly's answer when she questioned what she would buy with the money.
Since the discovery, Claire, her mom, said it's been "utterly chaotic," with many individuals curious to hear what transpired.
When something good happens to you and your family, "it means the world to us," she said. "But the fact that this is a good thing, unlike some of the bad news we've had recently, makes it even better."
"I'm guessing they're hoping to find some gold, but I'm not sure. The only way to get over it is to be a little bit lucky."
In the opinion of English Heritage, the Bronze Age in Britain started about 2300 BCE. They used tin and copper to smelt equipment such as axes and sickles throughout this time. Between 1600 and 1200 B.C.E., the Middle Bronze Age is when they might have created the recently found stash.
It is up to the state medical examiner's office to determine whether the find is a relic, which is what Hardwick and her dad did. The British Museum's Portable Antiquities Scheme collects and preserves archaeological artifacts found by the general public in England.
A museum could buy the relics when they've been evaluated and valued in compliance with the 1996 Treasure Act of the Uk. The Museum will split Any payment proposed for the treasure trove between the proprietor and the teenage metal detectorist.
Other treasure hunters have taken notice of Hardwick's find, and she is now the December front-page feature of Searcher magazine.
The girl's mom tells SWNS, "Other metal detectorists are very happy for her. Even so, Claire says, "On a few excavations, people will say, 'Oh boy, she's already here.'"
In the future, Hardwick plans to become an anthropologist or archaeologist. While she waits, she'll keep looking for more artifacts to study.
Hardwick's mother hopes they'll find a gold nugget soon.

A Conservation Dog in NZ known for Saving Countless Kiwis, Retires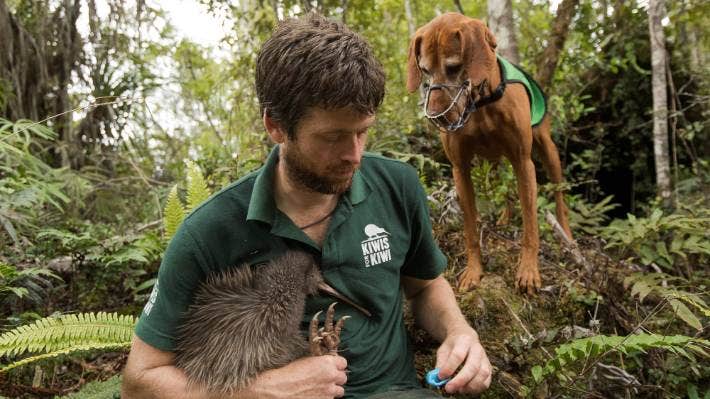 Now that Rein, the conservation dog, has spent the better part of a decade searching for kiwis to keep them from going extinct, it's time for her to retire.
DOC's conservation dog Rein, a Hungarian Vizsla, will retire at the end of the month after more than a decade of service.
With the support of her handler Iain Graham, they work to protect the rarest kind of kiwi, row, as part of a multi-agency initiative to increase the kiwi population.
There are now 600 rows in the wild, up from 160 in the critically endangered category in 2016, and the species became downlisted to "nationally vulnerable" in 2017. Graham credits Rein with finding 1700 kiwis during her time with the program.
Motuara, a predator-free Creche Island in the Marlborough Sounds, will be her final stop before retirement from her job.
Graham has been a biodiversity ranger with the DOC's Franz Josef kiwi team for four years. A colleague in Hamilton gave Rein to him as a puppy in early 2010, and he immediately saw the potential in her becoming a conservation dog.
As a conservation dog, she would need a strong sense of self-control, so he named her Rain.
To help with Operation Nest Egg, Graham wanted Rein to find kiwis in the wild.
In a slight stretch of low-lying forest inland near Quito in South Westland, Operation Nest Egg has successfully saved the rowing community from oblivion.
Since kiwi chicks are vulnerable to stoats and other predators, the environmentalists take the eggs from the woods for secure hatching.
After hatching at the West Coast Wildlife Sanctuary, the chicks spend roughly two months at the Willowbank Wildlife Reserve in Christchurch before being transported to Motuara Island for their final destination.
On the West Coast, they get released after they are mature enough to defend themselves from predators.
In the Omoeroa ranges, north of Franz Josef, kiwis have been relocated from the keto forest.
By utilizing treats and feathers from the kiwis, Graham taught Rein essential dog training and how to act around birds.
"It was already clear that she had a strong drive." In the beginning, training is primarily about building a relationship with the dog's owner. When she was seven months old, "early for any protection dog," he noted, "she had her first test."
Each bird that gets released has a transmitter attached to it that monitors its movements. A 50% decrease in feeding activity signifies that the birds are nesting. "We realize they have an egg when the row females and males scavenging hours reduce from 10 to 5 hours a nightly," he stated.
A little over a month later, Graham and Rein are on their way to search for the eggs. The moment she discovers the nest, she comes to a complete halt and starts pointing with her front paws.
When the breeding season is over, Rein doesn't take a break for the rest of the year. Every 12 to 14 months, she makes the trip to Motuara Island to check on the chicks and change the transmitter batteries on the island's resident kiwis.
"When the transmitters malfunction, that's when she performs assisting us in locating the chicks who don't have tags," Graham said.
Haast Tokoeka's new population was one of her most significant accomplishments.
After working in the sector for ten years, Graham felt Rein should take a break. Brew, a second vizsla, has gradually taken over the workload over the last few months.