Why More People Are Finding Snakes Hiding in Their Toilet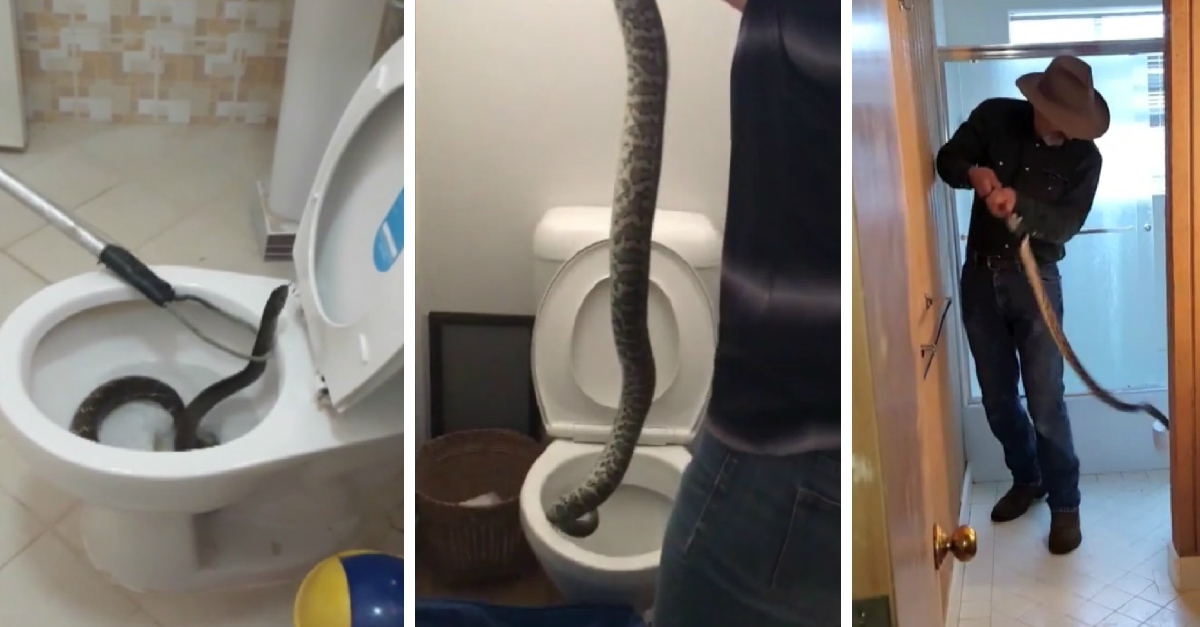 Sitting down on the toilet and then realizing there is a snake in there. It's a scene from a horror movie and can be anyone's worst fear. Snakes hiding in toilets are becoming more and more common.
The latest story making the headlines is from Mike Green in North Carolina, who says he has pulled six snakes out of his toilet in the past four years. This is not the only example. Country singer Brett Eldredge recently shared that he walked in the bathroom where he was staying on vacation in the Bahamas and found a snake in the toilet bowl. There are plenty of stories of pythons hiding out in toilets in Australia.
There is a reason why this is happening. A former plumber and curator of reptiles at the Los Angeles Zoo is sharing the reason. He says that snakes are sleek animals and it's easy for them to fit into tight spaces in their current environment. Snakes feel more at home when they are in a dark, tight space. When they get into a pipe, they feel good about it and it's easy to navigate through the sewer system and then find their way up the pipes into someone's toilet. Snakes get in through the ventilation pipes on the roof. Since the bathroom plumbing is usually connected through the ventilation pipes the snake slithers its way through the system and into the bathroom. It's easy for snakes to slither up anything that will lead them to the roof, such as a tree. If you have a tree that is close to your roof and the ventilation pipe then it can increase your chances of having a snake in the bathroom
If you are wondering what to do if a snake gets in your toilet, know that flushing it away won't work. If you do find a snake in your toilet then call animal control. Animal control can help you get rid of the snake but can also identify the snake. While the good news is that most snakes are harmless, there is a chance you could have a dangerous one. Don't be a hero and handle it yourself, just in case it is dangerous.
If you want to avoid snakes in your toilet, there are simple things you can do. Find a way to make sure the ventilation is covered but that it is still able to do the job it is intended to do. By having some sort of block, such as wire covering and mesh, it not only prevents snakes from getting in but also other pests, like rats. You can also install a roof vent hood. These hoods help protect the venting and keep any creepy pests out. Who would have thought that you actually needed to take care of issues on the roof in order to prevent snakes from slithering through the pipes? If you are truly worried then you can invest in a multi-flap that fits over the toilet pipe and allows waste and water to exit but keeps critters out.
Keep in mind if you live in an area that is prone to snakes then this issue may be more common and you may already know how to deal with it. Many snakes that find their way into a toilet are not native to the area where they were found. It's likely they escaped or were let free by their owners that no longer wanted them and they choose your pipes as a nest. Many snakes aren't able to survive in the main sewer pipe for very long since there can be relatively low temperatures below the ground where pipes are located, making it unlikely that they actually set up their home in a main sewer line.
Too Shallow for Swimming With Sharks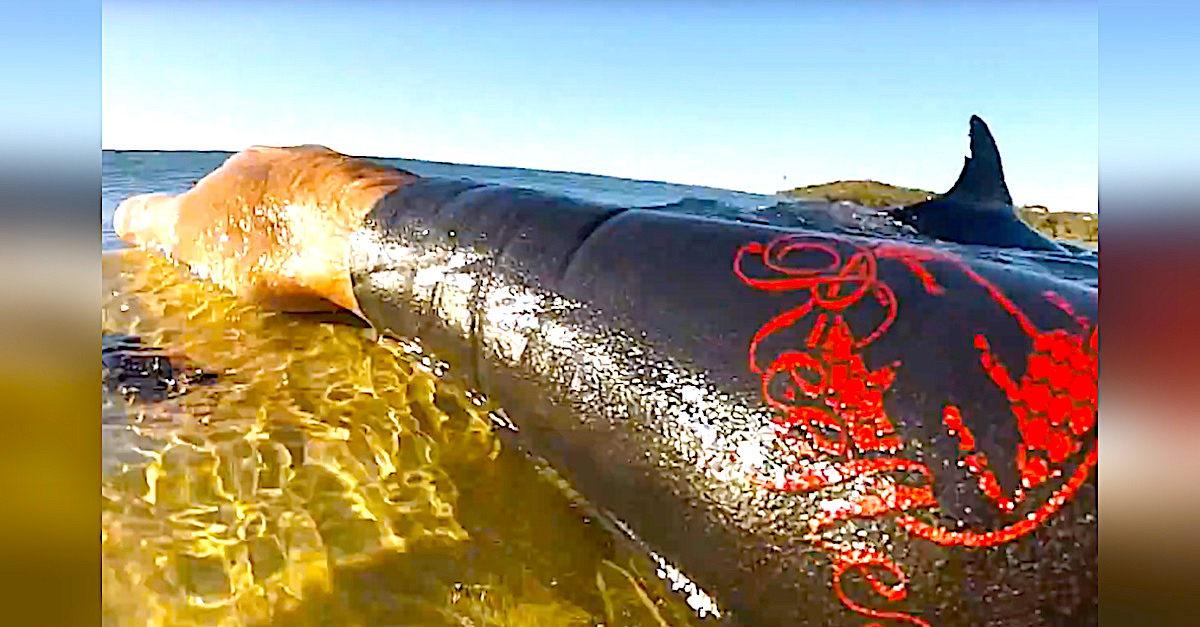 University of Florida student Stefani Luke loved the ocean. She lived to be on the water. She was given a surfboard when she was in high school, but growing up in Ft. Lauderdale didn't offer her much opportunity to ride any exciting waves. Going to college in Gainesville, Florida would provide her with a chance to take weekend trips to the popular beach town, St. Augustine to check out some waves.
One stormy Tuesday, Stefani and some friends heard the news about coastal swells reaching up to five feet. They loaded up their boards and began a caravan. There were 11 kids but only 8 surfboards. She was excited to finally have the chance to use her board on some real waves, but she was also very aware of sharks. She was a biology major, recently working as an intern at the US Fish and Wildlife Service. Most of her work there was done in a lab or in area rivers. The biggest risk at her job had been alligators.
Stefani's love of the ocean and interest in fisheries compelled her to stay abreast of shark activity along the east coast. She knew that in 2019, reports of shark attacks, either provoked or unprovoked, reached nearly 150.
The kids arrived at the beach, ready for some refreshing water and salty air. Today was a day to enjoy a day out of school. They unloaded the boards from their roof racks. Stefani waxed her beloved board alongside her good friends. Since there were more kids there than boards, Stefani offered her board up to a friend to try first. She figured she'd just do a little body surfing to warm up her muscles before fully engaging on her board.
The waves were slightly disappointing. The stories they'd heard about giant waves were exaggerated, topping out at maybe three feet. She swam into the surf and waited. She thought she was a good distance from the surfers with boards. The water was a little colder than expected, and she hadn't brought her wet suit. She swam parallel to the shore for a bit, to warm up. She ended up swimming close to her friend who'd borrowed her board. She waited in the line up, just beyond the breaking point of the waves. She was ready to body surf and catch some waves.
The waves were coming in sets of four. She took the first in a set. It picked her up and she swam with it. As she glided in toward the shore she saw the dark shadow of what she knew was a shark. Everyone knows that you don't panic when you see a shark. You don't thrash around in the water. You don't show signs of distress that signal to a shark that you're easy prey. She forgot all that. All Stefani could think was "I don't want to get eaten by a shark today!" She swam for her life. She swam fast, and probably a little crazy.
The realization of her frenzy made her calm down slightly. She dropped the panicky swimming. She stopped swimming to realize that she was only in about a foot of water! She felt very silly, probably looking like a fool to anyone who might've seen this spectacle.
She stood in the water to see her friend that had borrowed her board. Her friend asked with excitement, "Did you see that shark?!" Stefani acknowledged that she had in fact seen it. Her friend offered her the board back. Stefani declined, "No thanks. I like my legs. I like walking". It was at that moment that Stefani gave her board away. She was done surfing and never tried it again.