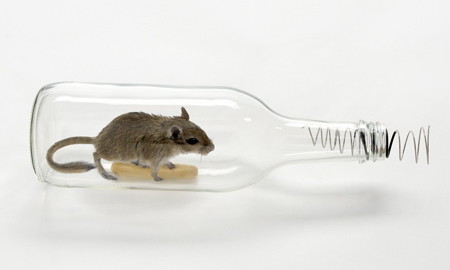 Ways to Get Rid of a Mouse to Avoid the Dreaded Snap Trap
Occasionally, even if you don't live in the country, you may have a mouse in your house. While the best answer to getting rid of a mouse would be to have a cat, there are other ways to get rid of mice without having to buy the dreaded snap traps and killing the little visitor. It's best to take care of the problem sooner rather than later so you don't have to worry about more mice popping up. Just with a quick Internet search, there are tons of different ways and anecdotes to get rid of mice the humane way. It seems the problem is harder to solve than you would think it is. Take a look at some of the popular suggestions and see if they will actually work to get rid of the mouse problem.
Dryer Sheets
This seems like a pretty simple solution. Mice don't like the smell of dryer sheets and so it deters them from hanging out. Dryer sheets get mixed responses and some even notice droppings right next to the dryer sheet the next day.
Peppermint Oil
This is also a pretty easy suggestion and essential oils seem to be a cure-all for just about everything else. This doesn't seem to work either but will make the home smell good. Mice also hate spicy scents and garlic so you can use this too instead of peppermint, but peppermint can be a better scent in the house.
No-Kill Trap
While there are plenty of suggestions to just kill the mouse, many people want to do the humane thing. There are no-kill traps where you can add some peanut butter to lure the mouse in. These can sometimes work but if the mouse never goes in, you are just out of luck.
Block Holes with Steel Wool
While this is a popular suggestion, it's not always feasible. If you fill the holes where the mouse is getting in then the mouse has to leave since there is no way to get in. If you live in an old house then this is just not be possible.
Glue Traps
There are some horror stories about glue traps, including rats getting stuck to one. Many people think it's a bad idea to try these but while the traps may be prebaited, there is no guarantee that your mouse will set foot on it. People were once able to just put peanut butter on the glue trap and that was enough to lure the mouse in.
Once you have the mouse humanely trapped the key is getting the little guy free. Using oil can help lure him off the trap first. After you get him free, you can send him off to an area far away from your house. It can be a lot of effort to humanely trap the mouse and set him free. While you can use regular traps and kill the mouse, you can also use sticky glue traps with some added peanut butter if you want to put in the effort.
When releasing the mouse, be sure to release it far away from the house. If you don't then the mouse is going to find its way back to your home. If you see one mouse then there may be others still around. Be sure to set your trap again to catch any after the first mouse. If the trap is empty for a week or two then it may be worth it to seal up the holes to prevent any new ones from getting in and having to go through this process more than once.
Kind couple reunite homeless man with his family after 20 years apart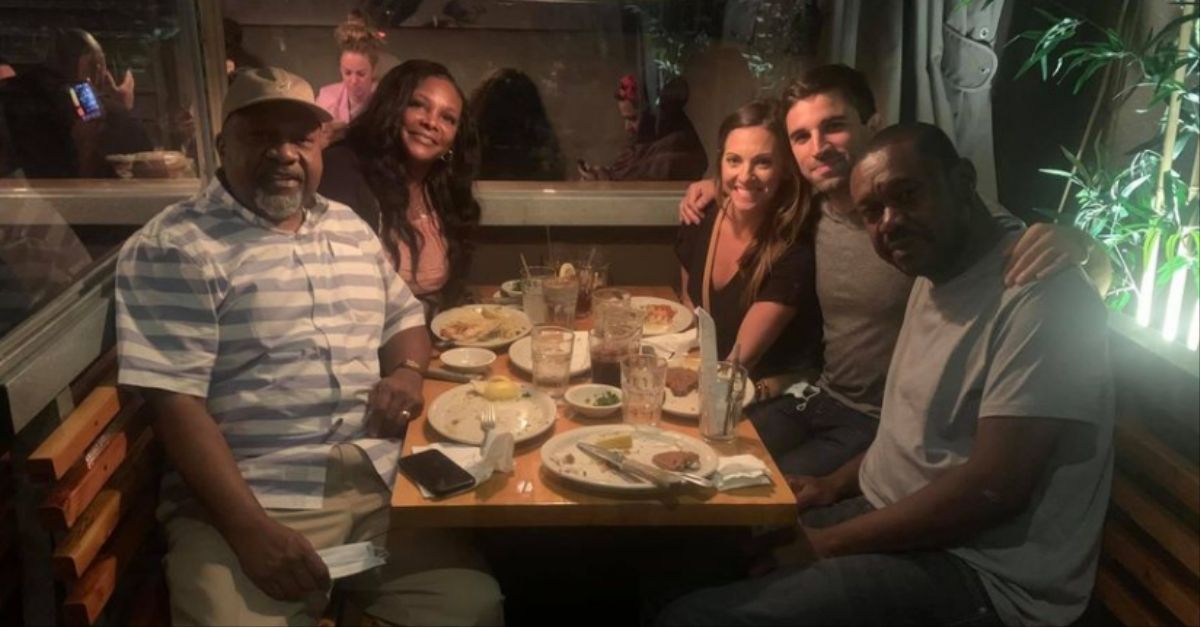 "Everyone just stares at me. I'm an educated man, but all they see is a person who doesn't have a home and doesn't have anyone to call."
These were the sad, heartbreaking words Randi Emmans heard as she stepped outside her apartment in Los Angeles to take her dog on a walk. 54-year-old Petro Reid was the man Emmans had just heard talking to himself, and he was in a bad place mentally.
She called up her boyfriend, John Suazo to jointly hold a conversation with Reid. He was quite surprised at first, because according to him, no one had ever taken interest in him, and he poured out his mind to them.
For a homeless man, the person they had just held a conversation with was very fluent in expressing himself.
"He was so impressive," said Suazo.
"The whole conversation really touched us."
From the conversation, they found out that Reid had left his family home in Charleston, S.C., and moved to L.A. in 1999 to live with an aunt. Barely a year later, he found himself going off the rails and homeless due to drug and alcohol addiction.
He became a popular figure in jail, from where he'd occasionally call home and send letters to his grandmother's house in Charleston.
"It was always for petty crimes, usually shoplifting to support my habits, food and things of that nature," he said. "That cycle continued for years, and whenever I got released, I was right back on the streets."
For more than two decades, Reid wandered the streets of L.A. in search of his family or some beacon of hope, and for those two decades he didn't find anything- until Emmans heard him.
He had lost all hope of living a decent life. He always thought of his family, but the chances of setting eyes on them once again were pretty dim, so he gave up.
He found Emmans and her boyfriend non-judgmental. They genuinely cared about his situation and that was why he opened up to them.
"John and Randi saw me as more than what everyone else saw me as — just a homeless person living on the streets," he said. "They believed in me, despite the situation they found me in."
After giving him food, water, and other basic human needs, the couple felt they hadn't done enough to truly take him out of misery and ridicule. Emmans made a post on Facebook, a public plea asking for donations to help cover the costs of a night or two at a hotel, so Reid could get rest up, recuperate, and have decent hot meals.
Her post received a lot of engagements, and in only 3 days, they were able to raise about $6,500 for Reid. The funds were used to lodge him in a hotel, get him a new mobile phone, and buy him some new clothes.
Although grateful for all Emmans and Suazo had done, Reid still wanted to find his family. He asked the couple for help and they decided to help him.
Reid took on the name Franklin Mitchell after an encounter with the police in L.A. He didn't have his identity card, so the name stood- that was why his family members could never reach him.
In the search for his family, Reid gave Emmans and Suazo some names he could remember, as well as his grandmother's address, without knowing if she was still living there or alive at all.
"Randi and I started plugging away on the Internet, and we were able to find his grandmother's name associated with the address," Suazo said. "We called wrong numbers until, finally, we got someone who was his uncle's ex-wife."
This was when all the dominoes started falling in place.
Reid's uncle, Pierre Grant was informed by his ex-wife of a certain contact about his nephew and he immediately called the couple to set up a meeting.
Grant said "For over 20 years, we had been praying and believing that one day we would find him, and the day finally came. This is a miracle."
He took a flight paid for by Emmans and Suazo to L.A. to link up with his nephew. The amazing couple were also able to pay for a covid-19 test for Reid, Grant, and themselves- all which came back negative.
The long awaited family reunion came on Friday, August 7. Mia Green, Reid's cousin was also present for the reunion. It was a touching and soulful moment for Reid as he tightly embraced his cousin and uncle after 20 years of wandering the streets of L.A.
Now that Reid has finally reunited with his family, he plans to get his life together and back on track.
"I believe I can help a lot of people that are still in the position that I was in," said Reid.
He plans to start the next chapter of his education and find himself a stable, paying job.