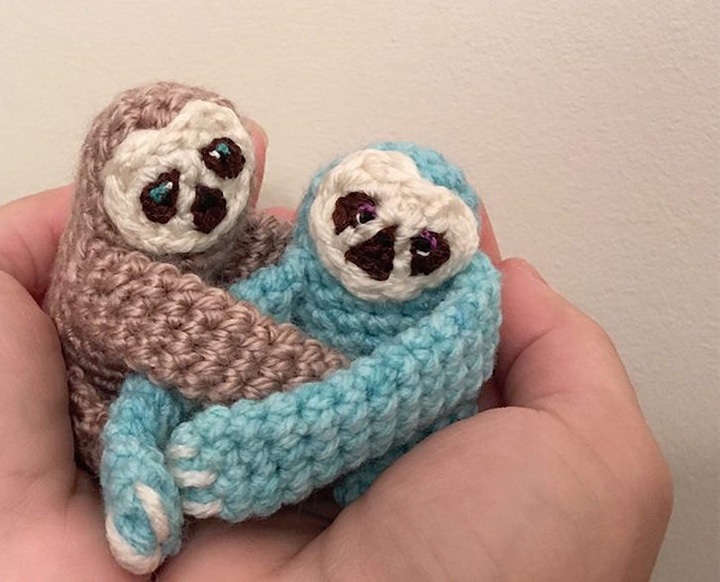 Tiny Crochet Sloths are the Most Adorable Things You Will Ever See
Who doesn't love a sloth? How could you not? They are always smiling and just hanging around. They are like your cool laid back friend that you want to be like. They take everything in stride and everything is just cool. They are so loveable and are just one of the most adorable animals ever. The Twisted Crocheter has created a tiny crochet sloth that is the sweetest thing you will ever see. If they do not melt your heart, I'm not sure you even had one to begin with because they are that cute.
You can wrap these baby crochet sloths right around your finger. Who doesn't want someone or something wrapped around their finger? It seriously does not get any cuter than this. They are so small, you can take them anywhere you want to go.
This baby sloths are the creative genius of The Twisted Crocheter. This is a crafter who sells the finished sloth, as well as the pattern, so you can do it yourself. The crafter makes several different versions of the sloths. One version has two sloths wrapped in a hug. They are adorable together and look like they are so in love. They have faces crocheted onto them also.
You can also get a single sloth that will wrap itself around your finger and hand out with you all day. These sloths are soft and definitely huggable. They go can anywhere you want them to. You can sit them on your desk at work, or in the chair next to you. I'm sure your co workers won't mind. You can put them on your key ring or even tie them in your shoelaces. They offer just the right amount of cuteness to pick you up on any bad day.
You can purchase them on the Twisted Crocheter's website. Or you can always download the baby sloth pattern and have a go at it yourself. The pattern is free to download and soon you can make a ton of little friends. If you aren't feeling like you want to work for the cuteness, they are available to purchase in many colors and styles. You can also purchase crochet sloth key chains on the website.
The Twisted Crocheter really puts a lot of work into this little bundles of joy. They wrap around your finger, just like a sloth wraps itself around a tree in the jungle. They have faces crocheted on them and they become a friend on your finger. You can buy one for each of your friends and spread the joy. After all, we could always use a little more sunshine in our lives. Remember, if you don't want to pay for them, you can download the pattern for free and being making your own sloths.
If you're anything like me, crafty isn't in your wheelhouse, so I would opt to purchase this cute little guys and give them out to all of m friends. They are just too cute not to share.
The Library Cat of Port Austin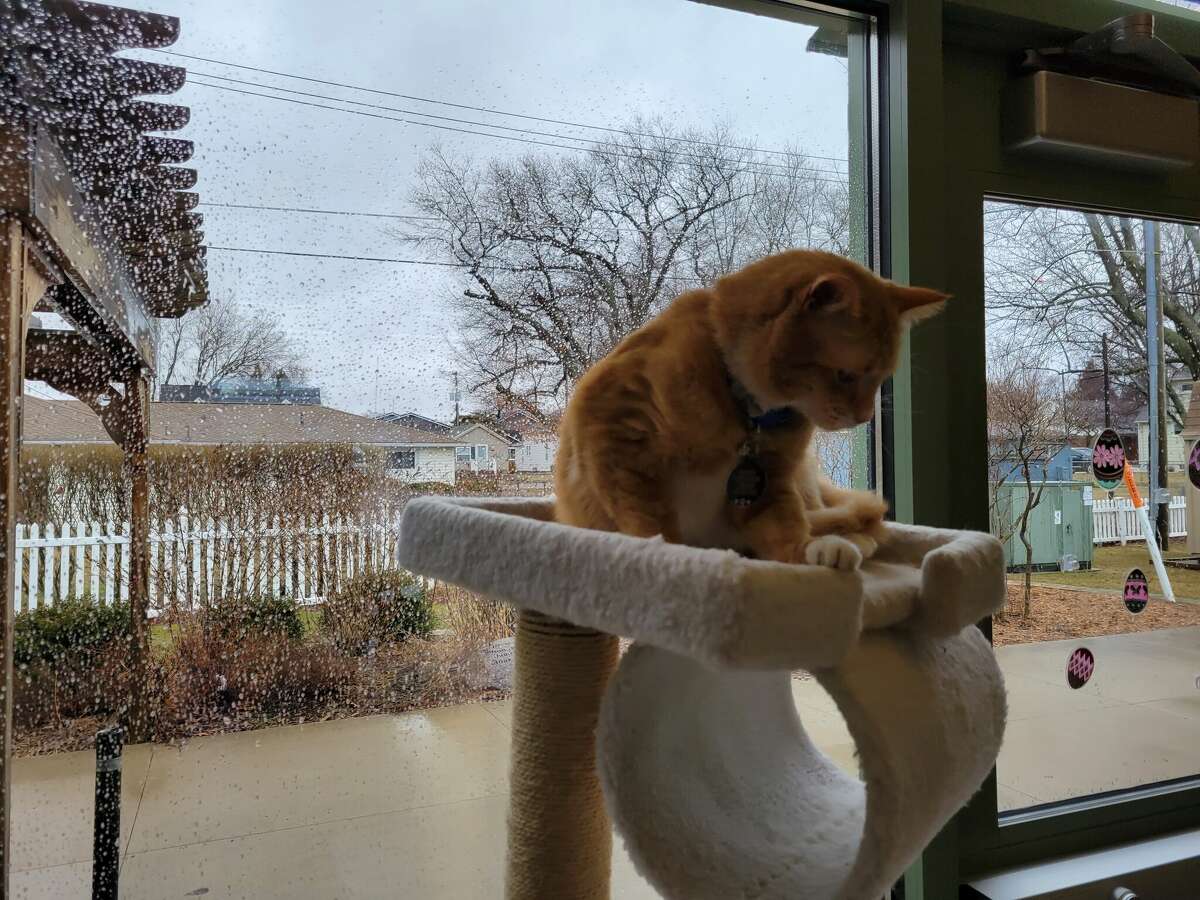 Library regulars expect to see books, computers, magazines, posters, notices, bulletin boards and even seminars at the local library building or community center adjacent to such facilities. However, they typically don't expect to see a dedicated house cat and standard equipment. However, for Port Austin, a feline accompaniment is exactly what's on order for book lovers and library fans in the local town.
Named Booker, which oddly seems to be similar to books, the orange feline wasn't a planned acquisition for the library. Instead, the cat decided to make the place home all on its own. It helped that once the cat became a regular, the patrons and staff made a point of taking care of the cat as well. Good things happen when you're regularly fed at the same location daily.
This September 2022 will be a solid three years since the cat showed up, and Booker isn't making any bones about leaving. Mary Jaworski was the original discoverer of Booker. She originally found the cat had somehow snuck into her garage at home, half-blind, and unable to eat on its own. Jaworski tried to find someone to take in the cat, but nobody was volunteering or available. As the library director for Port Austin, Jaworski ended up watching and caring for the orange feline both at home and at work. It helped that the library board was also fond of cats as well. So, as it turned out, Booker was charmed; the cat not only had a home to roam around, it had multiple fans to take care of the cat as well throughout the day.
As it turned out, the patrons liked the idea of a home cat lounging around and roaming the Port Austin library on a regular basis. It made the library homey and comfortable. That helped Booker's transition inside the library as well, after the cat was up to date on all his shots and safe around all of the patrons, including kids.
Booker wasn't lacking anything inside the library, and there was no worry he was going to start exercising his claws on the book inventory. Instead, the cat has its own cat tree, carpet for claws, appropriate amenities for personal business, and plenty of cat toys and areas to escape when it gets busy and the cat just wants to be left alone. Booker actually became so popular, he started to develop a collection of donated toys and cat food from the locals. And if he happened to be out of sight longer than normal, everybody would start asking where he was and if everything was alright with the animal.
Celebrity status probably wasn't in the cat's original plans, but Booker seems to have adapted quite fine to all the attention he gets on a regular basis. The kids play with the cat when he wants activity, and, in turn, Booker has been an attraction to bring more kids to the facility and into reading in general. And Booker is quite good at hamming it up for the crowd. He loves the petting, getting held, sitting next to patrons on the furniture and is not easily spooked by the human activity going on daily. In fact, Booker is probably one of the best behaved cats most people will meet.
Finally, Jaworski notes, Booker has a habit of wanting to sound out any new arrivals he hasn't seen or smelled before. If there are bags or belongings, he's all over the stuff before the patron realizes what's going on. That said, Booker isn't about to have a team under his leadership. One cat seems to be more than enough for the library and its customers for now. Ironically, Jaworski herself is allergic to cats, but she tolerates Booker. Ultimately, the cat earns his keep attracting more than the normal flow of patrons to the Port Austin library, easily justifying the operations and helping the library grow.