Tiny Crochet Sloths are the Most Adorable Things You Will Ever See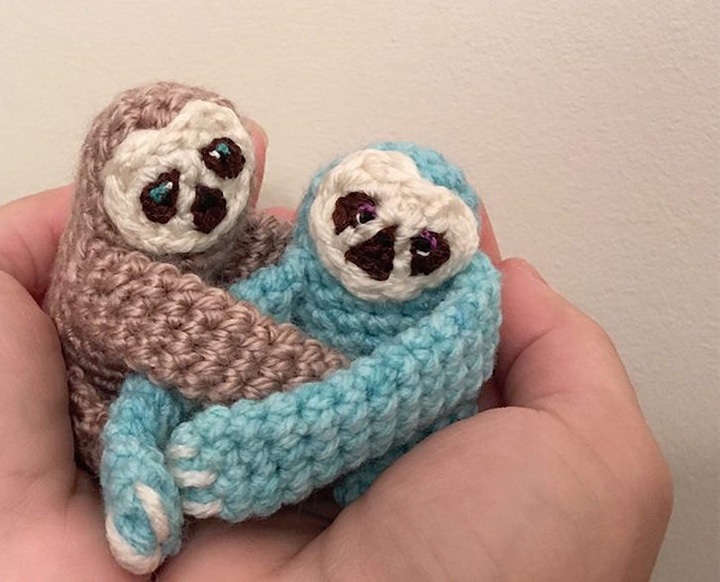 Who doesn't love a sloth? How could you not? They are always smiling and just hanging around. They are like your cool laid back friend that you want to be like. They take everything in stride and everything is just cool. They are so loveable and are just one of the most adorable animals ever. The Twisted Crocheter has created a tiny crochet sloth that is the sweetest thing you will ever see. If they do not melt your heart, I'm not sure you even had one to begin with because they are that cute.
You can wrap these baby crochet sloths right around your finger. Who doesn't want someone or something wrapped around their finger? It seriously does not get any cuter than this. They are so small, you can take them anywhere you want to go.
This baby sloths are the creative genius of The Twisted Crocheter. This is a crafter who sells the finished sloth, as well as the pattern, so you can do it yourself. The crafter makes several different versions of the sloths. One version has two sloths wrapped in a hug. They are adorable together and look like they are so in love. They have faces crocheted onto them also.
You can also get a single sloth that will wrap itself around your finger and hand out with you all day. These sloths are soft and definitely huggable. They go can anywhere you want them to. You can sit them on your desk at work, or in the chair next to you. I'm sure your co workers won't mind. You can put them on your key ring or even tie them in your shoelaces. They offer just the right amount of cuteness to pick you up on any bad day.
You can purchase them on the Twisted Crocheter's website. Or you can always download the baby sloth pattern and have a go at it yourself. The pattern is free to download and soon you can make a ton of little friends. If you aren't feeling like you want to work for the cuteness, they are available to purchase in many colors and styles. You can also purchase crochet sloth key chains on the website.
The Twisted Crocheter really puts a lot of work into this little bundles of joy. They wrap around your finger, just like a sloth wraps itself around a tree in the jungle. They have faces crocheted on them and they become a friend on your finger. You can buy one for each of your friends and spread the joy. After all, we could always use a little more sunshine in our lives. Remember, if you don't want to pay for them, you can download the pattern for free and being making your own sloths.
If you're anything like me, crafty isn't in your wheelhouse, so I would opt to purchase this cute little guys and give them out to all of m friends. They are just too cute not to share.
The Little Blue Eyed Miracle Puppy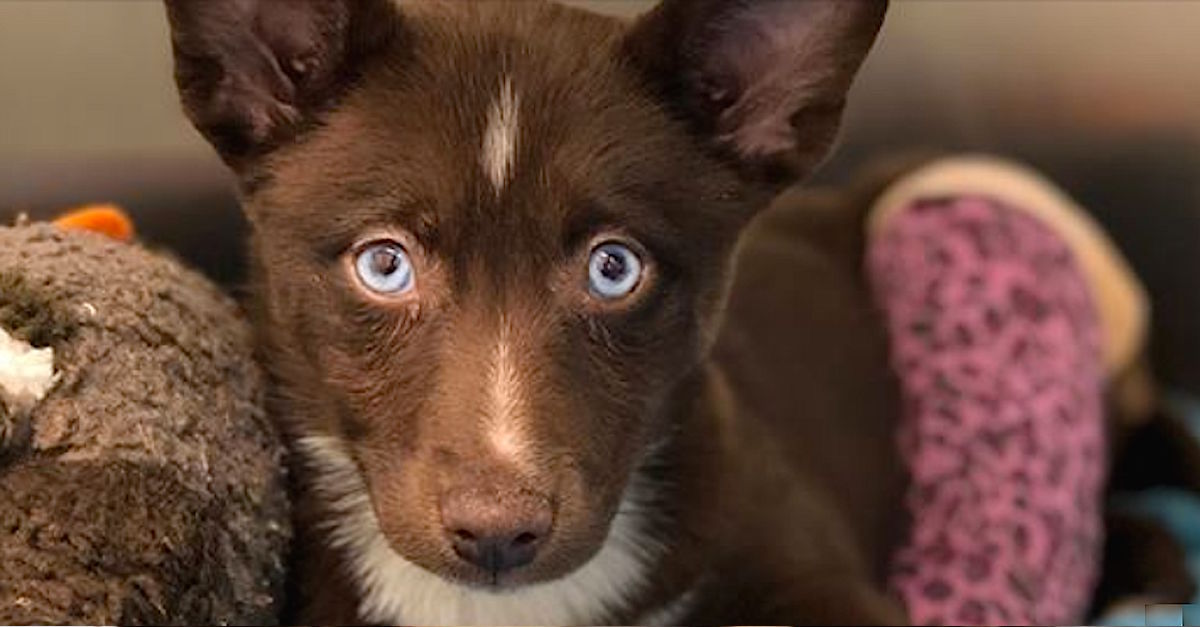 The Massachusetts Society for the Prevention of Cruelty to Animals (MSPCA) received an amazing gift with a new arrival at their shelter. The long lines of people wanting Tahani, the mix of Siberian husky and Pomeranian, were quite a show at the shelter with news reporters arriving in a nice way to honor the miracle gift. Tahani even received gifts of dog bones, toys, and blankets. The shelter had miraculous adoption rates throughout this fun event and directors were pleased to see so many dogs getting adopted by such nice people. The impressive blue eyes of the rare puppy were seen by so many and enjoyed so much by the children that were able to visit calmly with the doggie. The shelter even received additional support with interest from the news stations, potential funders, and people calling about the shelter's hours. Adoption rates made everyone happy and many discussed more events to celebrate the dogs and puppies waiting for the nice people to take them home. All were thankful the dog brought good news and so much happiness for the people that showed up to see her.
The rare puppy was determined to be a "Pomsky", which is a really rare mix and loved for the Siberian blue eyes. At 10-weeks old, the owners weren't sure what to do with the little broken leg so they took the puppy to the shelter. The gift hit the news quickly and all were honored to be a part of such fun as people quickly lined up to see Tahani. The shelter enjoyed the opportunity to hand out information about dog care and adoptions. The young people were pleased to see how much nicer dog shelters are now and many signed up for workshops. The dog trainers that showed up were happy to discuss services and programs for animal care. The proponents of dog shelters are strong to present positive messages about dog care and adoption opportunities.
The kids that showed up asked if they could see more happy doggies. Happily, several group leaders started discussing the opportunity with strong support for the suggestion. All applauded when some of the adults agreed to arrange dog shows. Anyone could bring their dog and many could work with them for the events. They were pleased to understand how simple it would be to have agility courses for the people and their dogs. Other suggestions for outdoor bands and concerts turned into a huge celebration for the little Pomsky dog. The small and larger events that were being planned arrived at the top of the news stories and all were again thankful. Little Tahani looked the cutest and everyone agreed. The news station really enjoyed that all the people were happy with the community outreach and additional support.
The dog shelter was so much better and the staff was thankful for the incredible number of volunteers that signed up. The media that had showed up were enjoying the people and gifts of food that some had brought. The people were thankful they could mingle with the others and everyone was pleased with how polite the groups were together. They kept thanking the little dog and agreeing she had brought so many miracles for everyone. The "feel good story" hit the streets quickly and so many agreed they liked to be so happy with positive news stories about everyone working together in nice ways. Volunteers continued to call the shelter and the amount of support funding had increased in an extraordinary way with little Tahani, the little blued eyed miracle puppy.