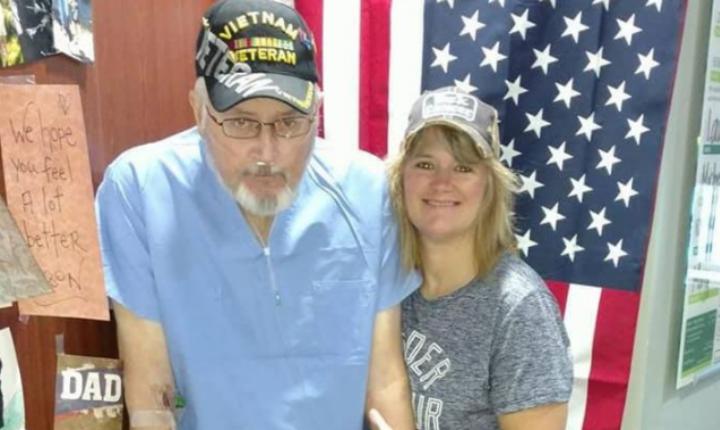 This Nurse Goes Above and Beyond When helping This Vet Celebrate Veterans Day
Veterans Day is a holiday to celebrate and honor veterans for their sacrifice to serve the nation. Most veterans and patriots look forward to this day because it is a chance to celebrate their commitment to the nation and the impact of their sacrifice. Michael Welsh is one of the many veterans that look forward to this special day. He was in the hospital getting treatment for liver cancer and probably thought that this day would not be a good one for him. All his changed when his nurse who had now become his friend said the words, 'Thank you for your service.'
Slowly Slipping Away
Michael Welsh began his chemotherapy treatment for cancer but he did not seem to be responding well to it. His daughter, Kim Johnson, was devastated to watch his father slowly slipping away and there is nothing she could do about it. She knew that her father's health was slowly deteriorating. On Veterans Day, she was saddened by the fact that no one seemed to care about a day that Michael Welsh considered his favorite. It looked like the day would end without much action for him.
His Service
Welsh served in the US Navy for a long time in the Vietnam War. He proudly wore a ball cap with the writing 'Vietnam Veteran.' It gave him a sense of pride and fulfillment. On Veteran's Day, he proudly put on his cap hoping that someone would notice it and express their gratitude for his service. Unfortunately, the day ended without anyone thanking him for his service. T looked like his favorite day of the year was ruined and that no one cared about it. He finally took the hat off as the day came to an end.
No Sign of Gratitude
After a long day of waiting for someone to thank him for his service came to an end, Johnson was feeling unhappy. He could not understand why no one seemed to care about this special day. He had taken his Vietnam Veteran hat off and given up. He did not know that things were about to change.
Adam Dobbrastine Visits
Adam Dobbrastine is a nurse in the emergency department of the hospital where Welsh was admitted. What Wels did not know is that Mr. Dobbrastine was an Army and Army National Guard Veteran. He decided to become a nurse after he and his wife lost their child to stillbirth. They had trouble dealing with the tragic news but a nurse gave them hope and helped them to cope with their situation. He hoped to help other patients in the same situation. On this day, he would be helping Welsh feel a lot better after a terrible Veterans Day.
Thank You For Your Service
Dobbrastine noticed the unique hat that Welsh had removed in a moment of feeling defeated. He knew that he must have been in the service. He took some time to speak to the 69-year old veteran about his personal interests including fishing and his time in the military. With this simple conversation, he managed to turn the otherwise terrible day into a memorable one for Welsh. He thanked him for his service and shared his own experiences about being in the military.
Welsh Passes Away
When Welsh called his daughter to tell her about how happy he was to have had that conversation with nurse Dobbrastine, she brought his American flag to the hospital. Sadly, Welsh passed away on November 26. Johnson gave the flag to Dobbrastine as a way to thank him for his service as a nurse and a veteran.
Love, Laughter, and 75 Years Together: Gene and Virginia Nelson's Remarkable Anniversary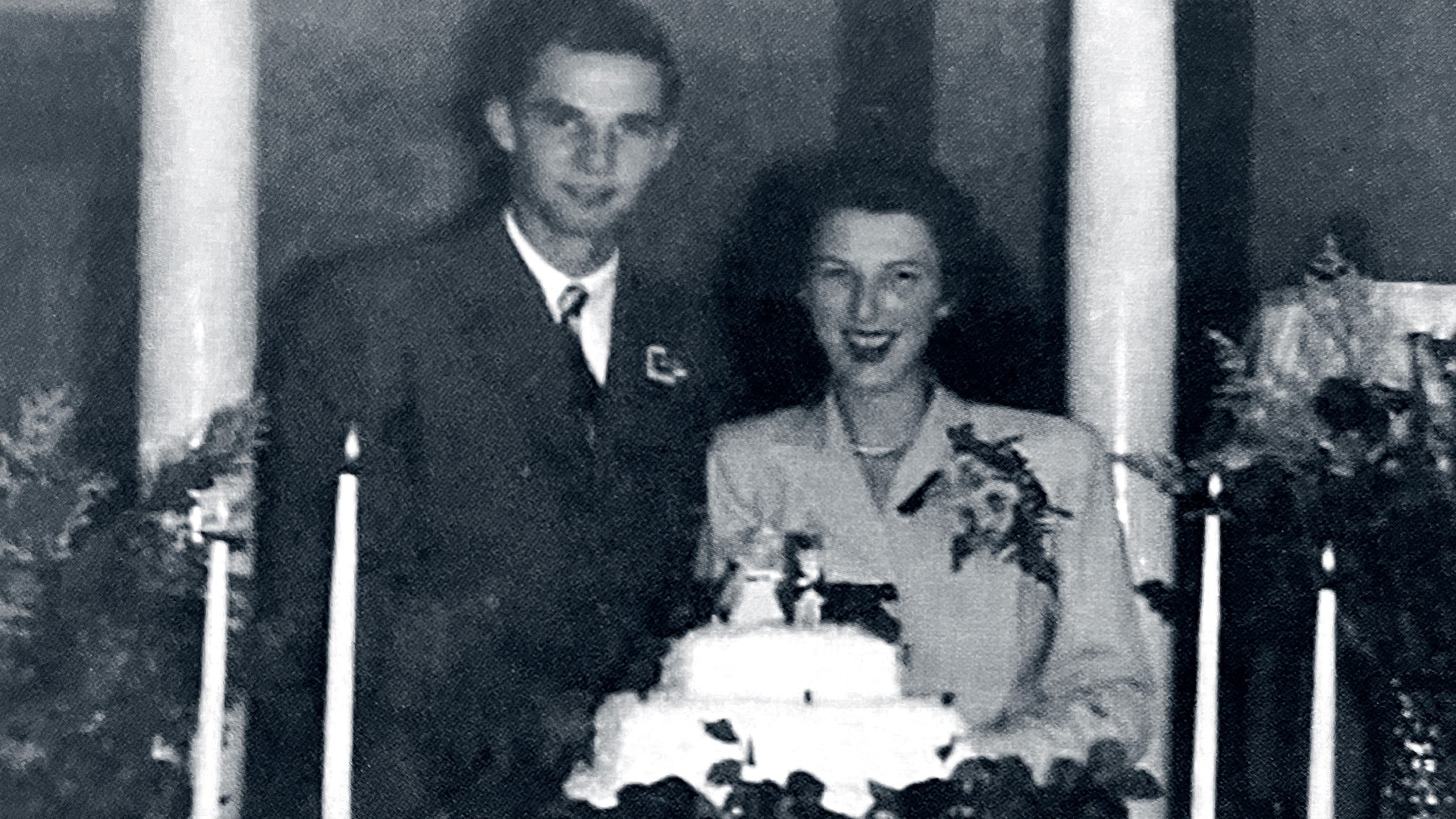 Gene and Virginia Nelson of Canby, Oregon, have a relationship that showcases love's enduring power. The couple recently celebrated an incredible 75 years of marriage, a milestone that very few can claim to have reached. When asked the secret to their lasting love, they attribute it to patience, trust, and a good sense of humor.
Gene, at 95, and Virginia, at 92, have seen a lifetime of changes and challenges, but their love has remained steadfast. When questioned about their enduring bond, Virginia simply replied, "We were just meant to be together!" Gene chimed in, "Have patience through the good times and the bad, try to be honest and faithful."
Their journey began 75 years ago on August 8 when they decided to elope from Brownsville, Oregon, in Linn County. They hopped on a bus to Reno and got married, a move that still brings a giggle to Virginia's lips as she recalls how they outfoxed their parents. At the time, Virginia was just 17, and Gene was 20, with Gene humorously adding, "I was 20 and five months, lacked 2 days, and she was 17 years and 25 days."
According to their grandson, Cody Westphal, their sharp minds are one of the reasons behind their enduring relationship. He said, "Just actively trying to exercise your mind is how it stays sharp."
The couple has three children and seven grandchildren, with the youngest being 29 years old. Gene recalled what made him know that Virginia was the one, saying, "She was a sweet girlfriend, and I hadn't found out any of her faults yet when we were young," which elicited laughter from both of them.
Judy, their daughter, expressed her pride in her parents' long-lasting love. She said, "It takes a lot to make it 75 years and not give up, and they never gave up."
Their sense of humor remains a cornerstone of their relationship, as Judy shared, "They both have a really good sense of humor." Gene and Virginia often engage in friendly banter, and even if they have disagreements during the day, they never go to bed angry.
The couple's thrifty nature is another shared trait. They still have the refrigerator they purchased right after their wedding from Sears Roebucks, and it's still in working condition. Just like their marriage, it has stood the test of time. Gene proudly mentioned, "Never had a service charge, and it's still working! We've always been thrifty."
Their light-hearted arguments, thrifty habits, and enduring love have earned them the nickname "the Bickersons" among family members. Cody noted, "Even if they fight all day, they don't go to bed angry. I think that's why they wake up the next day, and they're still the Bickersons!"
In the twilight of their lives, Gene and Virginia continue to cherish their partnership. As Gene put it, "We're in our waning days. I hope she outlives me because I don't want to outlive her." Their story is a heartwarming reminder that love, patience, and a good sense of humor can make a marriage truly timeless.