This Nurse Goes Above and Beyond When helping This Vet Celebrate Veterans Day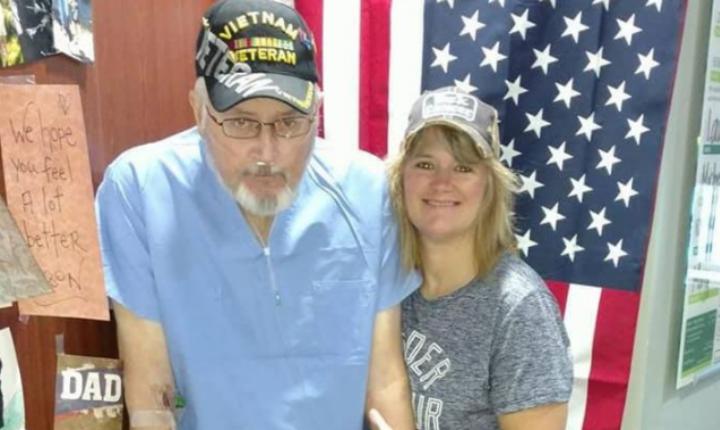 Veterans Day is a holiday to celebrate and honor veterans for their sacrifice to serve the nation. Most veterans and patriots look forward to this day because it is a chance to celebrate their commitment to the nation and the impact of their sacrifice. Michael Welsh is one of the many veterans that look forward to this special day. He was in the hospital getting treatment for liver cancer and probably thought that this day would not be a good one for him. All his changed when his nurse who had now become his friend said the words, 'Thank you for your service.'
Slowly Slipping Away
Michael Welsh began his chemotherapy treatment for cancer but he did not seem to be responding well to it. His daughter, Kim Johnson, was devastated to watch his father slowly slipping away and there is nothing she could do about it. She knew that her father's health was slowly deteriorating. On Veterans Day, she was saddened by the fact that no one seemed to care about a day that Michael Welsh considered his favorite. It looked like the day would end without much action for him.
His Service
Welsh served in the US Navy for a long time in the Vietnam War. He proudly wore a ball cap with the writing 'Vietnam Veteran.' It gave him a sense of pride and fulfillment. On Veteran's Day, he proudly put on his cap hoping that someone would notice it and express their gratitude for his service. Unfortunately, the day ended without anyone thanking him for his service. T looked like his favorite day of the year was ruined and that no one cared about it. He finally took the hat off as the day came to an end.
No Sign of Gratitude
After a long day of waiting for someone to thank him for his service came to an end, Johnson was feeling unhappy. He could not understand why no one seemed to care about this special day. He had taken his Vietnam Veteran hat off and given up. He did not know that things were about to change.
Adam Dobbrastine Visits
Adam Dobbrastine is a nurse in the emergency department of the hospital where Welsh was admitted. What Wels did not know is that Mr. Dobbrastine was an Army and Army National Guard Veteran. He decided to become a nurse after he and his wife lost their child to stillbirth. They had trouble dealing with the tragic news but a nurse gave them hope and helped them to cope with their situation. He hoped to help other patients in the same situation. On this day, he would be helping Welsh feel a lot better after a terrible Veterans Day.
Thank You For Your Service
Dobbrastine noticed the unique hat that Welsh had removed in a moment of feeling defeated. He knew that he must have been in the service. He took some time to speak to the 69-year old veteran about his personal interests including fishing and his time in the military. With this simple conversation, he managed to turn the otherwise terrible day into a memorable one for Welsh. He thanked him for his service and shared his own experiences about being in the military.
Welsh Passes Away
When Welsh called his daughter to tell her about how happy he was to have had that conversation with nurse Dobbrastine, she brought his American flag to the hospital. Sadly, Welsh passed away on November 26. Johnson gave the flag to Dobbrastine as a way to thank him for his service as a nurse and a veteran.
Handicapped Puppy Befriends Flightless Pigeon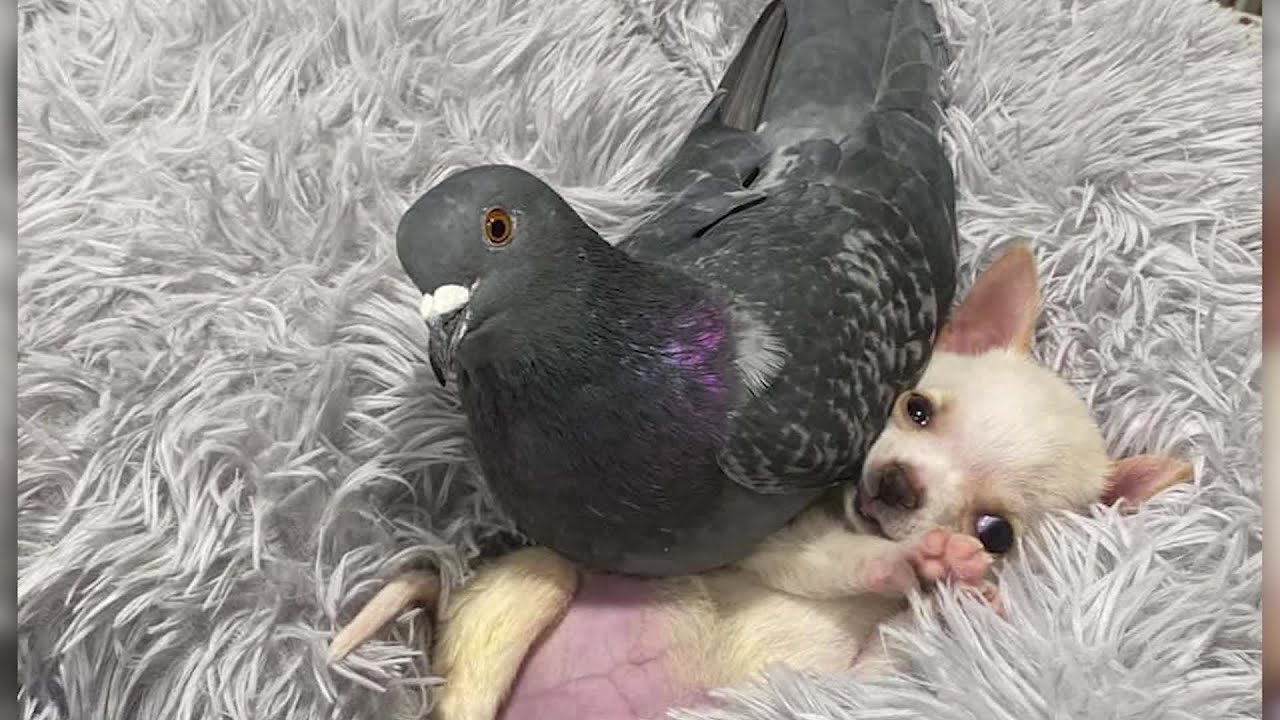 In Rochester, NY, Sue Rogers runs a non-profit called the Mia Foundation. The rescue organization rescues and rehabilitates animals who have birth defects or deformities and tries to find them a loving home. About a year ago, a pigeon was found unable to move in the parking lot of a car dealership. The pigeon was huddled and cowering on the ground. When a local wildlife rescue was called, they said the bird had neurological damage that caused him not to be able to fly. They thought that euthanization would be the best option for him.
Sue was having none of that. She stepped in and took the bird, who she named Herman, under her wing, so to speak. She made space for him in her shelter and kept him close where she could keep an eye on him. He liked to sit on a furry dog pillow and watch her work.
A couple months ago, a tiny Chihuahua was brought to the Mia Foundation. He was an infant, maybe a few months old, when his South Carolina breeders sent him to Sue. He's a teacup sized Chihuahua they named Little Lundy and he was born with spinal cord damage. Sue also determined that he was suffering from swimmers syndrome. Swimmers syndrome is a developmental deformity that causes the front and hind legs to be splayed out. This makes it almost impossible for Little Lundy to walk.
Although swimmers syndrome is thought to be untreatable, according to a few studies and an article in a veterinary journal, it can be treatable. With some physical therapy and at-home treatment, Little Lundy could live a long and happy life, which is exactly what Sue plans for him.
When Little Lundy arrived at the Mia Foundation he decided to get acquainted with his new surroundings and the other animals at the shelter. One particular encounter, created a friendship that has gone viral. Herman and Little Lundy, a puppy and a pigeon, are the unlikeliest of friends, but they have a lot in common. They both have trouble walking, or flying in Hermans case, and they were living in the same place. You could say, they were in the right place at the right time to become instant friends.
In the six weeks they have been together, Herman and Little Lundy have become inseparable. They do everything together, which is a lot of sleeping and snuggling. Mostly, with Herman sitting on top of Little Lundy, which doesn't bother him in the slightest. This friendship was so out of the ordinary that Sue had to document it. The viral sensation of the puppy and pigeon has brought attention to the Mia Foundation that was much needed. The rescue organization runs solely on donations to help cover the costs of taking care of the animals and for needed surgeries. So far, about $6000 was donated because of this unlikely friendship and over 100 adoption inquiries. Hopefully when they are adopted, they are able to stay together.