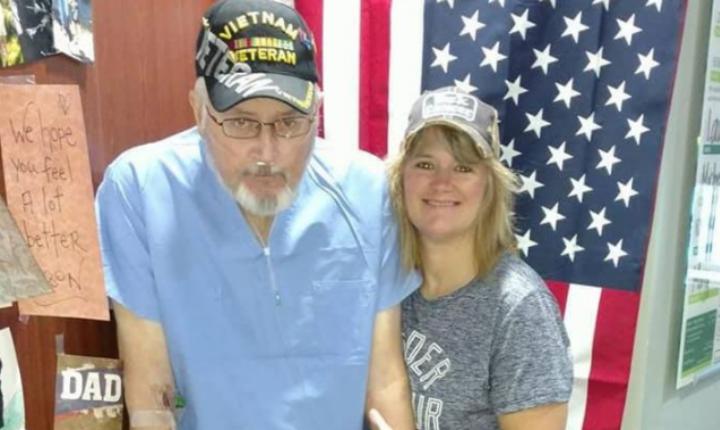 This Nurse Goes Above and Beyond When helping This Vet Celebrate Veterans Day
Veterans Day is a holiday to celebrate and honor veterans for their sacrifice to serve the nation. Most veterans and patriots look forward to this day because it is a chance to celebrate their commitment to the nation and the impact of their sacrifice. Michael Welsh is one of the many veterans that look forward to this special day. He was in the hospital getting treatment for liver cancer and probably thought that this day would not be a good one for him. All his changed when his nurse who had now become his friend said the words, 'Thank you for your service.'
Slowly Slipping Away
Michael Welsh began his chemotherapy treatment for cancer but he did not seem to be responding well to it. His daughter, Kim Johnson, was devastated to watch his father slowly slipping away and there is nothing she could do about it. She knew that her father's health was slowly deteriorating. On Veterans Day, she was saddened by the fact that no one seemed to care about a day that Michael Welsh considered his favorite. It looked like the day would end without much action for him.
His Service
Welsh served in the US Navy for a long time in the Vietnam War. He proudly wore a ball cap with the writing 'Vietnam Veteran.' It gave him a sense of pride and fulfillment. On Veteran's Day, he proudly put on his cap hoping that someone would notice it and express their gratitude for his service. Unfortunately, the day ended without anyone thanking him for his service. T looked like his favorite day of the year was ruined and that no one cared about it. He finally took the hat off as the day came to an end.
No Sign of Gratitude
After a long day of waiting for someone to thank him for his service came to an end, Johnson was feeling unhappy. He could not understand why no one seemed to care about this special day. He had taken his Vietnam Veteran hat off and given up. He did not know that things were about to change.
Adam Dobbrastine Visits
Adam Dobbrastine is a nurse in the emergency department of the hospital where Welsh was admitted. What Wels did not know is that Mr. Dobbrastine was an Army and Army National Guard Veteran. He decided to become a nurse after he and his wife lost their child to stillbirth. They had trouble dealing with the tragic news but a nurse gave them hope and helped them to cope with their situation. He hoped to help other patients in the same situation. On this day, he would be helping Welsh feel a lot better after a terrible Veterans Day.
Thank You For Your Service
Dobbrastine noticed the unique hat that Welsh had removed in a moment of feeling defeated. He knew that he must have been in the service. He took some time to speak to the 69-year old veteran about his personal interests including fishing and his time in the military. With this simple conversation, he managed to turn the otherwise terrible day into a memorable one for Welsh. He thanked him for his service and shared his own experiences about being in the military.
Welsh Passes Away
When Welsh called his daughter to tell her about how happy he was to have had that conversation with nurse Dobbrastine, she brought his American flag to the hospital. Sadly, Welsh passed away on November 26. Johnson gave the flag to Dobbrastine as a way to thank him for his service as a nurse and a veteran.
Father in Bumblebee costume escorts his kid back to school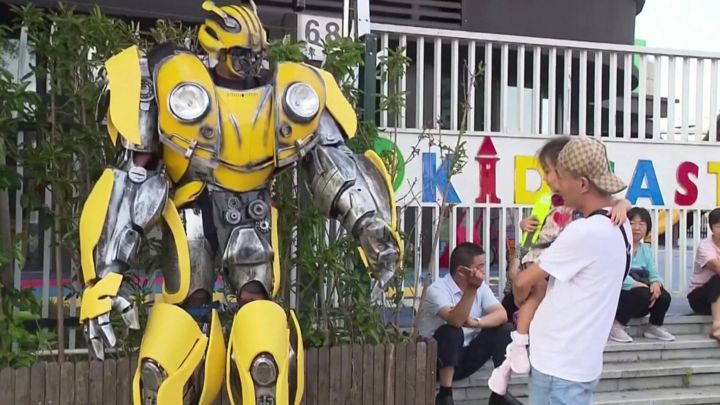 Bumblebee from the American sci-fi movie series Transformers never had a kid, but if he did, he'd have definitely escorted him to school.
A father in Shanghai, China has gone above and beyond to encourage his kid to go back to school after staying at home for months due to the Covid-19 pandemic. There's no way any child is refusing to walk with Bumblebee into school, and this man had that in mind when building his Autobot suit.
Just like the rest of the world, China had been on lockdown, and for months, kids had to stay away from school to prevent infection and spread of the deadly virus. However, some normalcy is being restored in some parts of the region, and schools now have the green light to open and allow children continue with their education.
The Bumblebee suit wasn't only for his kid, though. He built it to serve as some amusement and surprise to other kids at school- and that he did.
"I also want to bring happiness to other children. I didn't only wear it for my own child. All of them were preschoolers," he said in the video.
His suit looks like the real thing. The only things missing were metal, alien technology, and missiles- not much, right? Standing about 2.3-metre tall, the suit was built using soft materials to prevent touchy and curious children from getting injured- and he was right to have done that because he was rushed and hugged by children upon arrival at the school.
The excitement of the kids at the sight of Bumblebee could light up astronomical units of outer space, as the intergalactic warrior once again put smiles on the faces of humans. Kudos to this amazing dad for his efforts to make kids happy to resume back to school- he'd probably do it every day if he could.
The home-made suit seems to be inspired by the 2017 movie Bumblebee.