This Couple Had a Tangled Themed Wedding and It's Awesome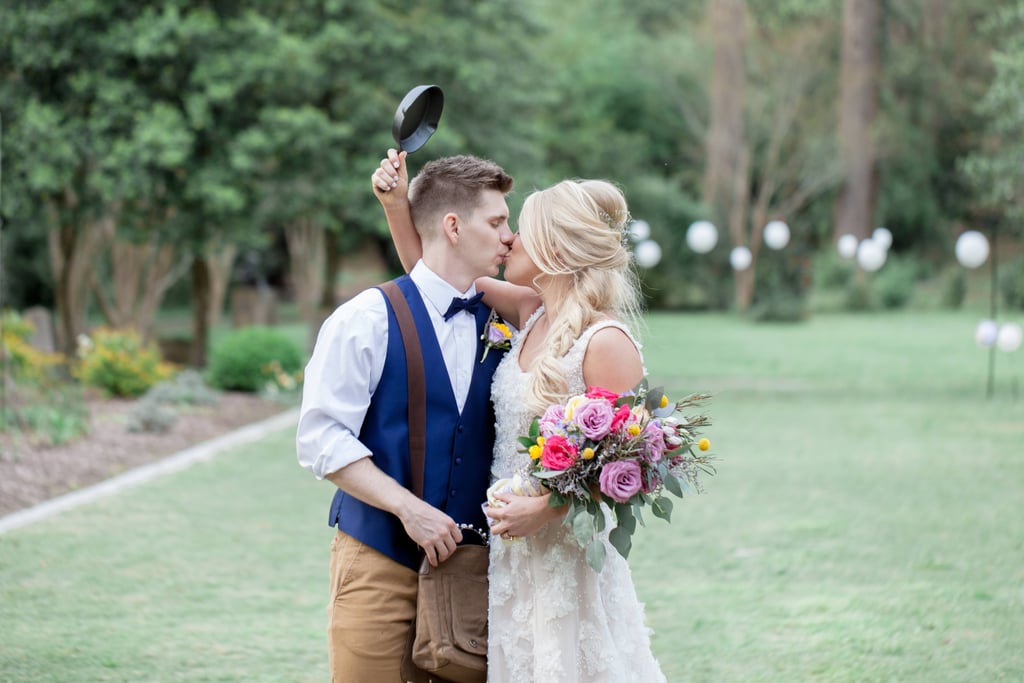 And then they saw the light and they had a happily ever after wedding.
Tangled came into the hearts of children of all ages in 2010. Since then, the fairty tale love story of Flynn Rider and Rapunzel has inspired young and old alike to follow their dreams. Some have even had themed weddings based on their love. Like photographer Jennifer Roach, who was inspired by the movie and held a photo shoot to prove it.
The wedding shoot was held in Atlanta, Georgia in the Cator Woolford Gardens at the Frazer Center. The gardens were a perfect venue for this shoot because it speaks to the outdoorsy nature of Rapunzel. String lights were hung up with purple banners emblazoned with the Corona Sun Crest. You can see this crest in other places throughout the venue as well, like the paper lanterns and the wedding cake. Flowers and lanterns hung from the trees that made everything seem magical. To add some sparkle, small, crystal chandeliers and shimmery lights were also found to be hanging from the trees, gazebo, and even on the benches.
The bride wore a lace, floral white gown and had her hair in a fishtail braid. Her bouquet was vibrant with colors, sticking to the theme with pinks, purples, and yellows. The groom wore a white button down shirt with a blue vest on top and brown pants. There was so much attention to detail, even the tiniest, thing, like the bride having a small frying pan to hold over her now husbands head for pictures. Even the wedding invitations and dinner menu were filled with detail. They had a pink and purple watercolor background with Rapunzels tower painted in the corner. Instead of traditional Mr. and Mrs. signs for the backs of the chairs at the head table, they had handpainted signs that read "you are my new dream" "and you are mine," respectively. The cake could have easily been the star of the show. It was a white three-tiered cake with yellow fondant braids seperating each tier and purple flowers cascading down one side. To top it all off, the cake topper was a cut out of Flynn Rider and Rapunzel sitting in a canoe holding hands.
Fairytales are always the inspiration of little girls fantasies and sometimes it can be turned into reality like in this wedding shoot. More and more photographers and wedding planners have been using Disney fairytales as inspiration for their weddings and bringing them to life for their couples to enjoy a magical day. Adding a touch of something that is genuine and unique to the couple, makes the wedding a little more special, like a favorite quote or even a hidden mickey. Using the couples favorite Disney movie makes it personal for the couple and makes the bride truly feel like a princess. With flowers, plenty of color, and lanterns everywhere, this wedding would have made Flynn and Rapunzel proud.
Giant Seal is Beached and Then has a Baby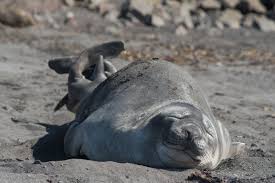 The exact moment when a mother sees her newborn baby for the first time is one of the most amazing sights in the world. The utter disbelief and joy on her face in combination with wonderment is one of the finest moments in any woman's life. It is the same feeling that animals have when they give birth and the look on their faces when they first see their babies is as equally magical.
Recently a tourist spotted a large female seal on the beach. She appeared to be in great pain because of the manner in which she was writhing around. The tourist shot a video of the seal. A few minutes later, the elephant seal appeared to have a spot beneath her tail. After some hard pushing, her calf was born. She quickly turned around and inspected her new baby to make certain that it was okay.
Elephant Seal Interesting Facts
Giant seals or elephant seals are the largest seals in the world. There are two types: the Northern elephant seal and the Southern elephant seal. The northern species are found in the coastal waters near Canada and Mexico and the southern species are found off the coast of South Africa, Argentina and New Zealand.
The adult bull or male seal has a proboscis that appears much like the trunk of an elephant, making it easy to distinguish males from females at a glance. The males roar through this appendage during the mating season to attract females. They also use it to fight with other males in order to win battles and claim females as their own.
The average adult southern male can weigh up to 6,600 pounds and reach a length of 16 feet in total. The female adults weigh about 2,000 pounds and measure around 10 feet long. Elephant seals may be light brown, dark brown, gray or rust colored.
Southern elephant seals can live to reach 22 years old and the northern species life span is only about 9 years.
Elephant Seal Reproduction
Elephant seals return to the coast for their breeding grounds in the winter. Female giant seals reach maturity between 3 and 6 years old and males mature slower between 5 and 6 years. Males battle each other to gain the alpha status that allows them to mate with the females. A male will mate with 30 to 100 females. A bit over 50 percent of first time breeding seals fail to produce a pup. A female elephant seal has one pup per year and the gestation period is 11 months. So, when females arrive at the breeding grounds in the winter, they are already pregnant. Females don't eat while nursing their pups for the first month of its life.
Don't Get Too Close to Wildlife
If you ever spot an animal of any kind that appears to be hurt, it's best not to get too close to them. In 2000, Homer, an elephant male seal terrorized Gisborne, a town in New Zealand. He attacked trash bins, cars, boat trailers, a tree and a power transformer in a rage. It isn't known what made him so mad, but it's best to keep your distance from all wildlife—thus the term of wild and life.