This Couple Had a Tangled Themed Wedding and It's Awesome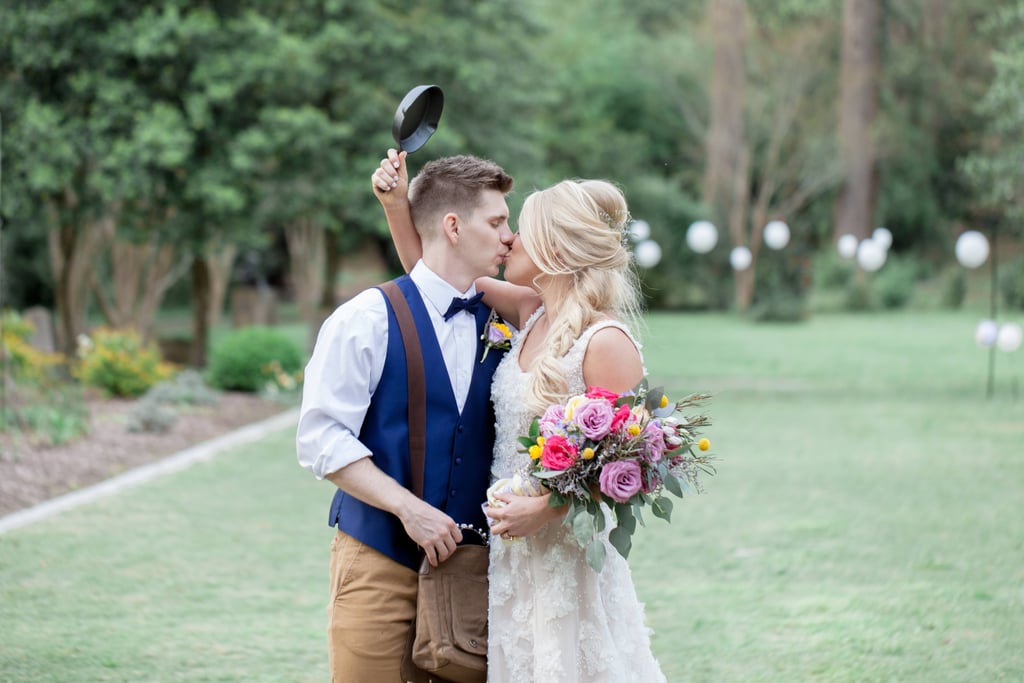 And then they saw the light and they had a happily ever after wedding.
Tangled came into the hearts of children of all ages in 2010. Since then, the fairty tale love story of Flynn Rider and Rapunzel has inspired young and old alike to follow their dreams. Some have even had themed weddings based on their love. Like photographer Jennifer Roach, who was inspired by the movie and held a photo shoot to prove it.
The wedding shoot was held in Atlanta, Georgia in the Cator Woolford Gardens at the Frazer Center. The gardens were a perfect venue for this shoot because it speaks to the outdoorsy nature of Rapunzel. String lights were hung up with purple banners emblazoned with the Corona Sun Crest. You can see this crest in other places throughout the venue as well, like the paper lanterns and the wedding cake. Flowers and lanterns hung from the trees that made everything seem magical. To add some sparkle, small, crystal chandeliers and shimmery lights were also found to be hanging from the trees, gazebo, and even on the benches.
The bride wore a lace, floral white gown and had her hair in a fishtail braid. Her bouquet was vibrant with colors, sticking to the theme with pinks, purples, and yellows. The groom wore a white button down shirt with a blue vest on top and brown pants. There was so much attention to detail, even the tiniest, thing, like the bride having a small frying pan to hold over her now husbands head for pictures. Even the wedding invitations and dinner menu were filled with detail. They had a pink and purple watercolor background with Rapunzels tower painted in the corner. Instead of traditional Mr. and Mrs. signs for the backs of the chairs at the head table, they had handpainted signs that read "you are my new dream" "and you are mine," respectively. The cake could have easily been the star of the show. It was a white three-tiered cake with yellow fondant braids seperating each tier and purple flowers cascading down one side. To top it all off, the cake topper was a cut out of Flynn Rider and Rapunzel sitting in a canoe holding hands.
Fairytales are always the inspiration of little girls fantasies and sometimes it can be turned into reality like in this wedding shoot. More and more photographers and wedding planners have been using Disney fairytales as inspiration for their weddings and bringing them to life for their couples to enjoy a magical day. Adding a touch of something that is genuine and unique to the couple, makes the wedding a little more special, like a favorite quote or even a hidden mickey. Using the couples favorite Disney movie makes it personal for the couple and makes the bride truly feel like a princess. With flowers, plenty of color, and lanterns everywhere, this wedding would have made Flynn and Rapunzel proud.
Elderly Strangers Fall in Love During Flight, You Won't Believe What Happens Next!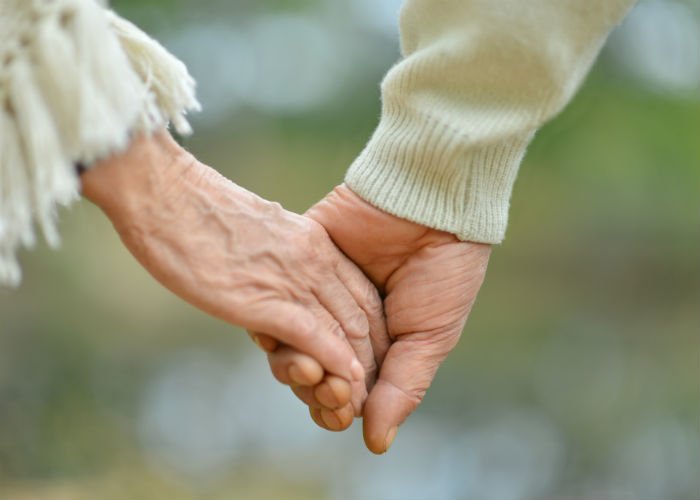 We owe it to ourselves to travel the world. After all, you will never know what's out there waiting for you unless you go to look. Just a few weeks ago, an airline ticket agent experienced the wonders of travel firsthand. Under the username @vvuxian, Twitter users were regaled by a heartwarming story of love found in the air between two elderly strangers. @vvuxian shared the entire story on Twitter through a series of tweets that culminated in what we can only describe as a true Hollywood ending — only in real life!
The story starts with @vvuxian working at an airline counter, just like any other day. As an airline ticket employee, @vvuxian was ready to assist customers as they came to her desk with questions regarding their flight. An elderly lady in her 70s approached @vvuxian with a seemingly strange request. The unnamed woman, who had just arrived on a flight from Canada, was seemingly looking for a stranger. The elderly woman asked @vvuxian if anyone arriving from Spain had been looking for her because the two were supposed to be meeting up. As an airline employee, @vvuxian knew that she couldn't share private information about other passengers.
The elderly woman accepted the rules laid out by @vvuxian, albeit looking sad in the process. Curious to find out what happened, @vvuxian asked for more information. The woman explained that she had met a stranger on her flight from Canada and that the two had fallen in love during their 11-hour flight. Unfortunately, they had to separate on connecting flights from Spain, but they had made a deal to meet up with one another when they reached their final destination. Unfortunately, the stranger had never shown up. What once looked like a Hollywood romance was quickly turning into a sad tale of reality. Was there nothing that could be done?
Unfortunately, @vvuxian knew that she couldn't help the woman, but she wished her well all the same. After the woman explained that she couldn't reach the stranger by telephone, all seemed to be lost. @vvuxian took down the passenger's phone number and promised to call her if anybody showed up. The woman left the ticket counter and @vvuxian probably assumed that this was the end of the story. We all know that this wasn't the case.
An hour later, during her lunch break, @vvuxian heard a co-worker talking to another elderly woman. The stranger at the counter was explaining that she was supposed to meet a friend but that she couldn't get ahold of her. The woman explained that she had met a stranger on a flight but that they had been separated during their connecting flights. This was her! This was the second lost lover! According to @vvuxian, she basically threw her sandwich in order to run to the front desk. Our heroic airline ticket agent quizzed the new stranger with questions, asking her if she had just come from Spain and was she looking for a certain person? The stranger nods and nods again. This was it!
Deciding to risk it all, @vvuxian calls the phone number that had been left by the earlier visitor. Within minutes the second woman appears at the counter, basically at a sprint! The two collapse into a loving embrace before showering @vvuxian in the thanks. Happy just to have helped, @vvuxian wishes them well while nearly tearing up from happiness herself. A little while later the two elderly lovers return with a thank-you gift, a collection of delicious chocolates. Now, who says that real life can't be like the movies?