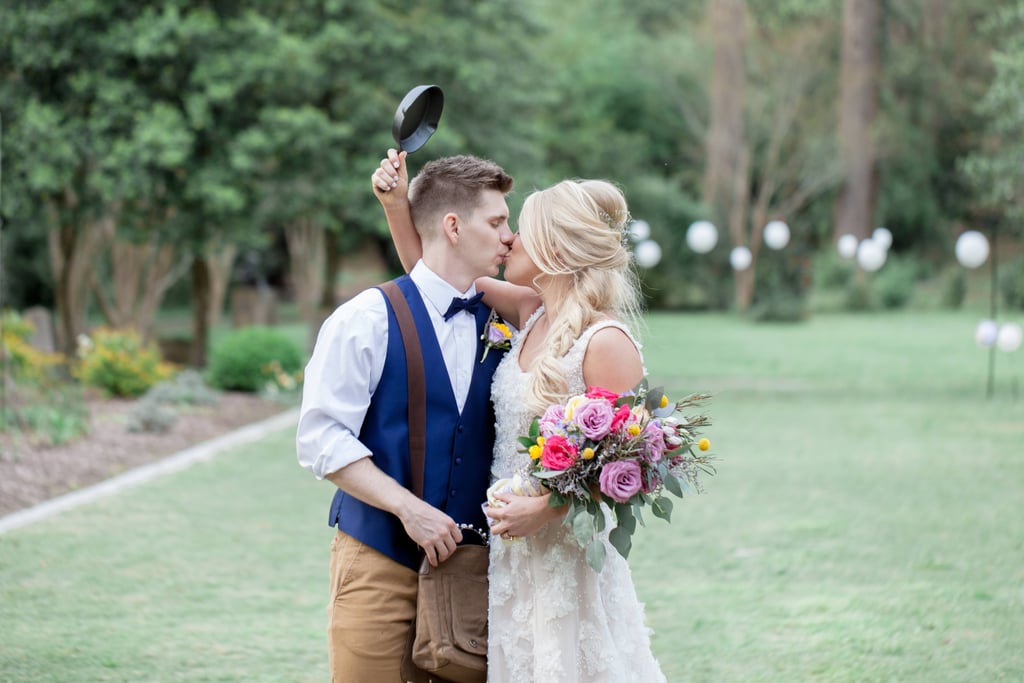 This Couple Had a Tangled Themed Wedding and It's Awesome
And then they saw the light and they had a happily ever after wedding.
Tangled came into the hearts of children of all ages in 2010. Since then, the fairty tale love story of Flynn Rider and Rapunzel has inspired young and old alike to follow their dreams. Some have even had themed weddings based on their love. Like photographer Jennifer Roach, who was inspired by the movie and held a photo shoot to prove it.
The wedding shoot was held in Atlanta, Georgia in the Cator Woolford Gardens at the Frazer Center. The gardens were a perfect venue for this shoot because it speaks to the outdoorsy nature of Rapunzel. String lights were hung up with purple banners emblazoned with the Corona Sun Crest. You can see this crest in other places throughout the venue as well, like the paper lanterns and the wedding cake. Flowers and lanterns hung from the trees that made everything seem magical. To add some sparkle, small, crystal chandeliers and shimmery lights were also found to be hanging from the trees, gazebo, and even on the benches.
The bride wore a lace, floral white gown and had her hair in a fishtail braid. Her bouquet was vibrant with colors, sticking to the theme with pinks, purples, and yellows. The groom wore a white button down shirt with a blue vest on top and brown pants. There was so much attention to detail, even the tiniest, thing, like the bride having a small frying pan to hold over her now husbands head for pictures. Even the wedding invitations and dinner menu were filled with detail. They had a pink and purple watercolor background with Rapunzels tower painted in the corner. Instead of traditional Mr. and Mrs. signs for the backs of the chairs at the head table, they had handpainted signs that read "you are my new dream" "and you are mine," respectively. The cake could have easily been the star of the show. It was a white three-tiered cake with yellow fondant braids seperating each tier and purple flowers cascading down one side. To top it all off, the cake topper was a cut out of Flynn Rider and Rapunzel sitting in a canoe holding hands.
Fairytales are always the inspiration of little girls fantasies and sometimes it can be turned into reality like in this wedding shoot. More and more photographers and wedding planners have been using Disney fairytales as inspiration for their weddings and bringing them to life for their couples to enjoy a magical day. Adding a touch of something that is genuine and unique to the couple, makes the wedding a little more special, like a favorite quote or even a hidden mickey. Using the couples favorite Disney movie makes it personal for the couple and makes the bride truly feel like a princess. With flowers, plenty of color, and lanterns everywhere, this wedding would have made Flynn and Rapunzel proud.
Jacksonville Man Spreads Love and Positivity at the Beach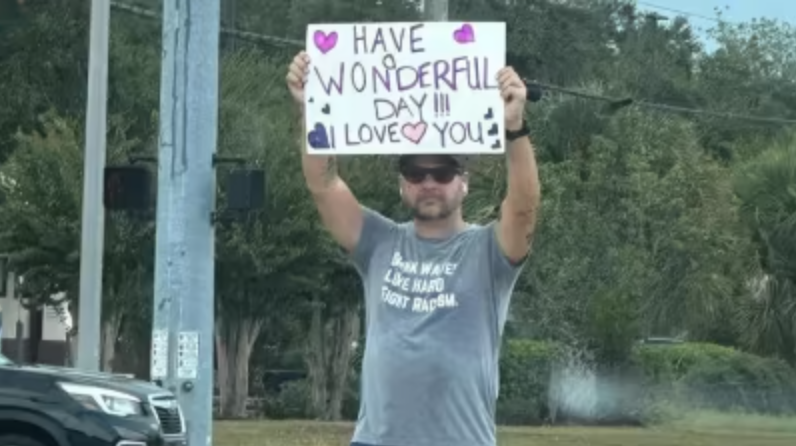 In Jacksonville, Florida, a man has been making waves of positivity and spreading kindness at the Beach Boulevard and San Pablo Road South intersection. With handmade signs that read, "Have a wonderful Day!! I Love You" and "You are Relevant," this man is on a mission to uplift the spirits of those who pass by. His heartwarming gestures have not gone unnoticed, and his actions are especially poignant during National Suicide Prevention Month.
Rika, a local resident, had a unique encounter with this compassionate individual. She was on her way to pick up her lunch when she saw a man standing in the median of the road, holding these uplifting signs. Most of us would just glance and continue on our way, but Rika decided to take a closer look. As she stopped at a red light, she took a few pictures to capture the moment. To her surprise, the man approached her car and handed her a sunflower.
"So picture this… you're out going to pick up your lunch, and there's this random guy walking by with a handmade sign," Rika recounted. "I'm sure like most of us, we'd glance and keep it moving, but I decided to read his sign since I was at a stop light. I snapped a few pictures because why not, but as I was doing this, he approached my car door to hand me a sunflower! Don't forget to appreciate the small things."
This simple act of kindness had a profound impact on Rika, as it has on many others who have encountered this man and his signs. His message of love and importance reminds us all to appreciate the small joys in life and to acknowledge our worth.
The man's efforts are not just a random act of kindness; they hold special significance during National Suicide Prevention Month. September is a time when people and organizations across the country work to raise awareness about mental health and suicide prevention. This Jacksonville man's compassionate actions align perfectly with the spirit of this month, as he strives to remind people that they matter and that there is goodness in the world.