This Couple Had a Tangled Themed Wedding and It's Awesome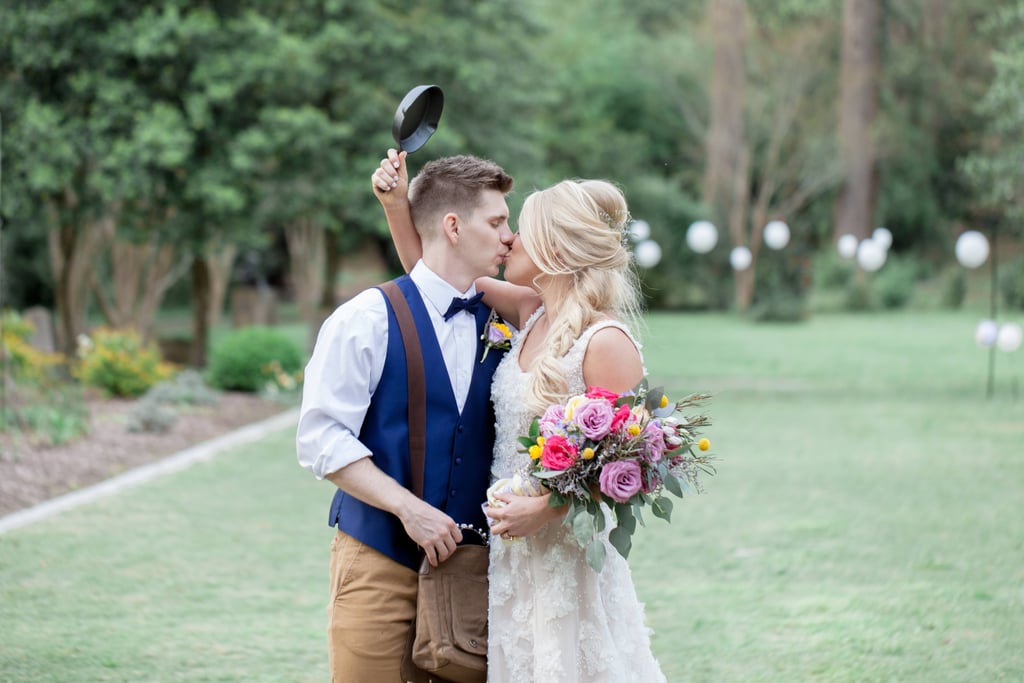 And then they saw the light and they had a happily ever after wedding.
Tangled came into the hearts of children of all ages in 2010. Since then, the fairty tale love story of Flynn Rider and Rapunzel has inspired young and old alike to follow their dreams. Some have even had themed weddings based on their love. Like photographer Jennifer Roach, who was inspired by the movie and held a photo shoot to prove it.
The wedding shoot was held in Atlanta, Georgia in the Cator Woolford Gardens at the Frazer Center. The gardens were a perfect venue for this shoot because it speaks to the outdoorsy nature of Rapunzel. String lights were hung up with purple banners emblazoned with the Corona Sun Crest. You can see this crest in other places throughout the venue as well, like the paper lanterns and the wedding cake. Flowers and lanterns hung from the trees that made everything seem magical. To add some sparkle, small, crystal chandeliers and shimmery lights were also found to be hanging from the trees, gazebo, and even on the benches.
The bride wore a lace, floral white gown and had her hair in a fishtail braid. Her bouquet was vibrant with colors, sticking to the theme with pinks, purples, and yellows. The groom wore a white button down shirt with a blue vest on top and brown pants. There was so much attention to detail, even the tiniest, thing, like the bride having a small frying pan to hold over her now husbands head for pictures. Even the wedding invitations and dinner menu were filled with detail. They had a pink and purple watercolor background with Rapunzels tower painted in the corner. Instead of traditional Mr. and Mrs. signs for the backs of the chairs at the head table, they had handpainted signs that read "you are my new dream" "and you are mine," respectively. The cake could have easily been the star of the show. It was a white three-tiered cake with yellow fondant braids seperating each tier and purple flowers cascading down one side. To top it all off, the cake topper was a cut out of Flynn Rider and Rapunzel sitting in a canoe holding hands.
Fairytales are always the inspiration of little girls fantasies and sometimes it can be turned into reality like in this wedding shoot. More and more photographers and wedding planners have been using Disney fairytales as inspiration for their weddings and bringing them to life for their couples to enjoy a magical day. Adding a touch of something that is genuine and unique to the couple, makes the wedding a little more special, like a favorite quote or even a hidden mickey. Using the couples favorite Disney movie makes it personal for the couple and makes the bride truly feel like a princess. With flowers, plenty of color, and lanterns everywhere, this wedding would have made Flynn and Rapunzel proud.
These Hermit Crabs Will Blow Your Mind With Stunning Natural Ritual.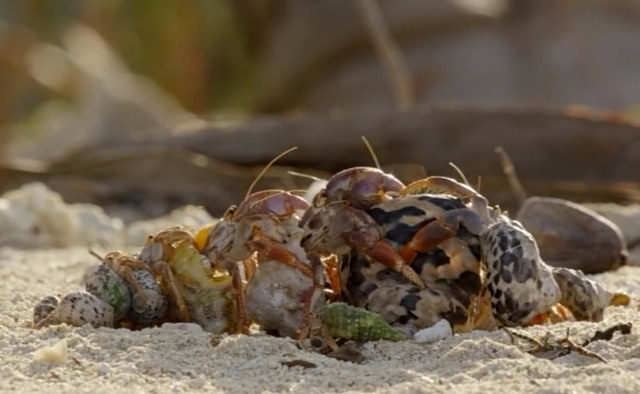 If you are like most people then you are likely fascinated with the ocean and all the creatures inside it. While we can talk forever about massive whales, scuttling squids, and scary sharks, we'd rather highlight a cute little crustacean known as the hermit crab. Now, you've likely heard of the hermit crab and, perhaps, you even know what it looks like. As a member of the superfamily known as the Paguroidea, hermit crabs manage to stand out all on their own. In fact, after learning about this natural ritual that hermit crabs complete, you might even want one of your own!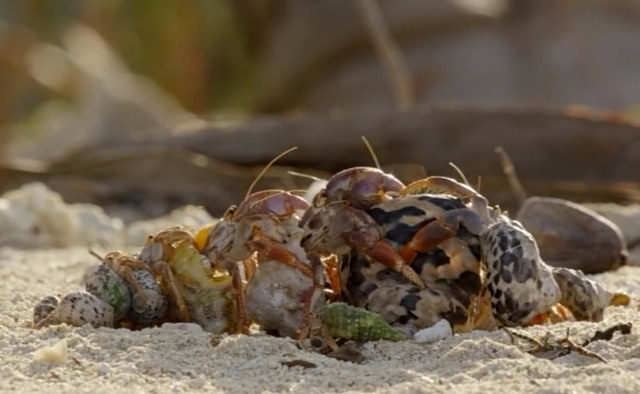 In a post shared on Facebook by a user named Melody Flowers, it was revealed that hermit crabs are always looking for bigger shells to live in. While you probably knew this already, what you didn't realize about this ritual is far more fascinating. According to the post, which has since been backed up by other scientific journals, hermit crabs like to line up next to shells that happen to be too big for them. Hermit crabs can wait for up to eight hours for another crab to come along and try the shell out. Why do these crabs wait next to shells that are too large for them? As it turns out, the first hermit crab is simply waiting for the second crab in line to discard its shell.
So we outlined a natural ritual that hermit crabs undertake when finding a new home. Why is this so fascinating? While you may have summoned up an image of two hermit crabs swapping shells, that isn't entirely accurate. As the second crab lines up behind the shell, more will come to follow. Before long, observers would be able to watch as dozens of hermit crabs all trade shells with one another to ensure that everyone has a comfortable home to live in. The smallest shell of the bunch gets left behind while the shell that started the queue will go to the largest hermit crab of the lot. That's pretty amazing, isn't it? The coordination and cooperation that these hermit crabs have to deploy is nothing short of impressive. If only humans could get along so well when it comes to making to sure everyone is comfortable and safe within their home.
Even though hermit crabs will work together in order to find homes, they are still a competitive species. Gastropod shells can become a limited resource due to a variety of natural and unnatural factors, such as climate change and pollution. When hermit crabs are of a similar size, they are more competitive and violent with one another. When hermit crabs vary dramatically in size, there are more resources available for every member of the group. Hermit crabs are a fascinating sort of creature because they can come in varying sizes with a lifespan ranging between 12 and 70 years. The next time that you see a hermit crab, make sure it has the perfect shell to call home. Maybe it will remember you a couple of decades later!