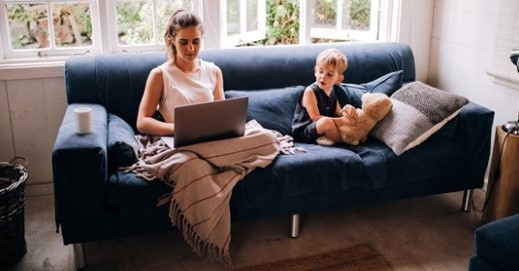 The Title Is WORK At Home Mom, Got That?
The prevailing vision of the work at home mom is a woman with fuzzy slippers, pajamas, no makeup, with cup of steaming coffee in hand. The reality is that she does indeed have coffee in one hand, but she has a phone to her ear talking to the home office or a client. It's frustrating. What park of "work" don't people understand? These are five things every working mom wants their families to know about working at home.
1. It's Called WORK At Home
By the year 2028, Upwork tells us that 73 percent of companies will use remote workers. Okay, Mom gets a full pot of coffee and even time to drink it. What she also gets is phone calls "wondering" if she can get that proposal out a day earlier and the boss breathing down her neck for the P&L spreadsheet he needs to show the CFO. It's the same as if she were in the office.
2. Take Your Child To Work Day
Many offices offer this day for kids to see what Mommy does at the office. They help to file, pass Mom something from the In tray, or put someone on Hold until Mom can answer the phone. They suddenly understand why "it's 5:00 somewhere" has a special meaning to Mom.
When Mom works at home, she has to break up fights, feed the kids breakfast and lunch, throw messy clothes in the wash, and yell a lot. When she gets any work done, it's sometimes wrong and takes twice the time to get it done right.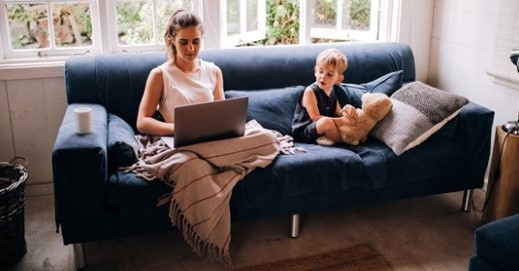 3. We Don't Socialize At Work
We all have that one friend who calls and texts every five minutes to make sure we don't miss their wonderfulness. We don't call you at your office to yak every five minutes. Please show us the same courtesy.
We've all seen the clerk at the pharmacy, the dollar store, or the gas station laughing over something on Facebook. We wait until they turn their frowning attention to us. While social media can be a great way to market one's business, it's a totally different thing when it puts customers in second place. We have a boss to satisfy, so asking us to put him second would cost us our jobs.
4. Work At Home Doesn't Mean Housework
Yes, while Mom is getting coffee, she can toss a couple dishes in the dishwasher. Okay, on the way to the bathroom, Mom can pick up shoes, clothes, and toys to put in someone's room. While it usually takes Mom a couple hours to clean the house, she can't do that at the same time she's taking a meeting on the phone.
What Moms want their families to understand is that the housework will still be there at 5:00. Moms working in offices use their early evening hours to clean, so why should it be any different when Mom works at home? Asking her to do the housework in between projects or phone calls is too much. Give us a break, guys.
5. Fresh Air Is Important
There's a reason people explode out of doors at noon and quitting time. We have to get away from the same four walls day in and day out. When we can, we walk somewhere close for lunch, walk to the post office or the bank for our job, and we walk to the parking area after work. Work at home Moms need to get out more than just checking the mailbox. Getting outdoors for us clears the mind, and the fresh air and sun benefits our health.
Politics Are Never an Empty Field – Barbie Runs for Office in 2020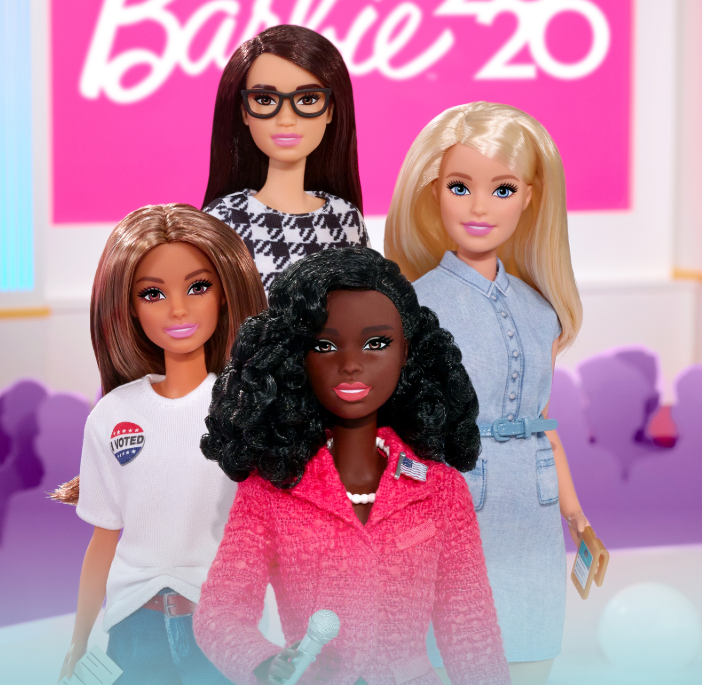 The classic American doll, Barbie, has performed, been portrayed in, or taken over just about every professional function in society. So, it's no surprise that given the real themes in 2020 that Barbie would also decide to go into politics. Art imitating life it may be, but Barbie is likely to represent a serious contender against even the most seasoned politicians, that is if her fans were old enough to vote.
2020 is not the first time Barbie has entered politics. Believe it or not, her first foray into elections was some 28 years ago in 1992 when she tried to run for President. However, the toy doll was a bit of an independent at the time and didn't get a lot of recognition on her own. Today, things are different. Not only is Barbie a 2020 candidate, she also has in place a solid professional election team on her side as well. Along with her are a handful of cool, savvy and with the times staffers and election strategists. The early polls are already showing Walmart and Target segments are responding, carrying her entire campaign team on the shelves and selling them as a combined unit.
Examined up close and interested electorate fans will find Barbie's campaign manager as a key strategist, her campaign fundraiser to keep things paid and moving, and even a Barbie voter. Of course, her fans can add votes too. The entire team is set to hit the prime time. Barbie herself is positioned to show herself as a leader ready to hit the ground running, complete in business suit and with her telecom assortment of communication tools. And, let's not forget, every business jacket should have an American flag lapel pin too.
Her campaign manager is decked out in a professional ensemble as well, ready to manage the stage as well as cue to the poll analysts and computer graphics behind the scenes to support her candidate. And Barbie's fundraiser is hitting the road in blue denim and comfortable style, driving miles and miles to bring in the donors.
The key message from Barbie, however, is to prime young girls for politics. Girls and women can not only have their part in campaigns, they can be the lead candidate as well. And the idea of a real woman President is no figment of the imagination. While Barbie is, after all, just a toy, the reality of a woman President is very likely in the next two elections if not the third. In fact, the U.S. is behind the curve in this respect, as many countries around the world have already had women leaders and many still do. When that happens, given elections happen every four years, the next candidate in 20 years may have well be a young girl who had Barbie as her own special election candidate.
In the meantime, Barbie and her campaign team let girls practice for the future now, complete with all the accessories and campaign road style needed to win the big ticket.