The Title Is WORK At Home Mom, Got That?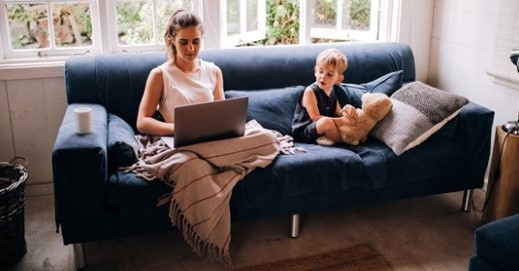 The prevailing vision of the work at home mom is a woman with fuzzy slippers, pajamas, no makeup, with cup of steaming coffee in hand. The reality is that she does indeed have coffee in one hand, but she has a phone to her ear talking to the home office or a client. It's frustrating. What park of "work" don't people understand? These are five things every working mom wants their families to know about working at home.
1. It's Called WORK At Home
By the year 2028, Upwork tells us that 73 percent of companies will use remote workers. Okay, Mom gets a full pot of coffee and even time to drink it. What she also gets is phone calls "wondering" if she can get that proposal out a day earlier and the boss breathing down her neck for the P&L spreadsheet he needs to show the CFO. It's the same as if she were in the office.
2. Take Your Child To Work Day
Many offices offer this day for kids to see what Mommy does at the office. They help to file, pass Mom something from the In tray, or put someone on Hold until Mom can answer the phone. They suddenly understand why "it's 5:00 somewhere" has a special meaning to Mom.
When Mom works at home, she has to break up fights, feed the kids breakfast and lunch, throw messy clothes in the wash, and yell a lot. When she gets any work done, it's sometimes wrong and takes twice the time to get it done right.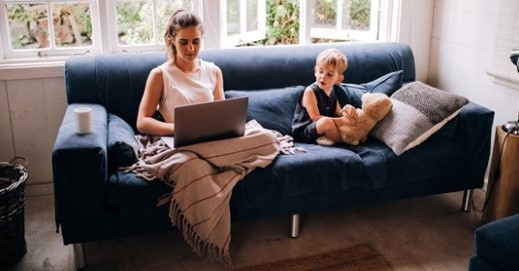 3. We Don't Socialize At Work
We all have that one friend who calls and texts every five minutes to make sure we don't miss their wonderfulness. We don't call you at your office to yak every five minutes. Please show us the same courtesy.
We've all seen the clerk at the pharmacy, the dollar store, or the gas station laughing over something on Facebook. We wait until they turn their frowning attention to us. While social media can be a great way to market one's business, it's a totally different thing when it puts customers in second place. We have a boss to satisfy, so asking us to put him second would cost us our jobs.
4. Work At Home Doesn't Mean Housework
Yes, while Mom is getting coffee, she can toss a couple dishes in the dishwasher. Okay, on the way to the bathroom, Mom can pick up shoes, clothes, and toys to put in someone's room. While it usually takes Mom a couple hours to clean the house, she can't do that at the same time she's taking a meeting on the phone.
What Moms want their families to understand is that the housework will still be there at 5:00. Moms working in offices use their early evening hours to clean, so why should it be any different when Mom works at home? Asking her to do the housework in between projects or phone calls is too much. Give us a break, guys.
5. Fresh Air Is Important
There's a reason people explode out of doors at noon and quitting time. We have to get away from the same four walls day in and day out. When we can, we walk somewhere close for lunch, walk to the post office or the bank for our job, and we walk to the parking area after work. Work at home Moms need to get out more than just checking the mailbox. Getting outdoors for us clears the mind, and the fresh air and sun benefits our health.
Handicapped Puppy Befriends Flightless Pigeon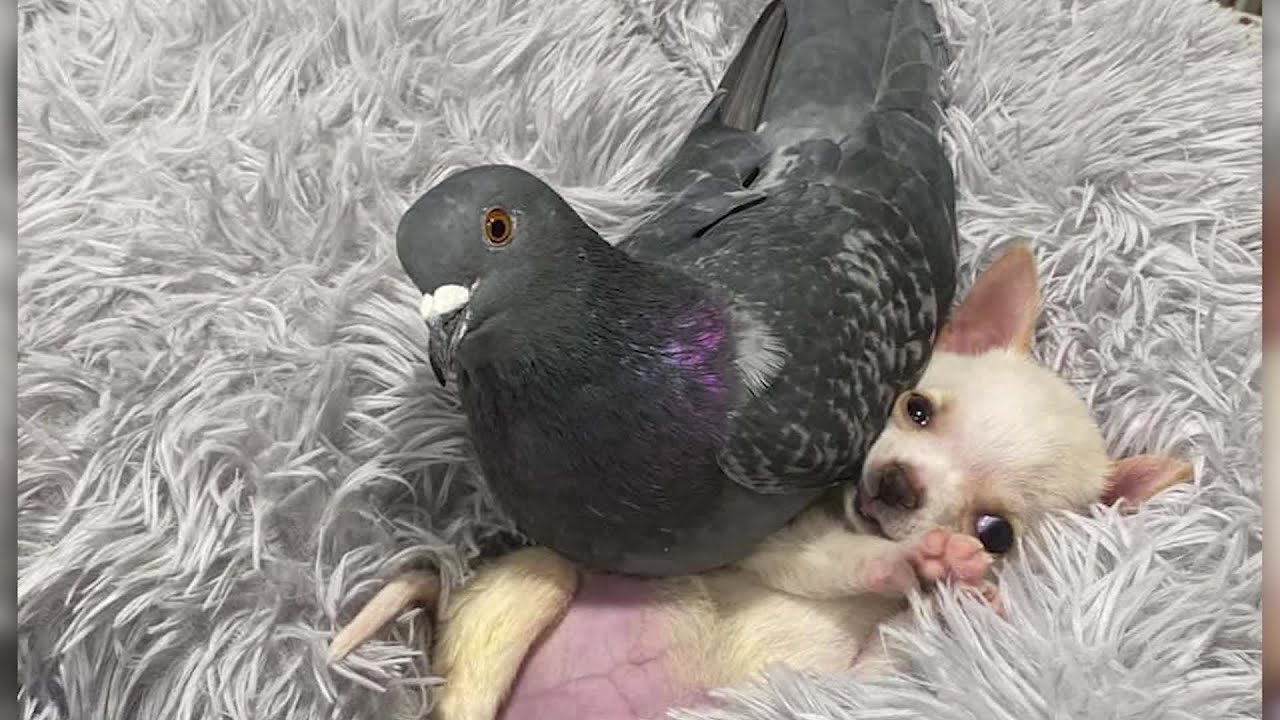 In Rochester, NY, Sue Rogers runs a non-profit called the Mia Foundation. The rescue organization rescues and rehabilitates animals who have birth defects or deformities and tries to find them a loving home. About a year ago, a pigeon was found unable to move in the parking lot of a car dealership. The pigeon was huddled and cowering on the ground. When a local wildlife rescue was called, they said the bird had neurological damage that caused him not to be able to fly. They thought that euthanization would be the best option for him.
Sue was having none of that. She stepped in and took the bird, who she named Herman, under her wing, so to speak. She made space for him in her shelter and kept him close where she could keep an eye on him. He liked to sit on a furry dog pillow and watch her work.
A couple months ago, a tiny Chihuahua was brought to the Mia Foundation. He was an infant, maybe a few months old, when his South Carolina breeders sent him to Sue. He's a teacup sized Chihuahua they named Little Lundy and he was born with spinal cord damage. Sue also determined that he was suffering from swimmers syndrome. Swimmers syndrome is a developmental deformity that causes the front and hind legs to be splayed out. This makes it almost impossible for Little Lundy to walk.
Although swimmers syndrome is thought to be untreatable, according to a few studies and an article in a veterinary journal, it can be treatable. With some physical therapy and at-home treatment, Little Lundy could live a long and happy life, which is exactly what Sue plans for him.
When Little Lundy arrived at the Mia Foundation he decided to get acquainted with his new surroundings and the other animals at the shelter. One particular encounter, created a friendship that has gone viral. Herman and Little Lundy, a puppy and a pigeon, are the unlikeliest of friends, but they have a lot in common. They both have trouble walking, or flying in Hermans case, and they were living in the same place. You could say, they were in the right place at the right time to become instant friends.
In the six weeks they have been together, Herman and Little Lundy have become inseparable. They do everything together, which is a lot of sleeping and snuggling. Mostly, with Herman sitting on top of Little Lundy, which doesn't bother him in the slightest. This friendship was so out of the ordinary that Sue had to document it. The viral sensation of the puppy and pigeon has brought attention to the Mia Foundation that was much needed. The rescue organization runs solely on donations to help cover the costs of taking care of the animals and for needed surgeries. So far, about $6000 was donated because of this unlikely friendship and over 100 adoption inquiries. Hopefully when they are adopted, they are able to stay together.