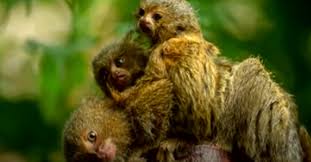 The Smallest Monkey on Earth Gives Birth to Twins; Zookeepers Shocked By Their Size!
The Chester Zoo is located in Cheshire, England at Upton by Cheshire. Opened originally in 1931, Chester Zoo has turned into one of the largest zoos in the entire United Kingdom. With more than 400 acres of land and nearly 20,000 total animals, there is always something incredible to check out. Recently, Chester Zoo made headline news when one of their marmosets gave birth to twins! Already one of the smallest species of monkey on the planet, it was no surprise that the newly born twin baby marmosets were small. What was a surprise, however, was just how small baby marmosets could be!
The Eastern Pygmy Marmoset is a type of New World monkey that is most commonly found throughout the Amazon Basin in South America. Native to rainforests, the Pygmy marmoset is notable for its incredibly small size. Weighing in at just over 3.5 oz, an average adult pygmy marmoset is lighter than a bag of chips! When the zookeepers at Chester Zoo were made aware that their Eastern Pygmy Marmoset was about to give birth to twin babies, all eyes were on their size!
On July 25, 2017, Audrey the Eastern Pygmy Marmoset gave birth to twin babies. The babies were so small that they were not even visible within their habitat for nearly a month! That's right, baby marmoset monkeys can be so tiny that they are practically invisible to the human eye when they want to be. Of course, the marmoset is not actually invisible, but the twins took nearly a month to reach a weight of just half of an ounce! So tiny as to be the smallest monkey on the planet, the Eastern Pygmy Marmoset is as fascinating as it is adorable.
According to a report put together by the zoo, the twins equal roughly 10$ of their mother's entire body weight. The father of the twin marmosets is named Gumi and he is routinely seen in his habitat with the twins astride his back. Audrey, the mother marmoset, spends most of her time collecting food to feed her young charges.
Nick Davis is the Deputy Curator of Mammals at Chester Zoo and he stated, "Audrey, like all other female Eastern pygmy marmosets, steps aside while dad takes on the parental chores." Davis would go on to detail how Gumi was most often seen carrying the twins around, though Audrey did take the twins to give her tired mate a respite.
Eastern Pygmy Marmosets may be gaining more media attention as the years go by. These animals are natives to South America, though destruction to their habitats has put the species under intense strain. Combining habitat loss with poachers looking to sell baby marmosets as pets and it is easy to see why these animals need our help. Supporting zoos like Chester Zoo can put funds and attention toward animals that require the intervention of kindhearted souls to save their species.
Support your local zoo to make sure that animals like Audrey and Gumi always have a place to raise their children!
Father in Bumblebee costume escorts his kid back to school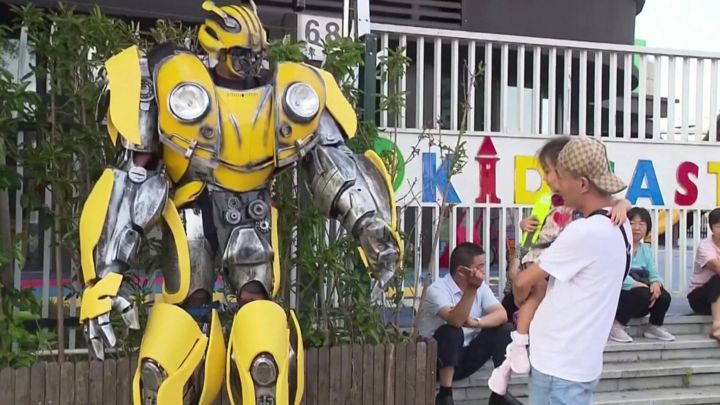 Bumblebee from the American sci-fi movie series Transformers never had a kid, but if he did, he'd have definitely escorted him to school.
A father in Shanghai, China has gone above and beyond to encourage his kid to go back to school after staying at home for months due to the Covid-19 pandemic. There's no way any child is refusing to walk with Bumblebee into school, and this man had that in mind when building his Autobot suit.
Just like the rest of the world, China had been on lockdown, and for months, kids had to stay away from school to prevent infection and spread of the deadly virus. However, some normalcy is being restored in some parts of the region, and schools now have the green light to open and allow children continue with their education.
The Bumblebee suit wasn't only for his kid, though. He built it to serve as some amusement and surprise to other kids at school- and that he did.
"I also want to bring happiness to other children. I didn't only wear it for my own child. All of them were preschoolers," he said in the video.
His suit looks like the real thing. The only things missing were metal, alien technology, and missiles- not much, right? Standing about 2.3-metre tall, the suit was built using soft materials to prevent touchy and curious children from getting injured- and he was right to have done that because he was rushed and hugged by children upon arrival at the school.
The excitement of the kids at the sight of Bumblebee could light up astronomical units of outer space, as the intergalactic warrior once again put smiles on the faces of humans. Kudos to this amazing dad for his efforts to make kids happy to resume back to school- he'd probably do it every day if he could.
The home-made suit seems to be inspired by the 2017 movie Bumblebee.