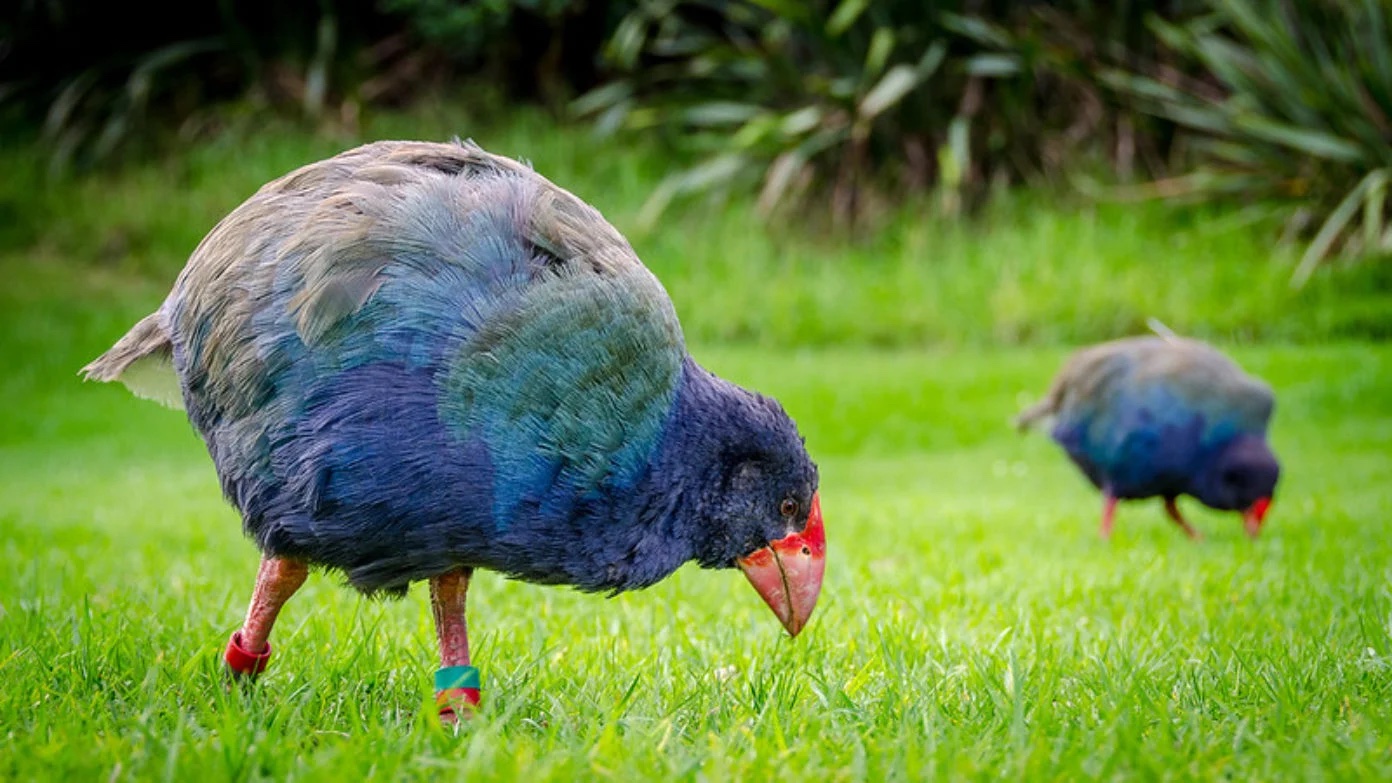 The Remarkable Return of New Zealand's Takahe Birds
In the breathtaking landscapes of New Zealand's South Island, a remarkable story of resilience and conservation is unfolding. The Takahe, a prehistoric bird thought to be extinct, has made a triumphant return to the wild, thanks to dedicated efforts by conservationists.
The Takahe, scientifically known as Porphyrio hochstetteri, is a unique bird native to New Zealand. These remarkable birds are not your typical feathered friends; they have a striking appearance with vibrant blue-green plumage, oversized red beaks, and large, sturdy legs. Once upon a time, Takahe birds roamed freely in New Zealand's lush landscapes, but their population began to dwindle.
In 1898, these majestic birds were declared extinct. It was believed that the Takahe had vanished from the face of the Earth forever. However, nature had a surprise in store for us. In 1948, more than half a century after their supposed extinction, Takahe birds were rediscovered in the remote and pristine wilderness of New Zealand's South Island, specifically in the Lake Whakatipu Waimaori Valley.
The rediscovery of the Takahe was a momentous event, sparking hope and renewed interest in their conservation. It became evident that immediate action was required to ensure the survival of these magnificent creatures. Conservationists embarked on a mission to protect and nurture the remaining Takahe population.
One of the initial strategies employed by conservationists was proactive and hands-on. They began collecting Takahe eggs and carefully incubating them in controlled environments. This approach was designed to shield the vulnerable eggs from predators that posed a significant threat to the survival of the species.
As the eggs hatched and adorable Takahe chicks emerged, they received special attention. Conservationists played a vital role in feeding and nurturing these young birds, ensuring they had the best possible start in life. Workers even donned sock puppets resembling the Takahe's unique red beaks to feed and interact with the chicks, a heartwarming sight in the name of conservation.
Over time, the strategy evolved to focus on breeding Takahe birds in controlled environments. This approach allowed for more precise monitoring of the birds' health and ensured their safety. Additionally, conservationists intensified efforts to protect the Takahe from their main threats – predators like stoats, ferrets, and feral cats.
Deidre Vercoe, who oversees the Takahē recovery operations at the Department of Conservation (DOC), emphasized the importance of trapping these predators to reduce their numbers. By maintaining a low predator count, conservationists have created a safer environment for the Takahe to thrive.
Thanks to these unwavering efforts, the Takahe population has been steadily increasing. Today, there are approximately 500 Takahe birds, a testament to the power of conservation and the determination to protect and preserve New Zealand's unique wildlife.

500,000-Year-Old Wooden Structure Rewrites History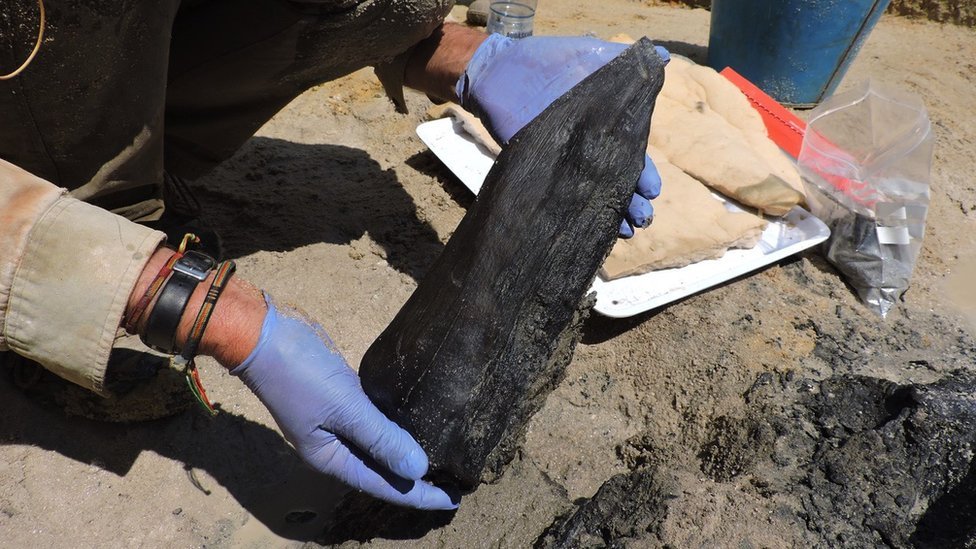 In an archaeological discovery, a wooden structure dating back an astonishing 500,000 years has been unearthed on the banks of a river in Zambia, challenging long-held beliefs about the capabilities of ancient humans. Researchers stumbled upon these ancient wooden logs, a revelation that has the potential to reshape our understanding of the lives of early humans.
The find, located on the riverbanks near Zambia's Kalambo Falls, provides compelling evidence that stone-age people may have constructed primitive shelters, forever altering our perception of their intelligence and resourcefulness. Archaeologist Prof Larry Barham, who led the research, was profoundly impacted by the discovery, stating, "This find has changed how I think about our early ancestors."
What makes this find truly remarkable is that it suggests ancient humans did more than merely survive; they thrived by creating something entirely new. These early humans exhibited intelligence, imagination, and craftsmanship by fashioning structures from wood, a material that had never before been transformed into such large and sophisticated objects.
The researchers also uncovered ancient tools, including digging sticks, but the most exciting find was two pieces of wood positioned at right angles to each other. "One is lying over the other, and both pieces of wood have notches cut into them," explained Geoff Duller, a professor of geography at the University of Aberystwyth and a member of the research team. "You can clearly see those notches have been cut by stone tools, making the two logs fit together to become structural objects."
Radiocarbon dating confirmed the wood's age, placing it at a staggering 476,000 years old. This revelation has ignited curiosity about the woodworking traditions of ancient societies, challenging the prevailing notion that early humans led simplistic, nomadic lives.
Perrice Nkombwe, a team member from the Livingstone Museum in Zambia, expressed her astonishment, saying, "I was amazed to know that woodworking was such a deep-rooted tradition. It dawned on me that we had uncovered something extraordinary."
The preservation of the wooden structure itself is a miracle. Typically, wood decays over time unless preserved under specific conditions. However, in the waterlogged environment along the Kalambo Falls, the wood remained intact, essentially pickled by the elements for millennia.
While the exact purpose of this ancient wooden structure remains a mystery, it has sparked numerous speculations. Prof. Duller suggests it might have been used as a place to sit beside the river and fish, although a complete understanding of its function remains elusive.
Moreover, the identity of the individuals who constructed this structure raises intriguing questions. "We don't know – it could have been Homo sapiens, and we just haven't discovered fossils from that age yet," Prof. Duller added. "But it could be a different species – [perhaps] Homo erectus or Homo naledi – there were a number of hominid species around at that time in southern Africa."
This discovery has the potential to enrich our understanding of ancient woodworking techniques, craftsmanship, and human interaction with the environment. As researchers continue their work at the Kalambo Falls site, the pages of history are being rewritten, and our appreciation for the ingenuity of our ancient ancestors grows ever deeper.