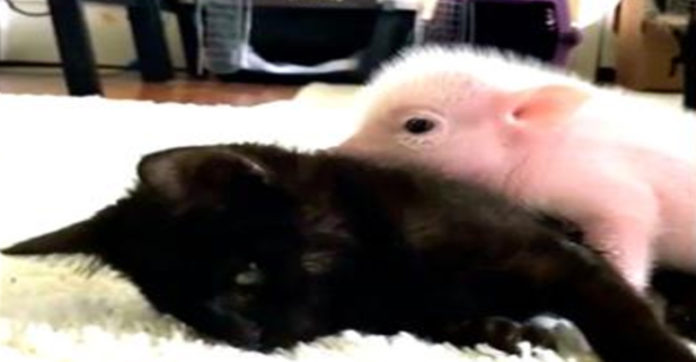 A piglet and a cat might seem like an odd pair, but the kitten named Sriracha and the little pig Batman have proved otherwise. The friendship and interactions of these two close friends are the most heartwarming thing you will ever see. Both animals lived at Rancho Relaxo – a non-profit rescue farm in Woodstown, New Jersey established by Caitlin Cimini. They were more than just friends because Sriracha depended on Batman in a big way.
Sriracha, a cute black kitten, suffers from a non-progressive and non-contagious neurological disorder known as feline cerebellar hypoplasia, causing walking and balance issues. There are seriously bad days when Sriracha has two seizures in a row and becomes a little "off". Feline cerebellar hypoplasia is caused by improper development of the parts of the cerebellum or exposure to infections, toxins, and nutritional deficiencies. It might be hard and sad to see the kitten shaking but, actually, such condition is absolutely painless.
When Sriracha was going through the bad period of her life, she found comfort and support from a two-week-old orphan rescued piglet. Caitlin Cimini says that Batman always felt when the kitten was about to experience a seizure. He rushed immediately to her to put his body on top of Sriracha's and comfort his poor friend. Caitlin wrote on her Instagram: "Sriracha found comfort in Batman. And Batman almost knew what he was doing for her. It was a beautiful thing to watch". The baby Batman did not leave his buddy alone. He cuddled up to Sriracha by keeping her company. Though the kitten cannot speak, she was definitely thankful for her little pink friend. They got really attached to each other and became inseparable.
Unfortunately, due to congenital problems, Batman passed away. Sriracha was devastated and brokenhearted by sobbing for a little pink buddy for days. However, fortunately, in an odd twist of fate, Caitlin soon rescued Batman's bittersweet sibling from the auction and named him Dragonlord. To everyone's surprise, after Dragonlord warmed up, he started taking care of Sriracha even better than his brother Batman did. Dragonlord and Sriracha became very close best friends by spending a lot of time together. Just like Batman, Dragonlord comforts the kitten every time when she is experiencing a seizure. In return, Sriracha shows her love by grooming her supportive friend and showering him with kisses.
Such a beautiful and unusual friendship of animals has captured the hearts of millions of fans around the world on social media. "That is why I do what I do" – says a founder of Rancho Relaxo on her Instagram. "This is the reason why my entire life is dedicated to helping animals. They are the most beautiful creatures on this planet". So far, Caitlin and her husband have rescued already hundreds of animals, and they do not have an intention to stop.
Whales Adopt Other Whales, Even Between Species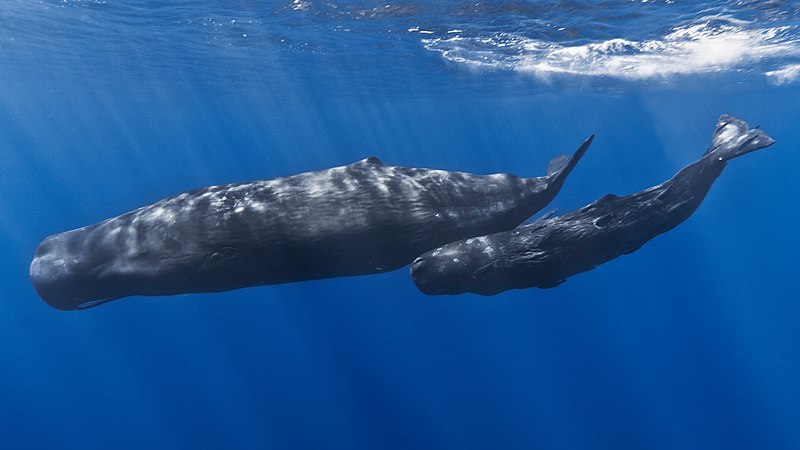 Do animals adopt young of other species? It's been known to happen among canines as well as raptors. However, for the first time, marine scientists have now confirmed whales are willing to adopt the young of different whale species as well.
As it turns out, an orphaned humpback whale has found a new parental figure with a southern right whale, completely mixing two different breeds of whale. Granted, both are large sea mammals, both breathe air and generally consume the same food groups, and they are technically both whales. But in the animal world, the differences are as distinct as a horse to a cow or a dog to a black bear. However, there the pair were, swimming together and clearly bonded right off the coast of an Esperance beach. From the researcher's perspective, the answer is clear; the adult southern whale has adopted the young and clearly smaller humpback whale.
Interestingly, the difference was caught immediately. Instead, it was Jess Wohling going over her work on a recent photography shoot who figured out what she was looking at was two different whales acting like mother and pup. At first, Wohling thought there was a camera glitch or a bad light exposure. However, as she studied the digital images from her camera, it became very clear, two different whales were swimming next to each other in tandem or like a parent and child whale pod. With the detail captured by the camera, Wohling compared the aspects of her image to whale images on the Internet, and she confirmed her hunch.
At that point, Wohling transmitted the digital image files to a whale researcher she knew, Katy Fannei. Looking at the images, Fannei not only confirmed Wohling's assumption, she was also shocked by the documented behavior and pretty much floored. The news hit the digital wire immediately as Fannei started sharing the news with everyone she knew in her professional circle. Everyone who got the communication and images, including researchers with far more experience than Fannei were also shocked by the apparent adoption behavior.
While it is quite possible for southern right whales to come into contact with humpback whales, they almost never converge with each other for any extended period of time. A lot of new hypotheses started getting thrown around. Was the southern right whale a female in mothering mode? Maybe it lost its own pup and the timing of finding a stray humpback child was a coincidence, or maybe some sort of protection in company perspective was going on. Most agreed on the idea of adoption taking place. Again, this wasn't unheard of in other species. Recently, an eagle pair adopted a falcon fledgling in Canada and have been raising it along with their eaglets.
The key behavior pattern arguing for adoption involves the close positioning of the humpback pup to the adult southern right whale in the water. It literally looks like a mother and child whale behavior. The major filter now is determining whether the pair are already tracked somewhere in the known southern right whale database the researchers use. If not, then the discovery will represent a unique and new biological finding.