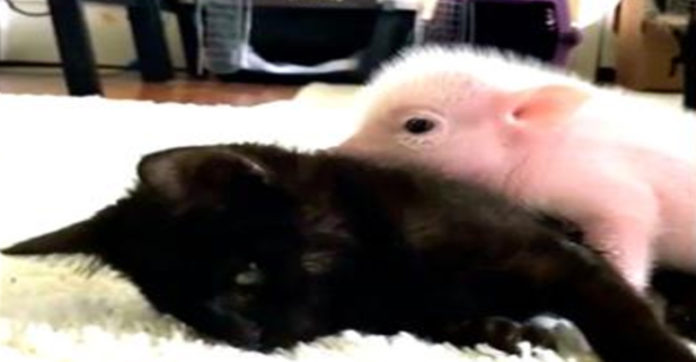 A piglet and a cat might seem like an odd pair, but the kitten named Sriracha and the little pig Batman have proved otherwise. The friendship and interactions of these two close friends are the most heartwarming thing you will ever see. Both animals lived at Rancho Relaxo – a non-profit rescue farm in Woodstown, New Jersey established by Caitlin Cimini. They were more than just friends because Sriracha depended on Batman in a big way.
Sriracha, a cute black kitten, suffers from a non-progressive and non-contagious neurological disorder known as feline cerebellar hypoplasia, causing walking and balance issues. There are seriously bad days when Sriracha has two seizures in a row and becomes a little "off". Feline cerebellar hypoplasia is caused by improper development of the parts of the cerebellum or exposure to infections, toxins, and nutritional deficiencies. It might be hard and sad to see the kitten shaking but, actually, such condition is absolutely painless.
When Sriracha was going through the bad period of her life, she found comfort and support from a two-week-old orphan rescued piglet. Caitlin Cimini says that Batman always felt when the kitten was about to experience a seizure. He rushed immediately to her to put his body on top of Sriracha's and comfort his poor friend. Caitlin wrote on her Instagram: "Sriracha found comfort in Batman. And Batman almost knew what he was doing for her. It was a beautiful thing to watch". The baby Batman did not leave his buddy alone. He cuddled up to Sriracha by keeping her company. Though the kitten cannot speak, she was definitely thankful for her little pink friend. They got really attached to each other and became inseparable.
Unfortunately, due to congenital problems, Batman passed away. Sriracha was devastated and brokenhearted by sobbing for a little pink buddy for days. However, fortunately, in an odd twist of fate, Caitlin soon rescued Batman's bittersweet sibling from the auction and named him Dragonlord. To everyone's surprise, after Dragonlord warmed up, he started taking care of Sriracha even better than his brother Batman did. Dragonlord and Sriracha became very close best friends by spending a lot of time together. Just like Batman, Dragonlord comforts the kitten every time when she is experiencing a seizure. In return, Sriracha shows her love by grooming her supportive friend and showering him with kisses.
Such a beautiful and unusual friendship of animals has captured the hearts of millions of fans around the world on social media. "That is why I do what I do" – says a founder of Rancho Relaxo on her Instagram. "This is the reason why my entire life is dedicated to helping animals. They are the most beautiful creatures on this planet". So far, Caitlin and her husband have rescued already hundreds of animals, and they do not have an intention to stop.
The Remarkable Story Of Felix The Black Lab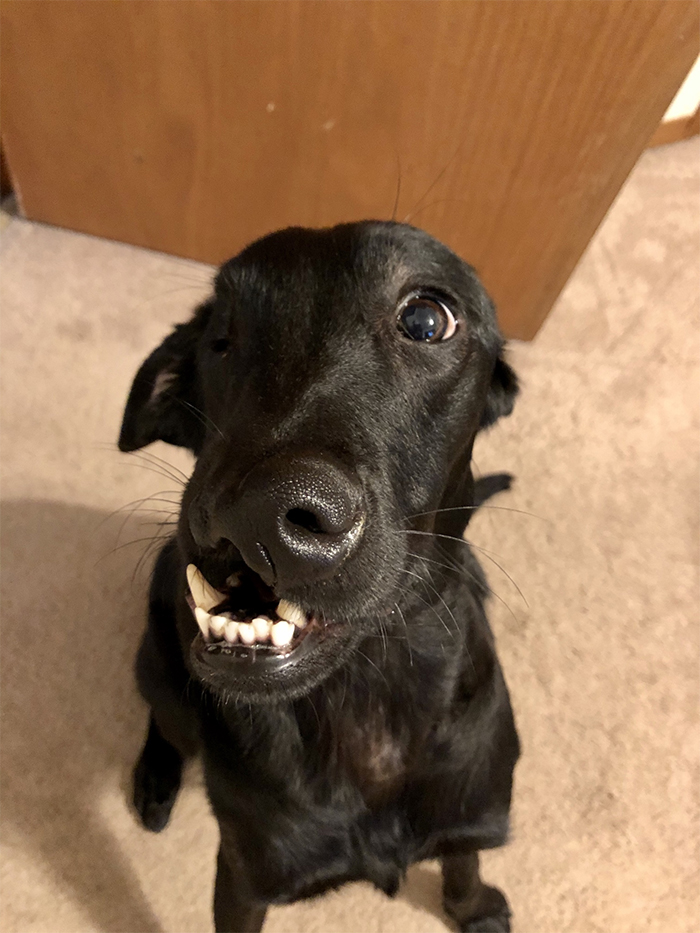 This is the remarkable story of Felix the Black Lab. Felix has had to overcome a lot of obstacles throughout his life. Felix was born with a cleft lip and cleft palate. Cleft lip and cleft palate are openings in the upper lip and the roof of the mouth. These openings can develop during infancy when the facial structures don't completely develop. While cleft lip and cleft palate are often seen as birth defects, they can be inherited through genetics. Felix's owner believes that the dog developed the defects due to his mother having a poor diet or possibly inhaling chemicals.
In addition to being born with a cleft lip and cleft palate, Felix has also struggled with other health problems throughout his life. However, despite all of his struggles, Felix continues to have a great personality: always laughing and smiling.
Felix was adopted when he was just a few days old. The owner said that Felix was close to dying because his cleft lip and cleft palate left him unable to receive nutrients from his mother. Felix had pneumonia and the veterinarian declared that he only had a few more hours to live. As Felix started to grow, he had colon issues that caused digestive problems. He also has only one functioning eye and his jaws aren't aligned properly. Because Felix's teeth were not aligned properly, he was only able to eat canned food.
In spite of all of these issues, Felix continued to fight. His owner fed him through a tube for a few weeks until he recovered from his pneumonia symptoms. Felix's condition left him unable to chew dog food and lap water out of a bowl. He also had problems swallowing his food at times. Through it all, Felix remained energetic.
However, Felix's owner wanted to try to give him a better quality of living, so he had surgery to correct his clefts. The surgery was a success. The surgeon was able to repair the roof of Felix's mouth and rebuild his palate. The surgeon completed the procedure using Felix's own tissues. The surgery also caused Felix's skull to shift. In order to help transition to his new life post-surgery, Felix also takes some medications. In the aftermath of the surgery, Felix also had to eat through a feeding tube in his neck. It has been a huge adjustment period.
Thanks to the successful surgery, Felix has been able to enjoy many new experiences. He was able to go swimming for the first time. He's also able to eat and drink regularly like normal dogs. Felix enjoys spending time with his brothers and sisters, including an Australian cattle dog and a terrier. He enjoys playing with stuffed animals. Felix is a great example that you can overcome challenges if you maintain a positive outlook. To follow Felix's journey, go to his Imgur account.