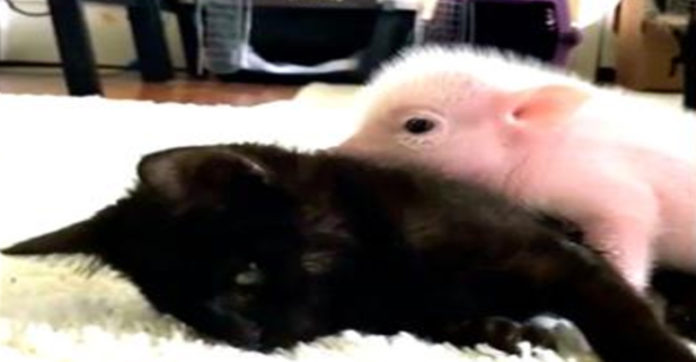 A piglet and a cat might seem like an odd pair, but the kitten named Sriracha and the little pig Batman have proved otherwise. The friendship and interactions of these two close friends are the most heartwarming thing you will ever see. Both animals lived at Rancho Relaxo – a non-profit rescue farm in Woodstown, New Jersey established by Caitlin Cimini. They were more than just friends because Sriracha depended on Batman in a big way.
Sriracha, a cute black kitten, suffers from a non-progressive and non-contagious neurological disorder known as feline cerebellar hypoplasia, causing walking and balance issues. There are seriously bad days when Sriracha has two seizures in a row and becomes a little "off". Feline cerebellar hypoplasia is caused by improper development of the parts of the cerebellum or exposure to infections, toxins, and nutritional deficiencies. It might be hard and sad to see the kitten shaking but, actually, such condition is absolutely painless.
When Sriracha was going through the bad period of her life, she found comfort and support from a two-week-old orphan rescued piglet. Caitlin Cimini says that Batman always felt when the kitten was about to experience a seizure. He rushed immediately to her to put his body on top of Sriracha's and comfort his poor friend. Caitlin wrote on her Instagram: "Sriracha found comfort in Batman. And Batman almost knew what he was doing for her. It was a beautiful thing to watch". The baby Batman did not leave his buddy alone. He cuddled up to Sriracha by keeping her company. Though the kitten cannot speak, she was definitely thankful for her little pink friend. They got really attached to each other and became inseparable.
Unfortunately, due to congenital problems, Batman passed away. Sriracha was devastated and brokenhearted by sobbing for a little pink buddy for days. However, fortunately, in an odd twist of fate, Caitlin soon rescued Batman's bittersweet sibling from the auction and named him Dragonlord. To everyone's surprise, after Dragonlord warmed up, he started taking care of Sriracha even better than his brother Batman did. Dragonlord and Sriracha became very close best friends by spending a lot of time together. Just like Batman, Dragonlord comforts the kitten every time when she is experiencing a seizure. In return, Sriracha shows her love by grooming her supportive friend and showering him with kisses.
Such a beautiful and unusual friendship of animals has captured the hearts of millions of fans around the world on social media. "That is why I do what I do" – says a founder of Rancho Relaxo on her Instagram. "This is the reason why my entire life is dedicated to helping animals. They are the most beautiful creatures on this planet". So far, Caitlin and her husband have rescued already hundreds of animals, and they do not have an intention to stop.
Growing Trends Of Women Opening Independent Bookstores in the UK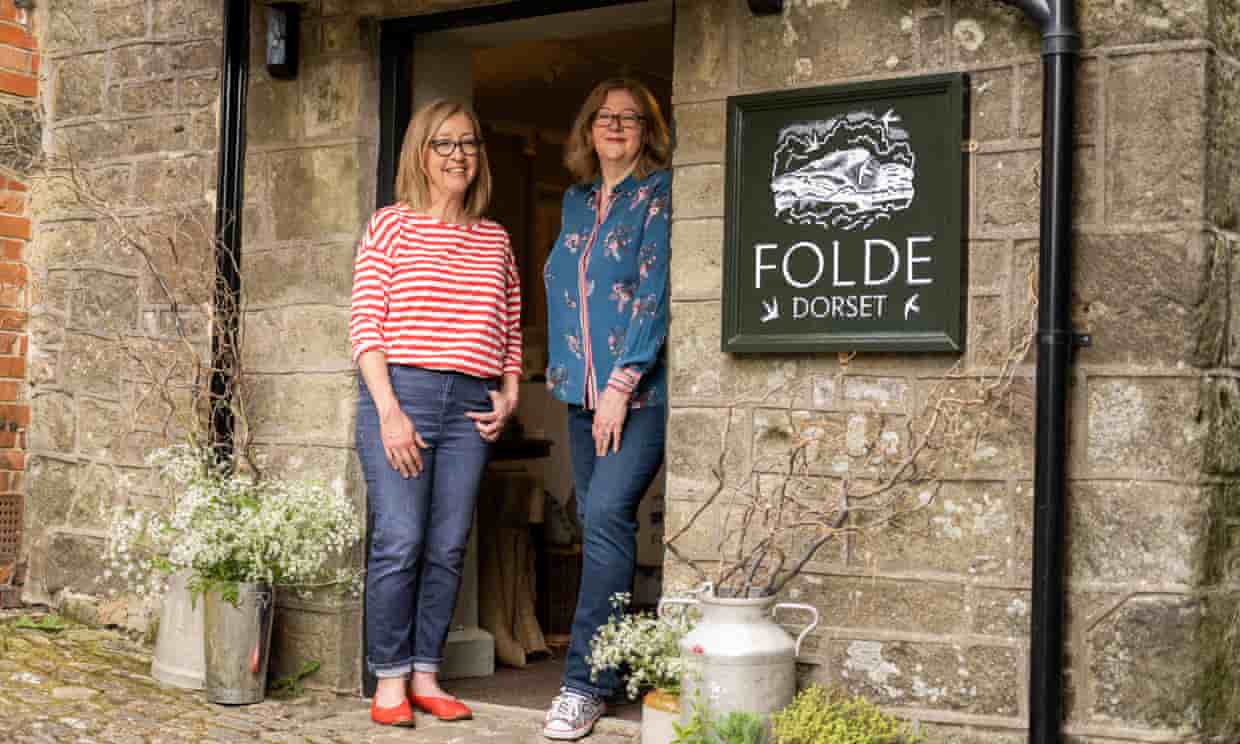 In recent years, there has been a growing trend in the UK of women opening and running independent bookshops together. These bookshops cater to local communities and offer a personalized touch that larger booksellers cannot provide. One such duo is Amber Harrison and Karen Brazier, who were both burnt out from their careers and wanted to pursue a more fulfilling path.
Harrison and Brazier were neighbors and good friends who shared a love of books and a desire to own a shop in their hometown that they could walk to and feel like part of the community. They decided to open a local bookshop together, and their success has been an inspiration to other women looking to pursue their dreams.
Their story is not unique, as many female friendship duos are opening bookshops across the UK. The pandemic has been a significant factor in this trend, providing the push many women needed to take the leap of faith and start their own business.
For these women, running a bookshop is more than just a business. It's a passion project that allows them to introduce people to new titles and share their love of reading with others. They pride themselves on offering a range of books that cater to their community's interests, including key themes such as land, sea, and self.
Independent bookshops like these offer a personalized touch that larger booksellers cannot provide. Customers can build a relationship with the owners and feel like they are part of a community. This sense of community is especially important in today's world, where many people are feeling disconnected and isolated.
The success of these women-owned bookshops has been a welcome addition to the UK's literary landscape. They provide a unique perspective and offer a diverse range of books that larger booksellers may overlook. They also serve as an inspiration to other women who are looking to pursue their dreams and start their own businesses.