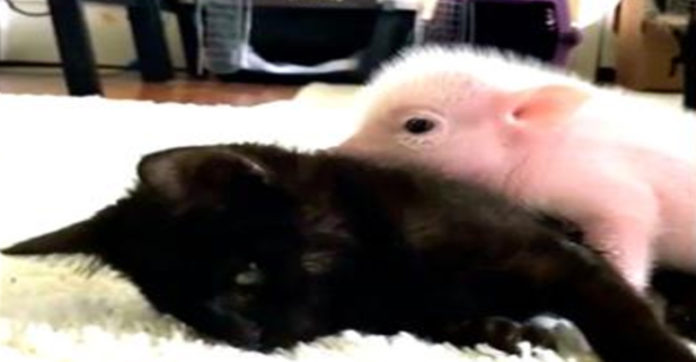 A piglet and a cat might seem like an odd pair, but the kitten named Sriracha and the little pig Batman have proved otherwise. The friendship and interactions of these two close friends are the most heartwarming thing you will ever see. Both animals lived at Rancho Relaxo – a non-profit rescue farm in Woodstown, New Jersey established by Caitlin Cimini. They were more than just friends because Sriracha depended on Batman in a big way.
Sriracha, a cute black kitten, suffers from a non-progressive and non-contagious neurological disorder known as feline cerebellar hypoplasia, causing walking and balance issues. There are seriously bad days when Sriracha has two seizures in a row and becomes a little "off". Feline cerebellar hypoplasia is caused by improper development of the parts of the cerebellum or exposure to infections, toxins, and nutritional deficiencies. It might be hard and sad to see the kitten shaking but, actually, such condition is absolutely painless.
When Sriracha was going through the bad period of her life, she found comfort and support from a two-week-old orphan rescued piglet. Caitlin Cimini says that Batman always felt when the kitten was about to experience a seizure. He rushed immediately to her to put his body on top of Sriracha's and comfort his poor friend. Caitlin wrote on her Instagram: "Sriracha found comfort in Batman. And Batman almost knew what he was doing for her. It was a beautiful thing to watch". The baby Batman did not leave his buddy alone. He cuddled up to Sriracha by keeping her company. Though the kitten cannot speak, she was definitely thankful for her little pink friend. They got really attached to each other and became inseparable.
Unfortunately, due to congenital problems, Batman passed away. Sriracha was devastated and brokenhearted by sobbing for a little pink buddy for days. However, fortunately, in an odd twist of fate, Caitlin soon rescued Batman's bittersweet sibling from the auction and named him Dragonlord. To everyone's surprise, after Dragonlord warmed up, he started taking care of Sriracha even better than his brother Batman did. Dragonlord and Sriracha became very close best friends by spending a lot of time together. Just like Batman, Dragonlord comforts the kitten every time when she is experiencing a seizure. In return, Sriracha shows her love by grooming her supportive friend and showering him with kisses.
Such a beautiful and unusual friendship of animals has captured the hearts of millions of fans around the world on social media. "That is why I do what I do" – says a founder of Rancho Relaxo on her Instagram. "This is the reason why my entire life is dedicated to helping animals. They are the most beautiful creatures on this planet". So far, Caitlin and her husband have rescued already hundreds of animals, and they do not have an intention to stop.
Roaming Buffalo and the Proposed Bison Bridge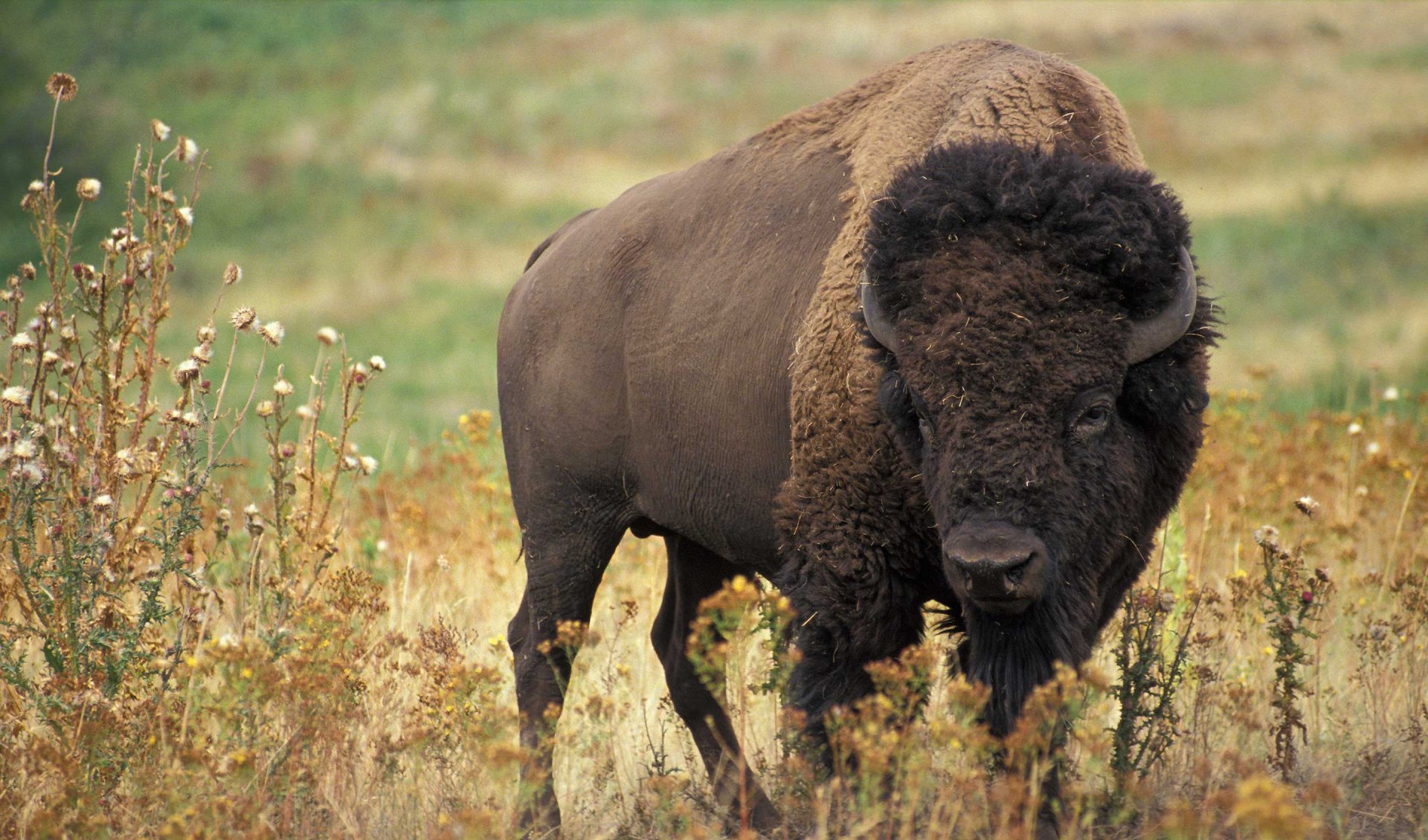 Chad Pregracke is what you would describe as both a conservationist and a pseudo-folk hero. A local to the Quad Cities nestled between Illinois and Iowa, Pregracke has dedicated the better part of his life to working with the river, aiding wildlife, and supporting his community. Recently, Pregracke has centered his focus on a 55-year-old concrete bridge spanning the Mississippi River, a bridge that sees more than 42,000 cars traverse its expanse every single day. Slated to be replaced with a newer bridge, the local conservationist decided that now was the right time to make a wildlife crossing.
Bison and the Mississippi River
Upon hearing that the old bridge was set to be torn down, Pregracke knew that he had to act quickly. Once considered a long-shot concept, his idea of turning the bridge into a valid wildlife crossing has started to acquire real momentum. According to the Illinois and Iowa Departments of Transportation, the concept suggested by Pregracke could end up going live within five years!
The goal of the bridge will be to provide the longest ever human-made wildlife crossing on the planet. The bridge would be converted for use by both American bison and humans alike. One side of the bridge would feature both a bike path and a pedestrian path while the other side would feature a secured and enclosed bison paddock where visitors can get safely get close to the animals. The herds wouldn't be consigned to the bridge either, they'd have free roam between Illinois and Iowa throughout the grassy feature. The proposed bison bridge crossing the Mississippi River would become the first national park or either state.
Even though this proposal seems out of the norm, it comes at a time when conservationists are working with urban designers to combine their renewal projects. We can look at the High Line of New York City as well as the raised railroad that was turned into a bike trial in Chicago. Los Angeles has already seen several proposals to turn the 101 freeway into a natural park setting.
Advocates continue to rally behind Pregracke and his Bison Bridge. The efforts to repurpose the bridge will go a long way toward saving costs, reducing waste, and even protecting the environment. Along the way, Pregracke believes that the bridge will help to elevate the Quad Cities into a truly world-class destination with the Mississippi River acting as a calling card. Pregracke said, "How could you not stop for bison?"
Bison and Native American History
The American Bison is also commonly referred to as a buffalo. This species of bison was once known to traverse across North America in truly gigantic herds. Stretching from Alaska to the Gulf of Mexico, bison would slowly be eradicated due to over-hunting during the 19th century. At the time of this writing, thanks to conservation efforts, the American Bison is hanging on with a Near Threatened status.
More than just an important feature in North American history, bison have been historically important to Native American groups throughout the country — including the Quad Cities. Native American Groups have said that restoring the bison population is a necessary first step toward reconnecting with local land and history while recognizing the various atrocities that have been committed against bison and indigenous people.
In 1800, there were an estimated 60 million bison roaming the Great Plains of North America. By the time the 19th Century came to an end, only 300 would remain.