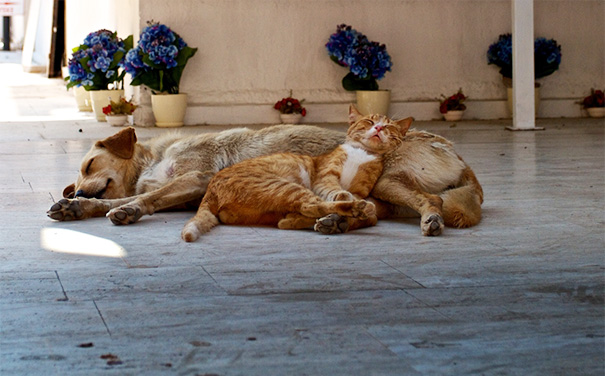 The Most Amazing Cat Pictures
Best Buddies
It is a common belief that cats do not get along with dogs and other creatures. Contrary to popular opinion, however, cats really can get along with anyone- even their so-called natural born enemies! These pictures are all about spreading the love. Maybe humans can learn a little something from this display of unconditional love? Maybe we can really can all learn to get along.
Both furry and cuddly, these two pals are going to burrow in the rug together and keep each other warm. Cold weather is always better with a pal.
Unlikely Duo
Cats lean on each other when times are tough. The even lean on their canine friends if need be. This unlikely duo looks like it has been an incredibly difficult day. The two love relying on each other for support.
Lift Up
They know how to lift each other up when they cannot carry on alone and how to accept help when they need it. 
Kiss
They even share a kiss from time to time, even with the noisy bird that loves to peck at their paws and squawk when it is nap time.
Superpowers
These four-legged babies have mastered the art of sleeping where they lay- or sit. And they have learned the importance of rest. This fuzzy feline could not go on another minute. I have been there more than once.
Working It Out
Though naps and rest are vital to health, cats also know the importance of physical activity, so they fit in their 30 minutes of movement a day. This little guy is training for his time in the ring. He just finished up his sit-ups and jump roping. Now he is doing his favorite part- bobbing and weaving! He is starting young so that he can defeat his big brothers who like to tackle him. If he practices enough, he will be a pro by the time he is grown.
On a Ledge
And here we see the excellent balance and tight rope skills that they work at. That is some talent right there! I cannot see myself being brave enough to attempt this. Can you? I guess the view is worth the risk.
Embracing Paws and Flaws
We cannot all be perfect, right? Cats have learned to accept their imperfections and focus on the positive.
Snuggles
After a tough day at work or school, kitties love to cuddle up. These two fur babies fell asleep in the middle of their homework. I think a few of us have been there before.
Hugs Take #2
And they hold each other tight. These sweet babies know how to cuddle. Look how peaceful they are resting knowing that they are safe and loved. Studies show that petting and cuddling with a pet can help treat anxiety. I bet these two are some calm kitties.
They Really Do Love Their Humans
Look at this baby smiling away at the love of her life- her human. (It might be behind her back, though, since kitty cats love to act as though they do not care.)
Cats Dress Appropriately
This kitty wants to play in the snow. He knows it is cold outside and makes sure that he is dressed appropriately for the weather. No cold or flu here! He's a great role model for his two-legged siblings.
Brutal Honesty
One of the greatest things about cats is that you can trust them to tell you like it is. No holds barred, no sugar coating, no beating around the bush- just the cold hard truth with nothing more than a look.
"Mom, no! Stop it! That's a horrible idea! You are going to embarrass me! You'll embarrass yourself, too, and regret it later! And maybe you should change your shirt. Red is really not your color."
Sweet Dreams
Kitty cats dream in sparkles and rainbows, peace and love. This little one's projecting its dreams outward to share them with us.
They Are Not Too Proud to Beg
These sweet things will let you know when they want something. They will even beg if necessary. I hear people mention "puppy dog eyes" all the time. I could be wrong but judging from this picture, I think kitten eyes might be pretty effective, too. I mean, could you say "no" to this adorable face?
Please!
I do not think this one is going to take "No" for an answer. He really wants something from the ice cream truck.
Kitties Love Letting Their Hair Down…And Their Tongues Hang
Look at this cutie! Eyes full of wonder and that little tongue….maybe he is entranced by the bag of kitty treats his mom just brought home. Or maybe he is staring at the goldfish bowl amazed by the little guys swimming around and around.
Air Cat
I cannot decide if this guy just likes making silly faces or if he has not yet recovered from the catnip party last night. Either way, what a cutie!
They Keep Themselves Pretty Clean
Even the little ones bathe themselves like this one below. Isn't he precious? "Really? You're just going to sit there and watch? How about some privacy, please?"
The Term "Cool Cat" Had To Come From Somewhere
This baby is giving us a lesson in style and bringing back some great memories. I can just picture John Lennon and hear Ted Nugent singing "Cat Scratch Fever". For the younger ones who have no clue who those people are, can you not hear "Cooler Than Me" playing in the background when this guy walks into the room?
Their Eyes Can Be Absolutely Mesmerizing
These eyes are so beautiful that it is hard to look away. The shades of blue are amazing enough on their own. Add that to the marbled look and they are perfect. Does anyone know where I can get some contacts in this color?
They Are Very Studious
Yet another great role model for children! This cat knows the importance of reading and education. I can see him snuggling up for bedtime stories with his kids.
They Love Selfies and Are Great Photographers
How much more perfect can a selfie get? He got a great angle and an awesome background. I'm sure we will see this on his Instagram account later.
Sunset
Between the snow and the beautiful sunset, this guy has his nature selfies mastered. Sharing the camera with his canine pal on the left is another story.
New Crew in Town
Does this not remind you of that one friend that always takes pictures at the worst times? Like when no one else is looking at the camera or before you have time to pose? I thought that was just a human thing. I guess I was wrong!
They Are Awesome at Playing Hide and Seek
I have to admit, this is a great spot to hide. I mean, who would think to look here? I don't think I would have thought of this spot. And he looks so comfortable that he could probably stay there for days. Good luck to his hide-and-seek opponent! You are going to need it!
Hiding
Hiding behind a tree may seem like a bit of an obvious spot, but people keep hiding behind them for a reason. Looks like this kitty cat realizes that tried and true ways are worth it. And she looks absolutely adorable while hiding there!
Cat Burrito
Snug as a bug in a rug- that's what this baby is. This hiding spot is absolutely genius! It is brilliant! I think that the other player should just give up now. The game is over- there is no finding this little love! She has once again outwitted her opponent. 
They Love Putting On Makeup
Like some human girls I know, this precious girl spent hours getting her eyeliner just right. It makes her blue eyes stand out so well. I wonder how long she had to practice to master this look?
These Expressions Though
After dress shopping with her human today, they finally found the perfect one. The bride to be must be a beauty from the look on this fur baby's face.
They Are Sneaky Little Suckers
Like this one pictured here. It looks like an innocent move. Perhaps he is just running and playing or trying to chase his ball of yarn. Maybe he is being good…
Cats Are Some Fierce and Determined Creatures
Look at this girl's face. She may be little, but she is going as fast as she can to beat her older siblings to the food bowl. They have beaten her to the good stuff one too many times!
They Do Not Take Up Much Space
It is easy to share space with cats because they will just fit in wherever they can squeeze in. These cuties learned that being stackable was a desired trait among homeowners, so they watched and learned.
They Let Nothing Stand In The Way Of Their New Year's Resolutions
The beauty in this picture decided it was time to drop a few pounds and is going to make sure to make that happen. I can hear her now…
They Accept Differences
It is clear that one of these cuties looks quite different from the other three. Instead of shunning him though, they surround him and make him part of their group. And what an adorable group they make!
Siblings Treat One Another Well
The little brother is following his older brother around. Though humans tend to find that annoying, cats do not seem to mind. After all, how else is the little guy going to learn to chase mice and make his way in the world? Someone has to show him the ropes of feline life.
They Love to Dress Up
This cute little guy fell asleep while stepping into his role as king. Looks like his first day was exhausting. Being a leader is a really tough job but somebody has to do it…right after his nap.
500,000-Year-Old Wooden Structure Rewrites History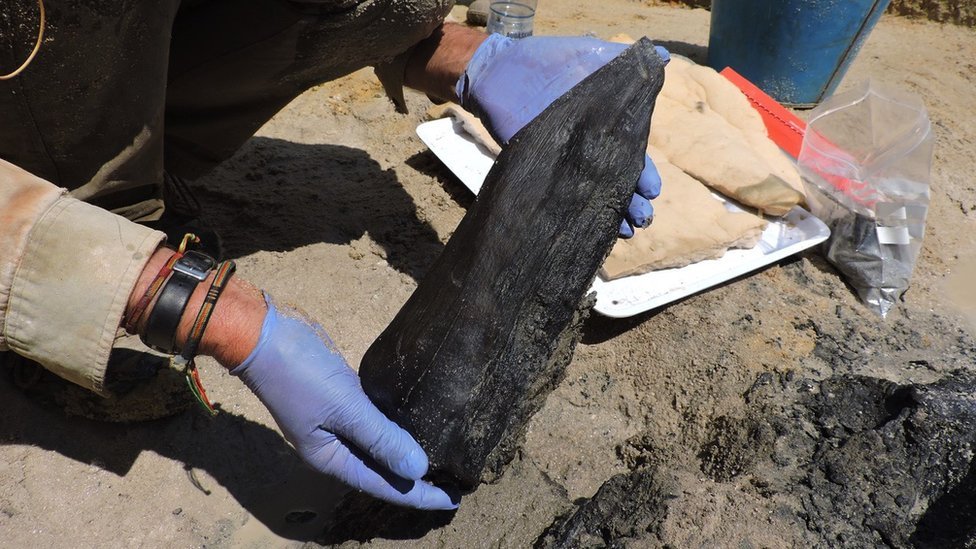 In an archaeological discovery, a wooden structure dating back an astonishing 500,000 years has been unearthed on the banks of a river in Zambia, challenging long-held beliefs about the capabilities of ancient humans. Researchers stumbled upon these ancient wooden logs, a revelation that has the potential to reshape our understanding of the lives of early humans.
The find, located on the riverbanks near Zambia's Kalambo Falls, provides compelling evidence that stone-age people may have constructed primitive shelters, forever altering our perception of their intelligence and resourcefulness. Archaeologist Prof Larry Barham, who led the research, was profoundly impacted by the discovery, stating, "This find has changed how I think about our early ancestors."
What makes this find truly remarkable is that it suggests ancient humans did more than merely survive; they thrived by creating something entirely new. These early humans exhibited intelligence, imagination, and craftsmanship by fashioning structures from wood, a material that had never before been transformed into such large and sophisticated objects.
The researchers also uncovered ancient tools, including digging sticks, but the most exciting find was two pieces of wood positioned at right angles to each other. "One is lying over the other, and both pieces of wood have notches cut into them," explained Geoff Duller, a professor of geography at the University of Aberystwyth and a member of the research team. "You can clearly see those notches have been cut by stone tools, making the two logs fit together to become structural objects."
Radiocarbon dating confirmed the wood's age, placing it at a staggering 476,000 years old. This revelation has ignited curiosity about the woodworking traditions of ancient societies, challenging the prevailing notion that early humans led simplistic, nomadic lives.
Perrice Nkombwe, a team member from the Livingstone Museum in Zambia, expressed her astonishment, saying, "I was amazed to know that woodworking was such a deep-rooted tradition. It dawned on me that we had uncovered something extraordinary."
The preservation of the wooden structure itself is a miracle. Typically, wood decays over time unless preserved under specific conditions. However, in the waterlogged environment along the Kalambo Falls, the wood remained intact, essentially pickled by the elements for millennia.
While the exact purpose of this ancient wooden structure remains a mystery, it has sparked numerous speculations. Prof. Duller suggests it might have been used as a place to sit beside the river and fish, although a complete understanding of its function remains elusive.
Moreover, the identity of the individuals who constructed this structure raises intriguing questions. "We don't know – it could have been Homo sapiens, and we just haven't discovered fossils from that age yet," Prof. Duller added. "But it could be a different species – [perhaps] Homo erectus or Homo naledi – there were a number of hominid species around at that time in southern Africa."
This discovery has the potential to enrich our understanding of ancient woodworking techniques, craftsmanship, and human interaction with the environment. As researchers continue their work at the Kalambo Falls site, the pages of history are being rewritten, and our appreciation for the ingenuity of our ancient ancestors grows ever deeper.