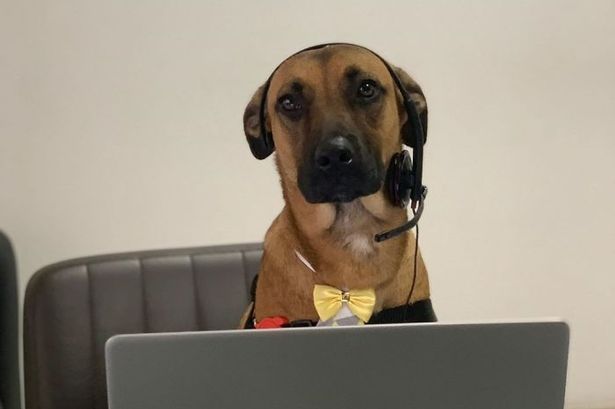 The Dog Who Works at a Car Dealership

Strong bonds of friendships at times will be forged through the toughest of trials and the most challenging of misfortunes. However, there are friendships that are just destined to be and they easily fall into place and turn into near soulmate level of bonding right from the start. Regardless of how they first meet, friends both have to make the conscious choice and effort to keep the friendship alive and going. It is dependent on them both.

This is how it usually works for us humans, but it is not quite the same when it comes to dogs and the special bonds they form with the humans that they choose. And for one stray pup from Brazil, the friendship he chose to form with a group of humans likely ended up saving his life. It also got him a cozy position at a local car dealership. Yes, you heard that right. A dog got hired by a car dealership. Read on to learn more about this unique but utterly amazing friendship that has been forming for months now.

Staff at the Hyundai Prime dealership in a small but busy town in the heart of Brazil noticed there was a stray dog showing up on the property. The dog would show up usually in the early mornings and just hanging around the outskirts of the dealership and watch. Then over time be got accustomed to the humans he had grown fond of watching and would venture over for treats and belly rubs and pats on the head. This happened nearly every day for several weeks and so the employees as well as the dealership management decided to do something about it. If this pup was going to show up every day and hang out he needed to be part of the team, and so they gave him a job at the dealership.

The pup soon showed that he had natural talents as a crowd-pleaser and had a knack for making people smile and laugh. And so it was, his new friends put him to work as the dealership's unofficial local ambassador. Given the name Tucson Prime, he soon became a hit with the employees as well as the customers who came to the dealership. They even started an Instagram account for the pup where Tucson Prime shows off the warehouse, offices, shown room, and what exactly it is he does all day long at the dealership. He's only been there a few months but already has over 40,000 followers on his social media Instagram page.

And everyone is committed to this growing friendship and it is an accepted long-term commitment, as he has his very own dog house on the dealership property where he now lives. Employees rotate caring for him and he goes home with a team member anytime the dealership is closed for more than overnight. Tuscon Prime now has home within a home and no longer has to worry about being a stray. All because of the seemingly chance friendships he started with the right group of people. He gets all the love and tummy rubs and treats he could ever want and most importantly, he has a very special family he can now call his own.
It truly is a wonderful sight to see how much love these kind-hearted people have for this one pup. Seeing and feeling all of the love in this one very special place, and seeing the mutual friendship that has sprung up between the dealership and Tucson Prime is exactly the kind of story we need to be hearing about these days!

Mysterious Buyer Orders HUGE Girl Scout Order to Save Troop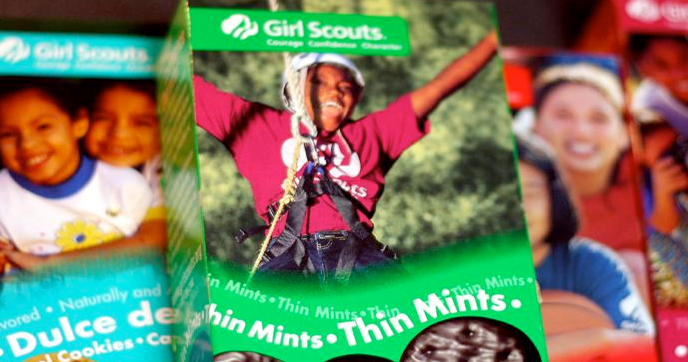 When Kayla Dillard and her daughter went gathered with their troop to sell Girl Scout Cookies, they had no idea what was in store for them. If you only have a brief understanding of the Girl Scouts, you likely know that they are revered for the delicious snacks sold outside of stores and parking lots every year. One mystery man in Greenville, South Carolina, apparently loved the cookies so much that he decided to buy the entire stock from Dillard and her troop. This heartwarming story had a rather mysterious ending, however, with nobody knowing who the man was.
Let's peel this story back and start from the beginning, and maybe we'll learn more about the mysterious hero!
Troop 1574: Selling Cookies to Make a Difference
Kayla Dillard manages the cookie sales offered by Troop 1574. As part of her job, Dillard helps the scouts to advertise their cookies while making sales, using the received money to further support the troop. Dillard had been managing the station on a regular Friday night when a mystery man approached the table. Dillard relayed the story on social media at a later time saying, "This man purchased seven packs of cookies and gave the girls $40 and said to keep the change."
A large order and not at all out of the ordinary, Dillard thought that she had made a great sale to a kind soul. Little did she know, the night was only getting started. The man would return shortly after making his first purchase before telling the troop, "Pack up all of your cookies – I'm taking them!"
According to Dillard, the man had wanted to help the troop while also getting the kids out of the cold. Apparently, the weather was bitter and cold, leaving the troop more than a little uncomfortable. Needless to say, the entire troop was ecstatic when they heard that their mystery buyer was taking the rest of the lot. Dillard would go on to say of the mystery buyer, "$540 he spent on cookies. What an amazing soul!!!!"
Despite the story going viral, Dillard and her scout troop have been unable to identify the man. Numerous reporters and local news agencies have tried to contact the mystery buyer in order to highlight his story. As it turns out, this is one hero who has decided to remain unidentified.
History of the Girl Scouts
The Girl Scouts were founded by Juliette Gordon Low in 1912, during the middle of what we now call the Progressive Era. It was at this point in American history that women couldn't vote and this was something that frustrated the nearly deaf Juliette Gordon Low to no end. In order to fight back against this oppressive, Juliette would host events with fellow women, playing games, hiking, camping, and learning about the world around them.
Juliette and her girls would learn different languages, how to lend a helping hand, and how to read the stars. Thanks to these early efforts, the Girl Scouts Club would grow by leaps and bounds over the years, potentially to a level that Juliette never could have imagined. At the time of this writing, and according to the Girl Scouts, there are more than 1.7 m million girls and 750,000 adults within the organization across 92 countries.