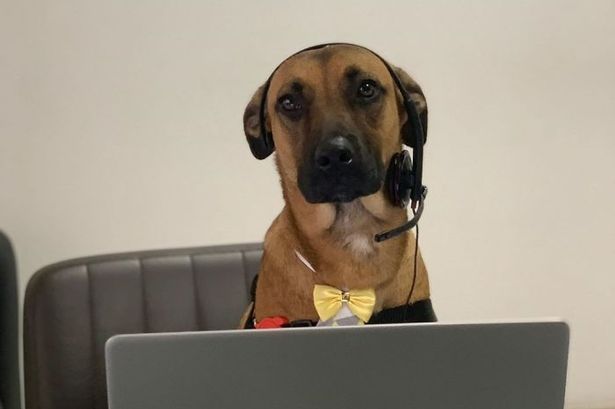 The Dog Who Works at a Car Dealership

Strong bonds of friendships at times will be forged through the toughest of trials and the most challenging of misfortunes. However, there are friendships that are just destined to be and they easily fall into place and turn into near soulmate level of bonding right from the start. Regardless of how they first meet, friends both have to make the conscious choice and effort to keep the friendship alive and going. It is dependent on them both.

This is how it usually works for us humans, but it is not quite the same when it comes to dogs and the special bonds they form with the humans that they choose. And for one stray pup from Brazil, the friendship he chose to form with a group of humans likely ended up saving his life. It also got him a cozy position at a local car dealership. Yes, you heard that right. A dog got hired by a car dealership. Read on to learn more about this unique but utterly amazing friendship that has been forming for months now.

Staff at the Hyundai Prime dealership in a small but busy town in the heart of Brazil noticed there was a stray dog showing up on the property. The dog would show up usually in the early mornings and just hanging around the outskirts of the dealership and watch. Then over time be got accustomed to the humans he had grown fond of watching and would venture over for treats and belly rubs and pats on the head. This happened nearly every day for several weeks and so the employees as well as the dealership management decided to do something about it. If this pup was going to show up every day and hang out he needed to be part of the team, and so they gave him a job at the dealership.

The pup soon showed that he had natural talents as a crowd-pleaser and had a knack for making people smile and laugh. And so it was, his new friends put him to work as the dealership's unofficial local ambassador. Given the name Tucson Prime, he soon became a hit with the employees as well as the customers who came to the dealership. They even started an Instagram account for the pup where Tucson Prime shows off the warehouse, offices, shown room, and what exactly it is he does all day long at the dealership. He's only been there a few months but already has over 40,000 followers on his social media Instagram page.

And everyone is committed to this growing friendship and it is an accepted long-term commitment, as he has his very own dog house on the dealership property where he now lives. Employees rotate caring for him and he goes home with a team member anytime the dealership is closed for more than overnight. Tuscon Prime now has home within a home and no longer has to worry about being a stray. All because of the seemingly chance friendships he started with the right group of people. He gets all the love and tummy rubs and treats he could ever want and most importantly, he has a very special family he can now call his own.
It truly is a wonderful sight to see how much love these kind-hearted people have for this one pup. Seeing and feeling all of the love in this one very special place, and seeing the mutual friendship that has sprung up between the dealership and Tucson Prime is exactly the kind of story we need to be hearing about these days!

Father in Bumblebee costume escorts his kid back to school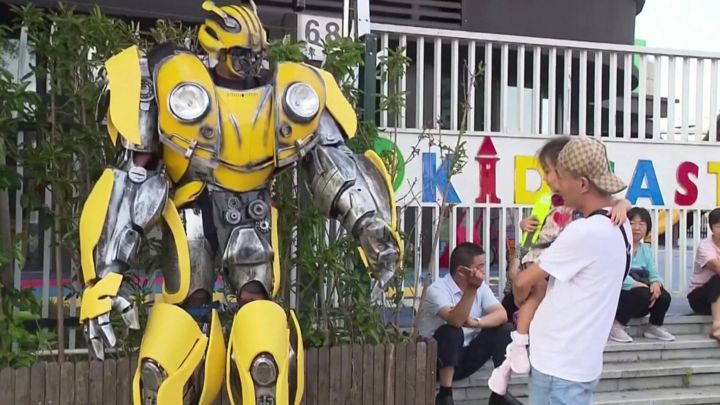 Bumblebee from the American sci-fi movie series Transformers never had a kid, but if he did, he'd have definitely escorted him to school.
A father in Shanghai, China has gone above and beyond to encourage his kid to go back to school after staying at home for months due to the Covid-19 pandemic. There's no way any child is refusing to walk with Bumblebee into school, and this man had that in mind when building his Autobot suit.
Just like the rest of the world, China had been on lockdown, and for months, kids had to stay away from school to prevent infection and spread of the deadly virus. However, some normalcy is being restored in some parts of the region, and schools now have the green light to open and allow children continue with their education.
The Bumblebee suit wasn't only for his kid, though. He built it to serve as some amusement and surprise to other kids at school- and that he did.
"I also want to bring happiness to other children. I didn't only wear it for my own child. All of them were preschoolers," he said in the video.
His suit looks like the real thing. The only things missing were metal, alien technology, and missiles- not much, right? Standing about 2.3-metre tall, the suit was built using soft materials to prevent touchy and curious children from getting injured- and he was right to have done that because he was rushed and hugged by children upon arrival at the school.
The excitement of the kids at the sight of Bumblebee could light up astronomical units of outer space, as the intergalactic warrior once again put smiles on the faces of humans. Kudos to this amazing dad for his efforts to make kids happy to resume back to school- he'd probably do it every day if he could.
The home-made suit seems to be inspired by the 2017 movie Bumblebee.