Stunning Snow Art Created By 60-Year-Old During Nature Walks.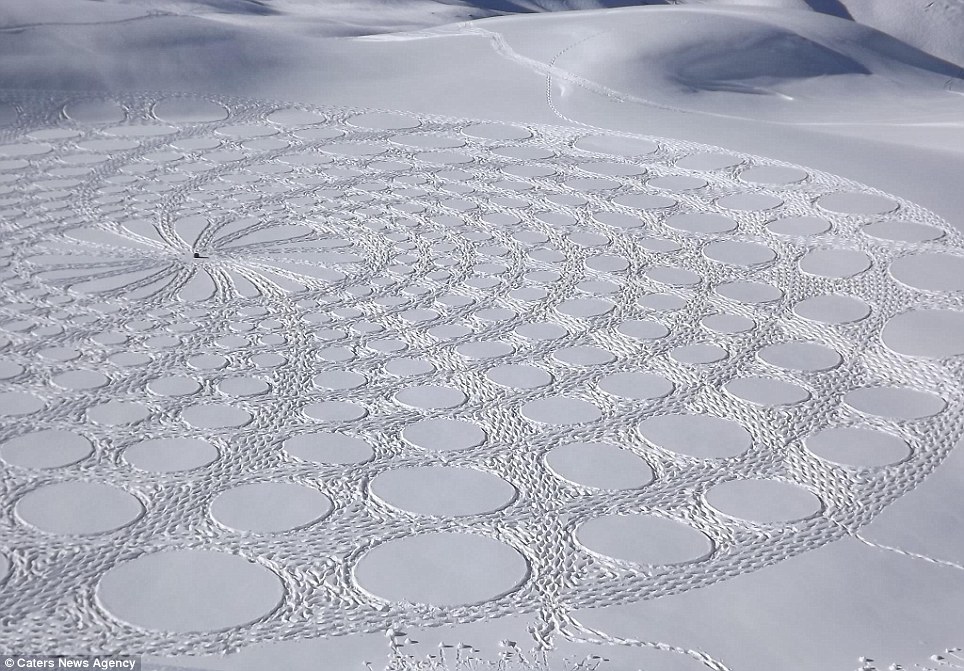 Looking at the world from an aerial view can unveil some amazing scenery. Nowadays, thanks to the internet, it is possible to get a birds-eye view of just about everything in life. So when 60-year-old Simon Beck began performing as a snowshoe artist, the world began to take notice. Now, we know what you are probably thinking. What in the heck is a snowshoe artist? Who is Simon Beck? How can any of this actually be any cooler? Don't worry, we've got the answers to all of your questions.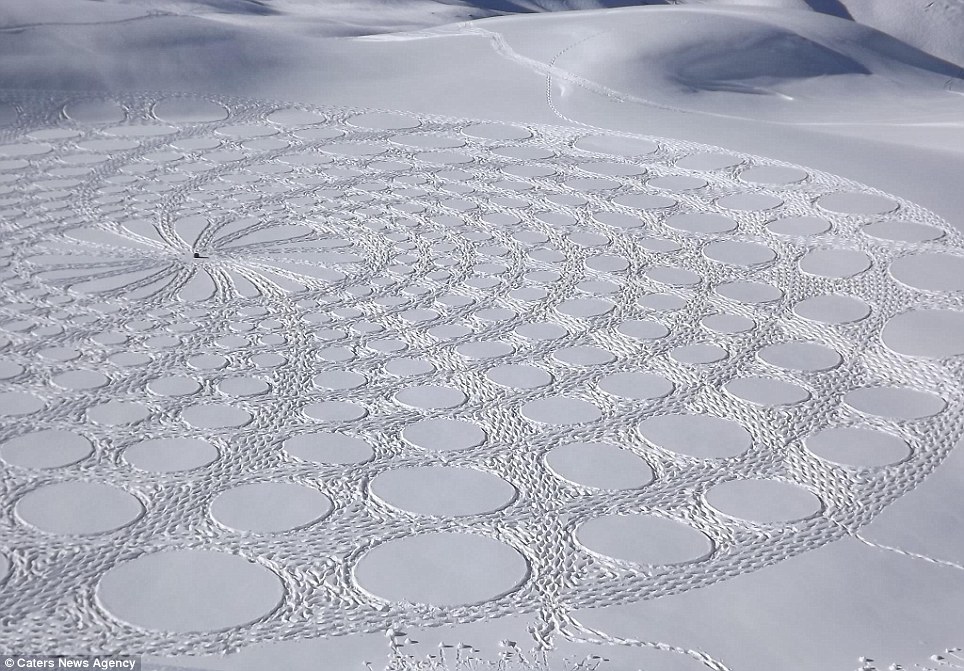 Simon Beck hadn't dreamed of becoming a snowshoe artist when he was a child, it was just something that happened. Beck is actually a former cartographer, a profession dedicated to drawing and producing maps. Beck had earned his degree in the field while attending Oxford for engineering. Working as a cartographer would give Beck the training and attention to detail that he would need to shock the world as a snowshoe artist.
For the better part of the past decade, Beck has been using his elaborate technical skills to create mind-blowing snowshoe art. These images can be seen from the air, as well as all over the internet, and Beck's results are simply staggering. To accomplish some of the more intricate patterns that he develops, Beck can spend up to 12 hours carefully walking through the snow. Beck will end up taking nearly 40,000 steps to create the perfect piece of snowshoe artwork. The job is as intense as it sounds, and we have to imagine that Beck is physically exhausted by the time that he is done working on his art. While the output speaks for itself, we have to imagine that there is something bittersweet about watching the wind blow it away.
There are many challenges that Beck has to overcome while attending to his snowshoe art. For starters, the elements are always a factor for the duration of the project. As snow and sand can blow away at the slightest breeze, Beck spends much of his time re-working older segments of his art. Other obstacles include the grueling physical work, the massive time sink, and even destruction caused by visitors who don't realize that Beck is working on something.
Even though Beck has been making a name for himself for years, his work is finally getting even more exposure. Beck as interviewed for a column on Artsy, and he was able to unveil some of his thoughts regarding the art form. Beck admitted during the interview that his work was fleeting, but he countered the idea by pointing to the longevity of a photograph. Beck made the insightful point that the vast majority of people will never see the Mona Lisa in person, but almost everyone has seen a photograph. Beck says, "Most people will only ever see (…) artwork as photographs." For Beck, the fame is clearly not what he is after. Instead, it seems like Beck just wants to share his passion with the world.
Simon Beck has created more than 300 drawings across Europe. He has used his special shoes to craft artwork in the sand, in the snow, and in countries throughout the world. Each piece of artwork presents a unique challenge to Beck, thus always keeping his craft fresh.
Man's Best Friend, Except When It's Time for the Weather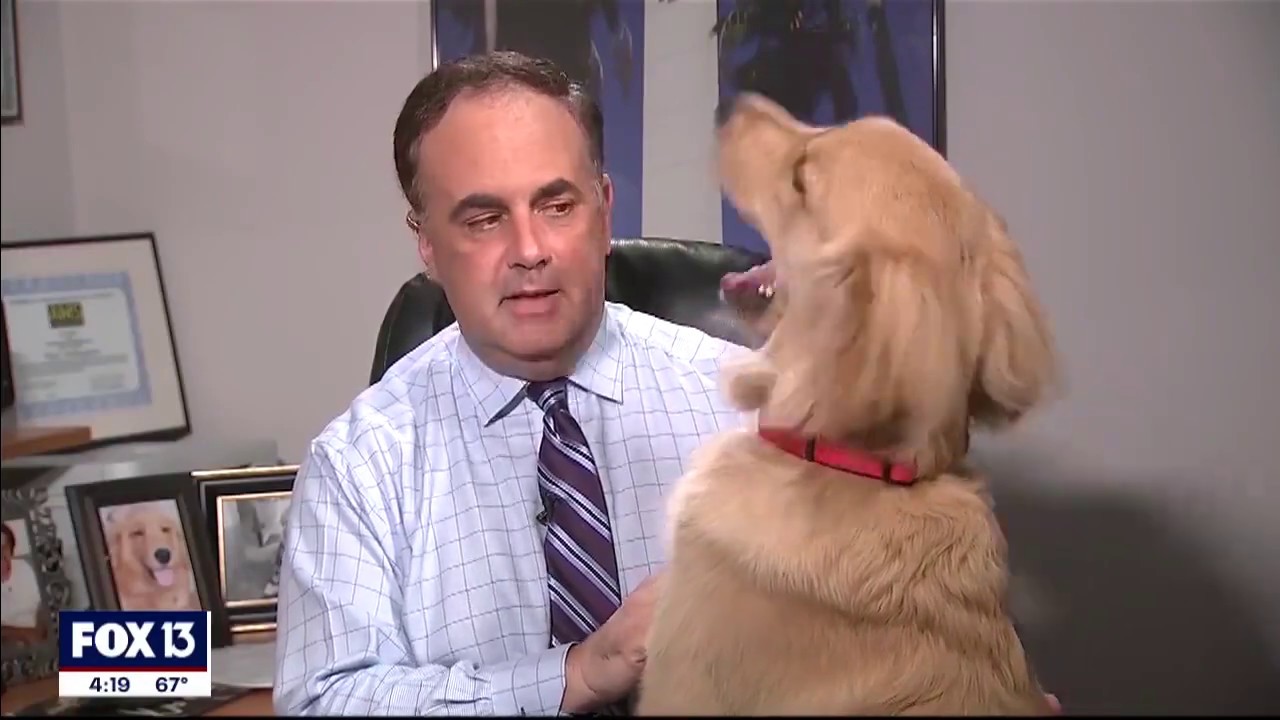 Working from home these days comes with a number of new challenges and risks that most never expected to deal with in their careers. But when the computer camera or conference video is placed in one's private accommodations, all sorts of issues can pop up that folks normally don't deal with in the office setting. Everything from what kind of photos, art or prints one has in the background to their furniture in a personal room to everything else the home is shared with becomes potentially exposed. And in the case of a particular weatherman trying to provide his meteorologist work online, man's best friend can be a notable interruption.
Paul Dellegato regularly works as meteorologist for Fox 13 based in Florida. However, like many others, Paul had to figure out in short notice how to relocate his work and his broadcast to his home to maintain social distance and health safety. While the access to his work networks and computer setups wasn't too hard, the readjustment to a home office and presentation place for his work took a bit of additional thinking. He had to pick a place in the house that would be free of distractions, walk-in surprises, problematic backgrounds, and not be invasive to his own home as well. What Paul didn't count on was that his own extended family might end up being the real disruption to Paul's broadcast.
In the clip provided, Paul is working as usual on his life TV broadcast and covering the weather for the day and the next few days' expectation. As he's going through the details and the changes in high and low pressures as well as the temperature predictions, someone doesn't want to let the weatherman continue. Paul's golden retriever, Brody, has decided to be a gate crasher and literally jump up in Paul's face and personal space. No matter how much Paul tries, his dog just keeps being persistent for his master's attention. Chances are the dog is probably hungry for dinner and is making a point about it. Doing so, however, Paul's dog is not only making a presence on the screen, the canine is goofing up the weather graphics on the nearby computer, making a ton of noise, and showing how useless it is for Paul to try to and stop the chaos. The audience loves it and Brody, and Paul's dog became the new digital mascot for Fox 13.
The weatherman's crisis resonates with all of us. We're all going through a big disruption, trying to reconstruct our professional work lives from home all over the country. So, to find a bit of humor in Paul's online dilemma with Brody provides a cathartic effect, helping us all find some humor and a bit of lightness in watching. Once you watch the show clip, you'll understand why Paul's situation went viral so fast.
Things didn't turn out bad for Paul. He earned big commendations for how patient he was able to stay under duress from Brody and the dog's insistent interruptions of his weather show. And it was clear Paul loves his furry buddy. So, the feeling now is the heck with the weather maps. How Brody behaves on camera will indicate if tomorrow will be a good weather day or otherwise.