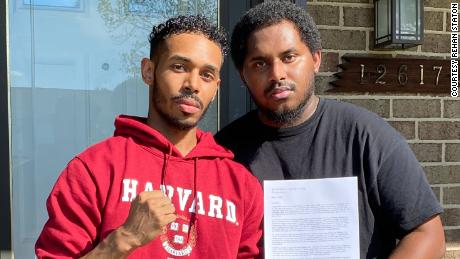 Student Who Used To Work As Garbage Collector Has Been Accepted Into Harvard Law School
It's good news for Rehan Staton who recently got admitted into Harvard Law after overcoming some difficulties.
When Staton was eight, life was easy and beautiful. Life had its awesome components—loving parents, a supportive big brother and a comfortable private school education including a homeschool teacher.
Things went awry when his mother abandoned them and jetted off to another country. This would lead to some other issues—his father lost his job and had to hustle three jobs to make ends meet. Food which was once plentiful became a scarce resource. And they had to cope without switching on the thermostat.
"I would have to sleep with a heavy jacket on when it was cold," Staton said. "I was always angry and hungry. It affected my academic work at school, and I started to perform horribly."
His academic performances dropped and from being one of the top performers in class, he became one of the worst performers. Staton pointed to the fact that he was always dozing off in class as it was warm there. Getting to seventh grade, the bad academic performances continued and a teacher advised he needed special education. This statement made him lose interest in school.
It was evident something had to be done. Staton's father went on a trip to the local community center and sought for assistance on who would help teach his son. There, an aerospace engineer proffered to help educate Staton for the rest of the year without collecting a dime.
"I ended up making honor roll the rest of the year," Staton said. "He was like an uncle or godfather that gave me food and a place to stay sometimes. After we stopped the tutoring sessions, my grades suffered again."
Staton would spend his high school years training rigorously in his pursuit to be a highly skilled boxer.
"I won a lot of martial arts competitions," Staton said. "From all my teachers, mentors and classmates — no one ever asked me about school or college. It was always, 'How'd your tournament go? How's training? When's the next match?'"
His dreams on becoming a success through boxing would later suffer a blow when he suffered severe tendinitis in both shoulders. He was unable to wield his arm over his head for months. The injury wasn't a major career threat and he could recover but since he lacked medical insurance, Staton said physical treatment wasn't a route to follow.
Now that his aspirations of turning into a pro boxer had suffered a blow, he began applying into colleges desperately. Albeit, he was rejected by all.
Whilst recovering from the injury he suffered, he was employed as a trash collector at a local sanitation company. Many of his colleagues that worked there had gone to prison. They noticed his creativity and intellectual ability which made them ponder: "What are you doing here?"
"They would say, 'You're smart,'" Staton said. "You're too young to be here. Go to college, and come back if it doesn't work out."
This was a surprise to Staton as it was the first time someone outside his family and his seventh grade tutor would praise his intellectual ability.
"Teachers, church leaders, and other upper echelon people known for being a role model in society were the ones that never saw anything in me," Staton said. "It was the sanitation workers that lifted me up to make me even want to go to school."
Co-workers helped speak to the executives at the sanitation company and Staton was thereafter connected to a professor at Bowie State University—one of the schools that denied his application months ago.
The professor was in awe during their conversation and he persuaded the admissions board to rescind their decision.
Now that he had to go to college, Staton's older brother, Reggie had to drop out from school. Someone had to work alongside their dad in order to make money, else they would forfeit their house. Staton said it was a decision Reggie made on his own accord.
"My brother knew I'd be stuck if I didn't jump on this opportunity and go to school because of my grades," Staton said.
Staton would go on to get a 4.0 and he matriculated to the University of Maryland, where he excelled as the president of the undergraduate history association, history representative for the dean's cabinet and eventually as the graduation speaker for the class of 2018.
Even as a student, Staton would wake up every morning, persisting in his job as a garbage collector. He was always working two separate shifts between classes. Doing this, he had to stay away from partying.
"I had to give up any sort of social life," Staton said "I just put my head down and stuck to a schedule to make it all happen."
After graduation, Staton had a health issue but that didn't stop him from getting a job at a political consulting firm in Washington, D.C. He passed the LSAT and sent applications to law schools. This he did while working full time.
It would take a while though. In March, Staton learned he'd been accepted into his dream schools—USC, Columbia, the University of Pennsylvania and Harvard.
"It was a surreal moment for me," Staton said. "It made me feel like my brother and my dad's sacrifices were not in vain. We did it."
Staton would eventually settle for Harvard Law School. For people searching for inspiration in these trying times, Staton says "love yourself enough to get what you want out of life. You can always see the light in any dark situation, and you need to hold on to that light."
Joyous Return of Assumed Extinct Mini Pig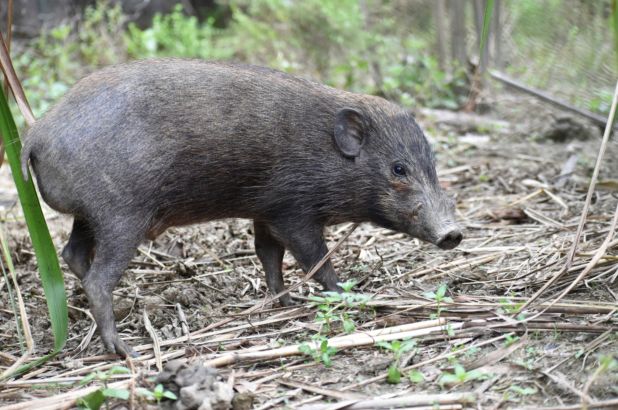 When animals go extinct, they become a footnote in history. The return of an assumed extinct species is not common. In fact, it's downright rare. So, in 1971, when the pygmy pig in India disappeared, many biologists and researchers expected the creature to be done for. The little creature normally lived in the foothills before the Himalayas reach up for the clouds and normally would reach a rocketing 10 inches in height off the ground. Given its natural size, the pygmy pig generally tried to stay out of sight to keep off the dinner menu of predators. It's own diet consisted of bugs and tubers, more than enough to keep the creature fed.
An Amazing Turnaround
However, after 100 years of human intervention and encroachment, by the 1970s the pig was written off. It wasn't until another 20 or so years later, researchers in the area managed to catch a few of the pygmy pigs alive. They nurtured them in captivity until they bred, and then the teams worked to continue increasing the pigs numbers. Finally, enough of a population was raised that the researchers could actually attempt to let the pygmy pigs go. The releases began in Assam, in the northeast part of India. And so began 25 more years of work trying to get the wild pigs to increase their number and avoid a complete wipeout. Today, some 300 to 400 creatures are estimated to be alive, running wild. Another 76 are held in reserve and continue to be raised in captivity, just in case. However, the best news is, the species is living again.
More Than One Colony Makes a Party
In addition to the original release in Assam, additional pigs have been released, with colonies established in Manas as well as Orang, both national parks in India, as well as a pair of animal sanctuaries.
The world can't afford to lose more species to extinction thanks to human development, including pigs. Currently, there are only 17 types of pigs left today. Without the efforts of conservationists, that number would drop further. Each extinction is like someone taking a giant eraser to a chalkboard of millions of years of evolution.
Of course, now the problem is nature itself as well. While the pygmy pig population has stabilized and is growing, the bigger problem is that they are still fragile. Swine flu and similar conditions can easily decimate these pigs before anyone can stop it simply through contagion. So, the conservationists have their hands full trying to keep the populations safe and separated from any carriers with potential viral threats.
Conservationism can be hard, and oftentimes it ends in disappointment trying to save an endangered creature. However, in India, this time the pygmy pig can be considered a win. And, if things stay on track, it should be able to re-establish itself very well.