Routine Traffic Stop Turns into Heartwarming Occasion Thanks to Officer's Kind Gesture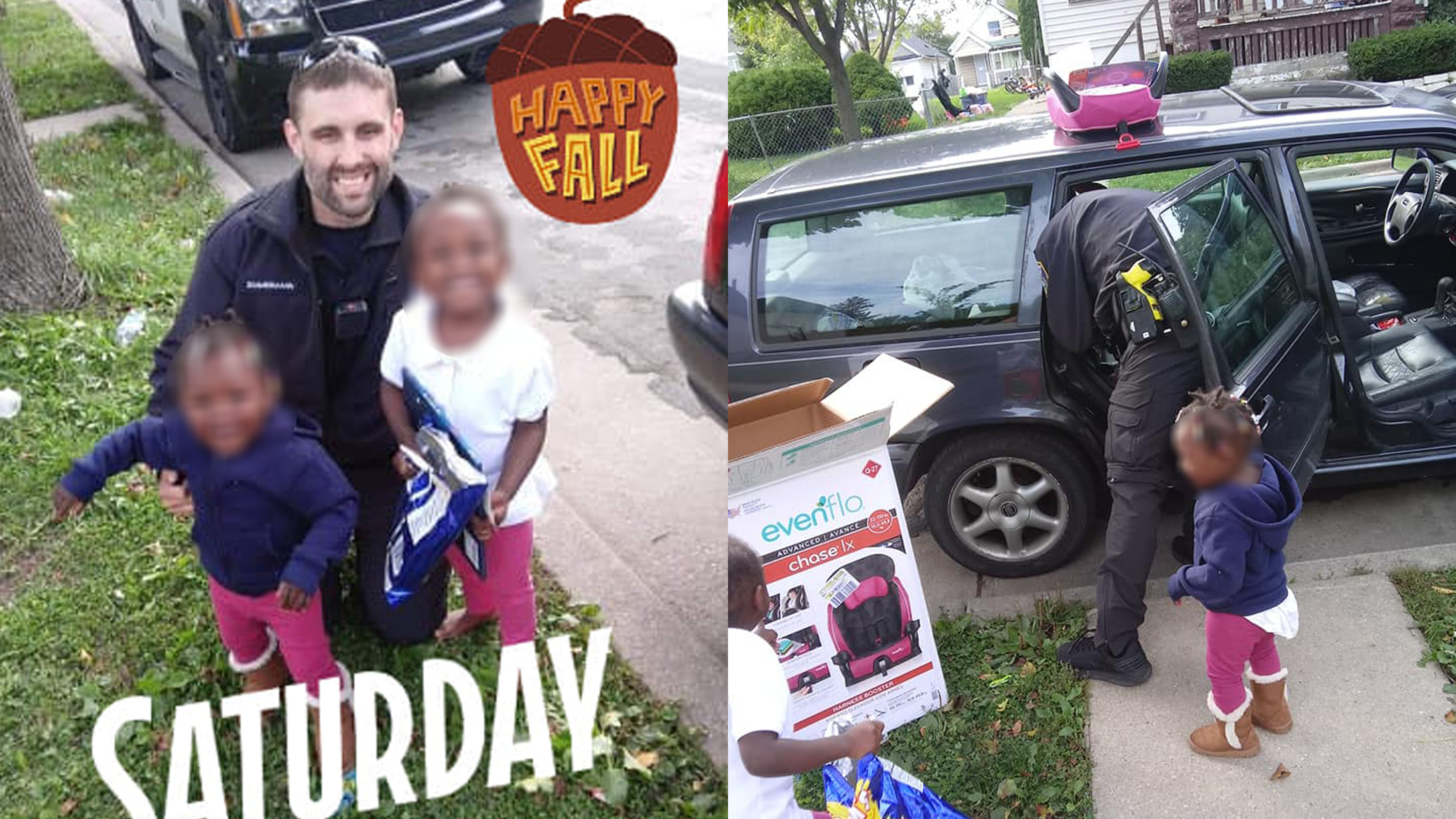 Getting pulled over can be a stressful situation. You may not know right away why you were asked to stop, but you probably have a good hunch that it's not for a good reason.
More often than not, that premonition we have about being pulled over turns out to be accurate and we have to be involved in a less than ideal situation. It's why many of us dread stopping to talk to an officer so much.
Andrella Jackson may now have different thoughts about being asked to stop by an officer though.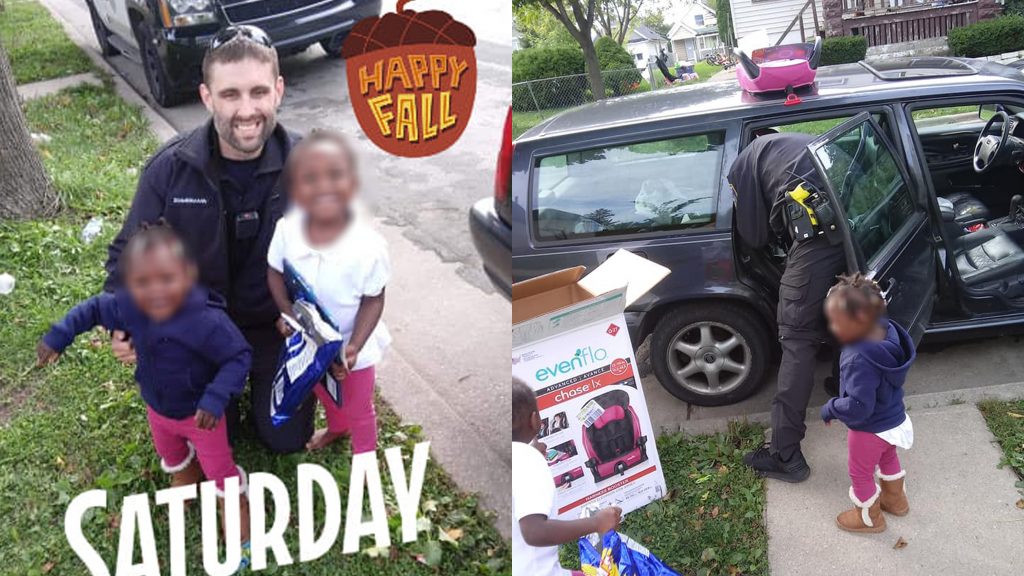 Not too long ago, Jackson was spotted by Milwaukee police officer Kevin Zimmerman and was asked to pull over. Officer Zimmerman requested that Jackson stop because she had the wrong registration for her car.
As he approached the vehicle though, something else caught the eye of Officer Zimmerman. To be more specific, he saw that there were three kids in the backseat of Jackson's car and two of them were still very small, WTMJ-TV reported. He also noticed that the two small children in question were not in car seats.
Officer Zimmerman then asked Jackson why the small kids were not placed in car seats and she said that she did not have the money to pay for those essential pieces of safety equipment at that time. Jackson mentioned that with winter on the way, she was saving up to buy her children new coats and boots.
A shortage of money is the same reason why Jackson had failed to get her vehicle registered properly.
Per the American Automobile Association (AAA), there are laws in every state dictating that children should be in car seats or restraints.
It would have been easy for Officer Zimmerman to issue Jackson tickets for her violations, but he opted to handle things a different way. Instead of adding to her problems, he went about solving one of them.
Officer Zimmerman soon made his way to a nearby Walmart, and after learning how much the kids weighed from Jackson, he went ahead and purchased two car seats using money out of his own pocket. He even stuck around to install the car seats himself.
By the way, the police officer did more than just give Jackson and her kids new car seats. According to this report from CNN, Officer Zimmerman also made a stop at the police department to pick up a few things – children's books and stickers – that he also gifted to Jackson's kids.
The police officer explained why he went the extra mile to help out Jackson. Officer Zimmerman shared that he has kids of his own. He hinted at how frightening the thought is of his own kids moving around in a vehicle with no car seats and how they can be placed in grave danger if an accident occurs.
Officer Zimmerman also said that he was always taught to "do the right thing even if no one is looking." In this case, both Jackson and the Milwaukee Police Department wanted to make sure that Officer Zimmerman would receive the recognition he deserved even if he wasn't looking for that.
The generous act touched Jackson, prompting her to shower Officer Zimmerman with numerous "thank yous." Her kids got in on the chorus of generosity as well.
Jackson called Officer Zimmerman "awesome" and that she is appreciative of the kindness he showed. She added that with the car seats now purchased and installed, she will be able to allocate a bigger budget that will then be used to buy those new coats and boots that her kids need.
What could have turned into an even more trying situation for Jackson and her kids became a shining example of humanity at its best and that is thanks to the generosity exhibited by Officer Zimmerman.
Growing Up Near Nature Turns Children Into Happier Adults, According to a Research Study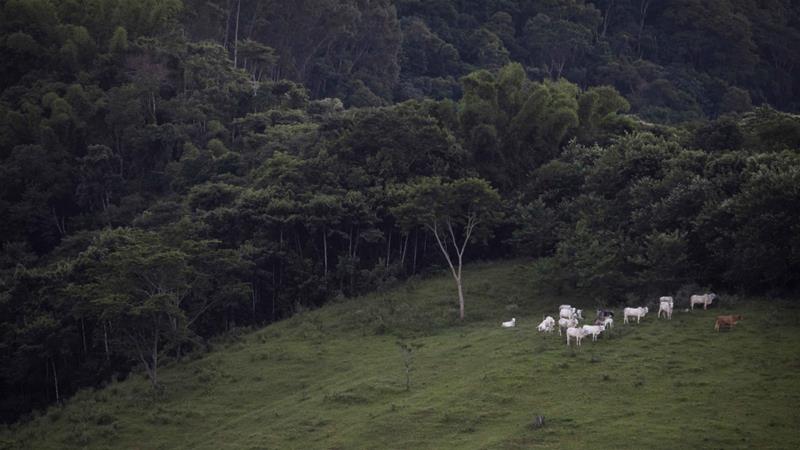 There are lots of different ways to grow up; however, there is a theory that those who grow up more in touch with nature are more likely to be happy as adults. While the reasoning behind this hypothesis was unclear at first, it is now obvious that being close to nature is better for the soul. The night sky is darker, making it easier for people to sleep. The air is cleaner since there isn't as much pollution out in the green areas. Finally, there is something that is claiming about watching the harmony of nature at work. Even though some people might be a bit hesitant to move this far away from civilization, there is now research showing that this kind of environment simply makes people happier.
Of course, people are always going to have their own personal preferences but the results of a recently published research paper are still intriguing. In a research paper that was completed in Denmark, a team of professionals followed close to 1 million people over the course of their childhoods. These were all children that were matched with appropriate controls for the completion of this study. The results of the study showed that the farther away from green children were, the more likely they were to develop a mental illness. Specifically, children who grow up exposed to the lowest levels of green were more than 50 percent more likely to develop mental health issues later in their life. This information was provided by databases kept by the Danish government.
To complete the study, researchers took a look at satellite images of the various parts of Denmark. They used these images to figure out how much green was located around the areas in which these children grew up. Green was used to indicate how much nature was nearby. Specifically, the participants did not have to grow up near a forest to be exposed to a ton of green and be free from mental illness. Simply being close to public parks and green spaces, which might include forests, would be enough.
One interesting finding was that people who were located in a higher socioeconomic class, despite living closer to the city, were still exposed to plenty of parks. This means that they have the ability to protect their children from being exposed to a risk factor of mental health issues, despite living in the city. It should come as no surprise that those who have access to more resources are less likely to develop mental health issues.
On the other hand, even controlling for this important factor, the researchers still showed that more green means a healthier mind and a happier life. The greater the percentage of someone's childhood spent near green spaces, the less likely they are to develop mental health issues as an adult. The researchers suggest that access to green spaces should be increased to allow people to spend more time near nature.
The professionals also say that more research is needed. Even though they found a strong correlation in the study, they also say that correlation does not necessarily increase causation. The results are still strong. People should make every effort to spend more time outdoors near green spaces. The air is cleaner. The mood is calmer. It is healthier for the mind. With these factors considered, it shouldn't come as a surprise that research is now showing that people need to spend more time disconnected from their devices communing with nature. Without a doubt, more parks are needed.