Routine Traffic Stop Turns into Heartwarming Occasion Thanks to Officer's Kind Gesture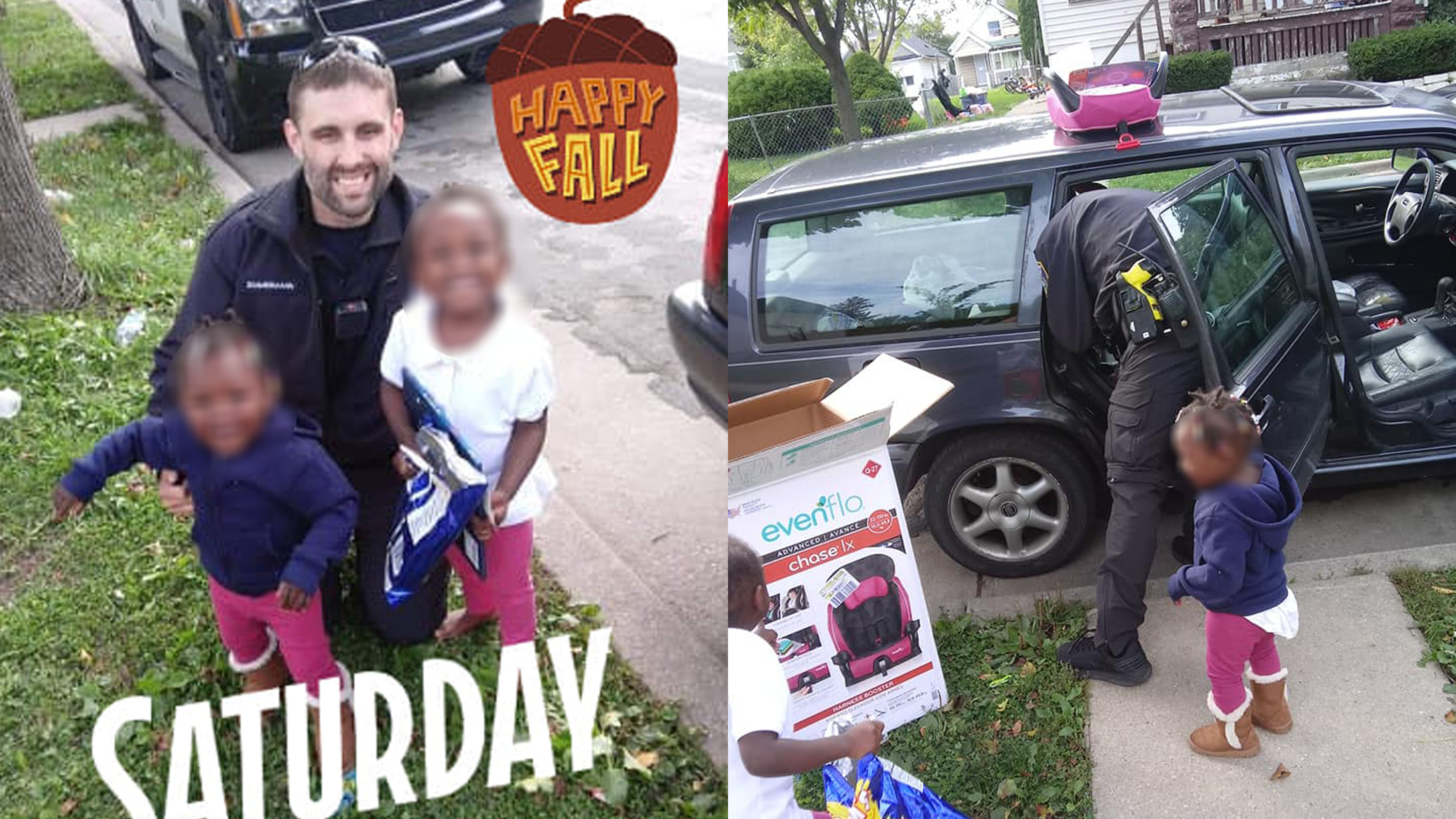 Getting pulled over can be a stressful situation. You may not know right away why you were asked to stop, but you probably have a good hunch that it's not for a good reason.
More often than not, that premonition we have about being pulled over turns out to be accurate and we have to be involved in a less than ideal situation. It's why many of us dread stopping to talk to an officer so much.
Andrella Jackson may now have different thoughts about being asked to stop by an officer though.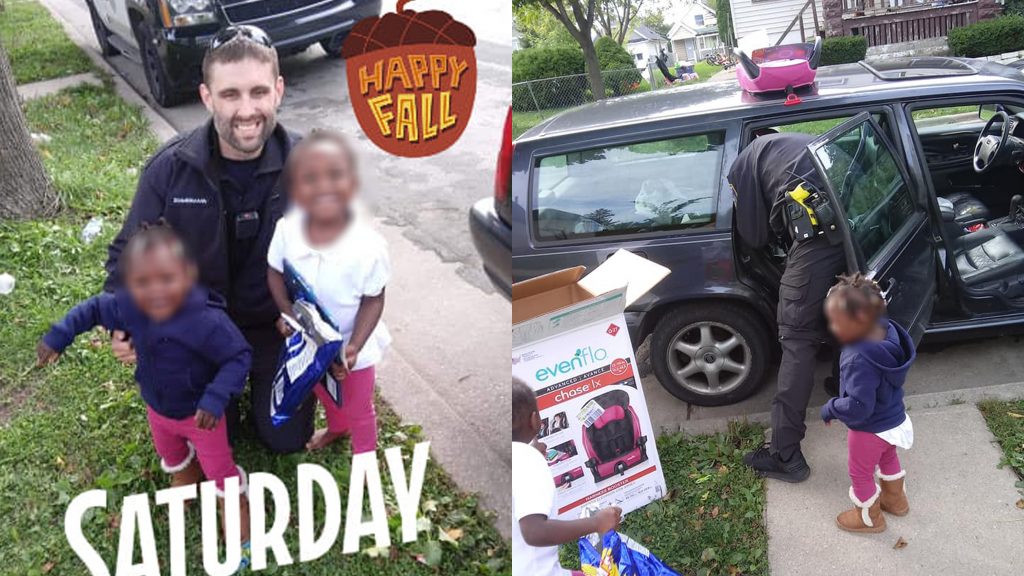 Not too long ago, Jackson was spotted by Milwaukee police officer Kevin Zimmerman and was asked to pull over. Officer Zimmerman requested that Jackson stop because she had the wrong registration for her car.
As he approached the vehicle though, something else caught the eye of Officer Zimmerman. To be more specific, he saw that there were three kids in the backseat of Jackson's car and two of them were still very small, WTMJ-TV reported. He also noticed that the two small children in question were not in car seats.
Officer Zimmerman then asked Jackson why the small kids were not placed in car seats and she said that she did not have the money to pay for those essential pieces of safety equipment at that time. Jackson mentioned that with winter on the way, she was saving up to buy her children new coats and boots.
A shortage of money is the same reason why Jackson had failed to get her vehicle registered properly.
Per the American Automobile Association (AAA), there are laws in every state dictating that children should be in car seats or restraints.
It would have been easy for Officer Zimmerman to issue Jackson tickets for her violations, but he opted to handle things a different way. Instead of adding to her problems, he went about solving one of them.
Officer Zimmerman soon made his way to a nearby Walmart, and after learning how much the kids weighed from Jackson, he went ahead and purchased two car seats using money out of his own pocket. He even stuck around to install the car seats himself.
By the way, the police officer did more than just give Jackson and her kids new car seats. According to this report from CNN, Officer Zimmerman also made a stop at the police department to pick up a few things – children's books and stickers – that he also gifted to Jackson's kids.
The police officer explained why he went the extra mile to help out Jackson. Officer Zimmerman shared that he has kids of his own. He hinted at how frightening the thought is of his own kids moving around in a vehicle with no car seats and how they can be placed in grave danger if an accident occurs.
Officer Zimmerman also said that he was always taught to "do the right thing even if no one is looking." In this case, both Jackson and the Milwaukee Police Department wanted to make sure that Officer Zimmerman would receive the recognition he deserved even if he wasn't looking for that.
The generous act touched Jackson, prompting her to shower Officer Zimmerman with numerous "thank yous." Her kids got in on the chorus of generosity as well.
Jackson called Officer Zimmerman "awesome" and that she is appreciative of the kindness he showed. She added that with the car seats now purchased and installed, she will be able to allocate a bigger budget that will then be used to buy those new coats and boots that her kids need.
What could have turned into an even more trying situation for Jackson and her kids became a shining example of humanity at its best and that is thanks to the generosity exhibited by Officer Zimmerman.
Dirt Biking Couple Reunites Stray Dog With His Family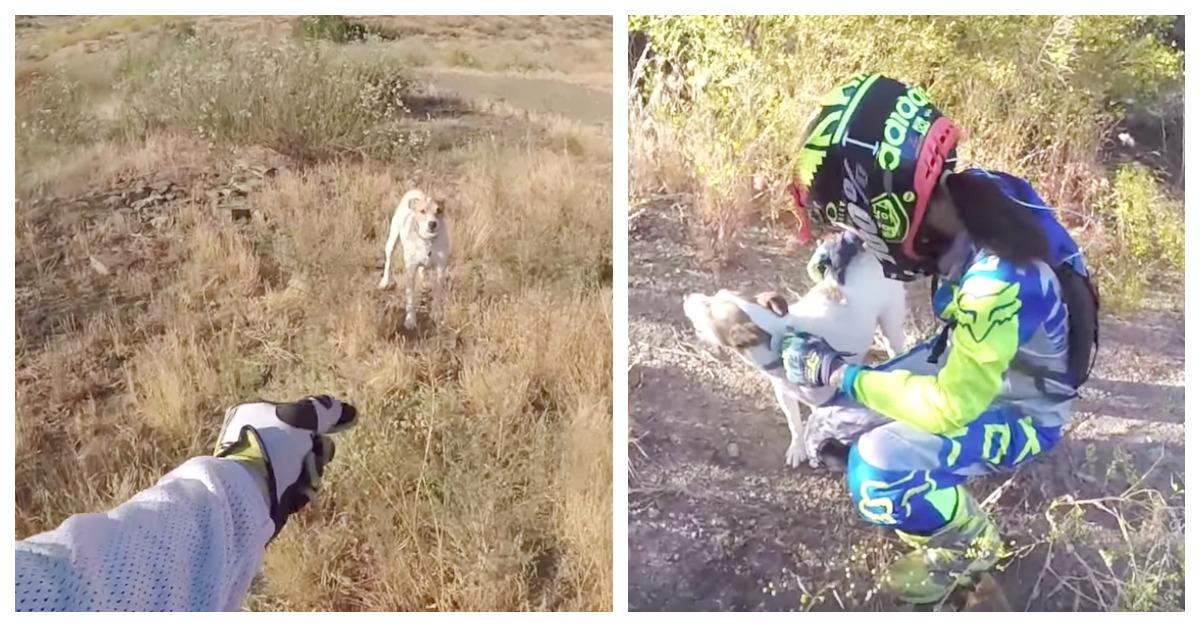 Southern California is a hotbed for people watching, But it is also a place where escaped dogs roam freely. One was reunited with his family thanks to the efforts of a couple out for a dirt bike ride. Gina and Dan were minding their own business, enjoying the Southern California weather. They took a video of their encounter with a dog that was out to have his own adventure.
When Gina and Dan first spotted the dog, they tried to approach him gently. Riding their dirt bikes, they began to trail behind the dog. Just as Dana was approaching him to grab him, he began to bark and promptly took off ahead of them. This didn't deter the couple, and they continued to trail him. When they eventually caught him, Dana read his dog tags to determine who his owner was.
Finding his name and a phone number on his tags, she promptly called it and left a voicemail message for the recipient. In the meantime, they took a seatbelt from their dirt bike and repurposed it to be a leash so that he couldn't run away from them again. They also gave Max some of their bottled water so the dog could keep cool and stay hydrated. The dog was so thirsty he drank the entire bottle, much to Gina's utter delight.
Gina and Dan looked after Max until his owner contacted them. Arrangements were then made for Max's owner to get him back. In the meantime, Max had made friends with Gina and Dan. Max liked them so much he promptly made the leap from the ground to the back of Gina's truck. Max is one dog with a strong intuition of his own, and that intuition told him when his owner was approaching Gina's truck to take Max back home.
This story illustrates how easy it is for people to bond with their dogs. It also shows that considerate people like Gina and Dan look out for others. With dogs getting away from their owners virtually every day, people are encouraged by stories such as this one. Anyone who has ever lost a dog knows how important it is to look out for others. Many stray dogs have been reunited with their owners due to the kindness of strangers. That kindness is something that dogs bring to the world, as dogs bring people together as nothing else can.
Max's story is an inspiring one with a happy ending. Seeing a lost dog reunited with his or her owner is something that everyone can appreciate. It tugs at the heartstrings of those who understand how important pets are to people. As members of the family, pets deserve to be looked after as much as anyone else does. People like Dan and Gina are invaluable in helping others reunite with the pets they love so much.