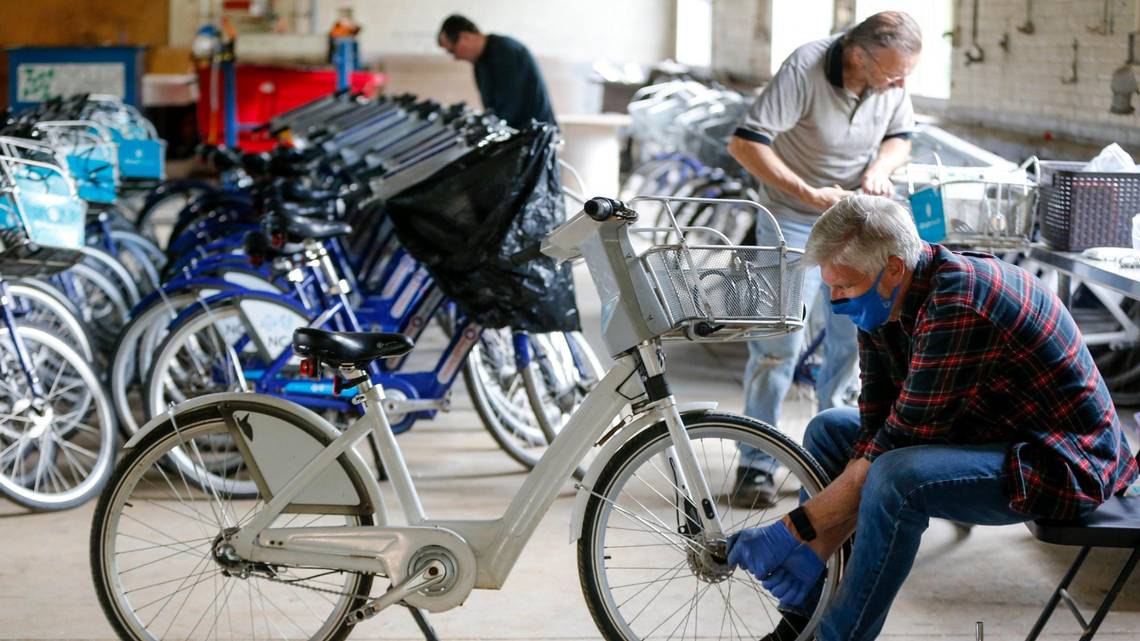 Retired Bike Program Finds New Life in Charlotte as Travel Service For Homeless
As the weather warms up and COVID-19 continues to become a thing of the past, the world will try and shift to normalcy again. For residents of Charlotte, NC, a return to normalcy will have to occur without the help of Charlotte B-Cycles, the rental blue bike-share service that has been providing rides to the city for years. Phased out for an impressive electric-assisted fleet, the city of Charlotte had to decide what to do with the 250+ retired bicycles from its old fleet and this is where our story begins.
Let's explore how the city of Charlotte decided to recycle old bikes to bring new life to the city for those who need help the most.
Reduce, Re-Use, Recycle: Old Fleets Find New Life
Charlotte's B-Cycles may have been taken away to be replaced with an electric-focused fleet called Charlotte Joy Rides, but that doesn't mean that their days of use are over. In fact, the old retired bikes now belong to a pair of volunteer teams from Roof in the Inn and Trips for Kids, two local non-profits dedicated to providing assistance to homeless residents.
Taking the old bikes, the volunteer groups from Room in the Inn and Trips for Kids would acquire the bikes with the intention of repurposing them. Dick Winters, a cycling enthusiast and volunteer at the program, pointed out that transportation is a rather significant barrier to individuals dealing with homelessness. Winters also argues that a lack of available and affordable transportation can fundamentally damage acquiring employment and, fundamentally, independence from poverty. This mindset has been echoed tirelessly by Cedric Mack, supervisor of the Roof Above shelter on Statesville Avenue.
The goal of this joint initiative is to bring transportation to the people who need it the most, giving them the metaphorical keys to their traveling needs. The job has been undertaken by a tireless team of excited volunteers to help those who are most at-risk. Mack says that some of the homeless individuals he works with end up at the bus stop by "4 AM" just to get a ride for errands or to apply for jobs.
Charlotte, Charity, and the Houseless Crisis
So far, volunteers for the program have effectively refurbished 27 bikes. These 27 bikes have already been dispatched to users from the Roof Above program as well as shelters around the area. A pair of bikes would go to a recently homeless family while other bikes have gone to individuals to assist in their independence and traveling efforts. This is a marked difference from the last round of old bikes that ended up sold for scrap, thrown into landfills, or stuck into art installations.
Jonathan Wells has been one of the active pair of hands working on repairing the bikes. Wells was brought to the non-profit after hearing about it through his church. Wells points out that the repair efforts are helping people to attain a "greater degree" of self-reliance and self-sufficiency. Wells went on to say that it would be "Mission Accomplished" if his work helps someone to get a job, get back on their feet, and find a place to live.
At the time of this writing, a 2021 study published by WSOCTV revealed that roughly 3,000 homeless individuals live in the Charlotte, NC area.
Newly Discovered Flower Blooms Atop One of the World's RAREST Trees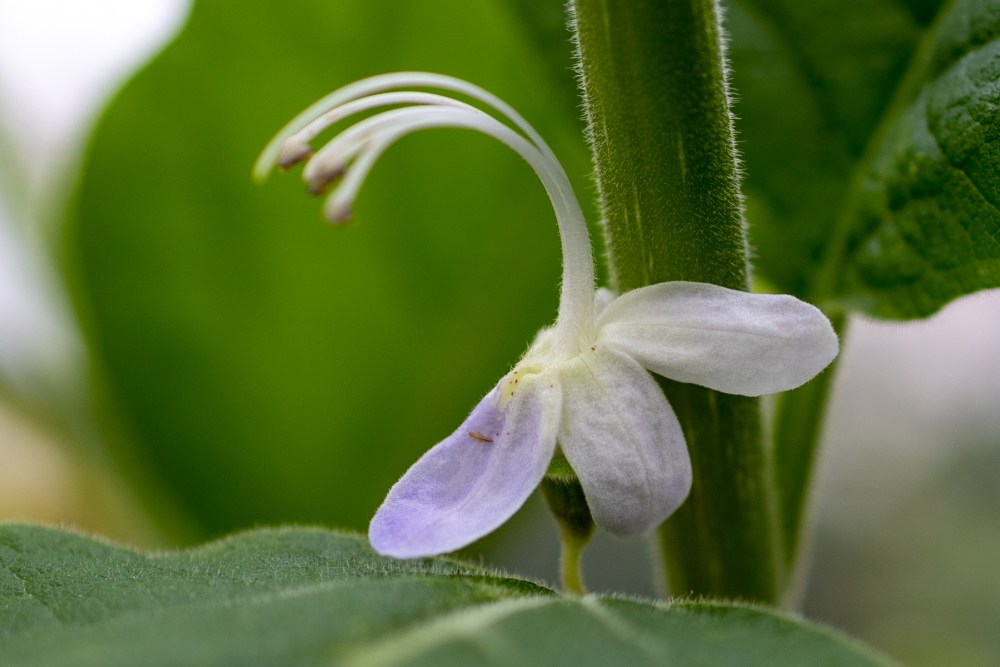 The Missouri Botanical Garden in St. Louis is known by locals for the intense work performed by the experts inside. When a small purple-and-white flower began to grow within their greenhouse, the team of experts at the Missouri Botanical Garden were confused. From their perspective, they were seeing something brand new – a completely fresh discovery.
Discovery on May 3rd
Justin Lee is a senior horticulturist at the Missouri Botanical Garden, and he was performing regular work on a Karomia Gigas sapling in the greenhouse when he first stumbled upon the rare purple-and-white flower. The Karomia Gigas is a tree from Africa with close relations to the mint plant. An endangered tree species in Africa, Justin was confused by the flower that had grown nearly an inch in length atop the tree.
Lee says of his discovery, "It's a bit odd for a mint flower. It seems flipped inside out."
The flower measured an inch in length with a strong halo of purple petals, sloping gently downward toward white stamens bearing pollen. According to Lee, the mint family likes to put out tube-styled flowers in an attempt to attract bees, butterflies, and moths. Lee also suggests that the tree can self-pollinate if necessary.
As the discovery made headlines around the city, the researchers at Missouri's Botanical Garden are preparing for more blooms in the future. Research has suggested that more Karomia Gigas flowers will grow at the greenhouse and it is then that their scientific research will really begin. Lee and his team are focused on successfully cultivating cross-pollination, thus improving the survivability of the plant in the world. At the time of this writing, only about two dozen of the Karomia Gigas trees can be found in the wilds throughout Tanzania.
The Wilds of Tanzania
At the time of this writing, the Karomia Gigas is considered so rare as to not even have a local Tanzanian nickname, nor is there an English one. What little is broadly known about the Karomia is that it can grow in straight stretches for up to 80 feet, limiting branch exposure until nearly halfway to its final height. As a result of its odd, stick-like growth, finding these unseen flower blooms has been harder than you might anticipate!
Roy Gereau is a program director for Tanzania at the Missouri Botanical Garden. Surprised but not shocked by the flower, Gereau was quick to admit that the bloom was new. Gereau said of the rare flower, "There certainly is no record of the flowers in scientific literature."
More important than discovering the flower, researchers in Missouri believe that they can maintain the health of the newly bloomed petals to prevent them from disappearing. Andrew Wyatt is the VP of Horticulture at the Missouri Botanical Garden, and he said, "We can make sure the species doesn't go extinct."
It has been a challenge to grow the plant in Missouri, as has been repeated by researchers at the facility. Seeds had been collected in 2018 from a series of Tanzanian field expeditions. These seeds were shipped to St. Louis where only around 100 were thought to be viable. To make things even more difficult, it was a task to match Tanzanian growing conditions within greenhouses in Missouri.
Despite the challenges that they had to face, it looks like the Karomia is finding solid footing within St. Louis. With some momentum and optimism on their side, what's next?
Andrew Wyatt said of the rare blooming flower and of his own future, "We were debating whether it would even flower in our careers."