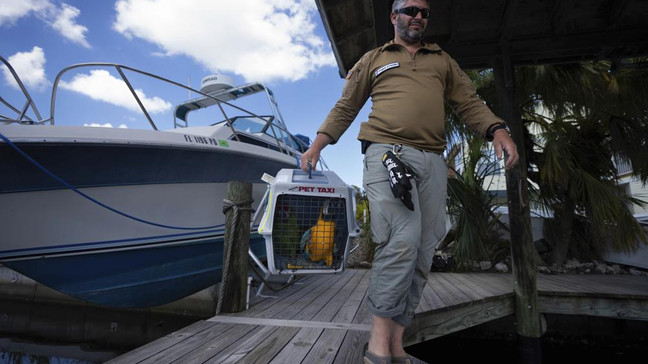 Rescuers Save 275 Parrots That Were Stranded By Hurricane Ian
LEE COUNTY, Fla. — When authorities asked residents to leave their homes due to the dangerous conditions of the roads – including a fallen bridge that blocked off access to food, fuel and other supplies – partners Will Peratino and Lauren Stepp refused to abandon their Pine Island complex.
The pair, who owns the Malama Manu Sanctuary on the island, would not go without their family of lemurs and birds – 275 parrots, which included some of the planet's rarest.
Operation Noah's Ark was created to capture, cage, and transport the birds away from the island on October 4th. The mission was executed in order to convince Peratino and Stepp to leave as well.
As volunteers collected the flock from numerous coops at the sanctuary, Stepp said she would never abandon them. "I can't leave them behind," Stepp remarked, saying if they cannot be given food or water, they will die.
Fruit, peanuts and other food provided by wildlife officials will soon be in low supply because of the fallen bridge and lack of gas throughout the island, all caused by Ian. The birds have been depending on these donations as their main source of sustenance.
The hurricane passed over Southwest Florida last weekend, bringing with it 150 mph winds and causing some roads to be inaccessible and islands out of reach. Dangerous flooding was caused by heavy rains and storm surges.
Prior to the storm, the owners of the animal sanctuary ushered their birds indoors to protect them from the severe weather outside.
"We almost drowned when four feet of water filled our house," Peratino said before crying.
"To ensure that every bird is saved is a difficult task," said Peratino. "It is almost hard to believe. The assistance we've received has been critical, and we are very grateful for it."
A high number of the birds were collected from homes that couldn't manage them any longer. Many are used for breeding purposes; however, the primary goal of the rescue missions is to save human life.
Project Dynamo's founder, Bryan Stern, said his team has saved at least six dogs and three cats Tuesday in a massive rescue mission. Project Dynamo had gathered several boats for the operation.
"Will and Laura have dedicated their lives to the birds, and they're going through their own hardships from the hurricane," said Stern. "They don't need to lose even more."
The difficulty that the bird sanctuary encountered caught Ghassan Abboud's interest, and he decided to help. Ghassan is a Chicago dentist who also owns a bird farm on Florida's east coast. His idea was to get a little boat to take cages from Pine Island over to the mainland. From there, a trailer with air conditioning was used to transfer the birds all the way across Florida to his farm.
He ran into the Project Dynamo crew by chance as they were assisting in the rescue of individuals stranded by the storm's floodwaters and battered roads.
"I could never come up with a script like this," Abboud said. "It's been incredible what these people have accomplished. They pulled together their resources and spared hundreds of birds."
Whales Adopt Other Whales, Even Between Species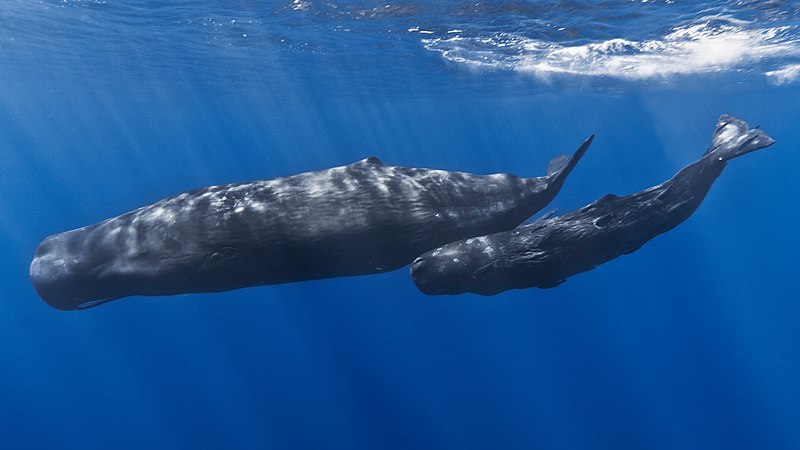 Do animals adopt young of other species? It's been known to happen among canines as well as raptors. However, for the first time, marine scientists have now confirmed whales are willing to adopt the young of different whale species as well.
As it turns out, an orphaned humpback whale has found a new parental figure with a southern right whale, completely mixing two different breeds of whale. Granted, both are large sea mammals, both breathe air and generally consume the same food groups, and they are technically both whales. But in the animal world, the differences are as distinct as a horse to a cow or a dog to a black bear. However, there the pair were, swimming together and clearly bonded right off the coast of an Esperance beach. From the researcher's perspective, the answer is clear; the adult southern whale has adopted the young and clearly smaller humpback whale.
Interestingly, the difference was caught immediately. Instead, it was Jess Wohling going over her work on a recent photography shoot who figured out what she was looking at was two different whales acting like mother and pup. At first, Wohling thought there was a camera glitch or a bad light exposure. However, as she studied the digital images from her camera, it became very clear, two different whales were swimming next to each other in tandem or like a parent and child whale pod. With the detail captured by the camera, Wohling compared the aspects of her image to whale images on the Internet, and she confirmed her hunch.
At that point, Wohling transmitted the digital image files to a whale researcher she knew, Katy Fannei. Looking at the images, Fannei not only confirmed Wohling's assumption, she was also shocked by the documented behavior and pretty much floored. The news hit the digital wire immediately as Fannei started sharing the news with everyone she knew in her professional circle. Everyone who got the communication and images, including researchers with far more experience than Fannei were also shocked by the apparent adoption behavior.
While it is quite possible for southern right whales to come into contact with humpback whales, they almost never converge with each other for any extended period of time. A lot of new hypotheses started getting thrown around. Was the southern right whale a female in mothering mode? Maybe it lost its own pup and the timing of finding a stray humpback child was a coincidence, or maybe some sort of protection in company perspective was going on. Most agreed on the idea of adoption taking place. Again, this wasn't unheard of in other species. Recently, an eagle pair adopted a falcon fledgling in Canada and have been raising it along with their eaglets.
The key behavior pattern arguing for adoption involves the close positioning of the humpback pup to the adult southern right whale in the water. It literally looks like a mother and child whale behavior. The major filter now is determining whether the pair are already tracked somewhere in the known southern right whale database the researchers use. If not, then the discovery will represent a unique and new biological finding.