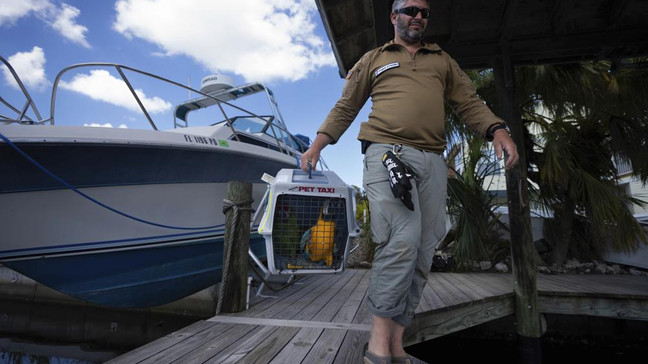 Rescuers Save 275 Parrots That Were Stranded By Hurricane Ian
LEE COUNTY, Fla. — When authorities asked residents to leave their homes due to the dangerous conditions of the roads – including a fallen bridge that blocked off access to food, fuel and other supplies – partners Will Peratino and Lauren Stepp refused to abandon their Pine Island complex.
The pair, who owns the Malama Manu Sanctuary on the island, would not go without their family of lemurs and birds – 275 parrots, which included some of the planet's rarest.
Operation Noah's Ark was created to capture, cage, and transport the birds away from the island on October 4th. The mission was executed in order to convince Peratino and Stepp to leave as well.
As volunteers collected the flock from numerous coops at the sanctuary, Stepp said she would never abandon them. "I can't leave them behind," Stepp remarked, saying if they cannot be given food or water, they will die.
Fruit, peanuts and other food provided by wildlife officials will soon be in low supply because of the fallen bridge and lack of gas throughout the island, all caused by Ian. The birds have been depending on these donations as their main source of sustenance.
The hurricane passed over Southwest Florida last weekend, bringing with it 150 mph winds and causing some roads to be inaccessible and islands out of reach. Dangerous flooding was caused by heavy rains and storm surges.
Prior to the storm, the owners of the animal sanctuary ushered their birds indoors to protect them from the severe weather outside.
"We almost drowned when four feet of water filled our house," Peratino said before crying.
"To ensure that every bird is saved is a difficult task," said Peratino. "It is almost hard to believe. The assistance we've received has been critical, and we are very grateful for it."
A high number of the birds were collected from homes that couldn't manage them any longer. Many are used for breeding purposes; however, the primary goal of the rescue missions is to save human life.
Project Dynamo's founder, Bryan Stern, said his team has saved at least six dogs and three cats Tuesday in a massive rescue mission. Project Dynamo had gathered several boats for the operation.
"Will and Laura have dedicated their lives to the birds, and they're going through their own hardships from the hurricane," said Stern. "They don't need to lose even more."
The difficulty that the bird sanctuary encountered caught Ghassan Abboud's interest, and he decided to help. Ghassan is a Chicago dentist who also owns a bird farm on Florida's east coast. His idea was to get a little boat to take cages from Pine Island over to the mainland. From there, a trailer with air conditioning was used to transfer the birds all the way across Florida to his farm.
He ran into the Project Dynamo crew by chance as they were assisting in the rescue of individuals stranded by the storm's floodwaters and battered roads.
"I could never come up with a script like this," Abboud said. "It's been incredible what these people have accomplished. They pulled together their resources and spared hundreds of birds."
Dutch Artist Pays Off Student Loan Debt with Unique Tapestry Creation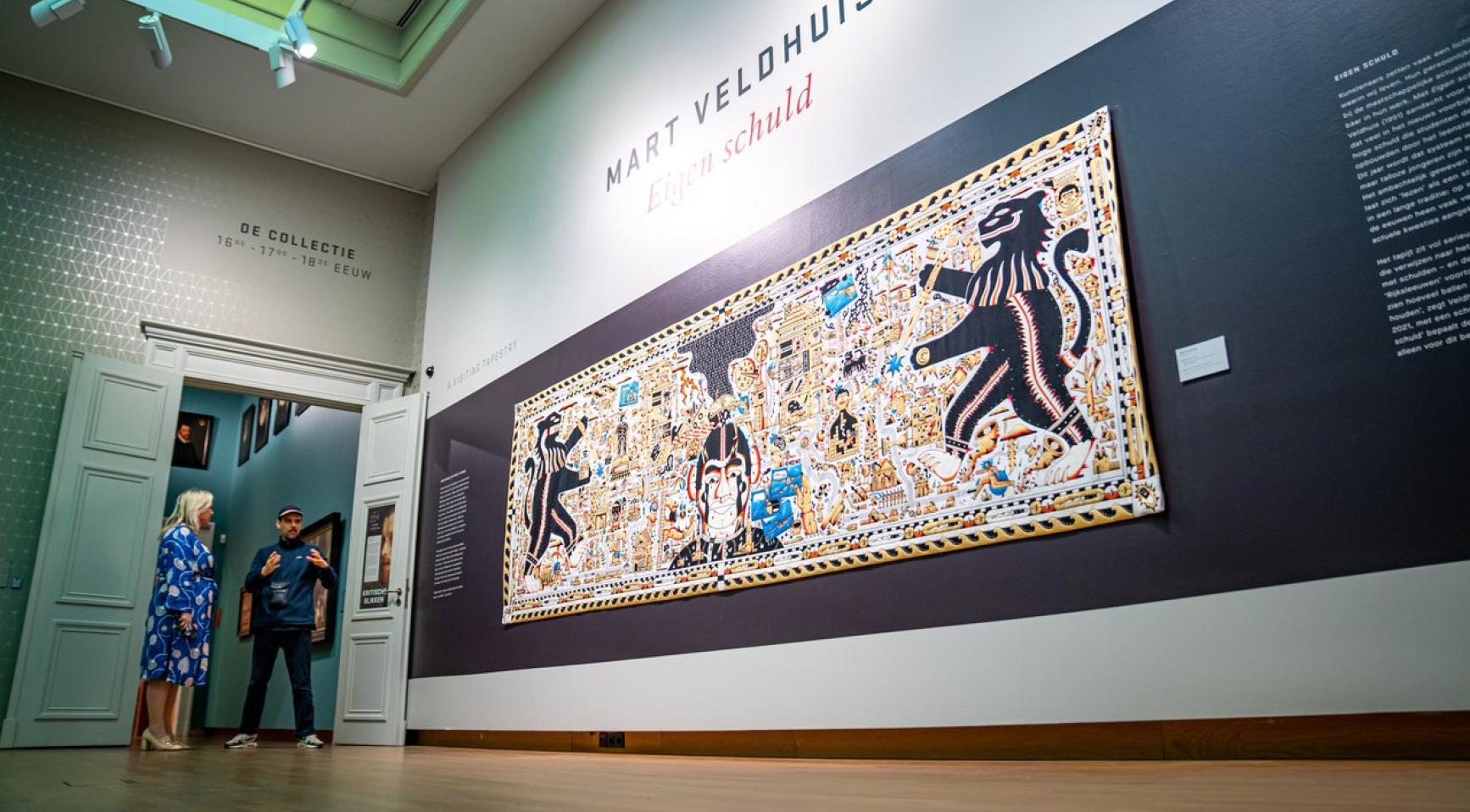 Mart Veldhuis, a talented Dutch artist, found a creative way to pay off his student loan debt. He crafted a remarkable tapestry that depicted the 46,000 euros he owed. This intricate work of art, titled "Eigen Schuld," meaning "Own Debt" or "Own Fault," became a symbol of Veldhuis' financial burden.
Once completed, the tapestry found its home in the prestigious Dordrechts Museum. Unexpectedly, a buyer was captivated by the artwork and decided to purchase it for 45,879.40 euros. This generous offer brought Veldhuis closer to becoming debt-free, leaving him in a state of disbelief and joy. "This is what I had hoped for, but when I heard the news, I was really speechless. It still feels very unreal," shared Veldhuis.
The tapestry itself was a visually striking piece, featuring various elements that conveyed Veldhuis' feelings towards his indebtedness. One of the central motifs portrayed a Dutch lion clutching a menacing sword, symbolizing the artist's perception of owing a significant debt to the state. The tapestry served as a powerful medium for Veldhuis to express his emotions and experiences.
The Dordrechts Museum facilitated the transaction and revealed the identity of the buyers as renowned art dealers Joke van Veen, 75, and Jaap Versteegh, 69. When asked about their decision to acquire the tapestry, Versteegh explained, "We bought the tapestry in the first place because we think it's a good work of art. It is innovative and visually strong. In addition, the social theme of the work – the consequences of student debt and the social loan system – strongly appeals to us."
Veldhuis' creation not only captured the attention of art enthusiasts but also highlighted the pressing issue of student loan debt. Many students struggle with the financial burden of loans, and Veldhuis's artwork serves as a reminder of this widespread concern. By showcasing his own experience, he sparked conversations about the consequences of student debt and the loan system in society.
The success of Veldhuis' tapestry represents a triumph for the artist and sheds light on the power of art to address social issues. Through his creative expression, he not only managed to alleviate his financial struggles but also stimulated meaningful discussions about the challenges faced by students burdened with debt.
As Veldhuis moves forward, he can embrace a debt-free future, thanks to his artistic talent and the support of individuals who recognized the significance of his work. The tapestry will forever stand as a symbol of his journey, inspiring others to find innovative ways to confront their own challenges.