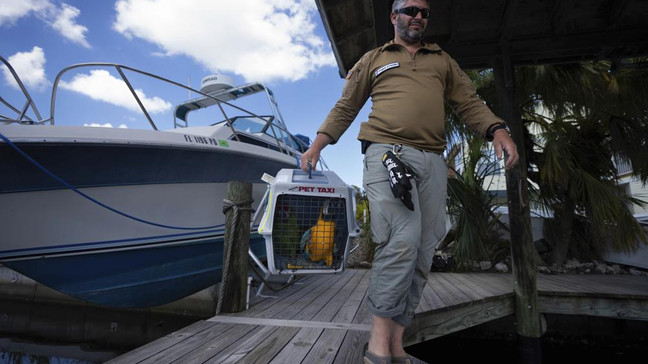 Rescuers Save 275 Parrots That Were Stranded By Hurricane Ian
LEE COUNTY, Fla. — When authorities asked residents to leave their homes due to the dangerous conditions of the roads – including a fallen bridge that blocked off access to food, fuel and other supplies – partners Will Peratino and Lauren Stepp refused to abandon their Pine Island complex.
The pair, who owns the Malama Manu Sanctuary on the island, would not go without their family of lemurs and birds – 275 parrots, which included some of the planet's rarest.
Operation Noah's Ark was created to capture, cage, and transport the birds away from the island on October 4th. The mission was executed in order to convince Peratino and Stepp to leave as well.
As volunteers collected the flock from numerous coops at the sanctuary, Stepp said she would never abandon them. "I can't leave them behind," Stepp remarked, saying if they cannot be given food or water, they will die.
Fruit, peanuts and other food provided by wildlife officials will soon be in low supply because of the fallen bridge and lack of gas throughout the island, all caused by Ian. The birds have been depending on these donations as their main source of sustenance.
The hurricane passed over Southwest Florida last weekend, bringing with it 150 mph winds and causing some roads to be inaccessible and islands out of reach. Dangerous flooding was caused by heavy rains and storm surges.
Prior to the storm, the owners of the animal sanctuary ushered their birds indoors to protect them from the severe weather outside.
"We almost drowned when four feet of water filled our house," Peratino said before crying.
"To ensure that every bird is saved is a difficult task," said Peratino. "It is almost hard to believe. The assistance we've received has been critical, and we are very grateful for it."
A high number of the birds were collected from homes that couldn't manage them any longer. Many are used for breeding purposes; however, the primary goal of the rescue missions is to save human life.
Project Dynamo's founder, Bryan Stern, said his team has saved at least six dogs and three cats Tuesday in a massive rescue mission. Project Dynamo had gathered several boats for the operation.
"Will and Laura have dedicated their lives to the birds, and they're going through their own hardships from the hurricane," said Stern. "They don't need to lose even more."
The difficulty that the bird sanctuary encountered caught Ghassan Abboud's interest, and he decided to help. Ghassan is a Chicago dentist who also owns a bird farm on Florida's east coast. His idea was to get a little boat to take cages from Pine Island over to the mainland. From there, a trailer with air conditioning was used to transfer the birds all the way across Florida to his farm.
He ran into the Project Dynamo crew by chance as they were assisting in the rescue of individuals stranded by the storm's floodwaters and battered roads.
"I could never come up with a script like this," Abboud said. "It's been incredible what these people have accomplished. They pulled together their resources and spared hundreds of birds."
Kenyan Tree Planting Holiday: A Collective Effort Against Climate Change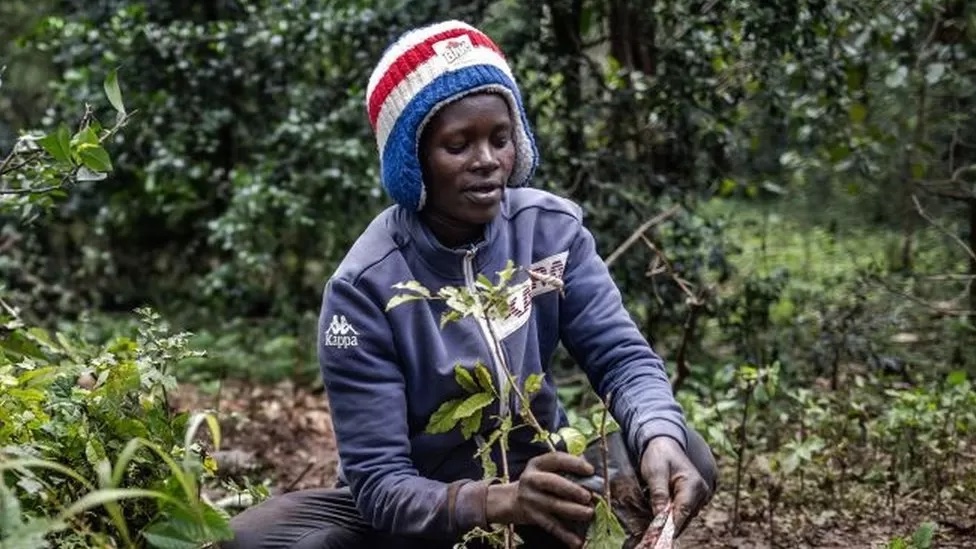 Kenya has embraced a unique and powerful approach to combating climate change with a national tree planting holiday. This initiative, led by Environment Minister Soipan Tuya, aims to involve every Kenyan in planting trees to contribute to a lofty goal of reaching 15 billion trees in the next decade. Recently, Kenyans came together to plant a staggering 100 million seedlings, demonstrating their commitment to a greener and more sustainable future.
The tree planting holiday allows "each and every Kenyan to own the initiative," as Minister Tuya emphasizes. This means that every citizen has a role to play in contributing to the ambitious goal of planting billions of trees. The target is for each Kenyan to plant at least two seedlings, a simple yet impactful way to make a difference.
The primary goal behind this massive tree planting effort is to fight climate change. Trees play a crucial role in mitigating climate change by absorbing carbon dioxide during photosynthesis. They act as natural carbon sinks, reducing the concentration of greenhouse gases in the atmosphere. Additionally, trees help regulate local climates, prevent soil erosion, and provide habitats for various species.
To encourage widespread participation, the Kenyan government is distributing tree seeds for free. However, there is also a push for planting trees in specific areas where they are more likely to thrive. This strategic approach ensures that the trees planted have a higher chance of growing into healthy, mature specimens.
While the initiative promotes free seed distribution, Kenyans are also encouraged to buy at least two seedlings for planting on their private land. This personal investment further engages citizens in the cause, fostering a sense of ownership and responsibility for the environment.
One notable tree planting site near the source of Kenya's second-longest river, Athi, saw active participation from various groups, including soldiers, residents, and families. The event showcased a collective effort to address environmental concerns.
To monitor the success of the tree planting initiative, an internet app has been introduced. This app allows individuals and organizations to record their planting activities, including details like plant species, the number of trees planted, and the date of planting. This technological aspect enhances transparency and accountability in achieving the set goals.
While the initiative has garnered widespread support, environmentalist Teresa Muthoni highlights some challenges. She notes that the effort is not organized in a way that ensures everyone is actively participating, as many individuals must prioritize their livelihoods. Additionally, Muthoni emphasizes the importance of planting the right trees in the right places, cautioning against the prevalence of exotic species in public nurseries.
Kenya's tree planting holiday exemplifies a collective and determined effort to combat climate change. By involving every citizen, the initiative seeks to make a significant impact on the environment. As the nation strives toward its ambitious goal of 15 billion trees in the next decade, the tree planting holiday stands as a beacon of hope for a greener and more sustainable future for Kenya and the planet.