Rescued Pit Bull Bursts With Joy At Surprise Birthday Party!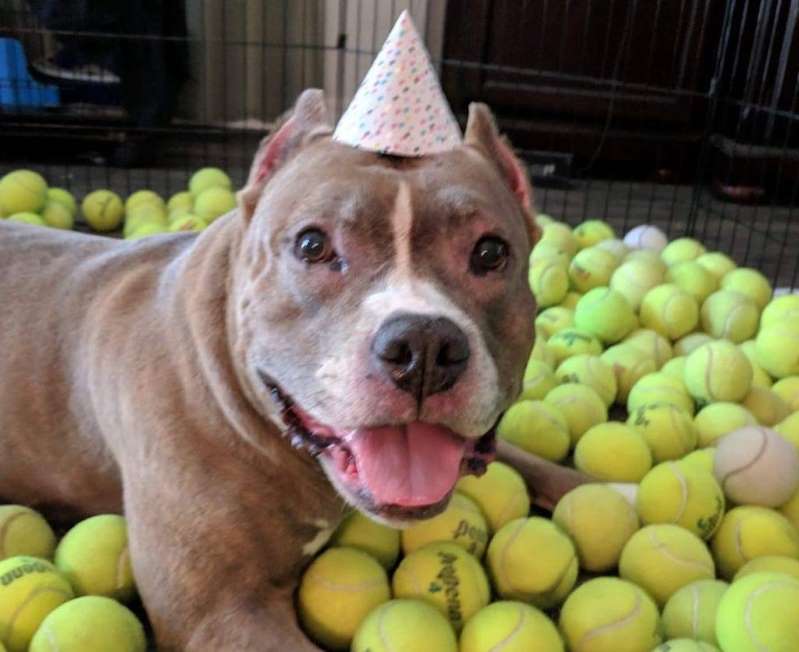 Ivy is a female Pit Bull who was rescued by her owner, Justin Hall. Once on a timeline for being euthanized, Hall made sure to rescue her adorable face from a local shelter. At the time, Ivy was just four years old. Ivy had been abandoned by a breeder who went out of business. Her story got even sadder when she was adopted by someone who was mean to her. Eventually, Ivy ended up in a shelter where her days were to be numbered, at least until Hall came around.
After adopting Ivy, Hall made it his goal to make his newfound pup as happy as possible on her birthday. It was clear that Ivy absolutely loved playtime and even clearer that she loved tennis balls. So, Hall decided to start one of the most adorable traditions of all time. Every single year on her birthday, Hall would by his pit bull a pack of tennis balls. Hall says that he would 'make it rain' tennis balls for her because she always freaked out from joy. Hall is a 32-year-old graphic art professional from Orlando, FL. He made the decision to adopt Ivy after realizing what a bind she was in. After all, even in shelters, most adoptees tend to avoid older dogs. Everyone wants to adopt a puppy which can make it hard for senior dogs to find a loving home. That wasn't a problem for Hall because, according to him, it was love at first sight.
Four years after adopting Ivy, Hall knew that it was time to blow the mind of his sweet little girl. After getting her a pack or two of tennis balls for her birthday every year, Hall decided to kick things up a notch. Instead of just buying her a pack of tennis balls, Hall decided to buy 500 tennis balls. His goal was to fill the room with Ivy's favorite toy so that she could have the birthday party she never knew that she had wanted. Hall ordered the shipment of tennis balls off of eBay before getting an adorable birthday hat for his dog. Hall filled up his living room with the tennis balls and Ivy went absolutely crazy with joy. Ivy was a bundle fo excitement as she tried to play with every single tennis ball at the same time. It was clear that she loved her birthday party.
Pit bulls have garnered something of a bad reputation due to evil owners who have used the breed for fighting. As a result, people like Hall are instrumental in turning around the public's perception of the lovely breed. Hall is quick to proclaim that Ivy is one of the nicest, most loving dogs that he's ever known. He points out that she loves other dogs, children, and even his own cat. In fact, Hall brings Ivy pretty much everywhere he goes. On Hall's Instagram account, lurkers can watch as Hall brings Ivy with him to hike, go cycling, and even go out on the water for canoeing! Ivy particularly loves taking in the air from her pet trailer that is attached to Hall's bike. Hall laughs as he explains that people often think that he is carrying a child with him in the trailer. He does admit that some people are scared of Ivy due to her breed. Fortunately, it only takes a moment for Ivy to warm up to strangers and before you know it, the 8-year-old pit bull is handing out big, sloppy kisses. Hall is proud of Ivy and the sweet puppy she has become in her older age.
Handicapped Puppy Befriends Flightless Pigeon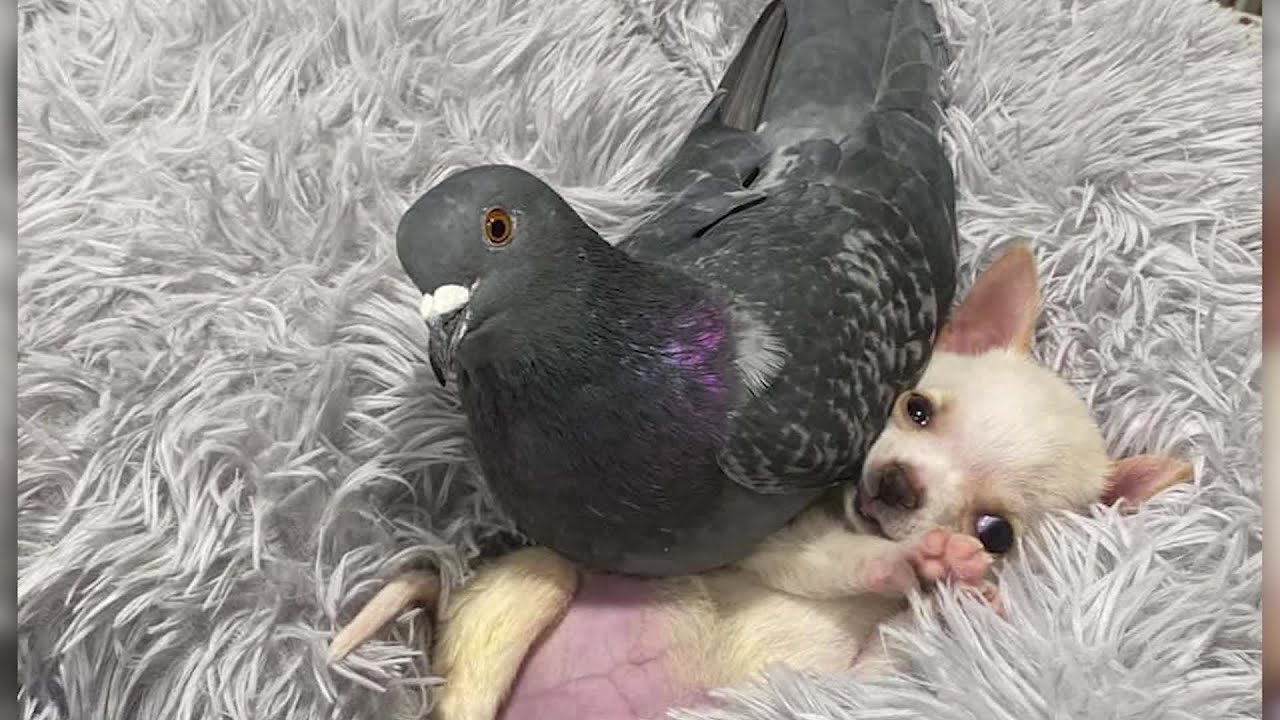 In Rochester, NY, Sue Rogers runs a non-profit called the Mia Foundation. The rescue organization rescues and rehabilitates animals who have birth defects or deformities and tries to find them a loving home. About a year ago, a pigeon was found unable to move in the parking lot of a car dealership. The pigeon was huddled and cowering on the ground. When a local wildlife rescue was called, they said the bird had neurological damage that caused him not to be able to fly. They thought that euthanization would be the best option for him.
Sue was having none of that. She stepped in and took the bird, who she named Herman, under her wing, so to speak. She made space for him in her shelter and kept him close where she could keep an eye on him. He liked to sit on a furry dog pillow and watch her work.
A couple months ago, a tiny Chihuahua was brought to the Mia Foundation. He was an infant, maybe a few months old, when his South Carolina breeders sent him to Sue. He's a teacup sized Chihuahua they named Little Lundy and he was born with spinal cord damage. Sue also determined that he was suffering from swimmers syndrome. Swimmers syndrome is a developmental deformity that causes the front and hind legs to be splayed out. This makes it almost impossible for Little Lundy to walk.
Although swimmers syndrome is thought to be untreatable, according to a few studies and an article in a veterinary journal, it can be treatable. With some physical therapy and at-home treatment, Little Lundy could live a long and happy life, which is exactly what Sue plans for him.
When Little Lundy arrived at the Mia Foundation he decided to get acquainted with his new surroundings and the other animals at the shelter. One particular encounter, created a friendship that has gone viral. Herman and Little Lundy, a puppy and a pigeon, are the unlikeliest of friends, but they have a lot in common. They both have trouble walking, or flying in Hermans case, and they were living in the same place. You could say, they were in the right place at the right time to become instant friends.
In the six weeks they have been together, Herman and Little Lundy have become inseparable. They do everything together, which is a lot of sleeping and snuggling. Mostly, with Herman sitting on top of Little Lundy, which doesn't bother him in the slightest. This friendship was so out of the ordinary that Sue had to document it. The viral sensation of the puppy and pigeon has brought attention to the Mia Foundation that was much needed. The rescue organization runs solely on donations to help cover the costs of taking care of the animals and for needed surgeries. So far, about $6000 was donated because of this unlikely friendship and over 100 adoption inquiries. Hopefully when they are adopted, they are able to stay together.