Rescued Pit Bull Bursts With Joy At Surprise Birthday Party!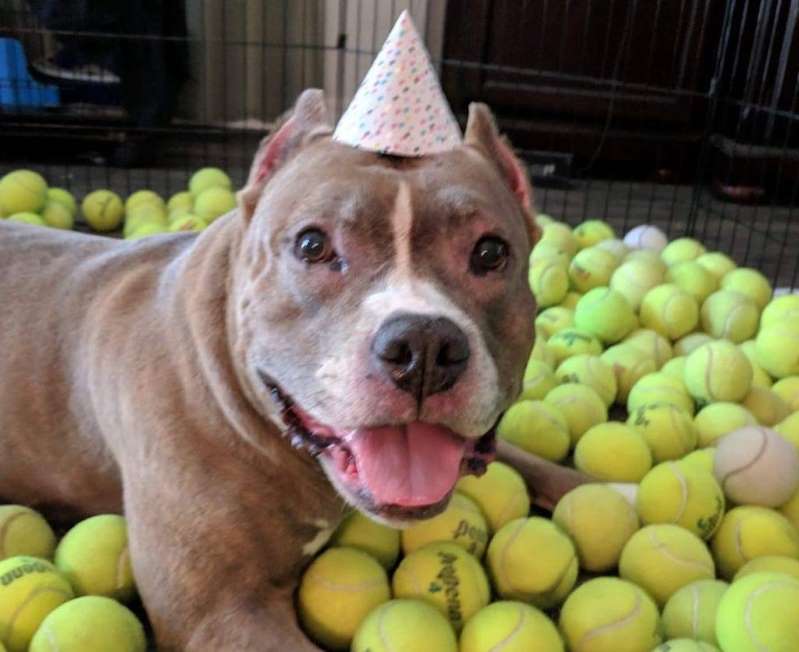 Ivy is a female Pit Bull who was rescued by her owner, Justin Hall. Once on a timeline for being euthanized, Hall made sure to rescue her adorable face from a local shelter. At the time, Ivy was just four years old. Ivy had been abandoned by a breeder who went out of business. Her story got even sadder when she was adopted by someone who was mean to her. Eventually, Ivy ended up in a shelter where her days were to be numbered, at least until Hall came around.
After adopting Ivy, Hall made it his goal to make his newfound pup as happy as possible on her birthday. It was clear that Ivy absolutely loved playtime and even clearer that she loved tennis balls. So, Hall decided to start one of the most adorable traditions of all time. Every single year on her birthday, Hall would by his pit bull a pack of tennis balls. Hall says that he would 'make it rain' tennis balls for her because she always freaked out from joy. Hall is a 32-year-old graphic art professional from Orlando, FL. He made the decision to adopt Ivy after realizing what a bind she was in. After all, even in shelters, most adoptees tend to avoid older dogs. Everyone wants to adopt a puppy which can make it hard for senior dogs to find a loving home. That wasn't a problem for Hall because, according to him, it was love at first sight.
Four years after adopting Ivy, Hall knew that it was time to blow the mind of his sweet little girl. After getting her a pack or two of tennis balls for her birthday every year, Hall decided to kick things up a notch. Instead of just buying her a pack of tennis balls, Hall decided to buy 500 tennis balls. His goal was to fill the room with Ivy's favorite toy so that she could have the birthday party she never knew that she had wanted. Hall ordered the shipment of tennis balls off of eBay before getting an adorable birthday hat for his dog. Hall filled up his living room with the tennis balls and Ivy went absolutely crazy with joy. Ivy was a bundle fo excitement as she tried to play with every single tennis ball at the same time. It was clear that she loved her birthday party.
Pit bulls have garnered something of a bad reputation due to evil owners who have used the breed for fighting. As a result, people like Hall are instrumental in turning around the public's perception of the lovely breed. Hall is quick to proclaim that Ivy is one of the nicest, most loving dogs that he's ever known. He points out that she loves other dogs, children, and even his own cat. In fact, Hall brings Ivy pretty much everywhere he goes. On Hall's Instagram account, lurkers can watch as Hall brings Ivy with him to hike, go cycling, and even go out on the water for canoeing! Ivy particularly loves taking in the air from her pet trailer that is attached to Hall's bike. Hall laughs as he explains that people often think that he is carrying a child with him in the trailer. He does admit that some people are scared of Ivy due to her breed. Fortunately, it only takes a moment for Ivy to warm up to strangers and before you know it, the 8-year-old pit bull is handing out big, sloppy kisses. Hall is proud of Ivy and the sweet puppy she has become in her older age.
'Chewy' Online Pet Store Offers Incredible Gesture to Grieving Pet Owner.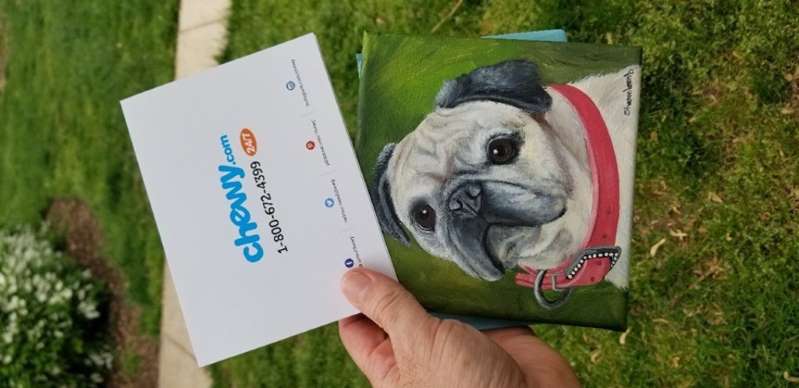 When you adopt a pet, you are bringing them into your family for life. When you lose a pet, it feels like you just lost a member of your family. While the grief that we feel over losing our beloved pets is not easy to forget, there are kindhearted souls out there that are doing their part to make it easier. Joseph Inabnet had to put down his 14-year-old pug, named Bailey, due to continual health problems that were not getting better. With a bag of prescription pet food that he could no longer use, Inabnet decided to contact the online pet retailer 'Chewy', in order to see if he could get a refund. What happened next would leave Inabnet crying bittersweet tears of happiness. Let's see if you can keep your tears from flowing!
According to Inabnet, Bailey had been struggling with health issues since her fifth birthday. In reality, Inabnet had assumed that he would have to let her go before she turned eight. However, Inabnet worked hard with Bailey's veterinarian, and they were able to extend her life for almost a full decade, thus allowing Inabnet and Bailey to share many moments of joy together. One of Bailey's favorite tricks was to sit on her backside in order to beg for treats. Inabnet loved to take pictures of Bailey when she performed this trick, and he sent one photo to Chewy along with his email, detailing the tragic loss of his best furry friend. Chewy told Inabnet to donate the pet food to a shelter and that they would send him a refund. Inabnet thought that this was the end of the story, but it was not.
Weeks later, Inabnet received a curious package in the mail from Chewy. Not sure what the object was, Inabnet slowly opened the package. As he unwrapped the package, weeks after saying goodbye to Bailey, his heart began to thud. What could be in here? What did Chewy send him? When he finally opened the package, he found a hand-painted portrait of Bailey doing her favorite trick. Inside of the package was a handwritten note from the owners of Chewy, sending love to Inabnet and a promise to support him if he ever needed anything. The painting captured Bailey in all of her silly joy and Inabnet was overcome with emotion. How could he not be? Inabnet was quick to share the lovely portrait on social media whereupon it was quicker to go viral. After being shared hundreds of thousands of times, Inabnet's story was soon all over the internet.
While Inabnet will never truly get over the loss of Bailey, he was afforded one of the kindest parting gifts that a pet owner could ever ask for. Inabnet praised the portrait a thousand times over before tearfully talking about his beloved pup. Bailey loved to always do her 'sit up' trick, and she had even been attempting to do it when he had to put her down due to her terminal illness. With one portrait and a lovely letter, Chewy was able to change Inabnet's last memories of his faithful, furry friend. Bailey was Inabnet's first pet, and he was quick to talk about how much she had changed his life. Inabnet went on to point out that he had never been closer to any animal and that he didn't know if he ever would be again. It's clear to see that Bailey left an impression on Inabnet, and we are happy to read that Chewy helped him to get through the grieving process.