Rescued Pit Bull Bursts With Joy At Surprise Birthday Party!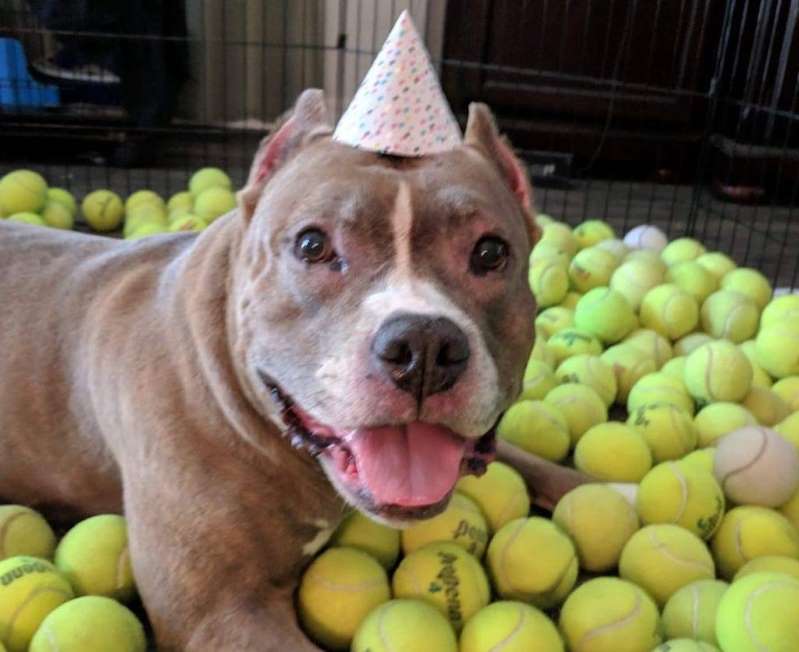 Ivy is a female Pit Bull who was rescued by her owner, Justin Hall. Once on a timeline for being euthanized, Hall made sure to rescue her adorable face from a local shelter. At the time, Ivy was just four years old. Ivy had been abandoned by a breeder who went out of business. Her story got even sadder when she was adopted by someone who was mean to her. Eventually, Ivy ended up in a shelter where her days were to be numbered, at least until Hall came around.
After adopting Ivy, Hall made it his goal to make his newfound pup as happy as possible on her birthday. It was clear that Ivy absolutely loved playtime and even clearer that she loved tennis balls. So, Hall decided to start one of the most adorable traditions of all time. Every single year on her birthday, Hall would by his pit bull a pack of tennis balls. Hall says that he would 'make it rain' tennis balls for her because she always freaked out from joy. Hall is a 32-year-old graphic art professional from Orlando, FL. He made the decision to adopt Ivy after realizing what a bind she was in. After all, even in shelters, most adoptees tend to avoid older dogs. Everyone wants to adopt a puppy which can make it hard for senior dogs to find a loving home. That wasn't a problem for Hall because, according to him, it was love at first sight.
Four years after adopting Ivy, Hall knew that it was time to blow the mind of his sweet little girl. After getting her a pack or two of tennis balls for her birthday every year, Hall decided to kick things up a notch. Instead of just buying her a pack of tennis balls, Hall decided to buy 500 tennis balls. His goal was to fill the room with Ivy's favorite toy so that she could have the birthday party she never knew that she had wanted. Hall ordered the shipment of tennis balls off of eBay before getting an adorable birthday hat for his dog. Hall filled up his living room with the tennis balls and Ivy went absolutely crazy with joy. Ivy was a bundle fo excitement as she tried to play with every single tennis ball at the same time. It was clear that she loved her birthday party.
Pit bulls have garnered something of a bad reputation due to evil owners who have used the breed for fighting. As a result, people like Hall are instrumental in turning around the public's perception of the lovely breed. Hall is quick to proclaim that Ivy is one of the nicest, most loving dogs that he's ever known. He points out that she loves other dogs, children, and even his own cat. In fact, Hall brings Ivy pretty much everywhere he goes. On Hall's Instagram account, lurkers can watch as Hall brings Ivy with him to hike, go cycling, and even go out on the water for canoeing! Ivy particularly loves taking in the air from her pet trailer that is attached to Hall's bike. Hall laughs as he explains that people often think that he is carrying a child with him in the trailer. He does admit that some people are scared of Ivy due to her breed. Fortunately, it only takes a moment for Ivy to warm up to strangers and before you know it, the 8-year-old pit bull is handing out big, sloppy kisses. Hall is proud of Ivy and the sweet puppy she has become in her older age.
Elderly Strangers Fall in Love During Flight, You Won't Believe What Happens Next!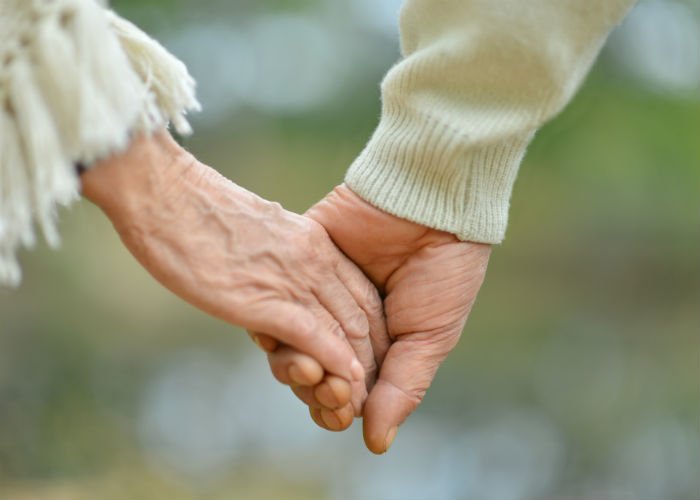 We owe it to ourselves to travel the world. After all, you will never know what's out there waiting for you unless you go to look. Just a few weeks ago, an airline ticket agent experienced the wonders of travel firsthand. Under the username @vvuxian, Twitter users were regaled by a heartwarming story of love found in the air between two elderly strangers. @vvuxian shared the entire story on Twitter through a series of tweets that culminated in what we can only describe as a true Hollywood ending — only in real life!
The story starts with @vvuxian working at an airline counter, just like any other day. As an airline ticket employee, @vvuxian was ready to assist customers as they came to her desk with questions regarding their flight. An elderly lady in her 70s approached @vvuxian with a seemingly strange request. The unnamed woman, who had just arrived on a flight from Canada, was seemingly looking for a stranger. The elderly woman asked @vvuxian if anyone arriving from Spain had been looking for her because the two were supposed to be meeting up. As an airline employee, @vvuxian knew that she couldn't share private information about other passengers.
The elderly woman accepted the rules laid out by @vvuxian, albeit looking sad in the process. Curious to find out what happened, @vvuxian asked for more information. The woman explained that she had met a stranger on her flight from Canada and that the two had fallen in love during their 11-hour flight. Unfortunately, they had to separate on connecting flights from Spain, but they had made a deal to meet up with one another when they reached their final destination. Unfortunately, the stranger had never shown up. What once looked like a Hollywood romance was quickly turning into a sad tale of reality. Was there nothing that could be done?
Unfortunately, @vvuxian knew that she couldn't help the woman, but she wished her well all the same. After the woman explained that she couldn't reach the stranger by telephone, all seemed to be lost. @vvuxian took down the passenger's phone number and promised to call her if anybody showed up. The woman left the ticket counter and @vvuxian probably assumed that this was the end of the story. We all know that this wasn't the case.
An hour later, during her lunch break, @vvuxian heard a co-worker talking to another elderly woman. The stranger at the counter was explaining that she was supposed to meet a friend but that she couldn't get ahold of her. The woman explained that she had met a stranger on a flight but that they had been separated during their connecting flights. This was her! This was the second lost lover! According to @vvuxian, she basically threw her sandwich in order to run to the front desk. Our heroic airline ticket agent quizzed the new stranger with questions, asking her if she had just come from Spain and was she looking for a certain person? The stranger nods and nods again. This was it!
Deciding to risk it all, @vvuxian calls the phone number that had been left by the earlier visitor. Within minutes the second woman appears at the counter, basically at a sprint! The two collapse into a loving embrace before showering @vvuxian in the thanks. Happy just to have helped, @vvuxian wishes them well while nearly tearing up from happiness herself. A little while later the two elderly lovers return with a thank-you gift, a collection of delicious chocolates. Now, who says that real life can't be like the movies?