Rescued Pit Bull Bursts With Joy At Surprise Birthday Party!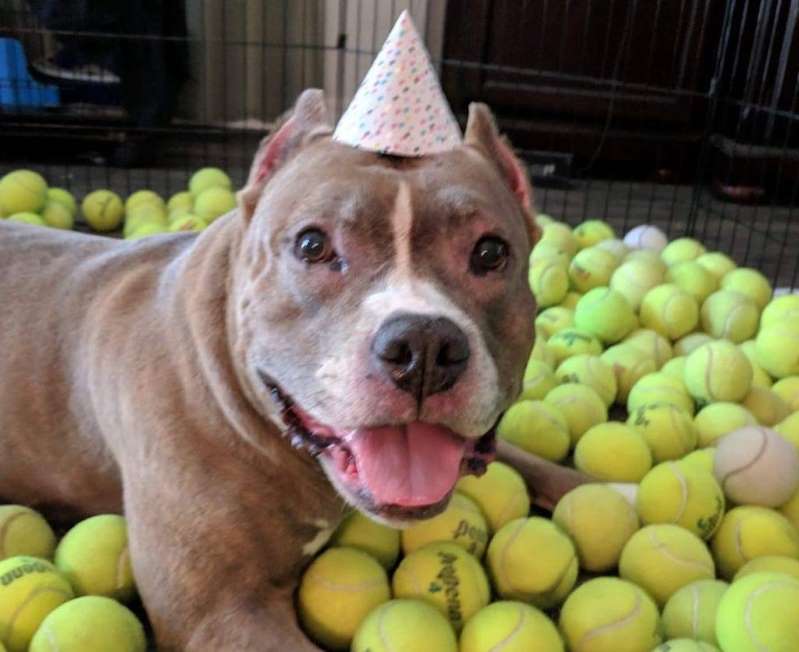 Ivy is a female Pit Bull who was rescued by her owner, Justin Hall. Once on a timeline for being euthanized, Hall made sure to rescue her adorable face from a local shelter. At the time, Ivy was just four years old. Ivy had been abandoned by a breeder who went out of business. Her story got even sadder when she was adopted by someone who was mean to her. Eventually, Ivy ended up in a shelter where her days were to be numbered, at least until Hall came around.
After adopting Ivy, Hall made it his goal to make his newfound pup as happy as possible on her birthday. It was clear that Ivy absolutely loved playtime and even clearer that she loved tennis balls. So, Hall decided to start one of the most adorable traditions of all time. Every single year on her birthday, Hall would by his pit bull a pack of tennis balls. Hall says that he would 'make it rain' tennis balls for her because she always freaked out from joy. Hall is a 32-year-old graphic art professional from Orlando, FL. He made the decision to adopt Ivy after realizing what a bind she was in. After all, even in shelters, most adoptees tend to avoid older dogs. Everyone wants to adopt a puppy which can make it hard for senior dogs to find a loving home. That wasn't a problem for Hall because, according to him, it was love at first sight.
Four years after adopting Ivy, Hall knew that it was time to blow the mind of his sweet little girl. After getting her a pack or two of tennis balls for her birthday every year, Hall decided to kick things up a notch. Instead of just buying her a pack of tennis balls, Hall decided to buy 500 tennis balls. His goal was to fill the room with Ivy's favorite toy so that she could have the birthday party she never knew that she had wanted. Hall ordered the shipment of tennis balls off of eBay before getting an adorable birthday hat for his dog. Hall filled up his living room with the tennis balls and Ivy went absolutely crazy with joy. Ivy was a bundle fo excitement as she tried to play with every single tennis ball at the same time. It was clear that she loved her birthday party.
Pit bulls have garnered something of a bad reputation due to evil owners who have used the breed for fighting. As a result, people like Hall are instrumental in turning around the public's perception of the lovely breed. Hall is quick to proclaim that Ivy is one of the nicest, most loving dogs that he's ever known. He points out that she loves other dogs, children, and even his own cat. In fact, Hall brings Ivy pretty much everywhere he goes. On Hall's Instagram account, lurkers can watch as Hall brings Ivy with him to hike, go cycling, and even go out on the water for canoeing! Ivy particularly loves taking in the air from her pet trailer that is attached to Hall's bike. Hall laughs as he explains that people often think that he is carrying a child with him in the trailer. He does admit that some people are scared of Ivy due to her breed. Fortunately, it only takes a moment for Ivy to warm up to strangers and before you know it, the 8-year-old pit bull is handing out big, sloppy kisses. Hall is proud of Ivy and the sweet puppy she has become in her older age.
A Call to Change by An Amazing Third Grade Class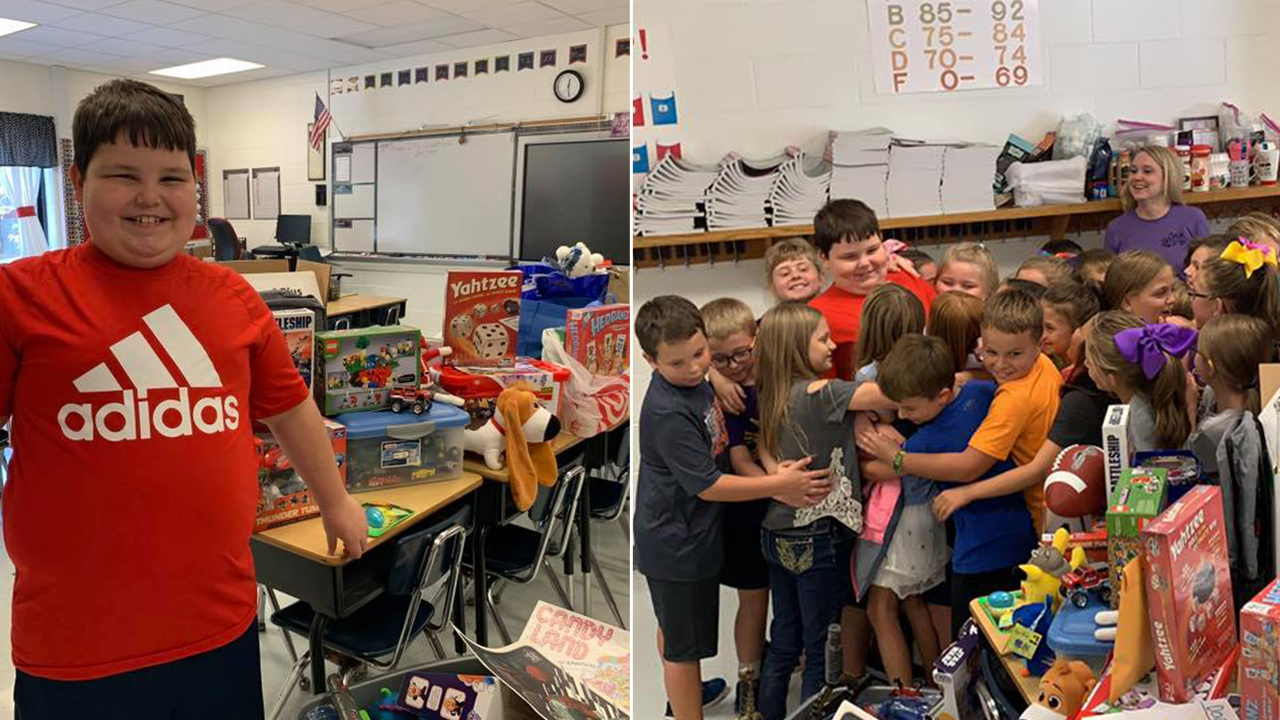 I have always believed that hate and greed are things that humans are taught- that they are learned behaviors- not characteristics that we are born with. Children are pure and, unless taught otherwise, they are full of love and compassion. This story encompasses this theory more than any other I have ever seen.
Just a few weeks ago on September 21, 2019, sweet and lovable eight year old Daniel Hunt's and his family's Tennessee home went up in smoke, along with their possessions. This included all of Daniel's beloved toys. What was a devastating blow to this child did not stop him from being the happy and friendly kid on campus.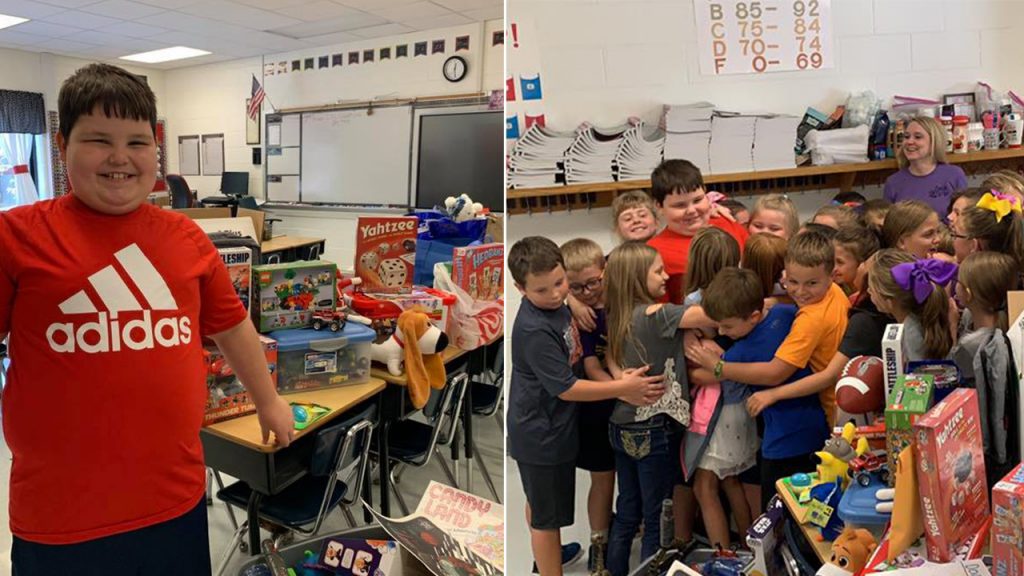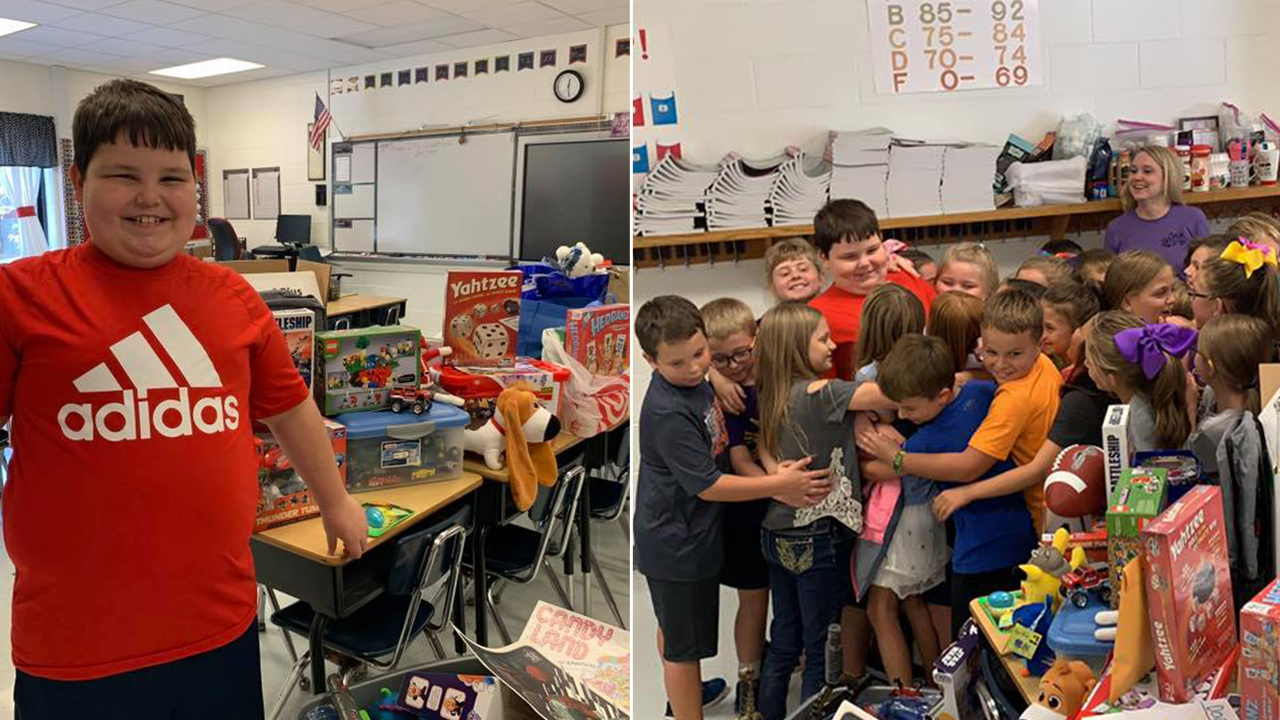 More touching, though, is his classmates' response. It started with being overly friendly- making an extra effort to play with him, holding doors for him, even sharpening his pencils for class- but sweet Daniel could have never guessed just how far it would go.
After being sent on an errand by the teacher, Daniel Hunt returns to his classroom to find a large pile of toys and classmates yelling, "Surprise!" Turns out, his teachers and classmates had been secretly collecting toys for Daniel. This group of 8 year olds had such compassion for their classmate that they put extreme effort into replacing the possessions that kids love most- his toys.
And, in true Daniel Hunt fashion, while being elated at his new toys, he responded in a way that most adults would not: He turned to his classmates first- before even approaching his new toys- to say, "I love it!" and called them all in for a giant group hug.
These selfless, loving, and compassionate acts from such young hearts is incredibly touching. At the same time, it calls us to question ourselves. When is the last time we have given so selflessly to others in need? As adults, it is so easy to worry about whether our bills are paid as opposed to caring for others as we should. Not these young children- they simply worried that their friend had nothing to play with.
This group of eight years olds- both Daniel and his classmates- can inspire the world to be different. They can remind us of the compassion that we should show other humans. They can remind us of the joy of giving. It is time that we learn to give again.
People are in need year round, so there is always a reason to give, but this time of year is a great time to start. With the holidays quickly approaching, we should bear in mind the families who cannot afford to buy their children Christmas presents, the elderly who have no family to visit them, the single moms and dads who are merely trying to keep their heads above water, the families with no heat for the winter, and those with no home at all.
Let's take a lesson from these incredible children and find the love that we were born with to give to others what they need this year and every year to come.