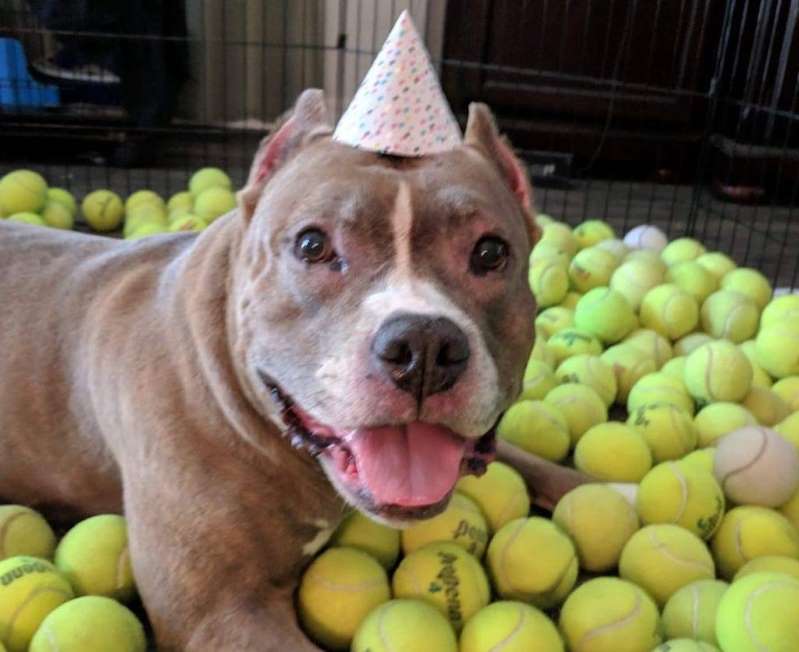 Rescued Pit Bull Bursts With Joy At Surprise Birthday Party!
Ivy is a female Pit Bull who was rescued by her owner, Justin Hall. Once on a timeline for being euthanized, Hall made sure to rescue her adorable face from a local shelter. At the time, Ivy was just four years old. Ivy had been abandoned by a breeder who went out of business. Her story got even sadder when she was adopted by someone who was mean to her. Eventually, Ivy ended up in a shelter where her days were to be numbered, at least until Hall came around.
After adopting Ivy, Hall made it his goal to make his newfound pup as happy as possible on her birthday. It was clear that Ivy absolutely loved playtime and even clearer that she loved tennis balls. So, Hall decided to start one of the most adorable traditions of all time. Every single year on her birthday, Hall would by his pit bull a pack of tennis balls. Hall says that he would 'make it rain' tennis balls for her because she always freaked out from joy. Hall is a 32-year-old graphic art professional from Orlando, FL. He made the decision to adopt Ivy after realizing what a bind she was in. After all, even in shelters, most adoptees tend to avoid older dogs. Everyone wants to adopt a puppy which can make it hard for senior dogs to find a loving home. That wasn't a problem for Hall because, according to him, it was love at first sight.
Four years after adopting Ivy, Hall knew that it was time to blow the mind of his sweet little girl. After getting her a pack or two of tennis balls for her birthday every year, Hall decided to kick things up a notch. Instead of just buying her a pack of tennis balls, Hall decided to buy 500 tennis balls. His goal was to fill the room with Ivy's favorite toy so that she could have the birthday party she never knew that she had wanted. Hall ordered the shipment of tennis balls off of eBay before getting an adorable birthday hat for his dog. Hall filled up his living room with the tennis balls and Ivy went absolutely crazy with joy. Ivy was a bundle fo excitement as she tried to play with every single tennis ball at the same time. It was clear that she loved her birthday party.
Pit bulls have garnered something of a bad reputation due to evil owners who have used the breed for fighting. As a result, people like Hall are instrumental in turning around the public's perception of the lovely breed. Hall is quick to proclaim that Ivy is one of the nicest, most loving dogs that he's ever known. He points out that she loves other dogs, children, and even his own cat. In fact, Hall brings Ivy pretty much everywhere he goes. On Hall's Instagram account, lurkers can watch as Hall brings Ivy with him to hike, go cycling, and even go out on the water for canoeing! Ivy particularly loves taking in the air from her pet trailer that is attached to Hall's bike. Hall laughs as he explains that people often think that he is carrying a child with him in the trailer. He does admit that some people are scared of Ivy due to her breed. Fortunately, it only takes a moment for Ivy to warm up to strangers and before you know it, the 8-year-old pit bull is handing out big, sloppy kisses. Hall is proud of Ivy and the sweet puppy she has become in her older age.
Sweet Elderly Man Joins Makeup Class To Help Wife With Makeup, Quickly Goes Viral!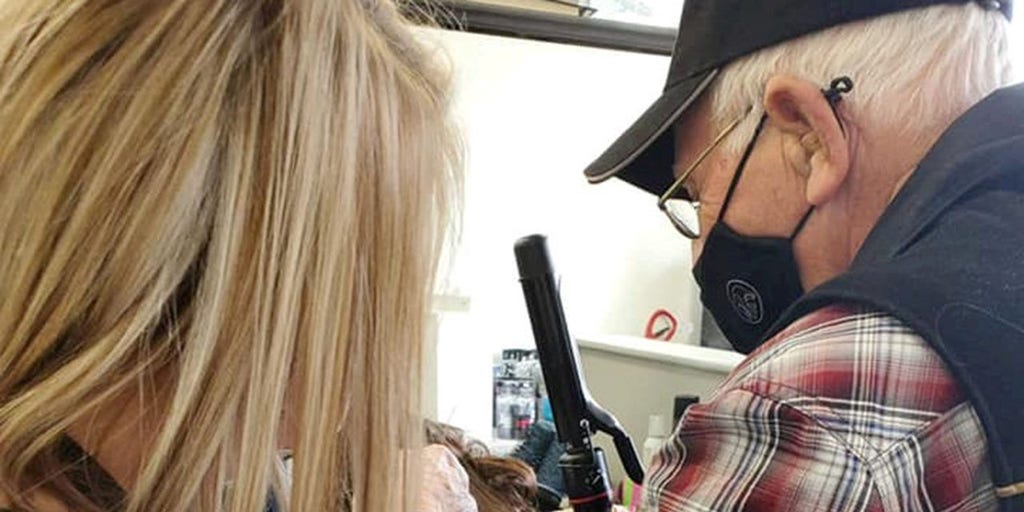 Carrie Hannah is the director at Delmar College of Hair and Esthetics, located in Alberta, Canada. A haircare professional with years of experience under her belt as an instructor, Hannah had grown accustomed to teaching even the most unusual of students the skills they would need to succeed in the hair, makeup, and beauty world. With that being said, even Carrie was surprised when she met with an elderly man at her school who had wished to learn a few things in the field. His reasoning? Well, that's the reason for today's story.
Let's leap into one of the most touching beauty school stories you'll ever read!
Helping Hands For Those We Love
There are few things in life more important than taking care of and providing care to the ones that we love. When we stand before our significant other and bind ourselves together in marriage, we truly hope to embrace 'TIl Death Do Us Part' in the same way that our story's subject has.
Carrie Hannah had been preparing for classes with her students as if it were any other day when she was approached by a white-haired, elderly man. The man, who wishes to remain anonymous, would introduce himself to Carrie before getting into the reason for their meeting — the elderly man had wanted to help his wife with her makeup.
According to Carrie, the elderly man explained that his wife had been struggling with her vision as she grew older. As she struggled to see, her beauty routine became more of a chore. His wife was struggling to curl her hair and had even burned herself in the process. Her husband wanted to help, but he didn't know exactly how, and that's where our two protagonists came together.
Carrie would go on to say that the man "genuinely cared" about his wife and her process. Carrie would continue, "His wife always cared about her appearance, and he wanted to help."
A New Set of Skills
With his motive explained and a spot available to him, Carrie would quickly get her new student into a class. At 79 years old, he was certainly going to be one of her most experienced students. The story would get picked up by Hair Design by Birtney and photos from the class would quickly go viral. Thousands of users would share the images and hundreds of thousands of views would quickly follow.
According to Hair Design by Britney, the man learned how to use a curler while also teaching him how to perform volume curls on shorter hair. Another point of emphasis that the teacher was sure to go over would involve the application of mascara. Of course, all of these lessons were combined with a hefty dose of safety training as they did not want to have any more burn incidents at home.
Commenters on the story would go crazy for the elderly man looking to support his wife. Comments ranged from compliments over his heart and attention to respect for his ambition to learn new skills outside his comfort zone. Another user recalled that their father had done something similar for their mother who had been diagnosed with Alzheimer's.
According to Hannah, working with the man to help his wife would become a highlight of her more than 31-year-career in the beauty industry. Hannah says, "We needed some cheering up and he sure did it."