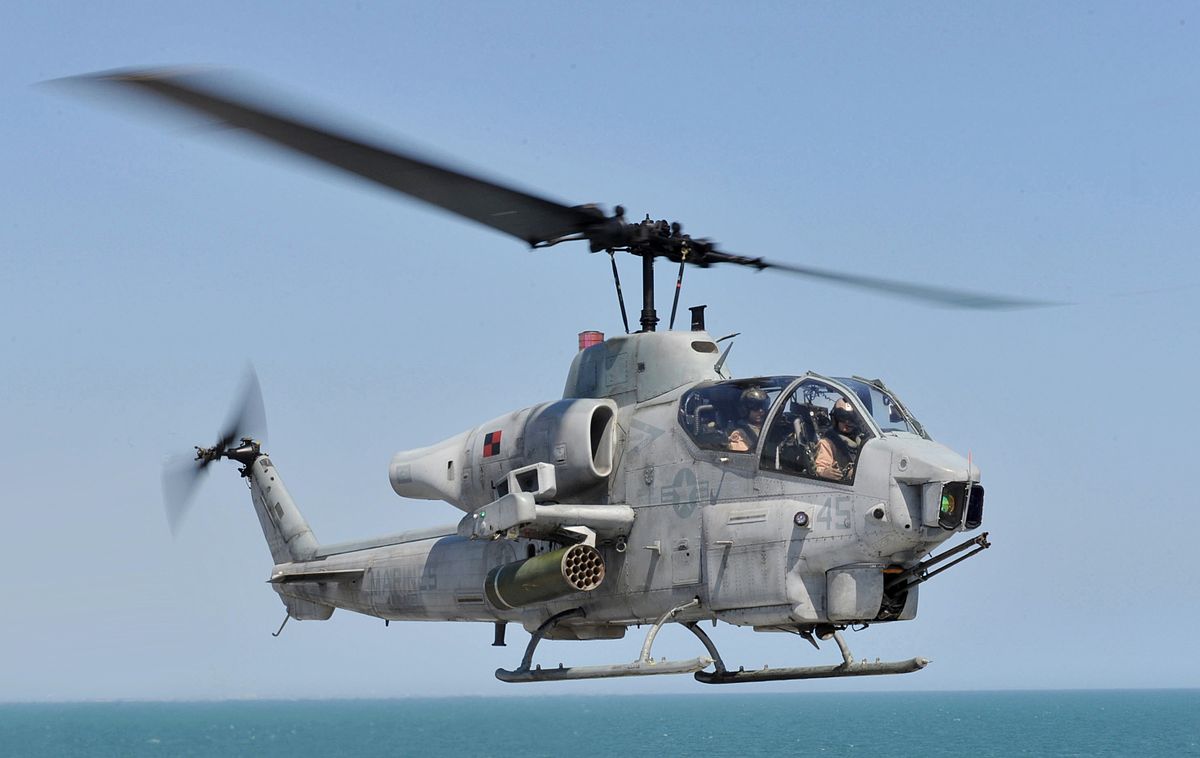 Rebuilding Helicopters to Rebuild Lives
The Columbia Metro Airport has seen a lot of action over its lifetime, but what it doesn't expect to see in 2021 is the return of Vietnam-era helicopters not just being parked at the facility but actually taking off and being functional. The decades-old flying craft have caught more than one eye of passersbys, especially those who know what they are looking at.
Three Bell Cobra attack helicopters sit in various conditions at Columbia Metro missing odds and ends by obviously being looked after and handled. Some are missing the various parts needed just to get off the ground. Others have no engine or components to operate with. There is even a Cessna O-1 sitting on the tarmac as well as Beechcraft T-34. Both saw extensive military use earlier in their lives and could tell lots of stories ranging as far back as World War II. Today, they watch the sun go up and down without change. And, behind all the assembly another helicopter sits that is practically in almost complete and perfect condition. This Bell UH-1 Iroquois is otherwise known as a Huey, the quintessential aerial transport that saw action all over Southeast Asia in the 1960s and 70s. All of these relics have long been dismissed from military action, but they are still serving military personnel.
All of the aircraft mentioned above are part of the inventory that belongs to the Celebrate Freedom Foundation. This organization involves the work and coordination of 200 plus veterans who also attend regularly and work as volunteers in restoring the aforementioned aircraft. The large majority of these veterans do the work for far more than just the fun of working on old aircraft, however. Most of them have some version of post-traumatic stress disorder. The work keeps their mind off of old memories and the nightmares that would otherwise haunt them from the past. Instead, their energy is transformed into positive work renovating the aircraft, one bit or part at a time, slowly but methodically rebuilding the old aircraft to completion and operation again. As the aircraft are finally finished, they are them put back into flight, serving as demonstration aircraft for school programs in South Carolina. The complete assemblies aren't just towed around. They are literally flown from one location to the next to show what is possible in terms of restoration engineering.
Young generations love the helicopters. They get a real-time exposure to career possibilities in both aviation mechanics as well as the military, as well as rare chance to see some 50-year-old helicopters fly again like the real thing from an era generations before. So far, Celebrate Freedom Foundation has finished two vehicles. There's a lot more work to go, and the Foundation survives entirely on donations to keep functioning as well as find the parts, supplies and rented space to keep the projects going.
Not all the aircraft the Foundation have ended up being flown. Some are transported by truck in partial form, allowing high school student to get an authentic sense of what a helicopter feels in the cockpit and potentially convincing a student to pursue an aviation career. Given the country's continued military activities internationally, there's no slow down in the number of potential recruits for the Foundation's program. Staff and management regularly push awareness of the program as well as its therapeutic benefits of former military veterans as well as a chance to be in the company of other former military and camaraderie. Since 2020 the need has been greater than ever; COVID has had a dramatic effect on therapy centers and programs, shutting them down and cutting off PTSD sufferers from needed company and counseling. The Foundation's programs has stayed active, however, providing a key resource for affected veterans as well as getting them out of depression-prone loneliness stuck at home.
500,000-Year-Old Wooden Structure Rewrites History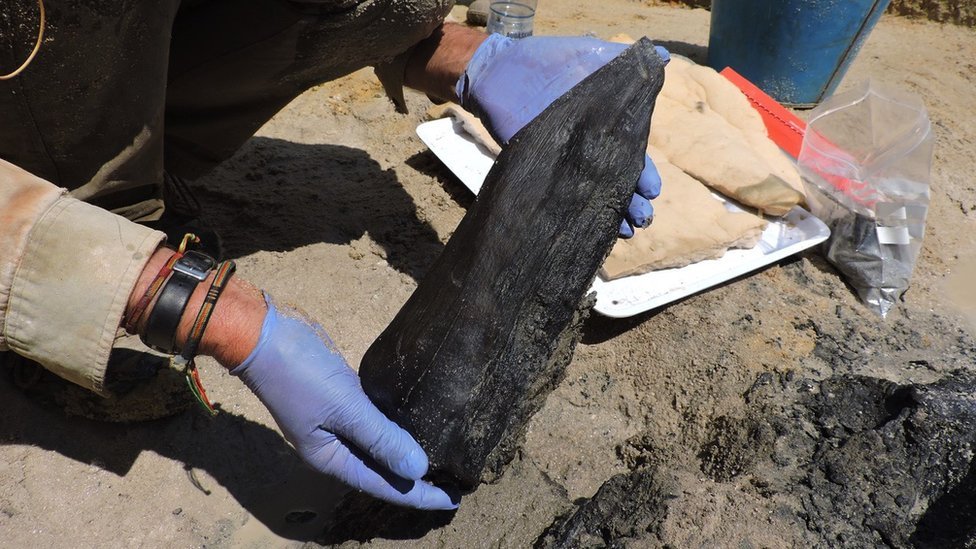 In an archaeological discovery, a wooden structure dating back an astonishing 500,000 years has been unearthed on the banks of a river in Zambia, challenging long-held beliefs about the capabilities of ancient humans. Researchers stumbled upon these ancient wooden logs, a revelation that has the potential to reshape our understanding of the lives of early humans.
The find, located on the riverbanks near Zambia's Kalambo Falls, provides compelling evidence that stone-age people may have constructed primitive shelters, forever altering our perception of their intelligence and resourcefulness. Archaeologist Prof Larry Barham, who led the research, was profoundly impacted by the discovery, stating, "This find has changed how I think about our early ancestors."
What makes this find truly remarkable is that it suggests ancient humans did more than merely survive; they thrived by creating something entirely new. These early humans exhibited intelligence, imagination, and craftsmanship by fashioning structures from wood, a material that had never before been transformed into such large and sophisticated objects.
The researchers also uncovered ancient tools, including digging sticks, but the most exciting find was two pieces of wood positioned at right angles to each other. "One is lying over the other, and both pieces of wood have notches cut into them," explained Geoff Duller, a professor of geography at the University of Aberystwyth and a member of the research team. "You can clearly see those notches have been cut by stone tools, making the two logs fit together to become structural objects."
Radiocarbon dating confirmed the wood's age, placing it at a staggering 476,000 years old. This revelation has ignited curiosity about the woodworking traditions of ancient societies, challenging the prevailing notion that early humans led simplistic, nomadic lives.
Perrice Nkombwe, a team member from the Livingstone Museum in Zambia, expressed her astonishment, saying, "I was amazed to know that woodworking was such a deep-rooted tradition. It dawned on me that we had uncovered something extraordinary."
The preservation of the wooden structure itself is a miracle. Typically, wood decays over time unless preserved under specific conditions. However, in the waterlogged environment along the Kalambo Falls, the wood remained intact, essentially pickled by the elements for millennia.
While the exact purpose of this ancient wooden structure remains a mystery, it has sparked numerous speculations. Prof. Duller suggests it might have been used as a place to sit beside the river and fish, although a complete understanding of its function remains elusive.
Moreover, the identity of the individuals who constructed this structure raises intriguing questions. "We don't know – it could have been Homo sapiens, and we just haven't discovered fossils from that age yet," Prof. Duller added. "But it could be a different species – [perhaps] Homo erectus or Homo naledi – there were a number of hominid species around at that time in southern Africa."
This discovery has the potential to enrich our understanding of ancient woodworking techniques, craftsmanship, and human interaction with the environment. As researchers continue their work at the Kalambo Falls site, the pages of history are being rewritten, and our appreciation for the ingenuity of our ancient ancestors grows ever deeper.