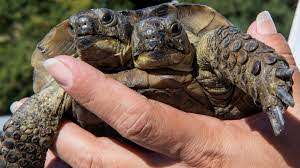 Oldest Two-Headed Tortoise in The World Celebrates a Birthday
When I was much younger, probably around the age of 10 or so, I remember visiting a Ripley's Believe It or Not museum. Being such an impressionable kid at that age, I remember I was much more open to the idea that what I was seeing was true than my parents were. Now as an adult I realize how silly the idea of a mermaid skeleton and other oddities were. There was something I saw that day that I will always remember though and that I remember being thrilled about when I realized that they really were real. That was the existence of two-headed animals. While I have only seen one such animal personally in my entire life, I have seen the photos and documentaries about these amazing natural oddities.
When an animal is born with two heads, that condition is commonly known as polycephaly. According to the San Antonio Express-News, "it's possible for polycephaly to occur in any species but it's most often seen in snakes and turtles. When two twin embryos fail to separate as they develop, there's a good chance that they'll result in a two-headed creature." But even among animals prone to this condition, actually seeing a two-headed animal is still quite a rare thing
This actually has less to do with how rare they are and more with the sad fact that these animals usually do not live long at all if they even survive birth. In many cases, the fetus is malformed in other ways that can lead to stillbirth or early death once the animal is born. They also do not survive more than a few years in most cases, especially in the wild. This is because their condition makes many basic things, like eating, hiding, and living difficult or nearly impossible.
There is one report of a freshwater river turtle named Thelma and Louise who was born at the San Antonio zoo in 2013. Sadly, the turtle died within the first year, despite the best care of the zoo staff and veterinarians who oversaw its care. Animals like this often have trouble digesting food, have deformities of the heart and lungs, and can even have major muscle and skeletal abnormalities that make it difficult for them to survive.
This reality is unfortunate but it is what makes this two-headed tortoise we are discussing here all the more special. The tortoise's name is Janus, and she is a Greek tortoise that was born at the Museum of Natural History in Geneva, Switzerland. She is a health and otherwise normal-looking tortoise aside from the fact that she has two heads. She is about to celebrate her 23rd birthday which makes her the supposed oldest two-headed tortoise known in the entire world. It is not known how much longer Janus will survive but she has been thriving so far and here is wishing her a long and healthy life ahead of her still to come!
Father in Bumblebee costume escorts his kid back to school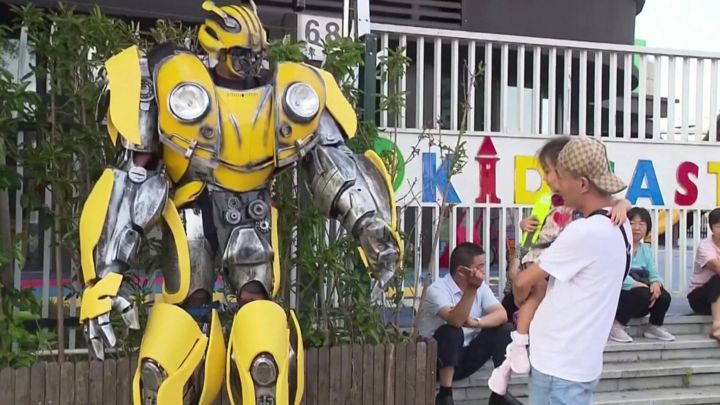 Bumblebee from the American sci-fi movie series Transformers never had a kid, but if he did, he'd have definitely escorted him to school.
A father in Shanghai, China has gone above and beyond to encourage his kid to go back to school after staying at home for months due to the Covid-19 pandemic. There's no way any child is refusing to walk with Bumblebee into school, and this man had that in mind when building his Autobot suit.
Just like the rest of the world, China had been on lockdown, and for months, kids had to stay away from school to prevent infection and spread of the deadly virus. However, some normalcy is being restored in some parts of the region, and schools now have the green light to open and allow children continue with their education.
The Bumblebee suit wasn't only for his kid, though. He built it to serve as some amusement and surprise to other kids at school- and that he did.
"I also want to bring happiness to other children. I didn't only wear it for my own child. All of them were preschoolers," he said in the video.
His suit looks like the real thing. The only things missing were metal, alien technology, and missiles- not much, right? Standing about 2.3-metre tall, the suit was built using soft materials to prevent touchy and curious children from getting injured- and he was right to have done that because he was rushed and hugged by children upon arrival at the school.
The excitement of the kids at the sight of Bumblebee could light up astronomical units of outer space, as the intergalactic warrior once again put smiles on the faces of humans. Kudos to this amazing dad for his efforts to make kids happy to resume back to school- he'd probably do it every day if he could.
The home-made suit seems to be inspired by the 2017 movie Bumblebee.