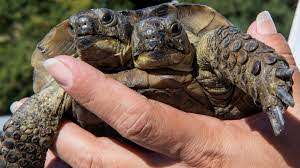 Oldest Two-Headed Tortoise in The World Celebrates a Birthday
When I was much younger, probably around the age of 10 or so, I remember visiting a Ripley's Believe It or Not museum. Being such an impressionable kid at that age, I remember I was much more open to the idea that what I was seeing was true than my parents were. Now as an adult I realize how silly the idea of a mermaid skeleton and other oddities were. There was something I saw that day that I will always remember though and that I remember being thrilled about when I realized that they really were real. That was the existence of two-headed animals. While I have only seen one such animal personally in my entire life, I have seen the photos and documentaries about these amazing natural oddities.
When an animal is born with two heads, that condition is commonly known as polycephaly. According to the San Antonio Express-News, "it's possible for polycephaly to occur in any species but it's most often seen in snakes and turtles. When two twin embryos fail to separate as they develop, there's a good chance that they'll result in a two-headed creature." But even among animals prone to this condition, actually seeing a two-headed animal is still quite a rare thing
This actually has less to do with how rare they are and more with the sad fact that these animals usually do not live long at all if they even survive birth. In many cases, the fetus is malformed in other ways that can lead to stillbirth or early death once the animal is born. They also do not survive more than a few years in most cases, especially in the wild. This is because their condition makes many basic things, like eating, hiding, and living difficult or nearly impossible.
There is one report of a freshwater river turtle named Thelma and Louise who was born at the San Antonio zoo in 2013. Sadly, the turtle died within the first year, despite the best care of the zoo staff and veterinarians who oversaw its care. Animals like this often have trouble digesting food, have deformities of the heart and lungs, and can even have major muscle and skeletal abnormalities that make it difficult for them to survive.
This reality is unfortunate but it is what makes this two-headed tortoise we are discussing here all the more special. The tortoise's name is Janus, and she is a Greek tortoise that was born at the Museum of Natural History in Geneva, Switzerland. She is a health and otherwise normal-looking tortoise aside from the fact that she has two heads. She is about to celebrate her 23rd birthday which makes her the supposed oldest two-headed tortoise known in the entire world. It is not known how much longer Janus will survive but she has been thriving so far and here is wishing her a long and healthy life ahead of her still to come!
American Couple's Kindness Shines in Snowy Adventure with South Korean Tourists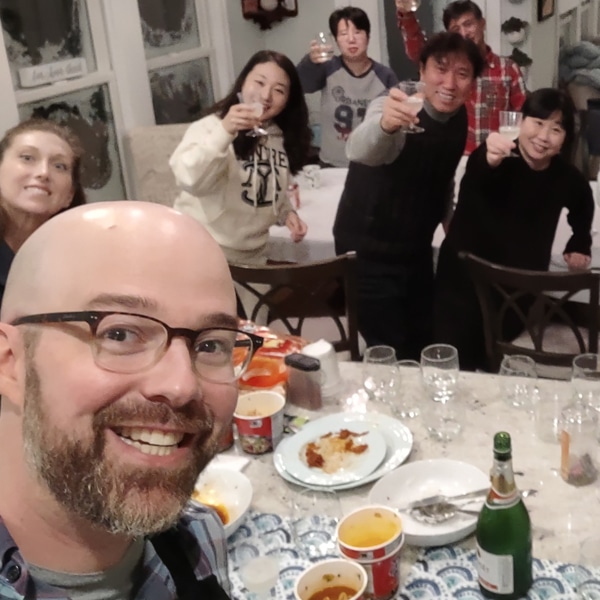 In a heartwarming tale of kindness and friendship, an American couple from Buffalo, New York, opened their home to a group of stranded South Korean tourists during a severe blizzard on December 23rd. What started as a simple request for shovels turned into a heartwarming story that went viral, bringing people together across borders. The couple's act of compassion not only provided shelter but also sparked an enduring bond that led to a special reunion in South Korea. Let's delve into this remarkable story and explore the lasting impact of their selfless act.
As the blizzard raged outside, ten South Korean tourists found themselves stuck in their van, unable to move through the heavy snow. Seeking assistance, they approached a nearby house and requested shovels to dig themselves out. However, they received much more than they had anticipated. The couple, who had prepared for a quiet Christmas at home, welcomed the strangers with open arms and invited them inside.
The storm had brought these strangers together, creating an opportunity for cultural exchange and friendship. During the two nights and three days they spent together, the couple and their unexpected guests bonded over stories, shared meals, and even watched American football. The couple, who had a deep appreciation for Korean cuisine, surprised their guests with an array of Korean food ingredients. The South Korean visitors were amazed to find soy sauce, mirin, chili powder, chili paste, a rice cooker, and Korean cookbooks, as if the couple had been preparing for their arrival.
News of the couple's kindness quickly spread across the internet, captivating hearts around the world. Social media platforms buzzed with messages of admiration and appreciation for their selfless act. Many people were inspired by their story and were motivated to perform acts of kindness themselves. The couple received an outpouring of support, with kind messages, cards, and generous gifts from various Korean groups, including a year of free fried chicken at Genesis BBQ.
Months later, in May, the couple embarked on a 10-day tour of Seoul, graciously invited by the Korea Tourism Organization. This visit was not merely a sightseeing adventure but a chance to reunite with the guests they had sheltered during the blizzard. Andrea, the wife, expressed her gratitude and joy, saying, "To see everyone in Korea again is such a blessing." The couple had always held an appreciation and interest in Korean culture, and their chance encounter had brought them closer to this beautiful country.
The bond forged during their time together in Buffalo proved to be strong and lasting. The couple and their South Korean guests became lifelong friends. The experience inspired not only the couple but also their guests, who felt compelled to pay it forward and spread kindness to others. Through their act of compassion, the American couple created a ripple effect of goodwill, reminding us of the power of empathy and humanity.