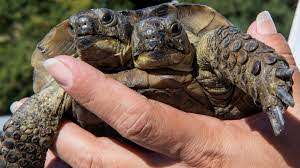 Oldest Two-Headed Tortoise in The World Celebrates a Birthday
When I was much younger, probably around the age of 10 or so, I remember visiting a Ripley's Believe It or Not museum. Being such an impressionable kid at that age, I remember I was much more open to the idea that what I was seeing was true than my parents were. Now as an adult I realize how silly the idea of a mermaid skeleton and other oddities were. There was something I saw that day that I will always remember though and that I remember being thrilled about when I realized that they really were real. That was the existence of two-headed animals. While I have only seen one such animal personally in my entire life, I have seen the photos and documentaries about these amazing natural oddities.
When an animal is born with two heads, that condition is commonly known as polycephaly. According to the San Antonio Express-News, "it's possible for polycephaly to occur in any species but it's most often seen in snakes and turtles. When two twin embryos fail to separate as they develop, there's a good chance that they'll result in a two-headed creature." But even among animals prone to this condition, actually seeing a two-headed animal is still quite a rare thing
This actually has less to do with how rare they are and more with the sad fact that these animals usually do not live long at all if they even survive birth. In many cases, the fetus is malformed in other ways that can lead to stillbirth or early death once the animal is born. They also do not survive more than a few years in most cases, especially in the wild. This is because their condition makes many basic things, like eating, hiding, and living difficult or nearly impossible.
There is one report of a freshwater river turtle named Thelma and Louise who was born at the San Antonio zoo in 2013. Sadly, the turtle died within the first year, despite the best care of the zoo staff and veterinarians who oversaw its care. Animals like this often have trouble digesting food, have deformities of the heart and lungs, and can even have major muscle and skeletal abnormalities that make it difficult for them to survive.
This reality is unfortunate but it is what makes this two-headed tortoise we are discussing here all the more special. The tortoise's name is Janus, and she is a Greek tortoise that was born at the Museum of Natural History in Geneva, Switzerland. She is a health and otherwise normal-looking tortoise aside from the fact that she has two heads. She is about to celebrate her 23rd birthday which makes her the supposed oldest two-headed tortoise known in the entire world. It is not known how much longer Janus will survive but she has been thriving so far and here is wishing her a long and healthy life ahead of her still to come!
More than Three Decades After Adoption, DNA Reunites Mother and Son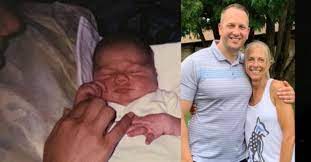 Melanie Pressley found out she was pregnant when she was 18 years old. Her boyfriend insisted on a termination, which she declined, but she worried that she wouldn't be able to give her kid the life he deserved. She gave her baby child up for adoption, but she never forgot about him. The mother and son have eventually reunited after 33 years apart.
Pressley described what lead her to explore adoption in an interview. "I simply knew I wouldn't be able to accomplish it financially," she explained. "And the second issue is that I wished him to have parents, so I thought it best to place him for adoption at that juncture."
During her pregnancy, Pressley engaged with an adoption center with the help of her family. She gave birth to her son in June of 1988 but didn't name him. After an initial objection, she convinced a nurse to hold the baby, and her sister snapped a photo.
Even after marrying and having three additional children, she pondered what her first child looked like while stressing every year on his birthday. After the death of Pressley's mother, she became overwhelmed with the desire to meet her son and cried since her mother never got the opportunity.
As a result, one of her daughters sent her a 23andMe kit as a surprise gift in May 2021. Meanwhile, her kid was doing the same activity approximately 300 miles away.
When Greg Vossler was nine years old, his parents informed him that he was adopted, but he was uninterested in learning more about his biological family. "I used to joke that 'I don't see a star who looks like me,' or 'No one who is a king or queen in some foreign nation looks like me,'" he remarked. "And I always claimed it was a joke. It was my method of getting that fast reply in my back pocket whenever someone asked; I'd never actually given it any serious thought."
But later, Vossler had his child, a son whom he named after himself. "One night, my spouse and I were relaxing and talking, and I remarked, 'I don't know anything about my medical records, heredity, or where I came from,'" he recalled. "And there was some 23andMe campaign going on." As a result, I took the exam."
Vossler did the test in 2019; therefore, when Pressley sent in her specimen in 2021, he was immediately identified as a match. Pressley stated, "I immediately sent a reply, and my first text was, I believe we're related." "I feel I am your birth mother," said the following message. And it just exploded up from there."
They started conversing, though Pressley stated that she didn't want to hear his voice until they met in person. They were ultimately reunited earlier this summer, and the bond was instantaneous. Vossler not only met his original mother, but he also received new family members. Meanwhile, Pressley has a recent photo of herself with her long-lost son.
"Everyone is emotional; they're all holding hands or hugging one other. 'Hey, I'm your half-brother, half-sister,' and so on. Melanie's elder sister, who was key in permitting Melanie to take that initial photo, approached me and touched my face. "It's the first time she's seen me in 33 years," Vossler said. "It's an incredible sensation. And that demonstrates that there's always space for families to develop and more love to share among them."