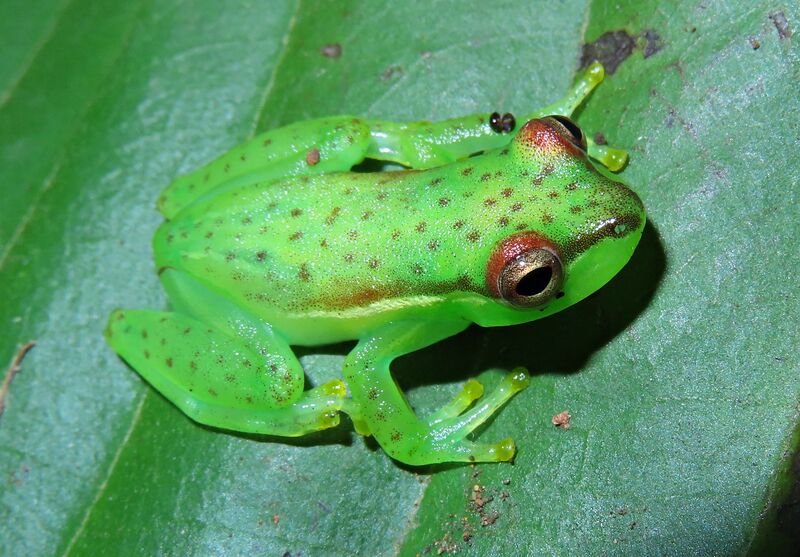 New Tree Frog Found in Costa Rica
Just when one would assume every species on the planet has been found, discovered, catalogued and defined in biological detail, lo and behold, someone goes and finds a new one. Of course, it's getting a lot harder to find a new species type. Most new discoveries are now practically found in only the most remote locations, a primary reason why they've been hidden for so long given technology and centuries of recorded discovery.
In the case of the new frog, it turns out to be located between a dual set of volcanoes in Costa Rica. Donald Varela-Sota was the first to figure out something was out of the norm. That something turned out to be a call from a frog nobody had heard of. However, it wasn't going to be an easy find. Varela-Soto had to search the area for half a year before he finally figured out where that frog was located. The researcher had to comb the edge of wetlands before he was sure, the whole time traversing the Tapir Valley Nature Reserve for the elusive amphibian.
The hunt was very much a cat-and-mouse adventure. Varela-Soto would comb the area up and down without any luck. While he got plenty of exercise, it didn't do him any good getting closer to the mysterious frog. However, on one particular point the weather turned bad, and Varela-Soto found himself being thoroughly soaked in the tropical rain. That abundance of water ended up raising the base table in the wetland area, which made it a bit inhabitable for the local amphibian life. When that occurred, Varela-Soto started to see all types of creatures being pushed out of the water along the edges of the wetland. And, among the various webbed-foot characters, along came the tapir valley tree frog.
Scientifically titled as Tlalocohyla celeste, the new frog is a small one, only measuring about two centimeters from one side to the other. It's no surprise it was easily missed. Generally, it basically was as easy to miss in the wetlands as a bottlecap. What makes the frog different to spot? Aside from it's bright green coloring, the Tapir valley tree frog has a distinct yellow stripe going halfway circumnavigating the amphibian's body.
The first frog sample of the species was in 2018, an adult male. Then, other biologists visiting the area were able to find a female some time after. That gave enough indication how to find them with distinctions, and soon enough the researchers were also able to find the frog laying eggs.
There is no question that the species is extremely delicate and endangered. It hasn't been found in any other locations and the only region is a 20 acre zone in the Tapir Valley itself. So the discovery is indeed a big one in the world of biology. And it's also a prime example of how hard it is to find a new, unknown animal today, but it is still possible.

Kenyan Tree Planting Holiday: A Collective Effort Against Climate Change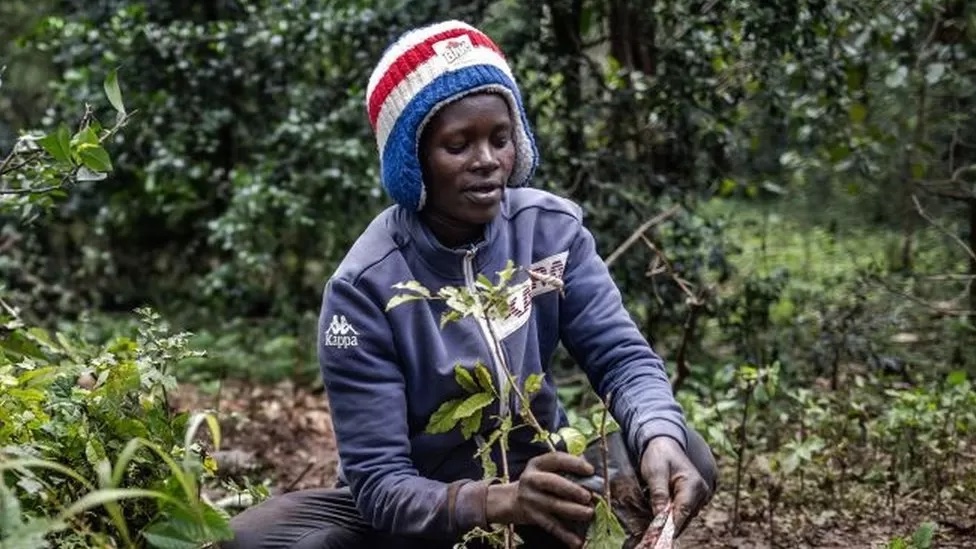 Kenya has embraced a unique and powerful approach to combating climate change with a national tree planting holiday. This initiative, led by Environment Minister Soipan Tuya, aims to involve every Kenyan in planting trees to contribute to a lofty goal of reaching 15 billion trees in the next decade. Recently, Kenyans came together to plant a staggering 100 million seedlings, demonstrating their commitment to a greener and more sustainable future.
The tree planting holiday allows "each and every Kenyan to own the initiative," as Minister Tuya emphasizes. This means that every citizen has a role to play in contributing to the ambitious goal of planting billions of trees. The target is for each Kenyan to plant at least two seedlings, a simple yet impactful way to make a difference.
The primary goal behind this massive tree planting effort is to fight climate change. Trees play a crucial role in mitigating climate change by absorbing carbon dioxide during photosynthesis. They act as natural carbon sinks, reducing the concentration of greenhouse gases in the atmosphere. Additionally, trees help regulate local climates, prevent soil erosion, and provide habitats for various species.
To encourage widespread participation, the Kenyan government is distributing tree seeds for free. However, there is also a push for planting trees in specific areas where they are more likely to thrive. This strategic approach ensures that the trees planted have a higher chance of growing into healthy, mature specimens.
While the initiative promotes free seed distribution, Kenyans are also encouraged to buy at least two seedlings for planting on their private land. This personal investment further engages citizens in the cause, fostering a sense of ownership and responsibility for the environment.
One notable tree planting site near the source of Kenya's second-longest river, Athi, saw active participation from various groups, including soldiers, residents, and families. The event showcased a collective effort to address environmental concerns.
To monitor the success of the tree planting initiative, an internet app has been introduced. This app allows individuals and organizations to record their planting activities, including details like plant species, the number of trees planted, and the date of planting. This technological aspect enhances transparency and accountability in achieving the set goals.
While the initiative has garnered widespread support, environmentalist Teresa Muthoni highlights some challenges. She notes that the effort is not organized in a way that ensures everyone is actively participating, as many individuals must prioritize their livelihoods. Additionally, Muthoni emphasizes the importance of planting the right trees in the right places, cautioning against the prevalence of exotic species in public nurseries.
Kenya's tree planting holiday exemplifies a collective and determined effort to combat climate change. By involving every citizen, the initiative seeks to make a significant impact on the environment. As the nation strives toward its ambitious goal of 15 billion trees in the next decade, the tree planting holiday stands as a beacon of hope for a greener and more sustainable future for Kenya and the planet.