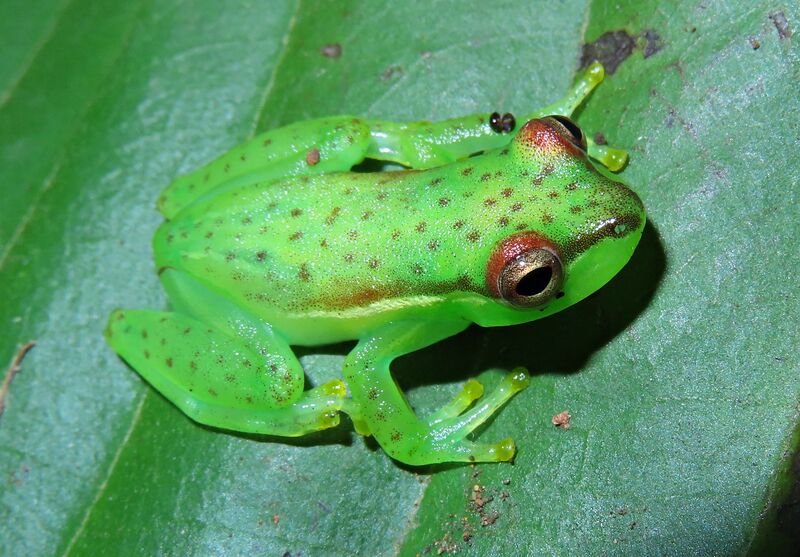 New Tree Frog Found in Costa Rica
Just when one would assume every species on the planet has been found, discovered, catalogued and defined in biological detail, lo and behold, someone goes and finds a new one. Of course, it's getting a lot harder to find a new species type. Most new discoveries are now practically found in only the most remote locations, a primary reason why they've been hidden for so long given technology and centuries of recorded discovery.
In the case of the new frog, it turns out to be located between a dual set of volcanoes in Costa Rica. Donald Varela-Sota was the first to figure out something was out of the norm. That something turned out to be a call from a frog nobody had heard of. However, it wasn't going to be an easy find. Varela-Soto had to search the area for half a year before he finally figured out where that frog was located. The researcher had to comb the edge of wetlands before he was sure, the whole time traversing the Tapir Valley Nature Reserve for the elusive amphibian.
The hunt was very much a cat-and-mouse adventure. Varela-Soto would comb the area up and down without any luck. While he got plenty of exercise, it didn't do him any good getting closer to the mysterious frog. However, on one particular point the weather turned bad, and Varela-Soto found himself being thoroughly soaked in the tropical rain. That abundance of water ended up raising the base table in the wetland area, which made it a bit inhabitable for the local amphibian life. When that occurred, Varela-Soto started to see all types of creatures being pushed out of the water along the edges of the wetland. And, among the various webbed-foot characters, along came the tapir valley tree frog.
Scientifically titled as Tlalocohyla celeste, the new frog is a small one, only measuring about two centimeters from one side to the other. It's no surprise it was easily missed. Generally, it basically was as easy to miss in the wetlands as a bottlecap. What makes the frog different to spot? Aside from it's bright green coloring, the Tapir valley tree frog has a distinct yellow stripe going halfway circumnavigating the amphibian's body.
The first frog sample of the species was in 2018, an adult male. Then, other biologists visiting the area were able to find a female some time after. That gave enough indication how to find them with distinctions, and soon enough the researchers were also able to find the frog laying eggs.
There is no question that the species is extremely delicate and endangered. It hasn't been found in any other locations and the only region is a 20 acre zone in the Tapir Valley itself. So the discovery is indeed a big one in the world of biology. And it's also a prime example of how hard it is to find a new, unknown animal today, but it is still possible.

Whales Adopt Other Whales, Even Between Species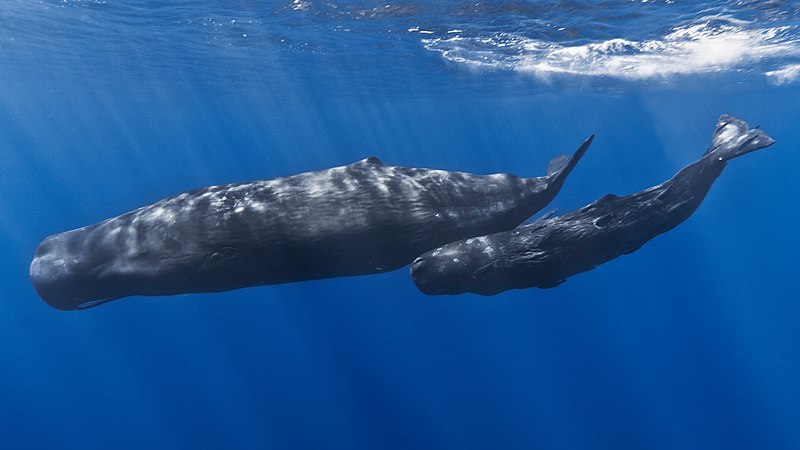 Do animals adopt young of other species? It's been known to happen among canines as well as raptors. However, for the first time, marine scientists have now confirmed whales are willing to adopt the young of different whale species as well.
As it turns out, an orphaned humpback whale has found a new parental figure with a southern right whale, completely mixing two different breeds of whale. Granted, both are large sea mammals, both breathe air and generally consume the same food groups, and they are technically both whales. But in the animal world, the differences are as distinct as a horse to a cow or a dog to a black bear. However, there the pair were, swimming together and clearly bonded right off the coast of an Esperance beach. From the researcher's perspective, the answer is clear; the adult southern whale has adopted the young and clearly smaller humpback whale.
Interestingly, the difference was caught immediately. Instead, it was Jess Wohling going over her work on a recent photography shoot who figured out what she was looking at was two different whales acting like mother and pup. At first, Wohling thought there was a camera glitch or a bad light exposure. However, as she studied the digital images from her camera, it became very clear, two different whales were swimming next to each other in tandem or like a parent and child whale pod. With the detail captured by the camera, Wohling compared the aspects of her image to whale images on the Internet, and she confirmed her hunch.
At that point, Wohling transmitted the digital image files to a whale researcher she knew, Katy Fannei. Looking at the images, Fannei not only confirmed Wohling's assumption, she was also shocked by the documented behavior and pretty much floored. The news hit the digital wire immediately as Fannei started sharing the news with everyone she knew in her professional circle. Everyone who got the communication and images, including researchers with far more experience than Fannei were also shocked by the apparent adoption behavior.
While it is quite possible for southern right whales to come into contact with humpback whales, they almost never converge with each other for any extended period of time. A lot of new hypotheses started getting thrown around. Was the southern right whale a female in mothering mode? Maybe it lost its own pup and the timing of finding a stray humpback child was a coincidence, or maybe some sort of protection in company perspective was going on. Most agreed on the idea of adoption taking place. Again, this wasn't unheard of in other species. Recently, an eagle pair adopted a falcon fledgling in Canada and have been raising it along with their eaglets.
The key behavior pattern arguing for adoption involves the close positioning of the humpback pup to the adult southern right whale in the water. It literally looks like a mother and child whale behavior. The major filter now is determining whether the pair are already tracked somewhere in the known southern right whale database the researchers use. If not, then the discovery will represent a unique and new biological finding.