"Natural Enemies" Become the Best of Friends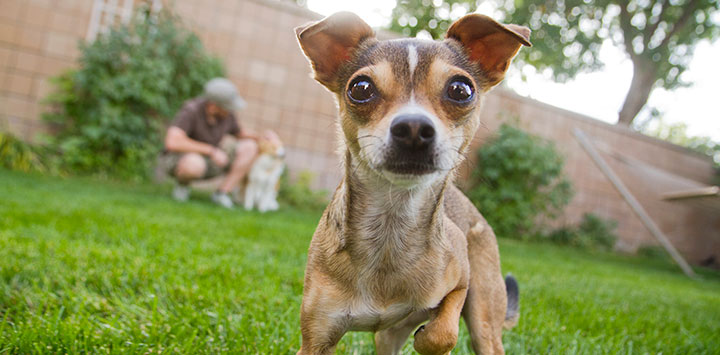 Many people consider cats and dogs to be mortal enemies, but I have always felt that this is not true. Yes, cats and dogs fight, but my cats fight one another more than they ever think about fighting the dog. I do not think that it is a clash of species but a clash of personalities that causes fighting and tension. If you can find the right mix of personalities, you will see a unique friendship form, just like we see here with Leila and Kitty. 
Kitty is a 6-year-old tabby cat and Leila is a 2-year-old Chihuahua from Massachusetts. After losing the family home and being unable to find another that would allow pets, Leila and Kitty's family surrendered their furry family members to the Massachusetts Society for the Prevention of Cruelty to Animals in Boston so that they could be cared for.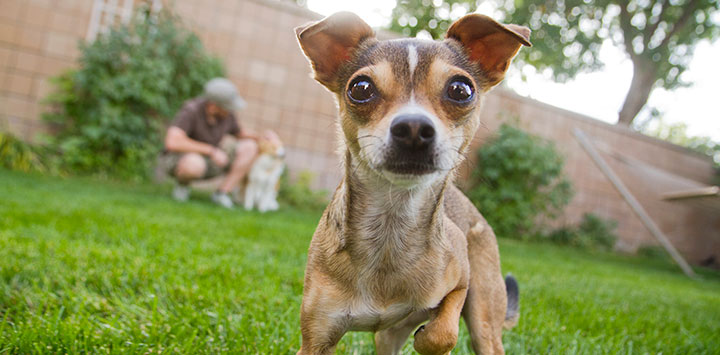 If you have ever had to surrender one of your lovable pets before, you understand the pain this family was feeling. I remember having to do so once, and it broke my heart. With tears falling downs my face, I tried so hard to think of another solution. Surely giving up my baby was not the only answer, but alas, no other solutions came. I drove as slow as possible to the animal shelter, almost as though if I waited long enough, a magical phone call would come and fix my problem.
I slowly took my girl through the doors with her leash wrapped around my hand as tight as it could possibly be. I explained to the lady behind the counter what was going on, then I dropped down and hugged her for the longest time. I was certain that my heart was physically breaking in two. When the employee came up to take her, I was angry at him, as though this whole thing was his fault. Finally, he led my baby away as she whined and looked back at me until she was out of sight. The whole ride home, I felt as though I had betrayed her. I just knew she was feeling abandoned.
Having experienced it, I know what this family must have felt when they let Leila and Kitty go that day. There is a ray of light, however, as they still had one another. When the MSPCA saw that these two were so close and were much more at ease together, they threw protocol to the wind. Instead of separating them as they normally do dogs and cats, they housed the pair together.
They continued to thrive as a duo, so the MSPCA decided they would only adopt them that way. These sweet fur balls made their television debuts as their heartbreaking story and heartwarming friendship hit the news stations. Just a few days later, a new family adopted them both, and so their story of friendship will live on. I sincerely hope that it can bring some consolation to the previous family knowing that their babies will be cared for and are still together. We can all smile at this happy ending!

Cat Takes a Ride Among the Boxes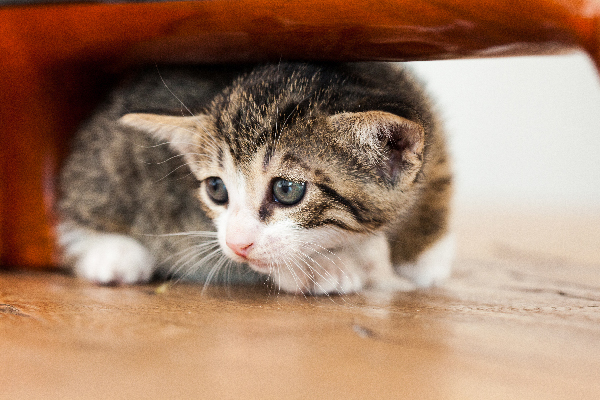 If you've ever owned a cat, you've observed the peculiar affinity cats have toward boxes. There are several reasons people love cats. They're affectionate, cute, soft and generally low-maintenance. For an average family cat, the monthly expense is approximately $100. You could lower that expense by replacing fancy cat toys and play-houses with empty cardboard boxes.
The comfort and security cats find from lounging in cardboard boxes went a little too far for Millie McMahon's adventurous cat Trixie. Trixie, like most cats, loves empty boxes. This worked out great for Millie when she was preparing to move from Boston to San Francisco. All the empty cardboard boxes around the house kept Trixie entertained and out from under foot while Millie packed her house.
As the moving truck retreated from Millie's driveway, Millie let out a deep sigh of relief. Only a few essential items remained, which Millie would pack in her car for her own trip across the country. Trixie was one of those "items", except Trixie was nowhere to be found. Millie waved it off as Trixie just being skittish about the packing and the movers, and her world being in disarray.
Trixie didn't show up the next day either. Or the next. Millie began feeling worried. She couldn't leave for California without her cat.
Meanwhile, traveling across the country in a moving truck, was Eddie. Eddie was no stranger to driving trucks. He found comfort in the humming of the wheels on the highway as he ambled along his route. He found it meditative.
Eddie lost his meditative mood on the second day of his drive. On day two he woke from his motel, showered, ate breakfast and settled into the driver's seat. Shortly after, as he rolled down the highway, he started to hear an odd squeaking noise. At first, he thought he was imagining the occasional soft mewing. By the end of the day he found it maddening. He ruled out engine issues after checking under the hood. He decided it had to be something in one of the boxes. The boxes, however, were too tightly and perfectly packed to unload and investigate. He'd have to just live with the unnerving noise.
Eddie finally arrived at Millie's new house and began unpacking his truck. At the back of the moving truck, among a shelf of blankets, shone a pair of glowing yellow eyes. Eddie was startled to see the eyes.He was even more shocked when the cat to whom the eyes belonged jumped from the blankets and onto Eddie's chest. Instinctively Eddie caught the cat and held him. This is the source of the three days' noise!
He held the cat as he walked to the cab of his truck, not knowing where the cat came from or what he was going to do. He just sat and looked at the cat, as the cat stared back at him, purring. He poured water into his coffee cup and thought how hungry this cat must be. He made a short trip to the corner market for some kitty food. As he opened the truck door, Trixie jumped out and ran quickly behind the building. Eddie couldn't see where the cat went.
Eddie returned to Millie's house to be sure it was secured, knowing Millie wouldn't be arriving for a few days. It was there that he spotted Trixie, sitting inside, in a sunny window!
Eddie called the number that Millie had given him, for use in the event of an emergency. Millie was relieved to hear that Trixie had been found. Eddie left enough food and water for Trixie. Millie could now embark on her own trip to California knowing that her cat was safe "at home".