"Natural Enemies" Become the Best of Friends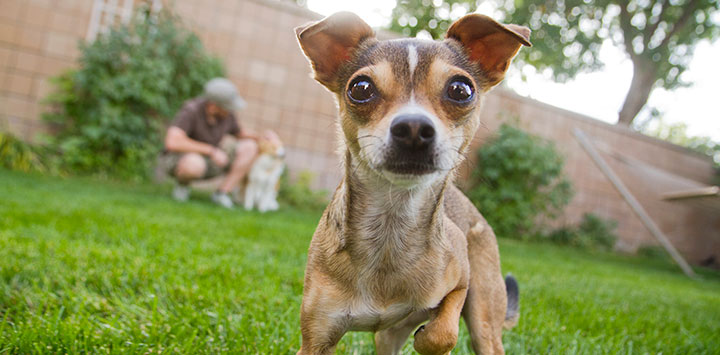 Many people consider cats and dogs to be mortal enemies, but I have always felt that this is not true. Yes, cats and dogs fight, but my cats fight one another more than they ever think about fighting the dog. I do not think that it is a clash of species but a clash of personalities that causes fighting and tension. If you can find the right mix of personalities, you will see a unique friendship form, just like we see here with Leila and Kitty. 
Kitty is a 6-year-old tabby cat and Leila is a 2-year-old Chihuahua from Massachusetts. After losing the family home and being unable to find another that would allow pets, Leila and Kitty's family surrendered their furry family members to the Massachusetts Society for the Prevention of Cruelty to Animals in Boston so that they could be cared for.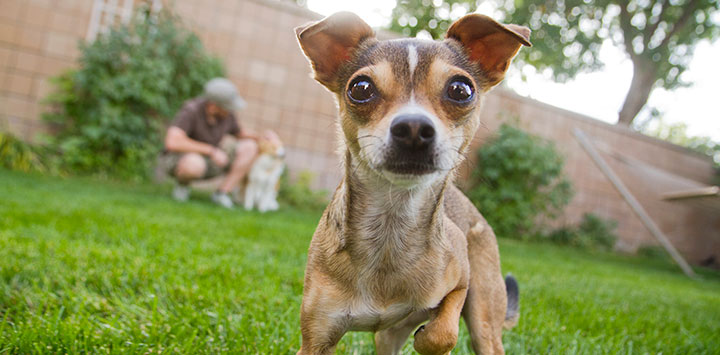 If you have ever had to surrender one of your lovable pets before, you understand the pain this family was feeling. I remember having to do so once, and it broke my heart. With tears falling downs my face, I tried so hard to think of another solution. Surely giving up my baby was not the only answer, but alas, no other solutions came. I drove as slow as possible to the animal shelter, almost as though if I waited long enough, a magical phone call would come and fix my problem.
I slowly took my girl through the doors with her leash wrapped around my hand as tight as it could possibly be. I explained to the lady behind the counter what was going on, then I dropped down and hugged her for the longest time. I was certain that my heart was physically breaking in two. When the employee came up to take her, I was angry at him, as though this whole thing was his fault. Finally, he led my baby away as she whined and looked back at me until she was out of sight. The whole ride home, I felt as though I had betrayed her. I just knew she was feeling abandoned.
Having experienced it, I know what this family must have felt when they let Leila and Kitty go that day. There is a ray of light, however, as they still had one another. When the MSPCA saw that these two were so close and were much more at ease together, they threw protocol to the wind. Instead of separating them as they normally do dogs and cats, they housed the pair together.
They continued to thrive as a duo, so the MSPCA decided they would only adopt them that way. These sweet fur balls made their television debuts as their heartbreaking story and heartwarming friendship hit the news stations. Just a few days later, a new family adopted them both, and so their story of friendship will live on. I sincerely hope that it can bring some consolation to the previous family knowing that their babies will be cared for and are still together. We can all smile at this happy ending!

Family Adopts an Enormous Puppy Who Is Compared to a Hippo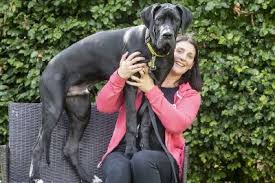 There is a saying that dogs are a man's best friend. There are countless individuals and families out there who are looking to share their love with a dog. One of the biggest questions people face when they are thinking about adopting a dog is the type of breed they would like. There are so many great options to choose from that it can be hard to make a decision. One couple in the United Kingdom decided to go with the biggest puppy they could possibly find.
This couple had been looking for a new dog for a long time. They already have four dogs at home but were ready for another. They were waiting and not sure if they would ever get the call that there was a dog waiting for them. Eventually, they got the call. There was a 5-month old puppy at the shelter who was looking for a new home. The animal had been surrounded by its previous owner who was no longer able to take care of the puppy. He was surrendered to the local shelter. The couple was so excited. They rushed down to meet the puppy.
They were utterly shocked by what they saw. They couldn't believe the dog they saw was still a puppy. Their eyes locked with a Great Dane. It was love at first sight. It turns out this puppy also happens to be the largest puppy in the entire country! The couple couldn't believe their luck!
The puppy was already towering at 6 feet tall. he also weighed in at 95 pounds. For comparison, this is more than most baby hippos! The owners were shocked to learn all of this information about a puppy that was going to be theirs. The shelter even told the couple that as the dog grows up, he might even get bigger. His size has the potential to double, which is quite absurd to most; however, this is exactly what happens with Great Dane puppies. The couple was so excited and started to love on him immediately.
The couple is already happy at home with their new family member. They say that the puppy has a big heart to match his enormous size. His heart is every bit as big as he is. He is playful and gentle at the same time. He is a joy to have around the house. The couple also knows that they don't know what's going to happen as he continues to grow up. The dog is only going to get bigger, so the couple has taken it upon themselves to try to safeguard some of the fragile items around the house.
Furthermore, the family also four other dogs they need to take care of in addition to the Great Done. The family also has a beautiful Dogue de Bordeaux, two separate Chinese crested dogs, and a gorgeous French bulldog. The family has said that the dogs still get along well. The dogs were a bit nervous at the size of the new puppy at first; however, they get along great now. The family is so excited to have a full house and there is plenty of love to go around.
The family also posts videos of what life is like with their new gentle giant as well. The walks can be quite entertaining as the family works to manage all of the dogs at once. This is a perfect example of the joy a dog can bring to the lives of people. What a beautiful family of dogs.